Michigan State football: Could absence of "alpha" WR actually help the offense?
No more relying on one guy.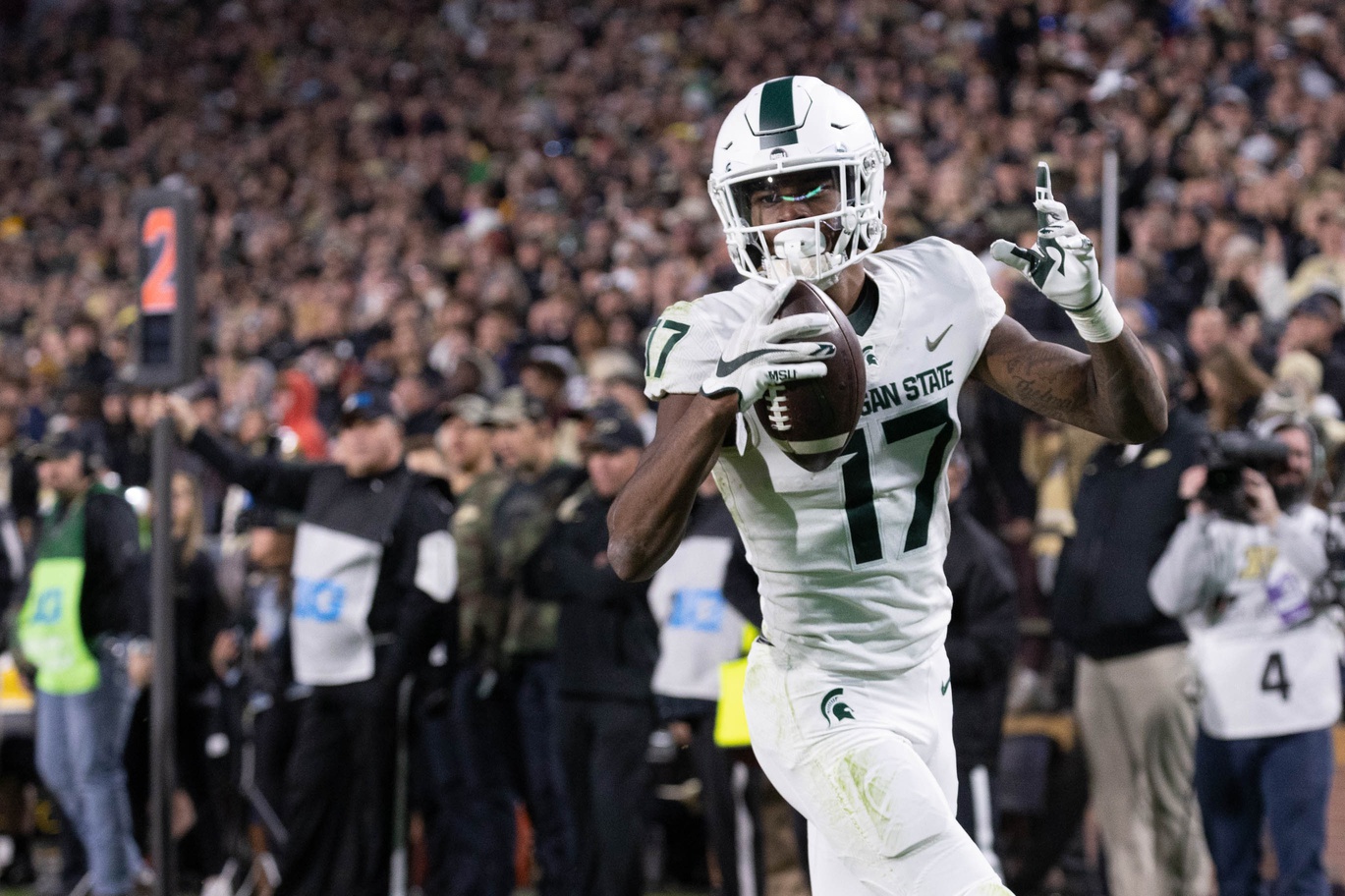 It looks as if Michigan State football and Keon Coleman are parting ways, but could the absence of an "alpha" help the offense?
It's looking more and more likely that it's no longer Keon Coleman time for Michigan State football.
How could this impact the Michigan State offense? We know it's already exploring a few portal receivers so the roster isn't entirely set yet. For the sake of this article, we'll look at those that are currently on the team and not speculate on who else might be joining.
The Michigan State offense for the last couple of years has been predictable as far as the passing game goes. In 2021, the offense featured Jayden Reed and Jalen Nailor. In 2022 it was Keon Coleman and Reed. It's hard to say whether or not this was the design of the offense or if this was primarily due to Payton Thorne's tendencies to lock in on his primary reads.
In 2020, Michigan State offensive coordinator Jay Johnson said, "To me, in a certain sense of the word, the tight end is the MVP of what we do offensively."
The reality is, though, we've yet to see this materialize.
Michigan State brought in transfer tight end Daniel Barker last season and the hope was that he'd be another big redzone target alongside Maliq Carr. Barker didn't produce to the level that most expected.
When we look back on Johnson's quote and pair it with the level of production we've seen from the tight end position, I think we can draw a conclusion that he envisions an offense that spreads the ball around more rather than hinging solely on a couple of guys.
When a quarterback has a clear-cut alpha receiver in the offense, it can often create tunnel vision. Understandably so, at that. With Michigan State introducing a new quarterback to the starting lineup, it would've been predictable for either guy to force-feed Keon Coleman.
With the absence of Keon in the starting lineup, the quarterback won't be able to key in on one read and let it rip. Rather than trying to force the ball to WR1, the quarterbacks will need to make the appropriate reads and find the open man. This development could also allow Johnson to get a little more creative with the playbook.
In the Michigan State receiver room, it's logical to assume that Tre Mosley will slot in as the primary receiver but there's a lot to like in the guys behind him. Montorie Foster recently stated he believes he's back to 100 percent health after having screws put in his injured foot in 2022. Tyrell Henry, Antonio Gates Jr., and Jaron Glover have all been gaining buzz through the spring as well. On top of these receivers, the Michigan State tight end room is deeper than it's been in years past with young talent.
This may be a little more "glass half full" than most Michigan State fans are ready for right now but it's time we move forward. In trying to find the silver lining for this team moving forward, I believe this will be an underrated development that most fans aren't considering.
The last time Michigan State had three receivers have 40-plus receptions each was 2015. That Michigan State team had a lot of things in its favor but the ball being spread around on offense was certainly one of the dynamics that propelled that team to a Big Ten title and the College Football Playoff.
I'm not predicting this year's team to be 2015 Michigan State, but I do believe this will be the first year since then that we see three guys reach that 40-plus reception mark.