Michigan State Football: Alan Haller opens up about Penn State game
Expect this to be a one-time thing.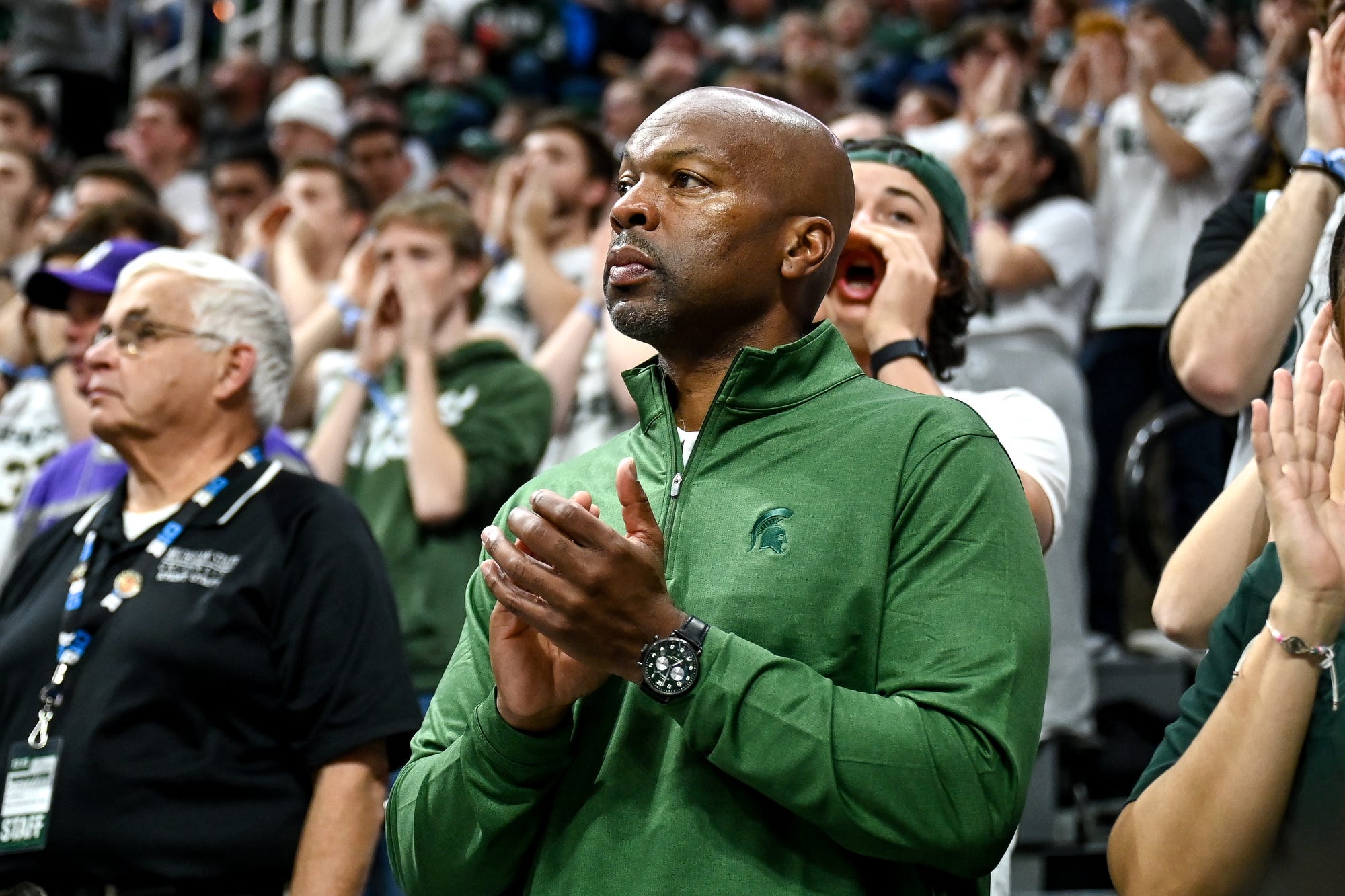 Alan Haller recently opened up about Michigan State football moving its season finale to Ford Field on Black Friday.
Michigan State football announced on May 24 that they will play Penn State in their season finale at Ford Field in Detroit. Playing a regular season game at a neutral site is very unique in college football. Michigan State has not done so since 2010 when they faced South Florida also at Ford Field.
Whether you like the decision or not, every Spartan fan wondered the same thing: Why are we doing this?
On May 26, David Harns, publisher for Spartans Rivals, helped answer that question. He posted an article to Twitter recapping a recent interview conducted between Jack Ebling and Athletic Director Alan Haller about how and why Michigan State made this decision.
Alan Haller went in depth with Jack Ebling to explain the process he went through before moving the PSU game to Ford Field, including details of the negotiations. He also discussed the criticism he's received so far. I recapped their conversation here:https://t.co/dC9LOXB2cl

— David Harns (@DavidHarns) May 26, 2023
Here is a brief summary of what Haller shared, recapped by Harns.
How was this decision made?
Haller immediately shared that this decision was extremely difficult to make. He said,"[Making the decision to move to Ford Field] was a close call. This wasn't a slam dunk decision for me." He also went on to discuss who was involved in making this decision including "donors, alumni, season ticket holders, internally within our department."
The announcement took a lot of Michigan State fans by surprise, but it is nice to see that the athletic department took their time in making the decision. Reaching out to alumni and season ticket holders shows they genuinely care about our fans and the experience we have. Even if it's a decision you disagree with, it feels nice to know they talked with people in our fanbase.
Is Spartan Stadium not good enough?
This might have been the most talked about topic I saw online after the announcement. Many fans argued that the experience at Spartan Stadium is good enough and there is no need to try something new. However, this had nothing to do with Haller's decision. He emphasized multiple times that the Spartan Stadium experience is second to none and that he does not want to take away from that experience.
Haller shared his exact thought process on this stating, "I love Spartan Stadium. I played over 25 games as a student-athlete in that stadium. I attended the games as a kid and as an adult. I love Spartan Stadium; I love what it represents, the history. By no means am I devaluing Spartan Stadium by saying let's play this one game at Ford Field. This is an opportunity to connect with our southeast (Michigan) alumni and fan base. The city of Detroit is important to us at Michigan State University. It's strong for student recruitment – not just student-athlete recruitment – but student recruitment. We have a lot of alumni where the home base for them is the Detroit area and southeast Michigan."
This proves that Haller loves Spartan Stadium and that some of his motivation in this decision is to connect with other members of our fanbase and alumni.
Will we see this more in the future?
In short, no. Haller was extremely adamant that we should not expect to see this occur in the future. Haller expressed, "I'm committed to doing this once. I don't think it is in our best interest to do this again on an annual basis. I can't ever say never – that's not something I want to say – but by no means is this something that I want to include on our schedule every year."
Even though he is not entirely ruling out the future, it is reassuring to know that this will not be a regular occurrence.
The last question Michigan State fans had was if we could expect this to happen if Michigan State were to host a College Football Playoff game. This time, Alan was very firm with his response, "If Michigan State is fortunate enough to get into that College Football Playoff, we're going to have it at our home stadium."
Spartan Stadium gives our football team an advantage not many other teams get at their home field. Knowing we will never miss out on a home CFP game is very relieving to hear.
I urge all Spartan fans to try and make the best of this news. Is missing out on one game really that bad? Why not head down to Detroit and experience something new in a really fun city? Maybe make it an even longer trip and see the Detroit Lions play the day before on Thanksgiving too! I think you should give this game a chance first before hiding it too harshly.
For the full recap of Haller's interview with Jack Ebling by Harns, click here.