Michigan State football needs a black alternate uniform
Please, Alan Haller.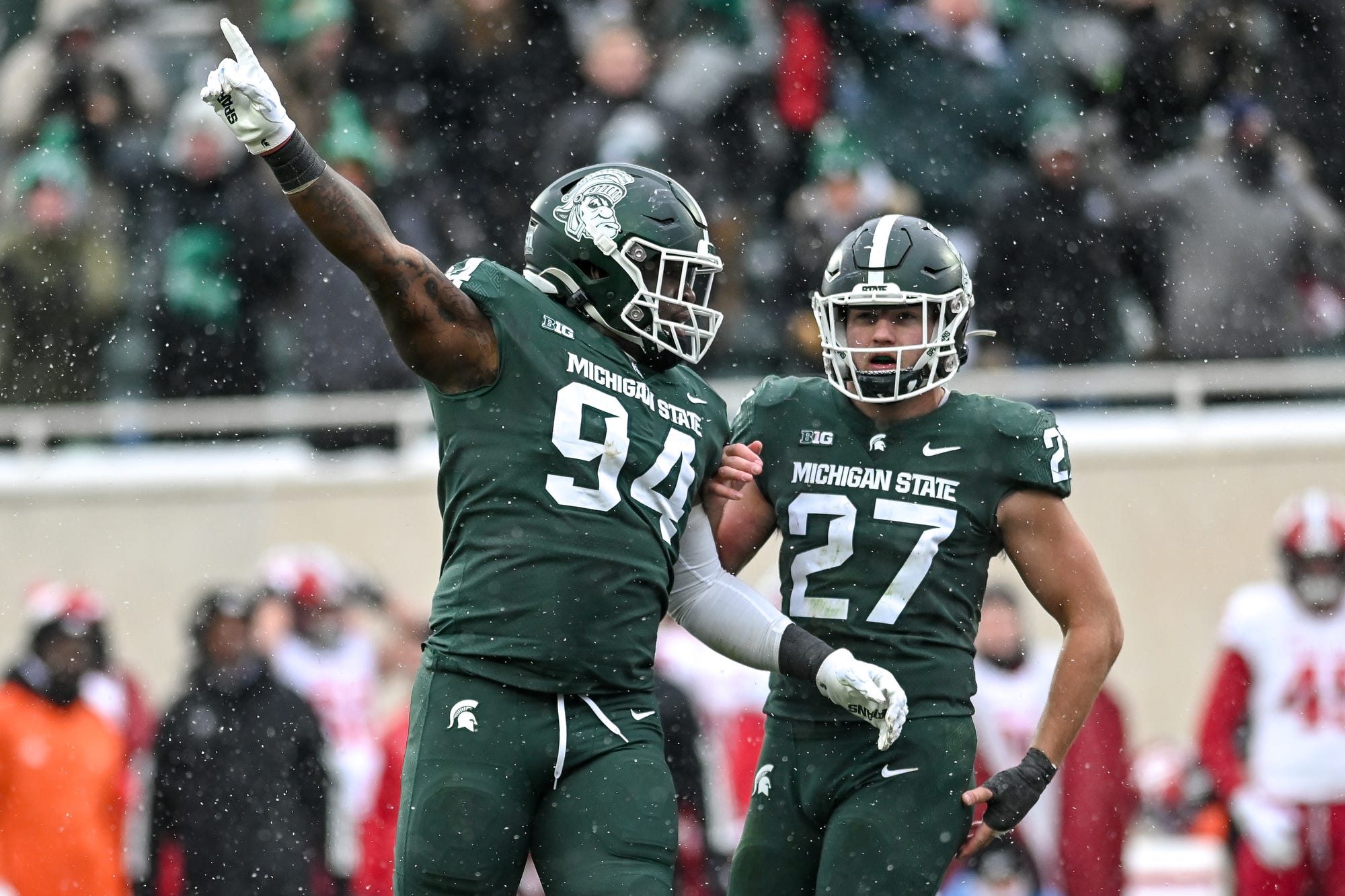 Michigan State football has a number of alternate looks, but it needs a black uniform to really compete the look.
We have seen Michigan State football release alternate uniforms in the past with fans having different reactions. Some of the best uniforms Michigan State has worn have been alternate uniforms. The same could be said for the worst uniform, depending on who you ask.
We have seen the debut of bronze on the uniforms and most recently, neon.
However, there is one color that has shown up in other sports but not yet in football: black. There have been people calling for black alternate uniforms and this is the year that I think Michigan State should finally do it. The reason this debate is coming up right now again is because of Darius Snow. We have seen Snow come up with some great edits before and he did it again on Twitter. He released three uniform concepts for Michigan State and two of them were black alternate uniforms.
I think I'm in love with the black uni's..? https://t.co/6GXVhG2Xu8

— JWindmon (@JW1NDMON) May 25, 2023
His first alternate concept is a blackout concept. This concept includes jersey and logo designs similar to what Michigan State uses already. The only difference is that everything is black including accessories. Darius did make a change to the helmet by including a chrome Gruff Sparty logo with some decals as well. This is a uniform combination that would be drastically different from anything we have seen but it would be a welcome addition, as you can see from Jacoby Windmon's reaction.
Snow's second alternate concept is probably my favorite concept and it is a combination of black and green. This concept includes the jersey and logo design being similar to what Michigan State already has but including a green stripe being added to the pants and a green sleeve pattern. This allows for a different type of helmet and decal. Darius had a black matte helmet with a green spartan head on one side and the Spartan gruff logo on the other side. This will also allow for a green facemask as well.
Darius did have a full green concept that would be similar to the first black alternate but it would be all green. If Michigan State wants a different type of uniform and helmet combination but doesn't want to go the complete alternate route, this would be a good solution.
What does this all mean for Michigan State football? This means that it is time for a black alternate uniform and it should debut either against Penn State, Washington, or Michigan this year.
If you want fans to show up in Detroit against Penn State, a new alternate uniform, especially if it's black, would be the perfect thing to get fans to attend the game. This also means that Snow should be involved in coming up with alternate uniform ideas. Not only is he good at it, but he is going to know what the players and fans want. Just look at the comment section on Twitter where Darius posted his edits. All the fans loved these edits and I'm sure the players do as well.
It's time for Michigan State football to finally debut a black alternate and these edits by Darius are just going to make more people want them. This is the year, Mel Tucker and Alan Haller. Do what everyone wants and release a black alternate uniform.