Michigan State football: CMU's Connor Stalions investigation is a joke
Horrible look for CMU.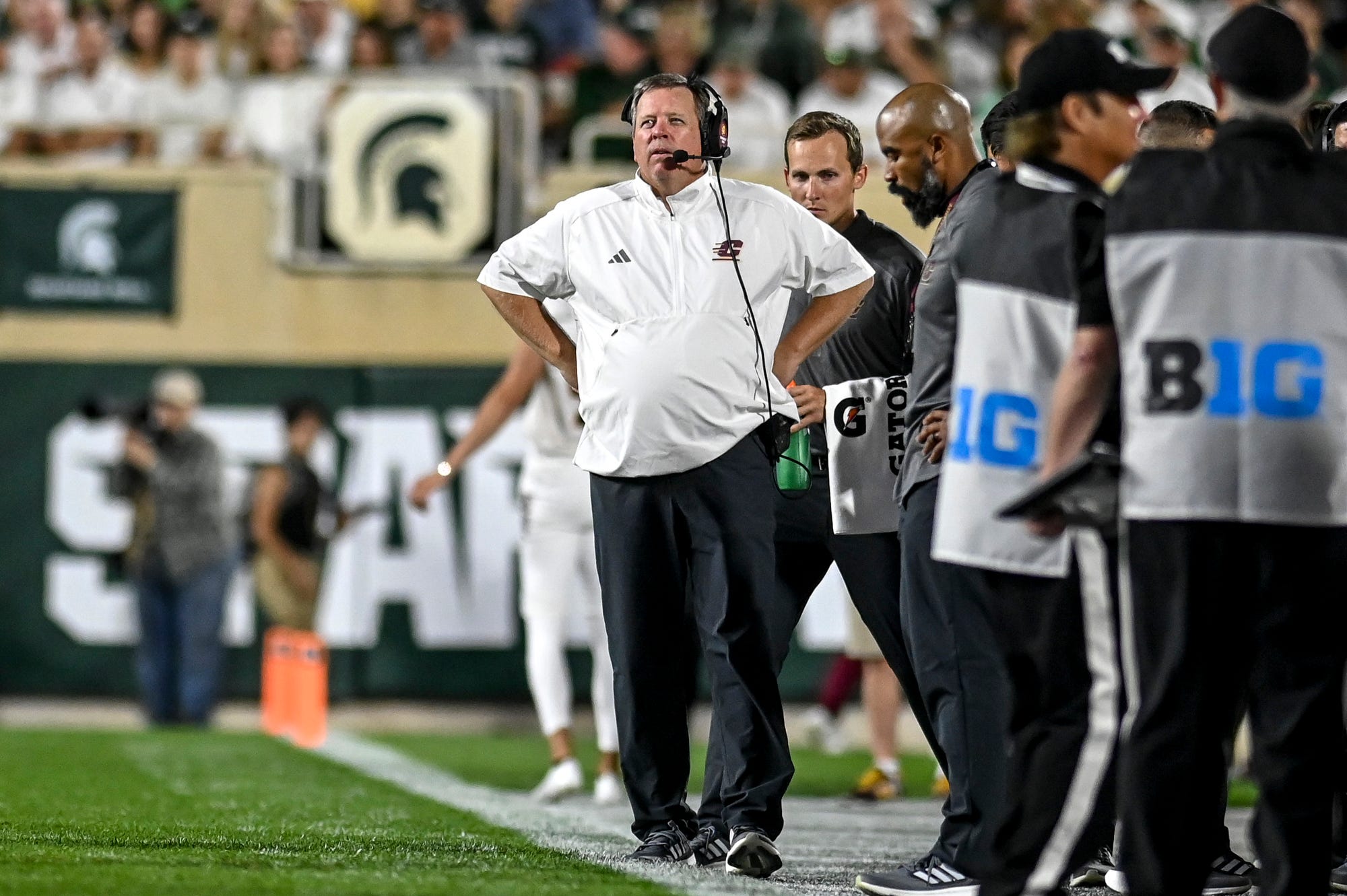 Central Michigan's investigation into Connor Stalions allegedly on the sidelines for the Michigan State football game is a joke.
The past few weeks of college football news have really been something. We've seen the scandal over in Ann Arbor take on life forms of its own and it's even stretched to East Lansing by way of Central Michigan. And yet Michigan State football has no answers yet.
Last week, a picture emerged of what looks to be Connor Stalions in full Central Michigan gear (and Nike shoes – CMU is Adidas) and sunglasses — for a night game. Shortly after the picture made its rounds on social media via endless memes and shots taken at the sign-stealer from Michigan, Central opened up an investigation to see who the man in question was.
Well, it's been over a week now and we still don't know.
And Central Michigan AD Amy Folan announced on Monday afternoon that it's an ongoing investigation. They're apparently doing all they can to identify the man that was standing next to and interacting with their coaches all game long.
The NCAA has joined Central Michigan in investigating a man resembling ex-Michigan staff member Connor Stalions, who appeared on the CMU sideline Sept. 1 against Michigan State. The unidentified man wore CMU-issued gear and had a bench area credential.

Statement below: pic.twitter.com/e7khtCnEJJ

— Adam Rittenberg (@ESPNRittenberg) November 6, 2023
Let me ask Folan this: don't you think that if the guy was on your staff, you would have identified him by now? Follow-up question: just ask Jim McElwain who this is since he was on his sideline in his team's gear for the entire game. McElwain claimed he didn't know anything about the guy and even went as far as to act like he didn't know Stalions' name, calling him the "sign-stealer guy".
But McElwain knows Stalions.
According to a now-deleted LinkedIn account, Stalions was a volunteer assistant at Michigan since Jim Harbaugh started (2015). That would line up with the one year that Jim McElwain was an assistant in Ann Arbor (2018). So acting like he didn't know who Stalions was, let alone acting like he was unaware that he was on his sidelines with a field pass in CMU gear is just a wild move. This will undoubtedly not work in McElwain's favor after an NCAA investigation.
But how has no one on Central's side of things come out with a "this is not a CMU staffer" statement? How is it taking this long to figure out who the mystery man in video-taping sunglasses and CMU gear is? Well, they probably do know and the answer isn't going to be good for them.
From the looks of it, Central Michigan was helping Michigan out, and vice versa.
Either way, this whole situation followed by the absolute butchery of the investigation which has led to the NCAA getting involved should be enough to ensure Michigan State football doesn't schedule Central Michigan until leadership there changes.
Oh, and Central should be forced to pay back the $2 million they were paid to play Michigan State. Only fair.