Michigan State football stock watch: Who's up and who's down after Nebraska win?
Buy stock in these guys now.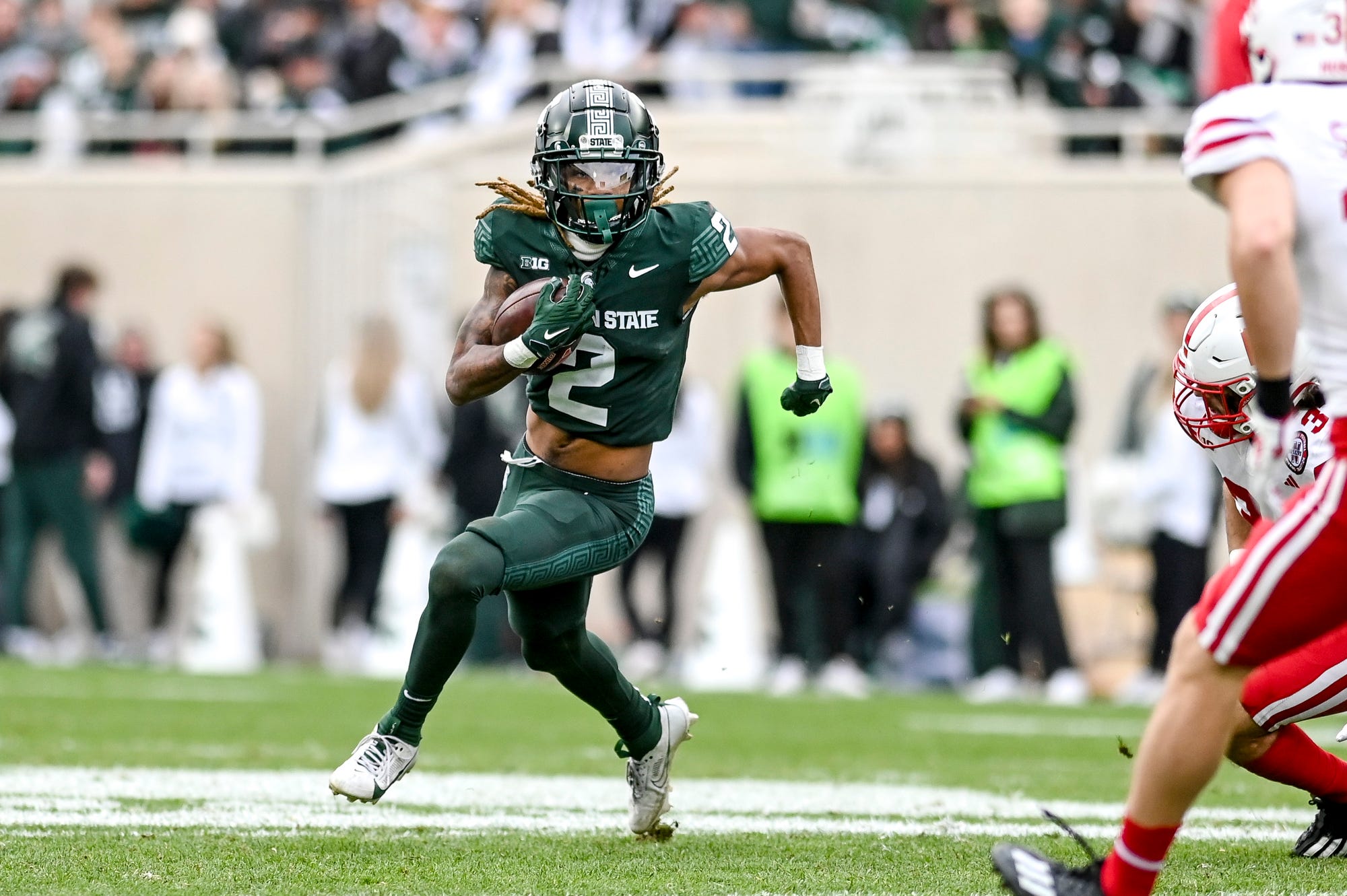 Michigan State football picked up a big win over Nebraska on Saturday afternoon and here's whose stock is up and down.
The losing streak is no more as Michigan State football notched a 20-17 win over Nebraska on Senior Day. After two months, Michigan State fans can finally not only celebrate the players that performed well, but a team win.
This was a performance Michigan State and the fans needed and it had several things that should have Michigan State fans hopeful for the future.
Whose stock is up and whose stock is down after the win?
Stock up
If you are looking for something to get excited about, just look at some of the key young pieces that this team has. You have Jalen Thompson who has been standing out these past few weeks that took another step against Nebraska with his best performance of the year (5 tackles, 2 sacks). Dillon Tatum continues to grow in his role and does a great job in coverage. You also have Caleb Coley and Chance Rucker playing well on the other side. Another young player on defense that has continued to impress is Jordan Hall. He is going to be a problem for many teams in the near future. Lastly, you had two quarterbacks that really played well in Katin Houser and Sam Leavitt. If you want to be excited for the future of this program, these are just a few of the players that show the potential to help build a good team.
This was the best game that both Houser and Leavitt have played at Michigan State. He had a very good drive and throw early in the game that put Michigan State up. Leavitt had one of the most impressive throws I have seen from a Michigan State quarterback on a fade route to Montorie Foster. Both quarterbacks also used their legs to help pick up key yards throughout the game. This quarterback battle will be one to watch and if Michigan State football can keep both, it's going to continue into next year.
Harlon Barnett deserves to be in this stock up part of the article. During his time as head coach, there have been a lot of questionable decisions from him. At least a few that have cost Michigan State a win or two. That doesn't matter after Saturday because Barnett got his first win as the head coach of Michigan State. Barnett is a man that loves Michigan State football and you could see that from his reaction and the players. At this point, Barnett probably knows that this is probably going to be his last few games being the head coach but I for one is so glad that he got the win today.
If there is one more group that is more than deserving of this win than Barnett, it would be these players. What these players have been through this year is something no one wants to go through but they kept playing hard through it all. The players could have given up but they have played hard every game and this win is a win for those guys, especially the seniors that celebrated Senior Day.
Stock down
I feel like I could put his name in the stock down every week. This is just another week where the special teams have an issue lining up properly. From a false starts to having to call timeouts for a missing linemen, Ross Els stock continues to go down even further.
I thought the offensive play-calling again was an issue today especially towards the end of the game. By now, fans know that Jay Johnson isn't a great play-caller and those last two drives really showed that. It seemed like every time Michigan State got momentum, they could never continue it on their next drive. Johnson is just a conservative play-caller that won't be at Michigan State after the next few games.
Senior Day is meant to honor the seniors and to thank them for their time in the program. This win was that thank you and the fans showing up was as well. These seniors have been through some great times but also some very low times. While they have been through those times, these seniors have left a legacy at Michigan State that the team will continue to play hard even through the lowest times.
This was a Senior Day win that was not only needed to send the seniors off the right way, it was a win that the fans and the younger players needed for the future of the program. The future of the program is starting to show and it should give fans hope.
While the future should give fans hope, lets all enjoy this win.