Michigan State football: Big-time 4-star LB target locks in official visit
Dylan Williams will be back at MSU in June.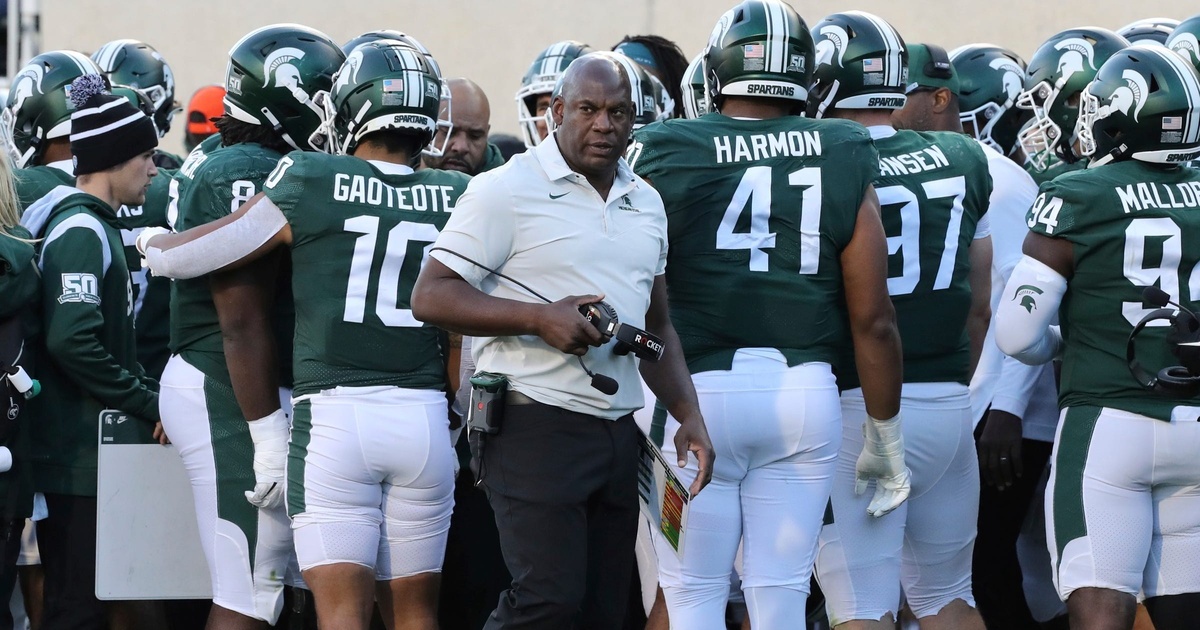 Michigan State football is looking to land four-star linebacker Dylan Williams in the 2024 class and getting an official is huge.
Now that spring ball is coming to a close, Michigan State football fans will look for some recruiting momentum this summer to satisfy their appetites until kickoff comes Sept. 1.
This summer is a big one for Mel Tucker and staff. After a less than stellar season last year, getting some big targets on campus for official visits will be a big sign on where the program is being viewed nationally. Of course recruiting roster implications will be highly speculated as well. Michigan State picked up some big news on Monday that may help get that recruiting hype train moving ahead once again.
The first major target for Tucker to lock his official visit in for the summer is linebacker Dylan Williams. The 2024 four-star is ranked as the No. 141 player nationally. He currently attends Long Beach Poly in Long Beach, Calif. He holds offers from 30 schools so far. Michigan State, Texas, USC, Alabama, Michigan, and Auburn are a few of the schools competing for his services.
According to the 247Sports Composite, he is the 11th ranked linebacker in the 2024 class.
Williams is a target MSU has been interested in for some time now. The Spartans initially offered him in January of 2022. He initially committed to USC in April of 2022 but decided to reopen his commitment this past October. Tucker and staff have kept in constant contact over the course of the past year.
The four-star linebacker was in East Lansing for the spring kickoff earlier this month and loved it. He told On3's Jason Killop that MSU is "for sure a top school for me" and that the atmosphere during the spring weekend "was amazing." He even went further calling East Lansing "a great college town."
There was some speculation as whether or not MSU had done enough to warrant a return visit this summer from Williams but the reviews he gave after the spring game cleared up any doubt. On Monday, Williams tweeted that he would be taking an official visit on the weekend of June 9. MSU's Corey Robinson of 247Sports confirmed that he was locked in for that visit as well. It's something to note that MSU is listed as the only team listed as "warm" for him on 247Sports. This means that MSU's recruitment of him is definitely heating up. That is certainly a great start for the Spartans.
Prior to July 1 (new rule change will allow unlimited officials), recruits are only allowed to take five official visits during their recruitment. Because of that, him picking MSU for one of them makes it a big deal. According to 247, he will be officially visiting Michigan and Texas this June, however he has not confirmed that on social media. He did have unofficial visits with Miami and Texas earlier in the cycle as well.
Overall, locking Williams in for an official visit is a big get for MSU. They get the chance to pull out the red carpet and try to woo one of their more coveted prospects defensively outside of David Stone and Xadavien Sims. The linebacker shows big potential in being able to make plays in space and making impact tackles and stops. He had seven pass break ups in high school this year along with 79 total tackles. 29.5 of those tackles were for losses.
Landing a commitment from him would help keep momentum building. It would also give us another big piece to go alongside the young commits from this year's class.
Brandon Jordan is still doing some social media recruiting for Michigan State football
Brandon Jordan still loves him some Michigan State.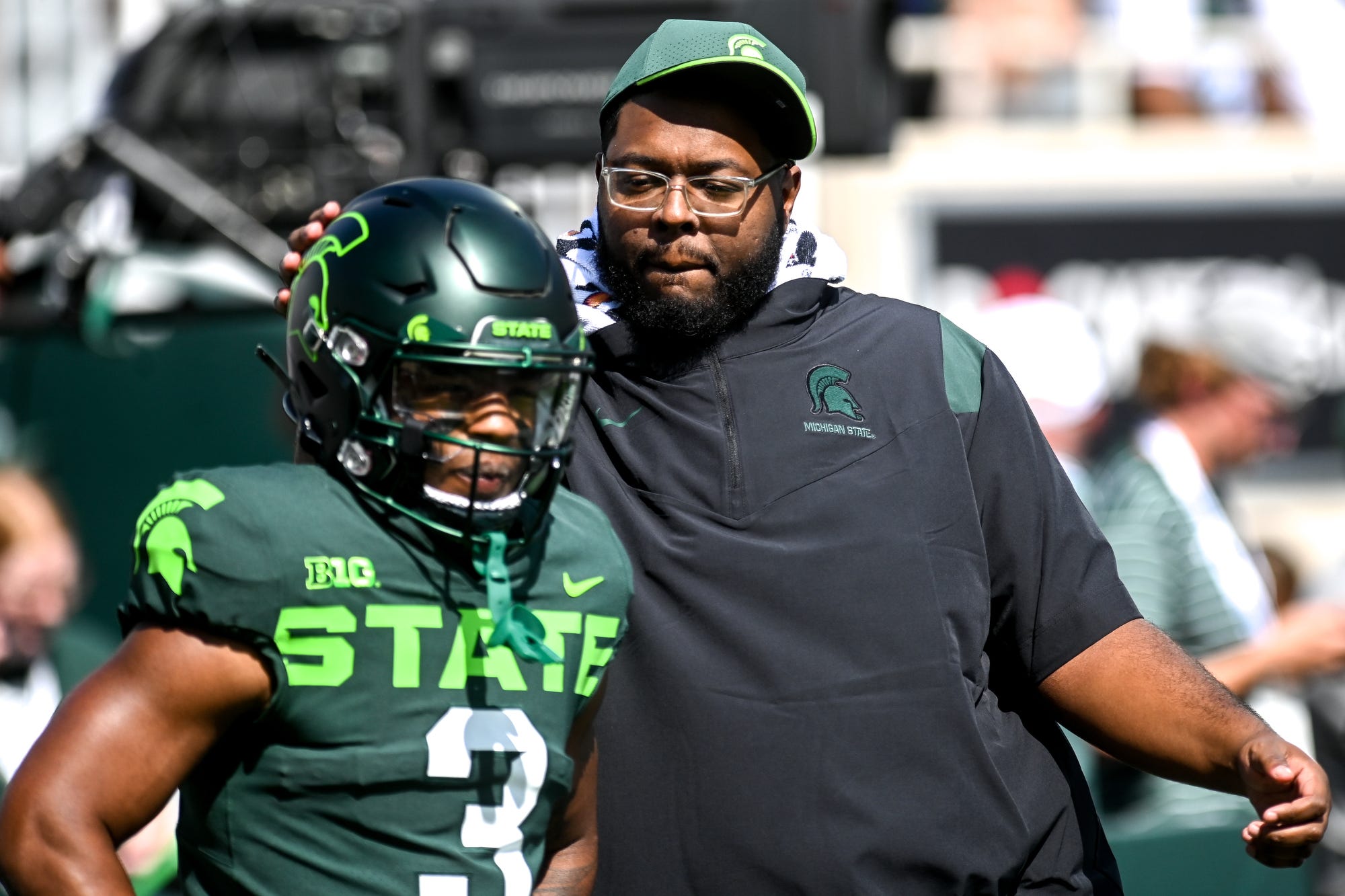 Brandon Jordan hasn't been on the Michigan State football staff for months but he's still doing some social media recruiting.
The month of June for Michigan State football is huge because it's the start of official visit season.
This month is an opportunity for Michigan State to either make up ground on players' recruitments or finish the deal with a commitment. One of the most important aspects of these visits is the connection between the players and the coaches. With a few coaches leaving Michigan State, building those connections between the new coaches and the recruits has been something the coaching staff has tried to do. Typically when coaches leave, they typically don't try to help their old school in recruiting but this is not the case for Michigan State and Brandon Jordan.
After one year at Michigan State, Brandon Jordan took a job with the Seahawks but this doesn't seem to affect the relationship he has with the Spartans, especially in recruiting.
While Jordan is not in that room anymore with the recruits, he still has his huge social media following. Jordan has used that following to not only show off his training but it has used it to help Michigan State a little bit in recruiting. One recent example was after four-star athlete Quanell X Farrakhan Jr. was offered by Michigan State. Jordan responded to the news by tweeting at him that Michigan State is the place to be and that Courtney Hawkins will get him right.
Q that's the place to be!!! @CoachHawk_5 go get you right https://t.co/aVQF0Ar2jL

— Coach Brandon Jordan (@CoachBTJordan) June 1, 2023
While Jordan might not do this often, this is something that will help Michigan State in a few different ways.
One of those ways this will be helpful is that it shows coaches seem to enjoy their time at Michigan State. Jordan would not be replying to a recruit with that comment if he did not enjoy his time in East Lansing.
The other main reason this will help is because of the impact that Jordan has had on many different players at all levels of football. He has worked with some of the best players on the defensive line in football which means that he knows what he is doing. While Farrakhan might not be on the defensive line, having a coach like Jordan respond like that could impact his or other recruits' opinions on Michigan State football.
Overall, Jordan still lightly recruiting for Michigan State on social media could definitely be a positive thing for the program especially because it's been quiet lately.
Michigan State football: Previewing June 2 official visits
Who will be on campus this weekend?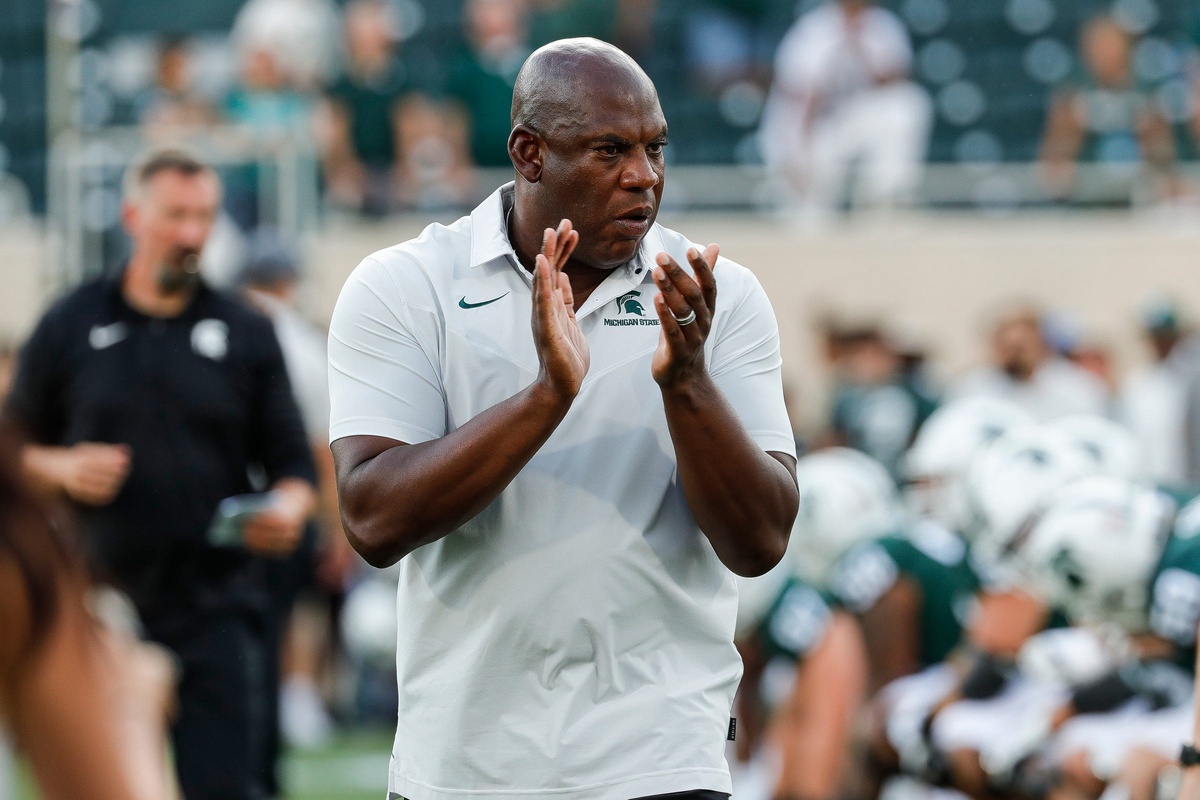 This weekend kicks off the first weekend of official Michigan State football visits. Let's take a look at who is attending.
Happy June, everyone. Schools are letting out everywhere. If you live in mid-Michigan like myself, we've had our first week of extended summer weather. The sun is setting after 9 p.m. now. This can only mean one thing: Official visit season is starting for Michigan State football.
So far for the month of June, MSU has 34 official visits locked in and are looking to add a few more as well. With the first weekend of visitors set to arrive in East Lansing tomorrow, let's recap who will be on campus.
Here are the 12 recruits coming this weekend.
Brauntae Johnson, 4-star ATH
Brauntae is the highest-rated player visiting this weekend per the 247 composite rankings. He is listed as the 161st overall player in the 2024 recruiting class. He hails from Fort Wayne, Ind., and he is listed at 6-foot-3 and 170 pounds. He projects as either a wide receiver or defensive back at the college level. Brauntae also has aspirations to play college basketball potentially as well. As we've seen with Keon Coleman and Maliq Carr, that is something that sometimes can be possible at MSU. Can Mel Tucker use the prowess of MSU basketball to help land him?
Michigan State football is listed first on his official visit schedule. He will attend one at Notre Dame and then to Purdue after East Lansing. According to 247Sports, the Fighting Irish may seem to be the front-runners, but MSU seems to graining some ground recently.
Dylan Williams, 4-star LB
The linebacker prospect from Long Beach Poly (Calif.) has been talked about a lot in recent weeks. He is one of the highest-rated linebackers in the 2024 class. As of right now, he has four official visits scheduled/completed. He went to UCLA on May 5, will be in East Lansing on June 9, and after that he is planning to head to Eugene for his Oregon visit on June 9 and then to Miami on June 23. Texas and Michigan are the schools that appear to be fighting it out for a final visit from Dylan.
Williams is very active on social media and has been seemingly excited for the trip to East Lansing this weekend. Dylan ranks No. 171 overall in the class.
Xadavien Sims, 4-star DL
Speaking of highly-talked-about prospects, Spartan fans have became very acquainted with the name Xadavien Sims over this recruiting cycle.
The defensive line prospect from Oklahoma is listed as the 25th ranked defensive line prospect in the 2024 class. He is a product of the C4 training camp in Oklahoma. This gym is the same one that has produced several big prospects recently including class of 2023 MSU signee Bai Jobe. Xadavien is also extremely close with 2024 blue-chip prospect David Stone. The two of them have visited East Lansing several times during this recruiting cycle.
Sims recently committed to Oregon on May 20 but stated that he will continue to attend his official visits as well.
After East Lansing this weekend, Sims will have two more visits remaining. He plans to travel to TCU and Vanderbilt for those. Despite the Oregon commitment, Michigan State football has always been closely connected with Sims. Let's hope Tucker and staff have some juice left to maybe force a flip to the top-200 prospect.
Jordan Ross, 4-star WR
The next prospect visiting this weekend is Jordan Ross. The 6-foot wide receiver from Downey, Calif., is returning to East Lansing as one of the more highly sought after prospects for the Spartan coaches. He currently holds 11 offers from schools.
According to some experts, MSU has a lead in the recruiting prospect and many believe a commitment from him could be on the horizon if all goes well this weekend. Jordan is a dynamic route runner and is extremely efficient with his movement. He and MSU receivers coach Courtney Hawkins have a great relationship and he could be a great addition to a deep receiving corps.
Kwazi Gilmer, 4-star WR
Another receiver prospect arriving on campus this weekend is Sierra Canyon prospect Kwazi Gilmer. The 6-foot-2, 180-pound wideout is ranked 271st in the composite rankings and has been turning a lot of heads lately. He has been heavily recruited on the west coast.
His official visits are all spoken for and MSU is the only school west of the Pacific Coast to get a visit locked in. He visited UCLA on May 26. After this visit he will be spending the next three weekends at Stanford, Washington, and Cal, respectively.
Kwazi holds 17 total offers and has some good size to make a difference at the next level.
Marcellus Barnes Jr., 4-star ATH
Marcellus is another prospect who has been getting a lot of attention in the recruiting world of late. He currently holds 16 offers including MSU, Ole Miss, Georgia, Florida State, and Baylor. Most of the big school offers have came in the last couple of months. Marcellus is a 6-foot-2 athlete who most likely will play corner in college. Michigan State football is the only program he has locked an official visit in with so far so look for Tucker to make a big early impression.
Kahnen Daniels, 4-star RB
Daniels is a name that has been talked about a lot recently as well. The 5-foot-11 running back from West Point, Miss., is currently committed to Florida but it appears a chance to flip could potentially happen. The Gators certainly remain the front-runners and will have Daniels back on an official visit the weekend of June 16.
That being said, MSU has kept in close contact with Daniels and getting a visit locked in is big for the Spartans. So far, Daniels only has the Spartans and Gators locked in for visits so it appears the Spartans would be the only other team seriously in consideration for Daniels' services.
Eric Karner, 3-star TE
Eric is a big target for MSU, literally and figuratively. Tucker has recruited the 6-foot-5 tight end prospect heavily, and staff recently and getting an official visit locked in was a good start. The three-star prospect has also set visits with Iowa and Florida for later weekends in June. Alabama and Texas A&M were among other schools expressing interest in visits as well. Karner is ranked as the 28th-best tight end in this year's class and would be a nice get for the Spartans.
Henry Hasselbeck, 3-star QB
The newest name on this weekend's official visit list is one that comes with a familiar last name for football fans. Henry Hasselbeck is a three-star quarterback prospect from Westwood Mass.
Considered a late-riser in this class, Henry has been getting some recent offers. MSU offered him on May 27 and was able to lock in an official visit almost immediately. He also has visits scheduled this month with Boston College and Pittsburgh.
You may recognize his name as his dad Matt Hasselbeck played in the NFL for 17 seasons and is currently an analyst on ESPN. Henry is a very gifted athlete. He has accolades in both lacrosse and hockey to go along with football. He is currently committed to play lacrosse at Maryland but could change his mind to follow dad's football footsteps.
Justin Denson, Unranked S
The last of the visitors this weekend that aren't currently committed to MSU would be none other than Justin Denson. The 2024 safety prospect is currently not ranked on the major recruiting publications but is generating a lot of recent offers. In total, he holds 27 offers including MSU, Oklahoma, Florida, and Arkansas.
So far he has three visits locked in. He will be in East Lansing this weekend, Florida on June 9, and then Oklahoma on June 17. The Rhode Island product seems eager to get to campus and MSU will look to make a great first impression.
Currently committed visitors
The final two visitors of the weekend are prospects that are already verbally committed to MSU. While having them committed already is nice, as we all know in today's recruiting world, nothing is final until the prospect signs his NIL. Even then it can be dicey. Continuing to recruit your own players is the nature of the game now and Mel and Co. are continuing with that theme this weekend.
Commits Jaylen Thompson and Logan Bennett will be on campus again this weekend and hopefully can add to the recruiting pitch the other 10 visitors will receive.
Thompson and Bennett have stated they remain committed to MSU and both seem anxious to help persuade others to join them. Thompson has been committed to the Spartans since December 2022 despite picking up offers from other big name programs afterwards. He is a 6-foot-0 corner and hopes to help eventually anchor MSU's defensive backfield. Bennett is the most recent MSU commit — he committed in April 2023. The interior offensive line prospect is looking forward to come East Lansing and get to visit with potential teammates this weekend.
With so many potential impact players coming to campus this weekend, the coaching staff is working relentlessly to put out the best possible presentation. Fans should be encouraged by the list of prospects visiting.
Hopefully a couple commits come shortly after this weekend. There are a few players that seem to be trending in the right direction for MSU. Landing a couple would help generate some much-needed momentum for the Spartans on the recruiting trail.
Michigan State football receives prediction to land 4-star RB
This would be a nice pick-up.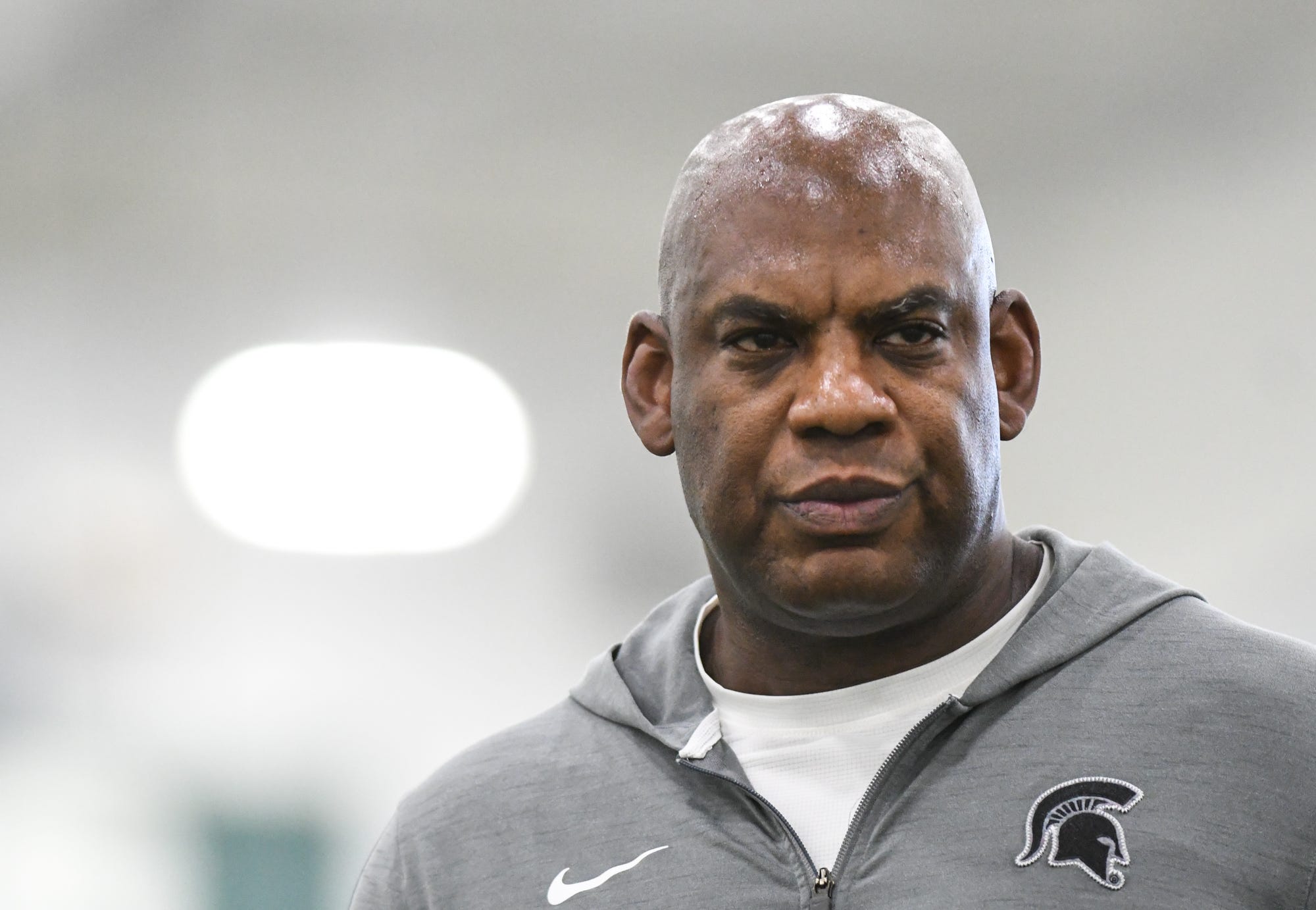 Michigan State football received a prediction on On3 to land one of the best running backs in the 2024 class.
With official visit season getting under way this weekend, Michigan State football will be hosting its share of top prospects. Efforts to build up their 2024 recruiting classes are in full swing. With visits comes the chance to get commitments. Now we are still months away from signing day. As we are coming to harshly realize, any verbal commitment now does not really mean anything until players sign their letters of intent in December. That being said, the next few weeks launch the recruiting world's most exciting time.
With the visits being scheduled, national recruiting experts are starting to log their predictions on where certain prospects are going. On3's Director of Recruiting Chad Simmons is no different. Simmons has logged a couple predictions today and one of them has the Spartans landing a major target of theirs.
On3 tweeted today that Simmons believes four-star running back Anthony "Scoota" Carrie will commit to MSU.
On3 Director of Recruiting @ChadSimmons_ has logged an expert prediction in favor of Michigan State to land 4-star RB Anthony Carrie🟢⚪️

Intel (On3+): https://t.co/cbM8xf4Uiw pic.twitter.com/uWtnZX0jfK

— On3 Recruits (@On3Recruits) June 1, 2023
Simmons' prediction was placed with a 60 percent confidence level. Carrie is currently scheduled to be on his official visit to East Lansing on the weekend of June 9. He moved that visit up on Thursday after initially planning on coming up the last weekend in June.
Carrie holds 42 total offers and currently has three official visits locked in. He had plans to visit Notre Dame, North Carolina, and MSU. There is some speculation now that he is forgoing his Notre Dame visit cause it was scheduled for the weekend of June 9 previously. The announcement that he is now going to East Lansing that weekend could be considered a good one.
A new date for the Notre Dame visit has not been announced yet.
Further information about Carrie's schedule as well as a possible looming commitment should be following in the coming days. Stay tuned with Spartan Shadows for the latest updates.