Can Michigan State football flip 4-star Florida RB commit?
Mel Tucker is working on his flip game.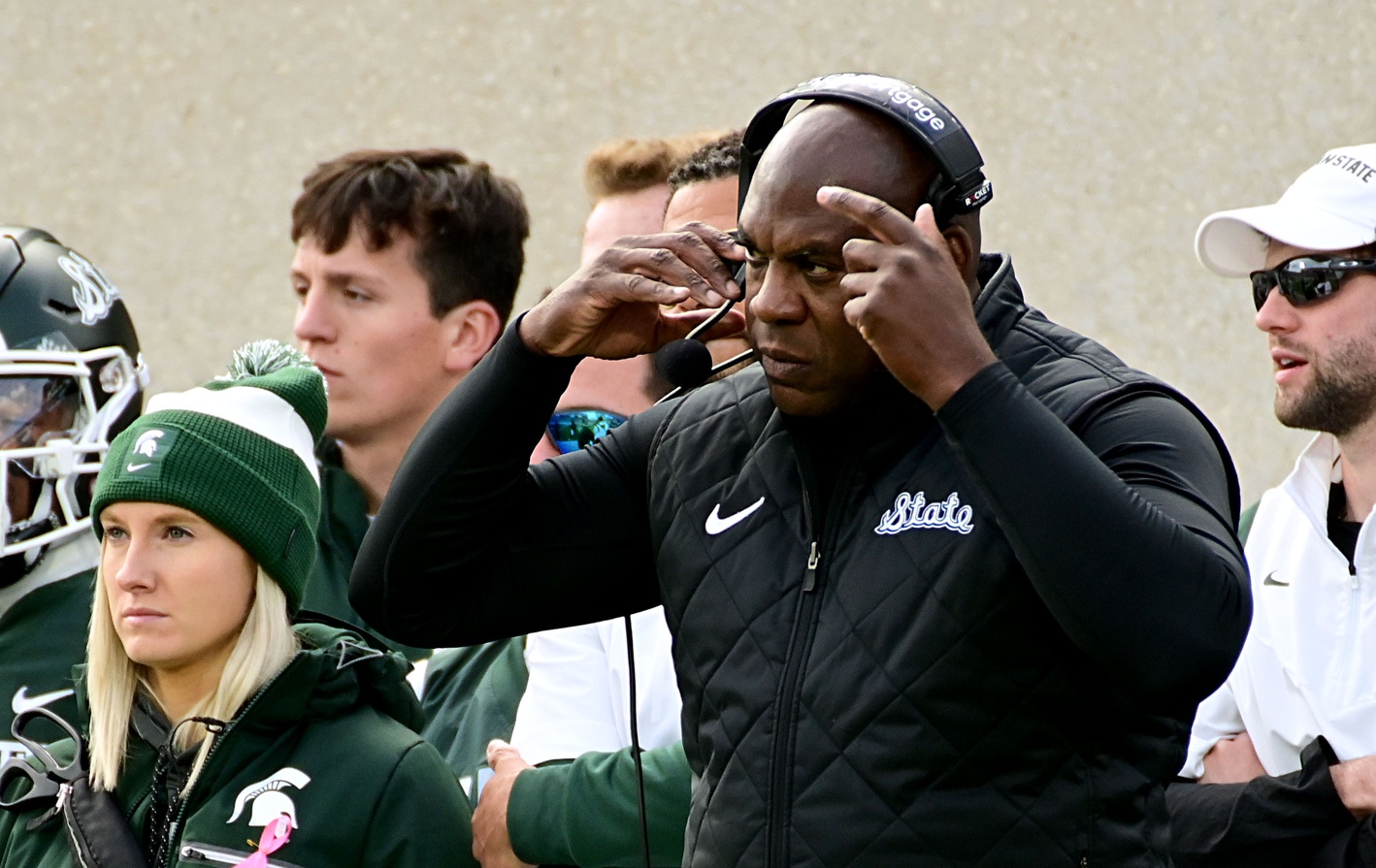 Michigan State football will host a four-star Florida running back commit for an official in June. Can the Spartans flip him?
Mel Tucker and Michigan State football have scheduled yet another visit for the June 2 weekend, this time with four-star running back Kahnen Daniels.
Daniels' recruitment has been pretty quiet of late as he committed to the Florida Gators on April 10. However, that has not stopped Tucker and running backs coach Effrem Reed as they are still in hot pursuit of the talented back.
Daniels checks in at 5-foot-11 and 190 pounds and is from SEC country in West Point, Miss. He is a four-star recruit ranked No. 339 in the country and No. 28 amongst all runnings backs.
The Mississippi product is a "do it all" type of player as he primarily played quarterback with a little wide receiver and running back for his high school team this past season. His high school team operates a run-heavy offensive scheme, so most of his productivity still came on the ground even while he was at quarterback. In Daniels' junior season, he rushed 203 times for just over 2,000 yards and 24 touchdowns. On top of that, Daniels threw for 212 yards and two touchdowns and hauled in one catch for 42 yards. This versatility is exactly what we need in East Lansing.
According to 247Sports, MSU appears to be the only other school still making noise in this recruitment since his commitment to the Florida Gators. Recruits flipping their commitment is not uncommon in today's game, and Daniels could be the next to change his commitment in favor of MSU.
The Spartans' 2024 class sits at four commitments, none of which are running backs. Daniels would be a massive get for MSU as the Spartans have struggled recruiting the running back position out of high school. LJ Scott was the last four-star running back to commit (and stay committed) to MSU and that was back in the 2015 class.
The Spartans are also playing host to another four-star running back in Anthony Carrie, whose official visit is already scheduled to begin June 23.
June 2 is shaping to be a massive recruiting weekend for the MSU staff. Daniels is one of five four-star recruits currently scheduled to visit MSU this weekend alone. Current MSU commit Jaylen Thompson is one of those five recruits and will look to help convince the others visiting to join him in this class.
Is MSU on the verge of flipping a major Florida commit? Only time will tell, but Tuck's Comin'.
Michigan State football: Andrew Dennis doing all he can to recruit 2024 class
We've got ourselves an elite player-recruiter.
Michigan State football commit Andrew Dennis is doing everything he can to help Mel Tucker recruit during official visit season.
It's official visit season, folks. That means that Michigan State football fans who have been craving good recruiting news for months may finally have their thirsts quenched.
If three-star offensive line commit Andrew Dennis has anything to say about it, recruiting will pick up sooner rather than later.
According to Corey Robinson of 247Sports, Dennis will be on an official visit on June 9 just one week after an unofficial visit for the first weekend of officials. After his official, he plans to take unofficial visits every weekend for the remainder of June to help the Spartans recruit.
#MichiganState commit Andrew Dennis is taking his official visit next weekend.

He is ALSO taking MSU unofficial visits the rest of the weekends in June to help recruit uncommitted targets.

He talked to @C_Robinson247 about this past weekend in EL (VIP):https://t.co/ImhdDIbcW4 pic.twitter.com/viHHEmqdYT

— SpartanTailgate.com (@SpartanTailgate) June 6, 2023
You can read Robinson's VIP article if you subscribe to 247Sports, but the basic message is in the tweet above: Dennis is doing everything he can to help recruit the 2024 class.
Dennis was on campus on June 3 for the first round of officials and it was a good opportunity for him to get in some top targets' ears like Kahnen Daniels, Dylan Williams, and Kwazi Gilmer. For the remainder of June, he could help the Spartans land Nathan Roy, Jordan Ross, Jeremiah Beasley, Jordan Brown, Nick Marsh, Justin Denson, and others.
Just this upcoming weekend for his own official, Dennis can work on Anthony Carrie, Jamari Howard (again), Caden Durham, Kamar Mothudi, Roy, Beasley, Reggie Powers, Syair Torrence, Javarius Green, and Camren Campbell.
It's good to see that the Spartans have their own player-recruiter. The best recruiting classes have a commit or signee who works on getting other top targets to join him.
Michigan State is hoping for a great month of June, recruiting-wise. And if Dennis has anything to say about it, the Spartans will have just that.
Mel Tucker has himself a great recruiting tool in the 2024 class.
Michigan Sate football: Chopalytics recap for official visit weekend 1
How did official visit weekend No. 1 go?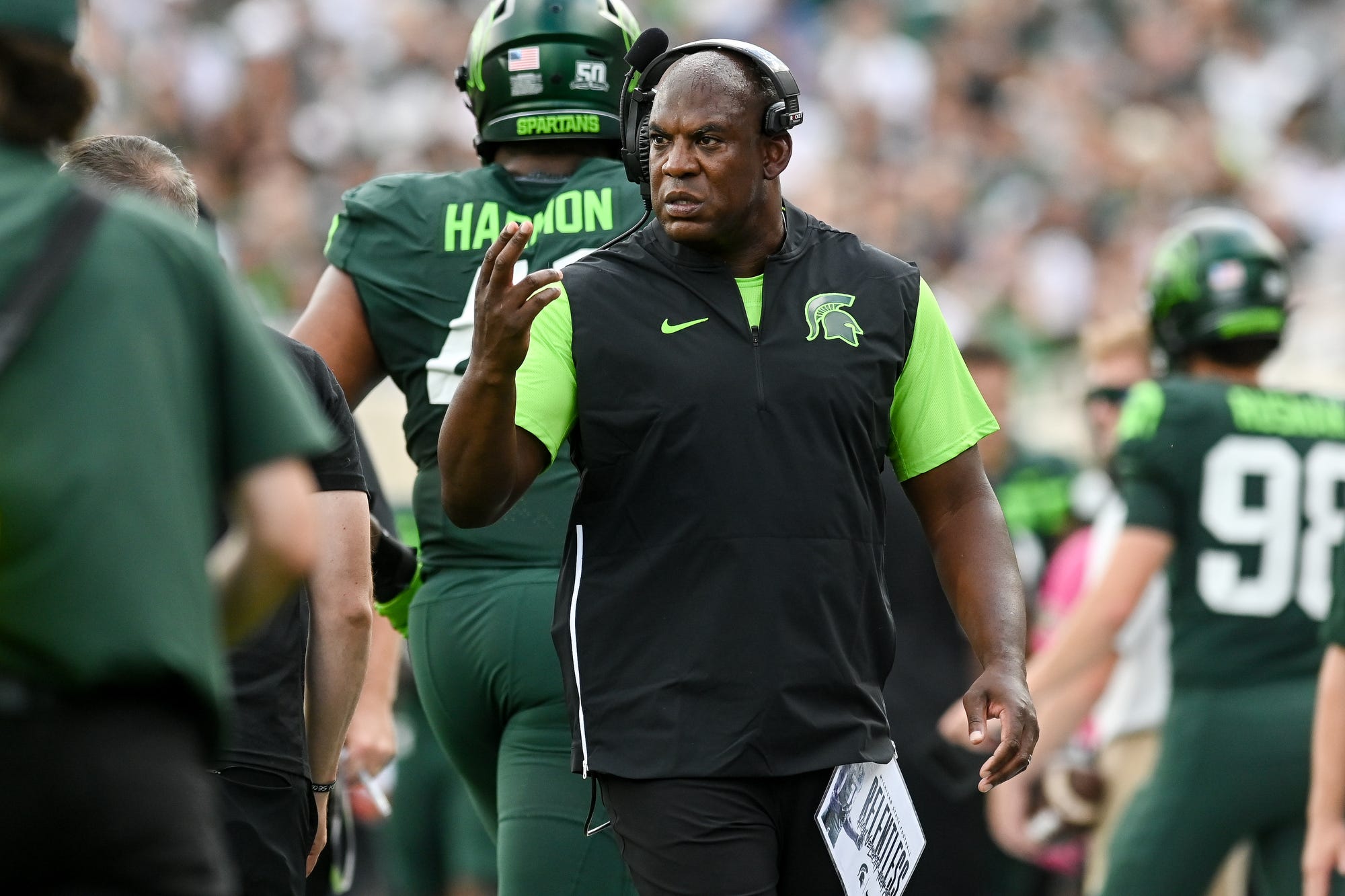 Michigan State football just wrapped up its first weekend of official visits. Let's recap the first weekend.
June is going to be a hot month for Michigan State football recruiting.
This past weekend was the first of multiple huge recruiting weekends happening over the course of the next couple weeks.
Last year, we saw cars, goats, and 'dawgs'.  This year, things seem to be running much more under the radar.
Here is who was on-site this past weekend:
Bruantae Johnson, 4-star ATH (visit was cancelled)
Dylan Williams, 4-star LB
Xadavien Sims, 4-star DL (maybe?)
Jordan Ross, 4-star WR
Kwazi Gilmer, 4-star WR
Marcellus Barnes Jr., 4-star ATH (visit will be rescheduled)
Kahen Daniels, 4-star RB
Eric Karner, 3-star TE
Henry Hasselbeck, 3-star QB
Justin Denson, 3-star S
What we saw
Although things are a lot quieter than last year, we still got some great Mel Tucker content and some things to be excited about. It definitely feels like MSU is going after more players that are attainable. Last year included a ton of blue chip recruits and plenty of five-stars but the program is simply not yet ready to play on that level.
Instead of going after the most popular girl in school, MSU seems to be going after players who are more likely to say yes to our prom invitation.
Dylan Williams seems to be a top priority for Tucker and Co. He was lucky enough to take a spin in Tucker's Slingshot which is cool no matter what you think. Lane Kiffin may have a Rolls Royce for recruits to take photos with but does he have a Slingshot to drive them around in? Didn't think so (I actually have no idea).
It was also seen that the recruits got to visit Tucker at his house. Makes me reminisce of the good ol' days (last summer) when the legend, four-star linebacker Jordan Hall, committed on the spot during his official visit.
My fingers are crossed that each player got to take home a goodie bag of cigars (that they can smoke when they are of age) and puppies.
Chopalytics Prediction Machine (CPM)
Now, this wouldn't be a ChopMan article without the use of the Chopalytics Prediction Machine (CPM). This spring, we developed a new app that spits out the percentage likelihood of each visitor committing to the good guys. Remember, the CPM uses AI-generated predictions based on tweets, vibes, and hope to deliver real time results.
Here's what it's saying about this past weekend's visitors: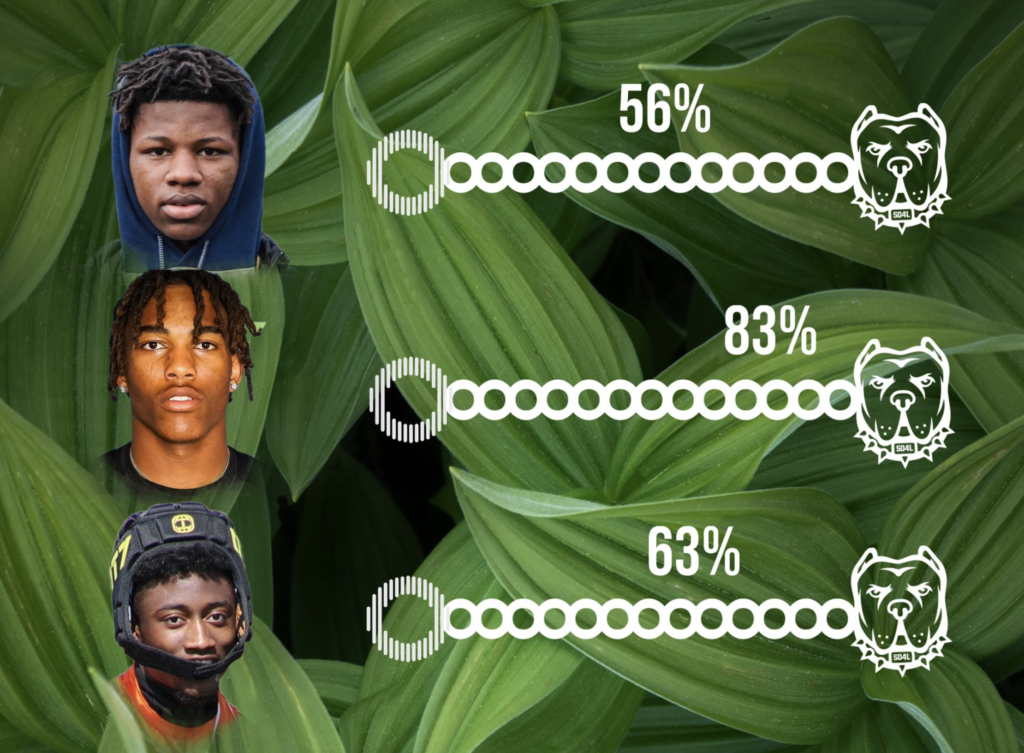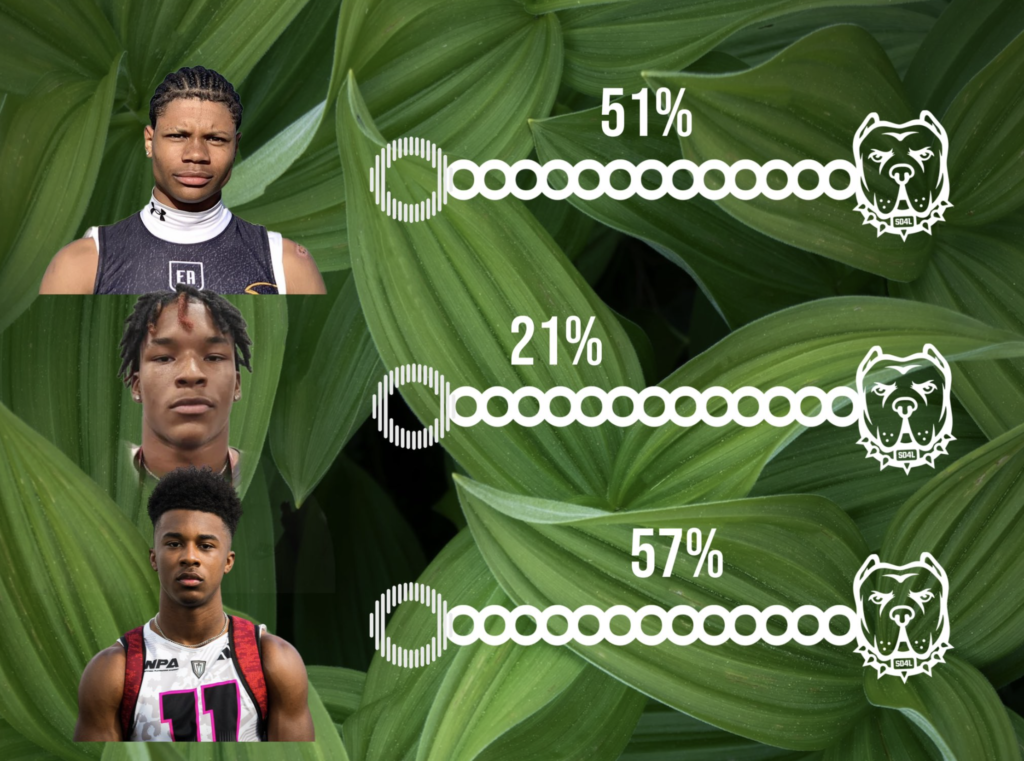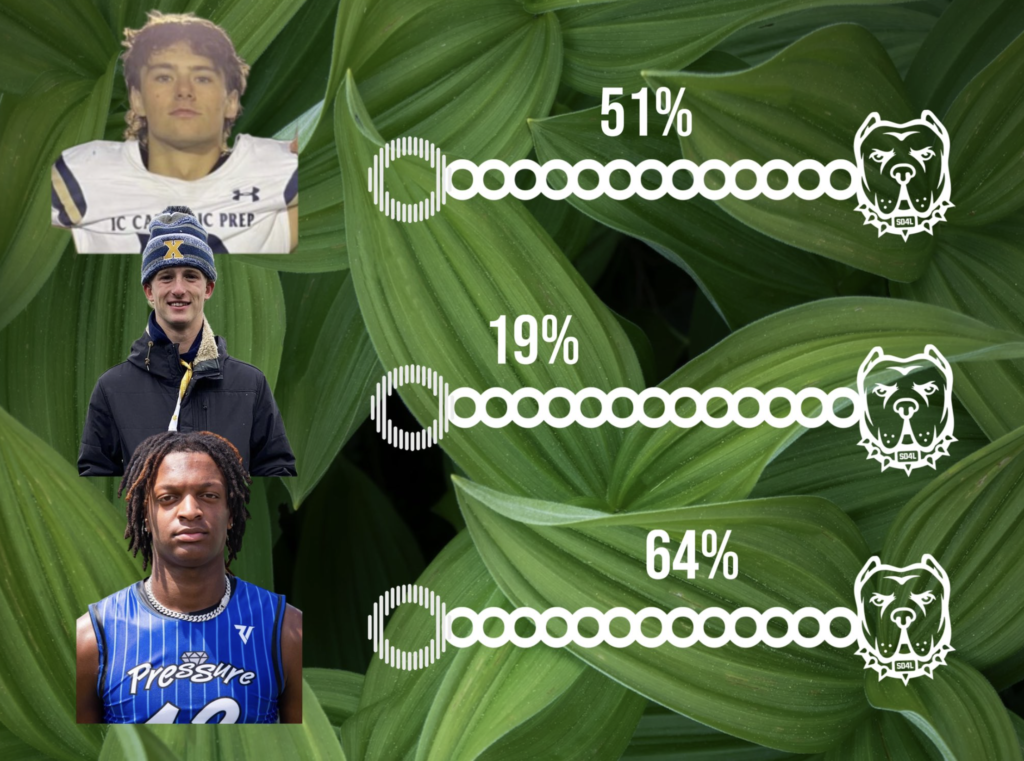 PS – Mel, if you're reading this (because I know you do), I'm still waiting on you to land a chopper at the 50. It's only fitting.
Chop
Michigan State Football: 4-star CB commit Jaylen Thompson shuts down recruitment
This is great news.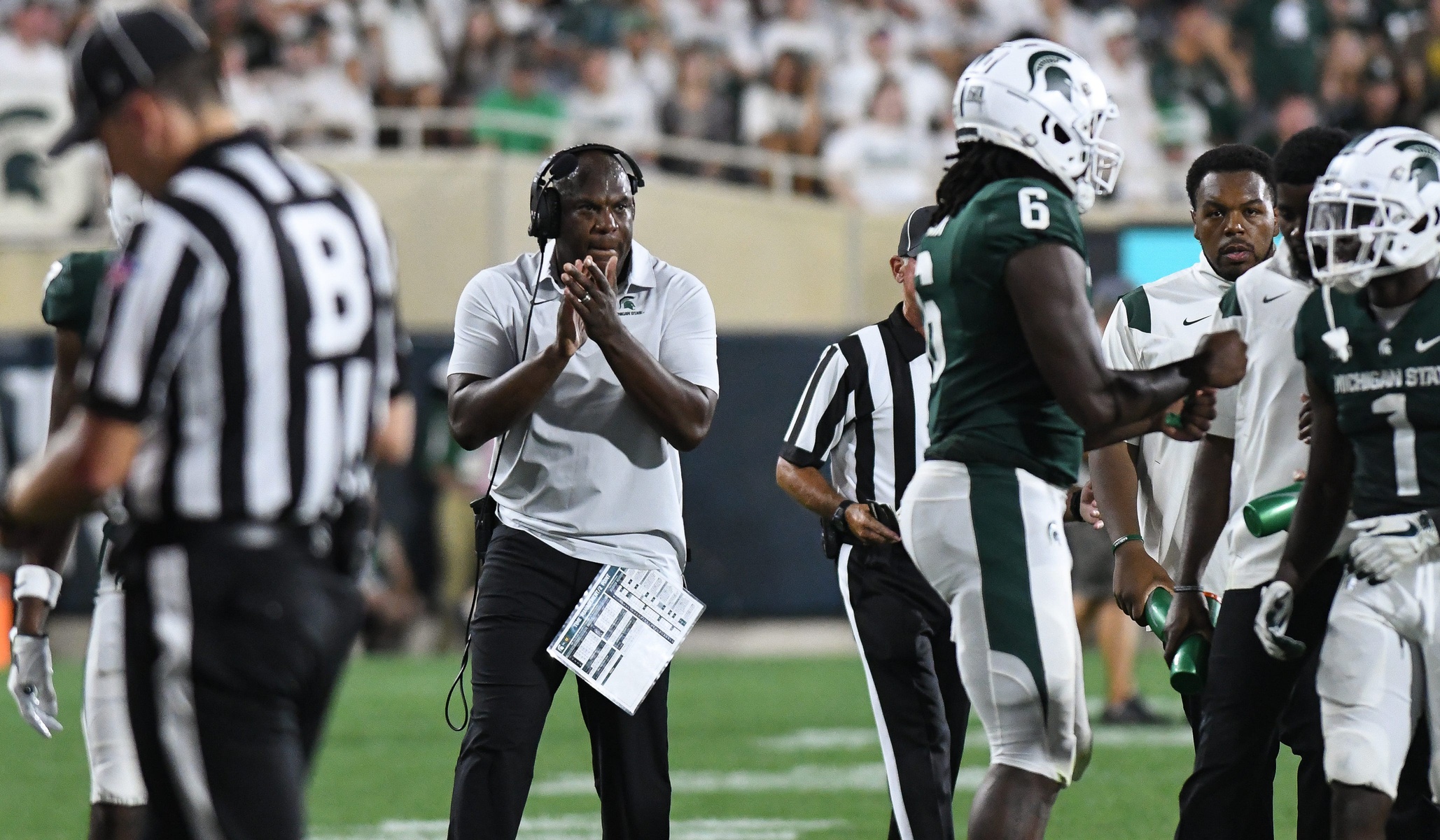 After his official visit to Michigan State football this past weekend, 2024 commit Jaylen Thompson says he's done with other visits.
In college athletics, especially the state that we are currently in, it seems like the word "commitment" isn't always what it seems to be. Just ask Graham Couch what he thinks of the word "commit". He would say players are more issuing a pledge to the school, not actually a commitment. While this seems to be a trend for some athletes, the word commitment to Michigan State football commit Jaylen Thompson seems to mean something.
A few weeks ago, Thompson doubled down on his commitment but there have been some athletes in the past that have done that and then decided to go to another school.
This does not seem like the situation Michigan State is in with Thompson.
According to Spartans Illustrated editor Ryan O'Bleness, Thompson is "done with visits" and he's apparently "locked in" with his decision.
Four-star cornerback commit @JaylenT06's official visit to Michigan State this past weekend only reiterated what he's already known for a long time: MSU is home.

"I'm done with visits (to other schools)," Thompson said. "I'm locked with my decision."https://t.co/ntrzWq8Yez

— Ryan O'Bleness (@ryanobleness) June 5, 2023
This demonstrates when Jaylen says Michigan State is home, he means it. Thompson is one of the first commits for the 2024 class and he is the type of player any football team would like to build around. He not only will have the opportunity to come in and make an impact next year, he can already make an impact through recruiting other players.
Having the assurance of a four-star player is important especially when other highly-recruited players are looking at your school. Thompson can use this as an opportunity to reach out to players that are heavily recruited to come to Michigan State and talk to them about playing together.
Thompson shutting his recruitment down after his official visit is a welcomed sight for all fans. While it is not the new commitment some fans are looking for, having a player basically say I'm not looking anywhere else is a good sign.
We have seen several players commit to a team and take more official visits. That is the football world that we are living in but that doesn't seem to be the case for Jaylen and Michigan State.