Michigan State football: Here's the path to a bowl berth in 2023
How can MSU make a bowl game?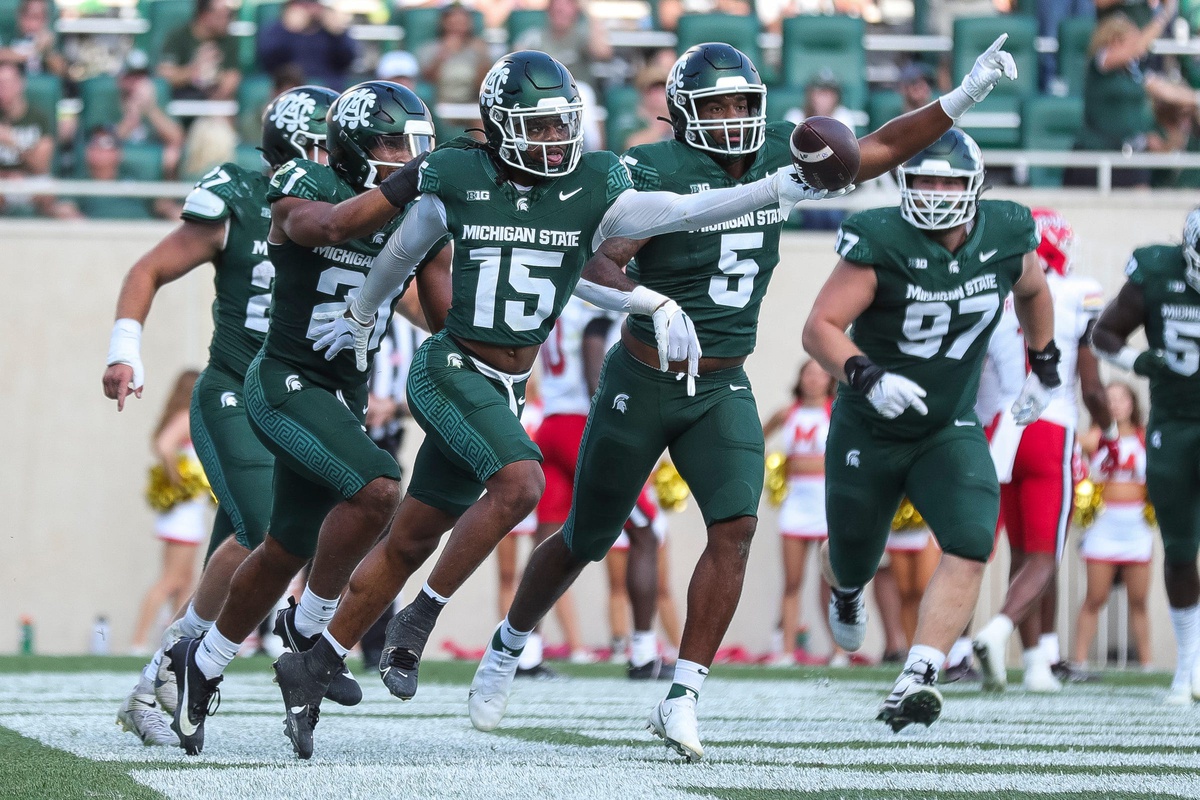 Michigan State football is 2-2 on the year and a bowl berth looks unlikely. How can the Spartans make a bowl?
Michigan State football is a mess right now. The Spartans have been outscored 72-16 at home in their first two games against competitive opponents. Six of their last eight games are away from East Lansing. Three AP top-six opponents are remaining on the schedule. They are guided by an interim head coach with the Mel Tucker scandal ongoing. 
With everything going on, making a bowl appearance may seem like an afterthought. ESPN's Football Power Index (FPI) currently gives the Spartans a 19.6% chance of reaching the six-win plateau. The FPI model currently only favors MSU in their games against Nebraska and Indiana.
Four more wins will be difficult to come by, but there are certainly ways for Michigan State football to get there.
The realistic path
Michigan State will likely immediately suffer a setback in Iowa City. Iowa's offense (or lack thereof) will likely allow the Spartans to hang around, but their defense might overpower an MSU offense that has not hit double digits in consecutive games. An extra week of preparation could lead to a win against Rutgers. There is no doubt the team will play its absolute hardest against Michigan the next week, but Paul returning to East Lansing does not seem like a very realistic scenario. Two winnable games follow that. First, they play at Minnesota, who just lost to Northwestern. The last true home game of the year follows that against Nebraska, who has also had a rocky start to their season. Wins there would make the Spartans 5-4 going into a night game in Columbus, a game they have no realistic chance of winning.
This leads to an almost identical situation as last season. A 5-5 Michigan State team is playing for bowl eligibility against a bad Indiana team with a game against Penn State the next week everyone knows will probably be a loss. The team remembers how that infamous loss to Indiana felt last year and should find a way to win that game, especially with Jonathan Kim proving to be an upgrade at kicker. 
Beat Michigan
This is a big reach. Michigan is ranked No. 2 for a reason. They slept-walked to a 22-point win in Ann Arbor last year and almost the entire team is back. None of their first four games have ever been in serious doubt. All signs point to them being 7-0 entering East Lansing. But it only takes one game. Michigan State has a history of beating Michigan in games they had no business winning. Every fan knows who Jalen Watts-Jackson is, a man who finished his career in East Lansing with eight total tackles. An unranked Spartan team went into the Big House and beat seventh-ranked Michigan two years later. The Wolverines were 21-point favorites in 2020. It was 30-14 Michigan late in the third quarter in 2021. 
Simply put, weirder things have happened. The offense will have to improve a lot very fast in order to compete with a defense that has only allowed one non-garbage time touchdown. The defense will have its hands more than full dealing with an improved J.J. McCarthy and wide receiving corps, let alone Blake Corum and Donovan Edwards in the backfield.
Whoever is starting at quarterback for MSU would need to have the game of their life and receive a lot of help.
With six wins in mind, the biggest upset in the rivalry's history would make 6-6 the floor, rather than the ceiling. The bonus is possibly knocking Michigan out of serious College Football Playoff contention in the process. 
The 5-7 loophole
This is where things can get really weird. There were some discussions about this possibility last year as well. If not enough teams win six games and fill all of the bowl slots, those spots begin to be filled by 5-7 teams. The spots are determined by the team's Academic Progress Rating (APR). This loophole allowed the 5-7 Rice Owls to receive a bowl bid last year. A 5-7 Rutgers squad got to play in the 2021 Gator Bowl after Texas A&M dropped out because Rutgers had the highest APR among the 5-7 teams. The Spartans ended up being the third team out of receiving a bowl spot last year, following UNLV and Auburn. 
In order for this to happen, it would require more teams than usual to have losing records along with enough teams with a better APR than Michigan State to finish 4-8 or worse. With all of the luck it requires, the most obvious solution to avoid dealing with this is to simply win that sixth game. Even if MSU received a bowl bid at 5-7, it would feel a bit undeserved to many. 
Regardless, those extra practices teams get for making a bowl game are very valuable. It furthers the development of the younger players, including early enrollees. Additionally, making a bowl game may help prevent a massive transfer portal exodus once the regular season ends. With a regime change looming, preventing players from wanting to leave has to be one of the primary goals for MSU at the moment. Making a bowl game in a season filled with this much adversity would give players, recruits, and fans a more positive view of the future of the football program and might lead to more people sticking around.