Michigan State football: How have former Spartans fared on new teams?
Let's check in on some former MSU stars on new teams.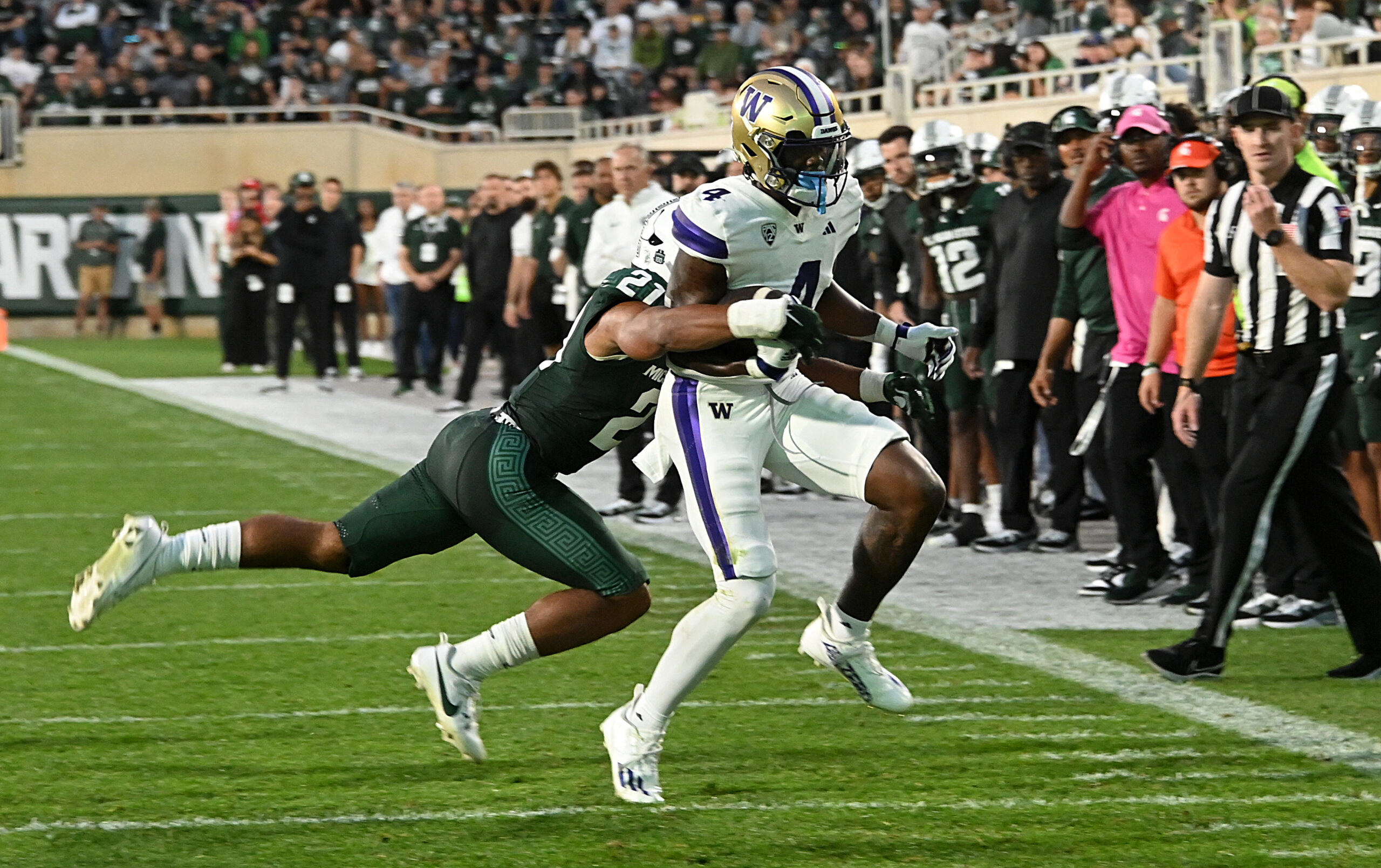 Now that we are at the midway point of the 2023 season, how have former Michigan State football players who hit the portal fared?
Transferring players has become an extremely common thing since the introduction of the transfer portal. Oftentimes, players that leave get forgotten by fans. Let's see how some notable former Michigan State football players who have found new teams are doing this year.
Michigan State's leading receiver last year has continued to show the nation just how good he is. He put up nine receptions, 122 yards, and three touchdowns in his debut against LSU for the Seminoles. It appears he does his best in big games. His second-best performance came at Clemson, where he reached the end zone twice on five receptions and 86 yards. 
Florida State is right in the middle of the CFP race, ranked fourth nationally, and a heavy favorite to win the ACC title. Some people have projected Coleman as a potential first-round pick in the 2024 NFL Draft. 
MSU's starting quarterback the previous two seasons has found a new starting job at Auburn. The Tigers have utilized other quarterbacks in their system, but Payton Thorne has thrown the vast majority of passes. Auburn currently sits at 3-2 but came just short against Georgia in their most recent game. 
Thorne's passing numbers are not very inspiring, with 643 yards in five games, four touchdown passes, and four picks. What jumps out more is that he has been more willing to use his legs than last year. He has 198 rushing yards this season already, a career-high and up from just 42 rushing yards for MSU last season. 
Auburn will have to battle to make a bowl game after their 0-2 start in SEC play, especially with ranked LSU and Ole Miss up next on their schedule. They are looking for their first winning season since 2020. 
A former four-star recruit, Germie Bernard has had a very solid season with the Huskies. Under an air raid offense and one of the best quarterbacks in the country, Bernard has already surpassed his totals from last year. His role has increased after Jalen McMillan got injured during Washington's visit to East Lansing. Bernard had three receptions and 23 yards in that game. Bernard had nine catches for 98 yards during the Huskies' win over Arizona. 
Washington is also a playoff contender. Michael Penix Jr. is a serious candidate for the Heisman.
The challenge is that Washington has not really played a team that should challenge them that much. They get that this week, as they host Oregon. Additionally, their last four games are also against teams currently ranked in the top 20 of the AP Top 25. 
A man who was a Spartan for five years, Elijah Collins is using his final year of eligibility on the Oklahoma State Cowboys. Unfortunately, his number of touches has decreased as the season has gone on. He did not get any carries during Oklahoma State's loss to Iowa State and only two in their win against Kansas State. 
Overall, Collins has 27 carries, 108 yards, and one touchdown on the year so far. It seems like forever ago when he reached over 1,000 scrimmage yards in his redshirt freshman year at Michigan State. 
Oklahoma State has had some struggles this year, sitting at 3-2, one of those losses being a blowout against South Alabama. Their upset win against Kansas State rekindled hope as they make their way through a Big 12 conference that has been relatively weak outside of Oklahoma and Texas. 
Following a 2021 season where he earned seven sacks and three forced fumbles, Jeff Pietrowski got injured during MSU's game in Seattle last season and missed the rest of the year. He now finds himself with the Wisconsin Badgers. 
Pietrowski has not put up a lot of stats so far. He has played all five games, but only has five total tackles, none being in Wisconsin's last two games against Purdue and Rutgers. Additionally, Pietrowski does not have a tackle for loss or a sack yet. 
Wisconsin is one of the favorites to take the Big Ten West. They are 4-1, the loss being on the road against No. 19 Washington State. They also have a favorable schedule, only having to face one of the "Big 3" in Ohio State at home on Oct. 28.