Michigan State football: It's finally Katin Houser time vs. Rutgers
A new era begins.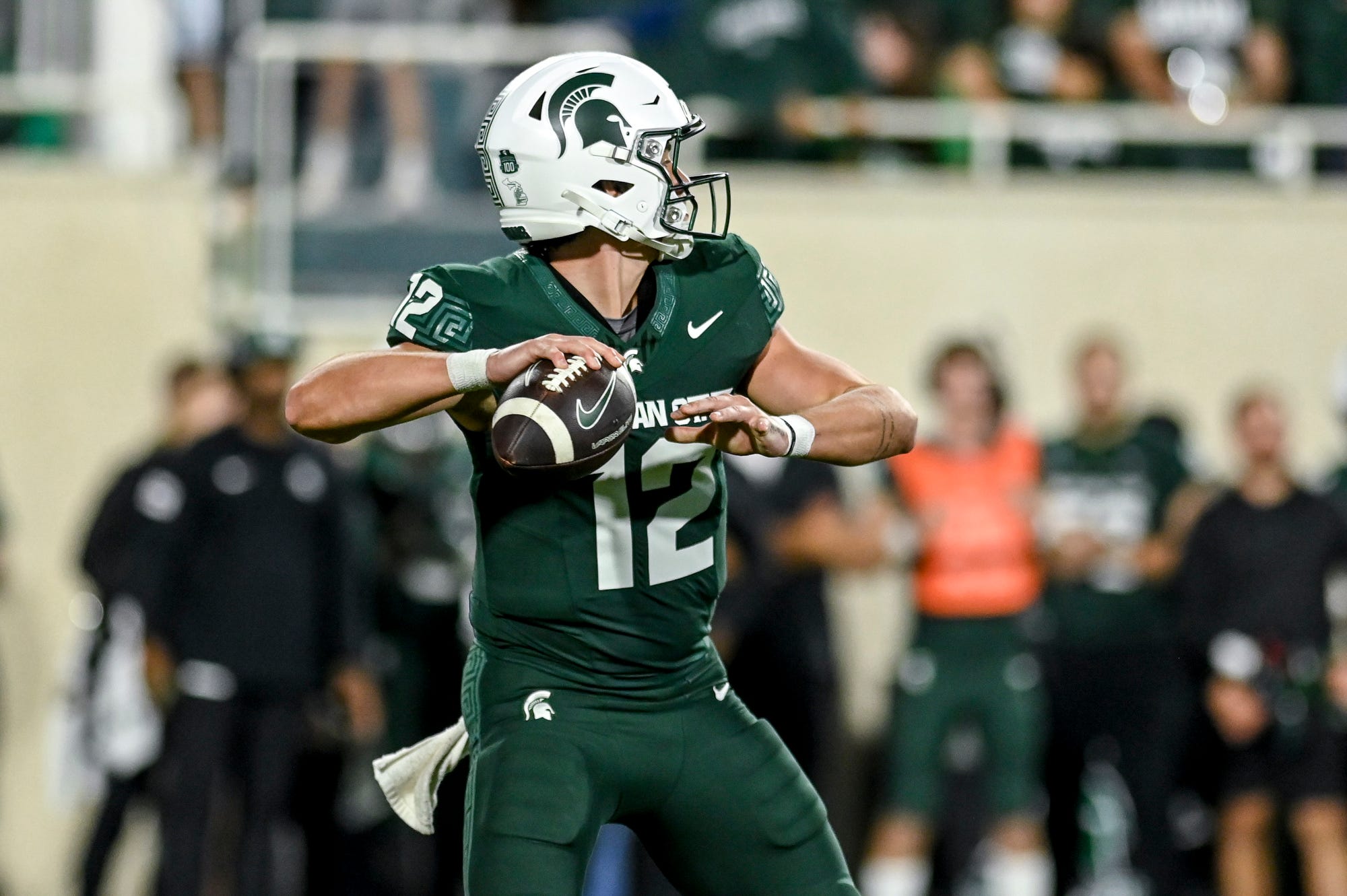 Michigan State football is preparing for a huge Week 7 battle with Rutgers and it's finally time for Katin Houser.
Everyone seemed to be asking for it. Reports say that redshirt freshman Katin Houser is expected to receive his first career start for Michigan State football. He looks to reboot a reeling 2-3 Spartans team on the road against a 4-2 Rutgers squad. This is not a typical "Rutgers game" that people chalk up as a free win. Greg Schiano has formed a good team and Rutgers sits as a 4.5-point favorite as of Thursday morning. 
Michigan State offense vs. Rutgers defense
Michigan State needs to be better. The offense has failed to score 10 points in each of MSU's three consecutive losses. There have only been two offensive touchdowns. One came with the Spartans already down 41-0, the other when it was 21-3. I don't need to say that football teams need to score touchdowns to win. But in order to win, those touchdowns need to come while the game is actually competitive, not after. 
The hope is that Katin Houser will change that. One small competitive advantage is that it will be more difficult for Rutgers to study him. Since he has only come in during blowouts while running vanilla offenses, there is not a lot on tape to allow Rutgers to know his tendencies. 
Regardless, the Rutgers defense will still be a big challenge. Michigan is the only team to score over 20 offensive points on them. They are 13th in the country in scoring defense, ahead of each of the last three teams MSU has played. Rutgers allows 4.46 yards per play, the same amount as Michigan. 
Everyone else around Houser is going to need a good game in order for Michigan State to win. It would be silly to expect him to go out there and instantly be Kirk Cousins or Connor Cook. There will be growing pains. In order to ease that, the offensive line, the receivers, and the running backs have to take on a little more. Noah Kim was a first-year starter, but it was also his fourth year of college football. This is Houser's second.
Nate Carter will need to run well. The offensive line needs to make sure Houser has time to throw. Receivers might need to bail Houser out of some throws and make sure they catch the good ones. 
Overall, do not expect the offense to immediately transform with Houser, but some improvement should be there. 
Michigan State defense vs. Rutgers offense
The Rutgers offense is very interesting. They have put up good numbers against lesser talent like Temple or FCS Wagner. Put they have had struggles against Big Ten teams. They are coming off a 13-point performance against Wisconsin. Their only points against Michigan were on a somewhat fluky touchdown on the opening drive. They had 24 points against Northwestern, who is ranked 12th in the Big Ten in scoring defense. 
The Scarlet Knights are piloted by Gavin Wimsatt at quarterback. His numbers are not super impressive, with less than a thousand passing yards through six games. He has six passing and four rushing touchdowns on the year compared to two interceptions. That mobility will be something for Michigan State's defense to look out for, as he has 230 rushing yards so far this year. Wimsatt also had a solid outing in their loss to MSU last year, going 20-for-34 passing, 236 yards, and two touchdowns. 
The Spartans will familiarize themselves with running back Kyle Monangai. He leads the Big Ten in rushing attempts and is third in yards. He has had a slower couple of weeks after Rutgers was forced to throw the ball more often against Michigan and Wisconsin. Monangai's best game this year came against Virginia Tech, with 143 rushing yards, and three touchdowns. His best game last year was against MSU, going for 162, which was 98 more yards than his next-closest output.
MSU's defense will have to find a way to contain both Monangai and Wimsatt in the rushing attack. Rutgers does not have any receivers that have huge stats, with leading receiver JaQuae Jackson transferring from Division II California University (PA). Forcing a few turnovers and allowing Katin Houser to gain some confidence will be necessary. 
Prediction
Overall, Rutgers is still favored for a reason. Houser will improve how the offense looks, but he will still look like a redshirt freshman making his first career start. Nate Carter will receive the bulk of the work for Michigan State football. Wimsatt will throw the ball a bit more than usual. Rutgers won't put up a ton of points, but it will be enough to win a tight one as a potential Houser game-winning drive falls short.
Prediction: Rutgers 27, Michigan State 21