Michigan State football: Just how bad has the offense been?
This offense has been horrid.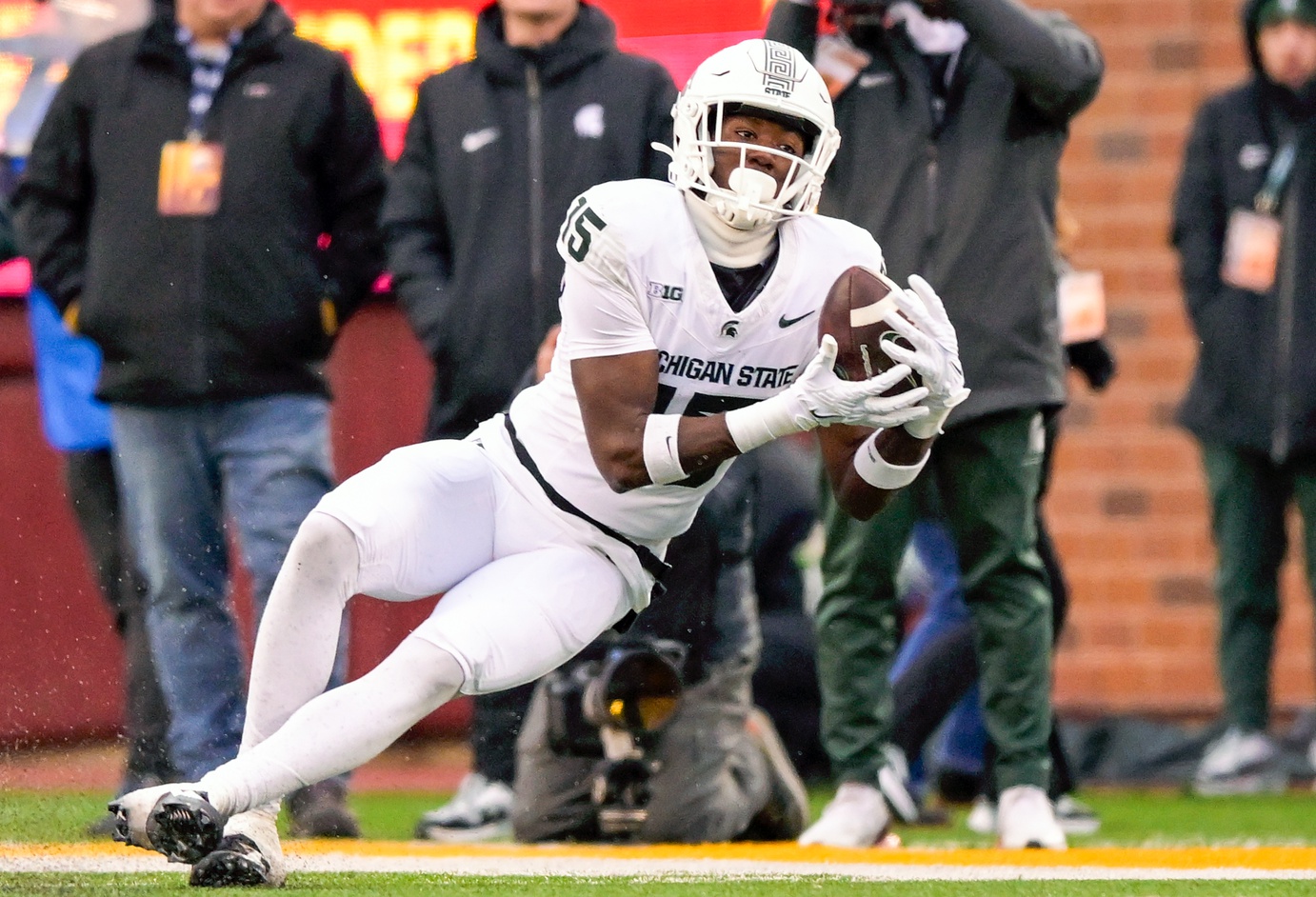 The Michigan State football offense has been one of the worst in the Power Five this season. Just how bad has it been?
Watching the Michigan State football offense this year hasn't been a lot of fun, to say the least. This year especially, Jay Johnson — once an exciting coach with a bright future — has exhibited a complete lack of creativity, adaptability, and competency, and fans are calling for his head. Whether it's the runs up the middle for no gain on fourth-and-one, the two-yard throws, or the dozens of three-and-outs, it's getting comical how bad that side of the ball is. We all know the state of affairs, but let's put a few numbers on it.
Here are three stats that indicate just how putrid Johnson's Michigan State offense has been this season.
All statistics are via NCAA.com.
18 points per game (Rank: 125th out of 130 teams; worst in Power Five)
The most thoroughly condemning statistic of them all. The team always seems to find a way to fail to score — fumbling, fizzling out in the red zone, just going three-and-out repeatedly, the list goes on — and the numbers reflect it. This is already a horrendous figure in and of itself, but the situation is somehow even worse than it looks. This statistic is inflated because the Spartans' first two games of the year were against Central Michigan and FCS Richmond, contests in which MSU essentially just padded its stats. Removing those two games gives us a clearer picture of the actual state of affairs, and it's ugly.
Just 11.3 points per game.
That's it.
I don't think there's much else that needs to be said.
322.1 total yards of offense per game (Rank: 111th out of 130 teams)
This stat is pretty closely tied in with the aforementioned one. Scoring a respectable number of points is a pipe dream as long as the Spartans continue to put up yardage numbers this putrid. The quarterbacks haven't been able to get going in any semblance of the term. The run game started out looking promising, but pretty quickly fizzled out and has struggled since. Nothing seems to have worked in ages, and the stats tell the exact same story we've all seen on TV this year. Consistently getting yardage seems a nigh impossible task for this Michigan State football team, and it hurts to watch.
For those of you curious, removing the first two games drops this number to 284.3 per game.
9 passing touchdowns, 10 interceptions
It doesn't take a football genius to see that Michigan State has been hard-pressed to move the football through the air at all this year. I don't think I really need to illustrate this, but I will point out that of the measly nine touchdowns recorded thus far, five came in the first two games. The Spartans have cycled through three quarterbacks so far, none of them proving much better than the last. Whether it's Noah Kim, Katin Houser, or Sam Leavitt, the position has been plagued by inaccurate passes, terrible interceptions, and just a general lack of effectiveness. Admittedly, one could argue that the jury is still out on the latter two guys mentioned, and I'd tend to agree. Unfortunately, though, as it stands, Michigan State has a massive quarterback problem. It's true that the rest of the offense has been terrible as well, but when the principal position of the unit is this bad, I don't think anybody else really has a chance.
Final thoughts
The complete and total lack of competency displayed by Michigan State's offense in 2023 has been nothing short of appalling. It seems all but a foregone conclusion that offensive coordinator Jay Johnson will be relieved of his duties after this season, and at this point, I think most of us can agree that it's for the best. The situation is akin to the old idiom of watching a train wreck unfold. It's painful and hard to watch, but as fans, we can't look away.
Hopefully, by this time next year, we won't want to.