Michigan State football stock watch: Who's up, down after Minnesota loss?
Stocks are still on the rise?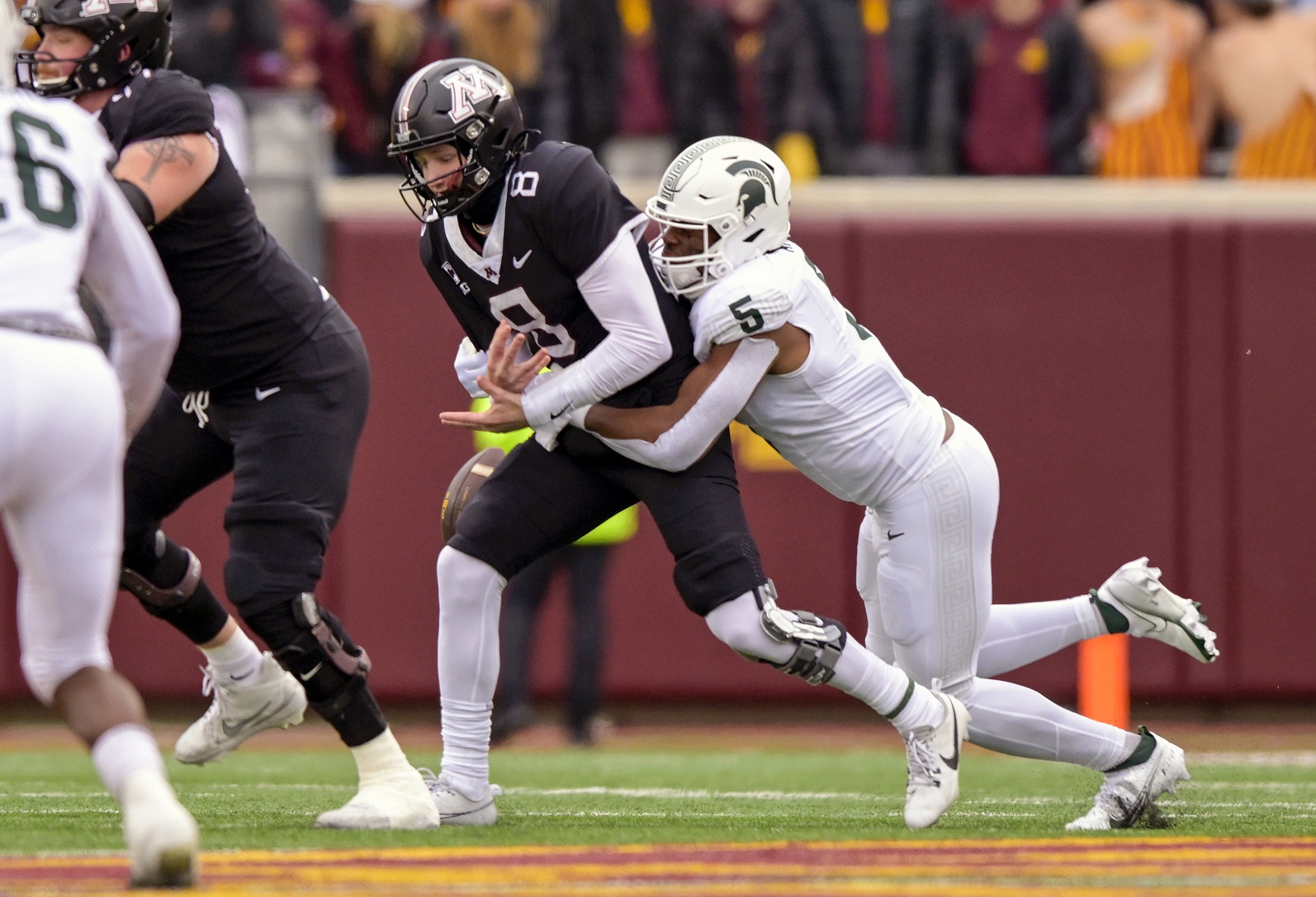 Michigan State football has now lost six straight games. Here's the official stock watch after the Minnesota loss.
Michigan State football lost its sixth straight game in a fashion that is all too well known. With a combination of poor coaching and bad offense, that won't equal many wins and that is why Michigan State is 2-6.
Even with the loss, there were some positives and quite a few negatives. It's time for stock watch.
Stock Up
If you want to have a reason to be excited about the future of this defense, you don't have to look far because Jordan Hall is going to be a player here at Michigan State. Every week, Hall is getting more playing time and making more plays for this defense. He was one of the main reasons Michigan State went up 6-0 early into the game because of the strip sack. Hall is not only is becoming a great player in front of our eyes, but he will continue to get better and become a leader of this defense for the next few years.
The other defensive player that really stood out in this game was Simeon Barrow. When the news broke that he entered the transfer portal on Tuesday, fans knew they were losing one of their more impactful players and a captain. After a few days in the portal, he decided to come back and his impact was noticed on Saturday. Not only was he causing issues for Minnesota in the run game, he also helped block a field goal that kept Michigan State ahead. Barrow is a player that Michigan State needs to keep and this game proved that.
Sam Leavitt was the spark that this offense needed against Minnesota. Throughout the first three quarters, Michigan State was struggling again on offense, which shouldn't surprise fans. With a combination of blocking and play-calling, Michigan State football needed a spark and they got that with Leavitt. While the play-calling probably wasn't much better, Leavitt used his feet and athleticism to keep the offense moving down the field. He led the only touchdown drive of this game and we saw some zip on the ball that was talked about in the offseason. While Leavitt did make a mistake at the end of the game, fans saw a little spark from the offense that they hadn't seen in the last seven quarters.
Stock Down
Another game that you could argue that coaching decisions might have lost the game for this team. From offensive play-calling that has been horrible to kicking an onside kick with eight minutes left to go in the game, these mistakes and issues can not continue to happen if you even want to win one game.
While coaching and play-calling aren't the only issues, they are big issues because they have been putting the team at a disadvantage. Some people might not have disagreed with the onside kick, this is a decision that I would not make. You finally had momentum and were down by five and if Minnesota recovers it, which they did, the Spartans would be one or two first-downs away from you being down by eight. Also at this time, the defense was exhausted so you need to give them a little more room. There were decisions that were made in this game, especially on offense, that were not just issues in this game, but issues without the season.
Coaching, especially play-calling on offense, will continue to be an issue but at least there are only four games left of Jay Johnson calling the offense.
Scoring 12 points in this game and not scoring a touchdown in seven quarters should be unacceptable in itself but this isn't the first time this has happened. Remember the run of approximately 11 quarters where Michigan State only scored one touchdown. We are right back to that and it has a lot to do with Jay Johnson. When the offensive line struggles to block and you decide to call a draw play, that offense won't do much — and it hasn't.
The offensive line's stock has gone down, Nathan Carter's stock has gone down and Katin Houser's stock has gone down. Is it all the fault of these players? In my opinion, no, and it won't get better unless Johnson improves or he's fired, which both of these options won't happen until the end of the year.
This game was a very familiar one for Michigan State football fans. Just go back and watch the Iowa and Rutgers games. This game was defined by the defense doing its job, the offense not doing its job, and the defense getting so tired that it gives up points in the fourth and you lose. This is a pattern that has continued to happen and it probably won't change this season unless Michigan State finally gets that one win and maybe it could turn into two.