Michigan State football: Noah Kim stepping up after multiple transfers
Noah Kim seems to be that guy.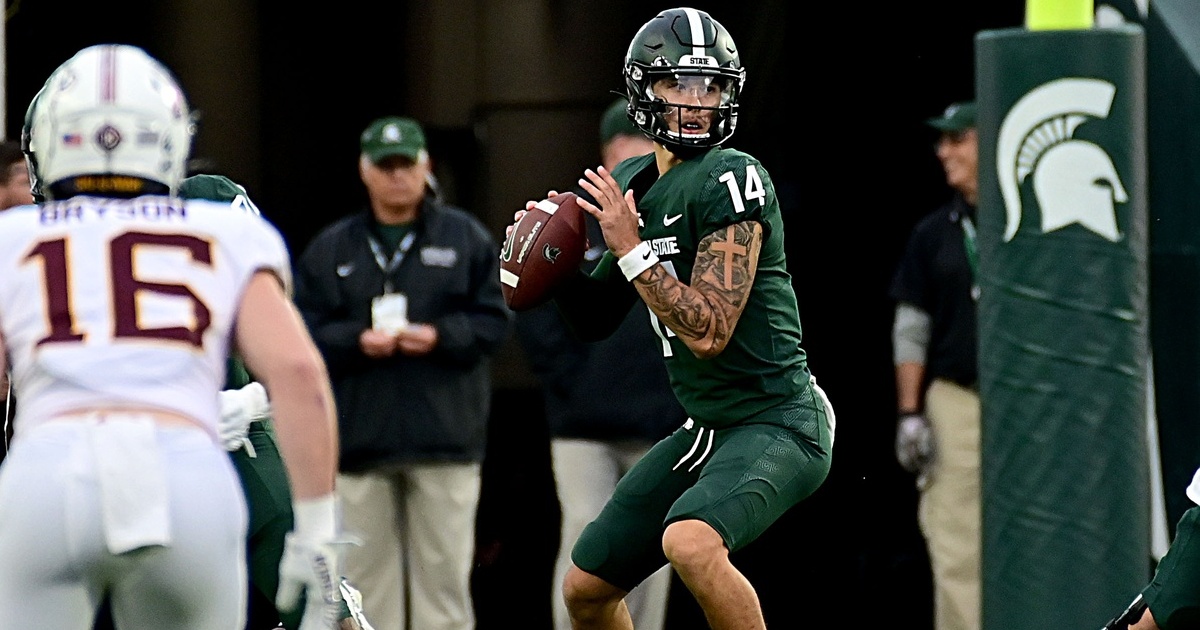 Noah Kim is ready to give Michigan State football fans something to look forward to next year, as he tweeted out last night.
On Sunday, April 30, Michigan State football had four players announce their intentions to enter the transfer portal. Noah Kim told us we have something to look forward to.
Yesterday, as all of you know, was not a good day for MSU. We had three starters enter the portal. Charles Brantley, Keon Coleman, and Payton Thorne all announced their intentions to enter the portal. Additionally, we lost walk on backup quarterback Christian Banks, giving us three total quarterbacks on the roster at this time. Michigan State is losing its top quarterback, star wideout, and starting corner after a 5-7 season. This move was shocking to both current and former members of the Michigan State football team. 
Despite all of this bad news, Noah Kim told us to calm down and watch. Kim believes that there is something special in the Michigan State locker room. Namely, him.
Spartan nation has a lot to look forward to. Believe it! ?

— Noah Kim (@noah_kim12) May 1, 2023
There are rumors swirling of Coleman's departure being from the staff's refusal to rule Thorne out of the quarterback battle. With Thorne at least entering the portal (and maybe heading to Auburn), it is likely to leave a bad taste in the receiver room and coaching staffs' mouths. Even if No. 10 comes back, he will likely be relegated to backup duty. That alone gives us a better chance of Coleman coming back. 
Additionally, considering last year's quarterback play, can it get worse for the Spartans? Despite having two receivers who are likely top-50 draft selections, the offense could not get anything going. Thorne, while admittedly dealing with an injury, was nowhere near a consistent quarterback last year. 
That is where Noah Kim comes in. In his limited action last year, let's recap his stats. Against Western Michigan, Kim did not officially record a statistic. In reality, he took a deep shot when Thorne went down with an injury and drew a defensive pass interference. Against Akron, Kim went 2-for-2 for 22 yards and a touchdown. That is Akron, though, he could not continue to do that to other teams, right? Wrong. In his other two games last year, Kim went a combined 12-for-17 for 152 yards and two more touchdowns.
While Kim has yet to start a game, he has a higher upside than Thorne. He added one rush for five yards last season, but I believe he has the same or better mobility than that of Thorne. Kim is the real deal, and the locker room believes it.
Even looking at Kim's high school stats, he is a winner. He was 41-2 as a starting quarterback for Westfield High School, adding over 100 career touchdowns. Of those two losses, one came after Kim had to be pulled from the game with a broken femur. He only had three interceptions his senior year, while throwing 30 touchdowns. Since high school, Kim has had a few years to perfect his craft, and I believe that he is ready to take the next step and lead the Spartans.
On Sunday night, Kim began stepping up as a leader, tweeting out that we have a lot to look forward to.
Additionally, as I mentioned, the locker room buys into it.
Maliq Carr tweeted out earlier on Sunday that the locker room is in good hands. He deleted the original tweet, where he only tagged Kim. The new version of this tweet is up, tagging both Kim and Katin Houser. Could Carr be tipping the locker room's hand?
Regardless, I believe it is time to start buying into Noah Kim, or should I say, Noah HIM, season.