Michigan State Football: Post-spring depth chart projections for 2023
Will this team be able to turn it around?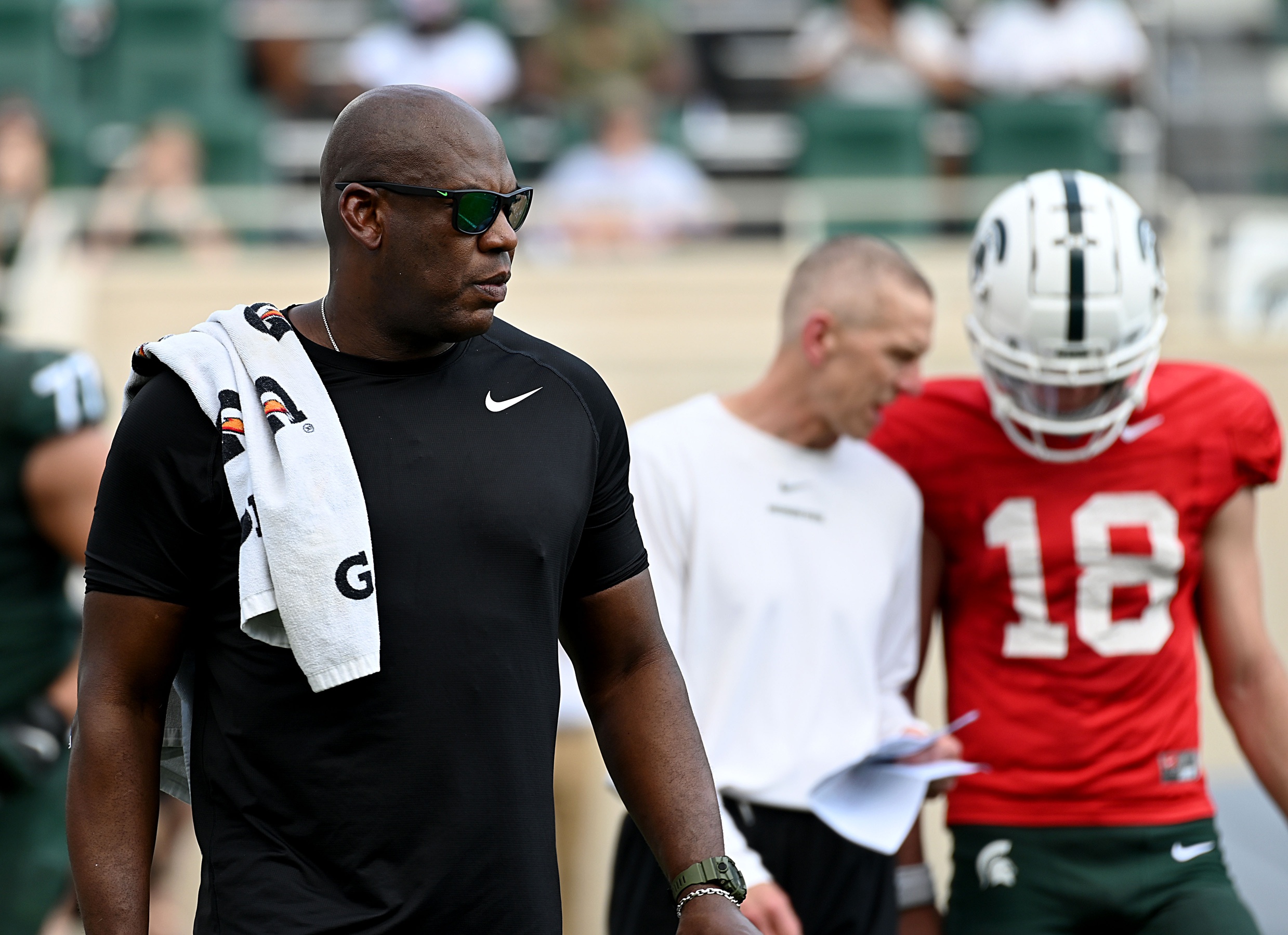 Spring ball is in the books and we now have a better idea of what the Michigan State football depth chart may look like for 2023.
With spring ball in the rearview mirror, and the transfer portal window officially closed, we've reached a quiet period in the football calendar. After having a chance to reset, let's take a look at some depth chart projections for 2023 Michigan State football.
Similar to Mel Tucker, I reserve the right to modify these projections between now and Sept. 1.
We'll go by position group outlining the starters and key reserve players. Let's get started with the most important position group on the field.
Special Teams
Starters: Hank Pepper (long snapper), Stephen Rusnak (kicker), Ryan Eckley (punter)
Reserves: Jonathan Kim (Kicker)
Everyone is focused on the quarterback battle, but my eyes will be glued to the special teams warmup before the Western Michigan game. I'm joking. But this unit cannot be overlooked when we talk about "improvement" in 2023.
Punting will undoubtedly take a step back with Bryce Baringer on to the NFL. Ryan Eckley did kick once last year against Akron for 41 yards. He wins the competition by being the only punter I could find on the roster. But kicking has to be better. Michigan State was just 6-of-12 on field goals last year and passed up many more opportunities due to a lack of trust at the position. Rusnak made his only kick last year and wins the job for me because that's one more kick than Jonathan Kim made at North Carolina (0-for-1). Kim worked primarily as a kickoff specialist for the Tar Heels, and that could be his role at MSU as well. This still feels like it is very much up in the air. Keep an eye out for a late addition via transfer or walk-on.
Defensive Line
Starters: Tunmise Adeleye, Avery Dunn, Simeon Barrow, Derrick Harmon
Reserves: Khris Bogle, Zion Young, Maverick Hansen, Dre Butler, Alex VanSumeren, Bai Jobe
Starters and reserves matter the least along the defensive line. There are likely guys that I'm leaving out that will see plenty of meaningful snaps. Michigan State has a ton of bodies at the position, and they'll likely be looking for some players to emerge throughout camp.
I feel pretty good about penciling in Adeleye, Barrow, and Harmon. Barrow is arguably MSU's best defensive player and has legitimate all-conference upside. Harmon played in all 12 games last season as a redshirt freshman and should continue to improve. Adeleye was the prize acquisition for Mel Tucker in the transfer portal via Texas A&M. The surprise here for many might be Avery Dunn. He came on late last year and took advantage of increased playing time after the suspensions from the Michigan game. He plays with a high motor and shows an ability to get to the quarterback. I just have the feeling his energy and effort will be tough to keep on the sidelines.
Bogle, Hansen, and Liberty grad transfer Dre Butler should provide support as depth pieces with experience. Michigan State will hope to see a big step forward from Young and VanSumeren in their sophomore seasons. Jobe is a very talented freshman that could see snaps in situational pass-rush situations.
Linebackers
Starters: Cal Haladay, Jacoby Windmon, Darius Snow (if he's healthy, he'll be a starter)
Reserves: Aaron Brule, Ma'a Gaoteote
This feels like Michigan State's most settled unit on defense. Whether you want to consider Darius Snow a linebacker or a hybrid safety is kind of irrelevant because if he's healthy, he's going to be on the field regardless of position. I'm grouping him here because he fits well with two other guys that we know will see a lot of snaps.
Cal Haladay returns as a redshirt junior after leading the team in tackles a year ago. While Jacoby Windmon had a big impact early in the season as an edge rusher, he moved back to a more traditional linebacker role against Wisconsin and had a career day. If I had to guess, I'd wager that he plays more snaps as a true linebacker this year. MSU can use his athleticism to its advantage as a standup linebacker with plenty of blitz combinations where he can still be an effective pass rusher.
Brule and Gaoteote will fill in here and there, but I'd guess these three players lead MSU in snaps played this season.
Secondary
Starters: Chester Kimbrough, Dillon Tatum, Jaden Mangham, Angelo Grose
Reserves: Marqui Lowery, Charles Brantley, Semar Melvin, Kee'yon Stewart, Malik Spencer, Justin White, Caleb Coley
Similar to the defensive line, starters and reserves are fairly irrelevant here because all of these guys are going to play. I included four starters assuming Darius Snow plays a hybrid role. When it's all said and done, any of these players could emerge as MSU's best player in the secondary.
Mangham and Tatum are two sophomores that came on really strong down the stretch last year. To me, they have to be on the field even though they're inexperienced because they're just too talented. Grose is a very physical Swiss army knife that's going to line up at safety and corner (or nickel). I went with Kimbrough as the starting corner opposite Tatum because I do feel like early in the season, coaches lean on experience. Truthfully, though, I think we're looking at an old-fashioned competition in fall camp.
Lowery played a lot in 2021 at corner and can't be counted out despite not playing as much in 2022 due to injuries. Brantley withdrew his name from the transfer portal, perhaps indicating that he was further down the depth chart than he'd like. But his playmaking ability will be hard to keep on the sidelines. Melvin and Stewart are transfers that bring experience playing at the Power Five level. Spencer is another sophomore that saw increased playing time as the season progressed and should be in line to see some reps at safety. Justin White will be sprinkled in here and there to do what he does best – blitz from the corner spot.
Overall, I think MSU has a good foundation with Mangham, Tatum, Coley, and potentially Spencer. But there's also a reason we've seen so much of the rest of these guys. Nobody has been able to hold down a spot. Pushing the right buttons on a weekly basis will be a challenge for Scottie Hazelton.
Offensive Line
Starters: Nick Samac (Center), J.D. Duplain (Guard), Geno VanDeMark (Guard), Spencer Brown (Tackle), Brandon Baldwin (Tackle)
Reserves: Keyshawn Blackstock, Gavin Broscious, Kevin Wigenton, Dallas Fincher, Ethan Boyd
If the starting five up front are based on experience, Michigan State's starting five feels pretty set. Nobody else on the roster played a significant number of snaps on offense last season. Samac, Duplain, and Brown are all redshirt seniors that have played a lot of football. Barring an injury, they also feel like almost certainties as starters. Baldwin and VanDeMark are two guys that asserted themselves a little later last season. Both saw significant action in games against Indiana, Rutgers, and Penn State.
Keyshawn Blackstock is the most intriguing reserve. He comes to MSU as the top-rated junior college offensive lineman. At 6-foot-5 and 315 pounds, he should be given every opportunity to compete for playing time.
Behind those six, there are a lot of unknowns. The offensive line is probably the most difficult position to project in terms of high school to college. Michigan State football has eight redshirt freshmen on their roster. It's not at all impossible to think that a name that isn't on this list surprises us and cracks the rotation after a strong offseason.
Tight End
Starter: Maliq Carr
Reserves: Tyneil Hopper, Jaylan Franklin, Ademola Falaye, Jack Nickel
Tight end should be a very interesting position to watch. While Maliq Carr should be the starter based on experience, his playing time will be something to monitor. The Spartans clearly felt as if they had to get better blocking production out of the position. They went out and signed three transfers, but none of them with overly impressive receiving numbers.
We all see the potential with Carr. Physically, with Keon Coleman gone, he may be MSU's most imposing red zone threat. But can he stay on the field enough as a blocker? Will MSU try to utilize him exclusively as a receiver? Regardless, it's now or never for Carr if he wants to have a career in the NFL.
Franklin and Hopper are both sixth-year senior transfers that figure to play most of their snaps in a blocking role. Falaye is really interesting because of his massive frame. At 6-foot-7 and 235 pounds, he'll be hard to miss on the field. That size essentially creates a sixth offensive lineman if he's out there.
Wide Receiver
Starters: Tre Mosley, Montorie Foster, Christian Fitzpatrick
Reserves: Tyrell Henry, Jaron Glover, Antonio Gates, Jr
This doesn't feel like a finished product yet. Michigan State has been rumored to be in contact with a couple of receivers in the transfer portal. I suspect they'll add at least one.
Keon Coleman's departure leaves a massive hole at this position. Mosley and Foster are the only two players that have received any sort of extended playing time, but neither is a replacement for Coleman. Mosley is a really solid slot and underneath receiver. Foster is a speedster that works behind the line of scrimmage or deep. Christian Fitzpatrick is a big target, but we just haven't seen much of him. He was working his way into the offense last season before suffering a season-ending injury.
Behind those three are more questions. The Spartans clearly liked Tyrell Henry's athleticism, because they put him in to return kicks late last season. Glover is a promising youngster that should have every chance to compete for reps. Gates Jr. showed some nice moments in the spring game but remains nothing more than an intriguing prospect.
Running Back
Starter: Jalen Berger
Reserves: Nathan Carter, Jordon Simmons, Jaren Mangham
Michigan State gets its leading rusher back from last season in Jalen Berger. After a strong start, Berger fell out of the rotation when MSU got behind and was forced to abandon the run. In games later in the season though, Berger reemerged as the preferred option between the tackles. He'll have to fend off the Connecticut transfer Nathan Carter.
After leading the Huskies in rushing over the first month of the season, Carter suffered a shoulder injury and did not return. He possesses great speed and provides a different look than Berger.
Jordon Simmons completely fell out of the rotation last season but should be in the mix this year for situational work alongside South Florida transfer Jaren Mangham.
Quarterback
Starter: Noah Kim
Reserve: Katin Houser
Saving the juiciest battle for last. I've got Noah Kim edging out Katin Houser. I'm going full "read between the lines" with my reasoning because we have almost nothing else to go off.
For starters, I think it's notable that Kim is still here to begin with. A Dantonio recruit in 2020, he redshirted and served as a backup each of the past two seasons. That's almost unheard of in this day and age of college football. I also don't think the Payton Thorne transfer happens if there wasn't at least a chance that he was beaten out. Lastly, I don't think we can discard the fact that Kim was QB2 last season. In that position, you practice and prepare as if you're the starter because you're just one play away from going in. Put those three things together, and I think it's clear the staff really likes him. I think it's clear that they've told him he'll have a chance to be the starter.
Now, that's not to say that the staff doesn't feel the same way about Katin Houser. Make no mistake. This should be a battle all the way through the last rep of camp. But when I think about this Michigan State team, I think about their low margin for error. I think about the inexperience at the receiver position. And I'll go back to my comment from earlier about coaches leaning on experience early in the year.
I fully expect to see both guys this season. I hope we see both quarterbacks. On Sept. 1, though, I think Kim takes the first snap of the season.
Michigan State football: Washington game time, channel announced
Fans won't be too thrilled about the channel.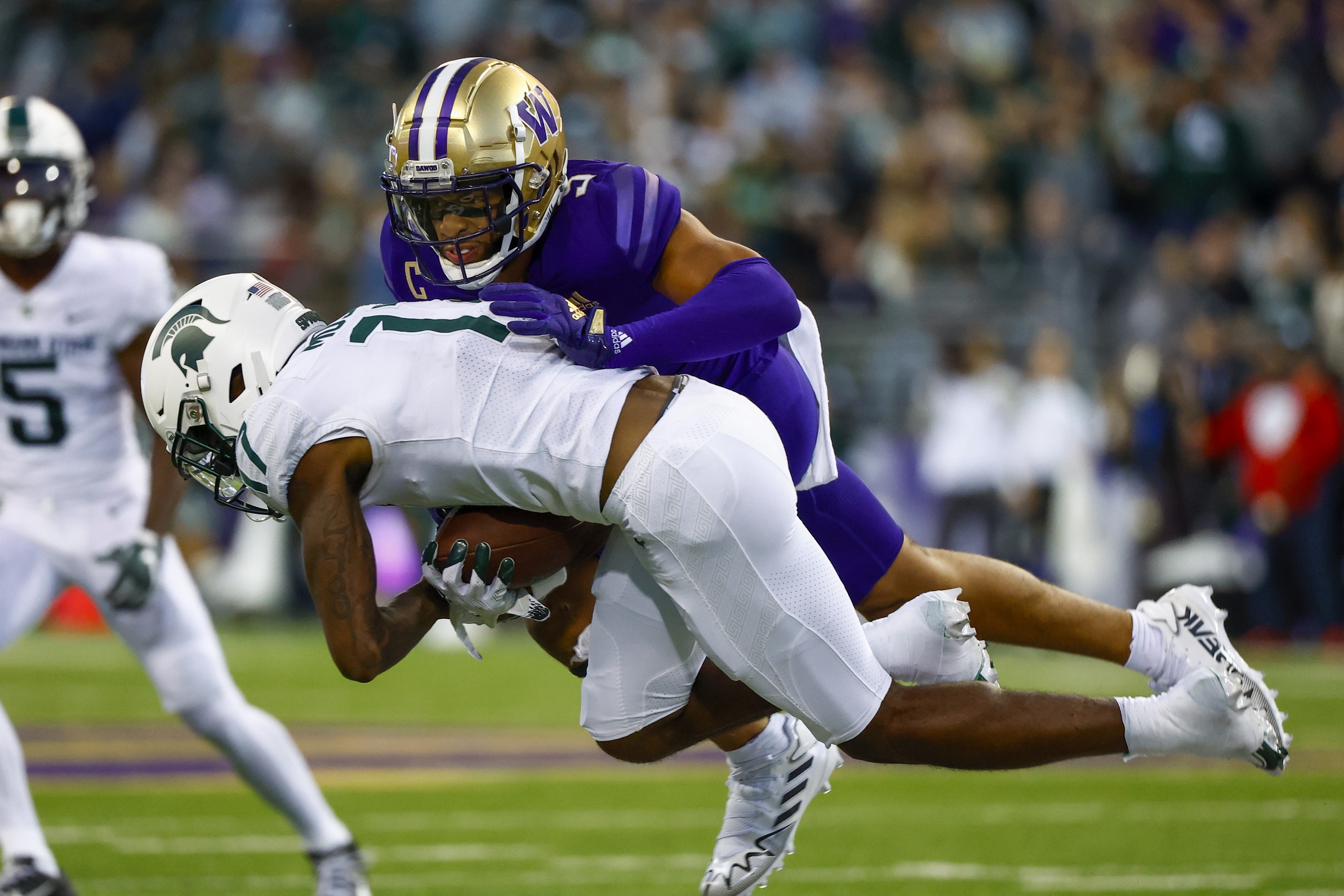 The Washington vs. Michigan State football rematch is on Sept. 16, and the Spartans have revenge on their minds.
The game time for the Washington vs. Michigan State football game was just announced and is one I think most Michigan State fans will be happy with. The game will kick off at 5 p.m. ET on Sept. 16.
MSU-Washington will be a 5 p.m. kickoff at Spartan Stadum on Sept. 16 and air exclusively on NBC's Peacock streaming platform.

— Chris Solari (@chrissolari) May 31, 2023
This is a great start time for Michigan State fans. That will give fans plenty of time to travel to East Lansing, enjoy a tailgate and get into the stadium. On top of that, the game will get down around 8 p.m. ET which is good for the crowd that does not like to be out late.
However, I think a lot of fans were hoping for a noon start time in this game. A noon start would have been a 9 a.m. local time for Washington, likely giving the Spartans a slight advantage. It's no surprise seeing this big of a game scheduled in the evening to avoid that.
On top of the game time announcement, where the game will be aired on TV was also announced. This is where the good news ends. The Spartans game against Washington will only be available for streaming on Peacock. That means Spartan fans at home will have to pay to watch this game. However, a simple Google search showed me that Peacock currently only costs $20 for the entire year. A lot of Big Ten football and basketball games will only be available on Peacock this season, so that may not be a bad investment to make right now if you can.
What would a win mean for Michigan State football?
Michigan State will have revenge on its mind in this game. Washington beat the Spartans last season in Seattle 39-28. The game however did not feel that close. Michigan State made a late comeback to make the final score look respectable, but a lot of fans will tell you we never really stood a chance.
Washington will likely be a top 10 heading into this matchup, so Michigan State has a great opportunity in front of it. A win would would help spring the Spartans into the conference season with a lot of positive momentum.
Jordan Hall hosts second annual free youth football camp (Video)
Jordan Hall is a legend already.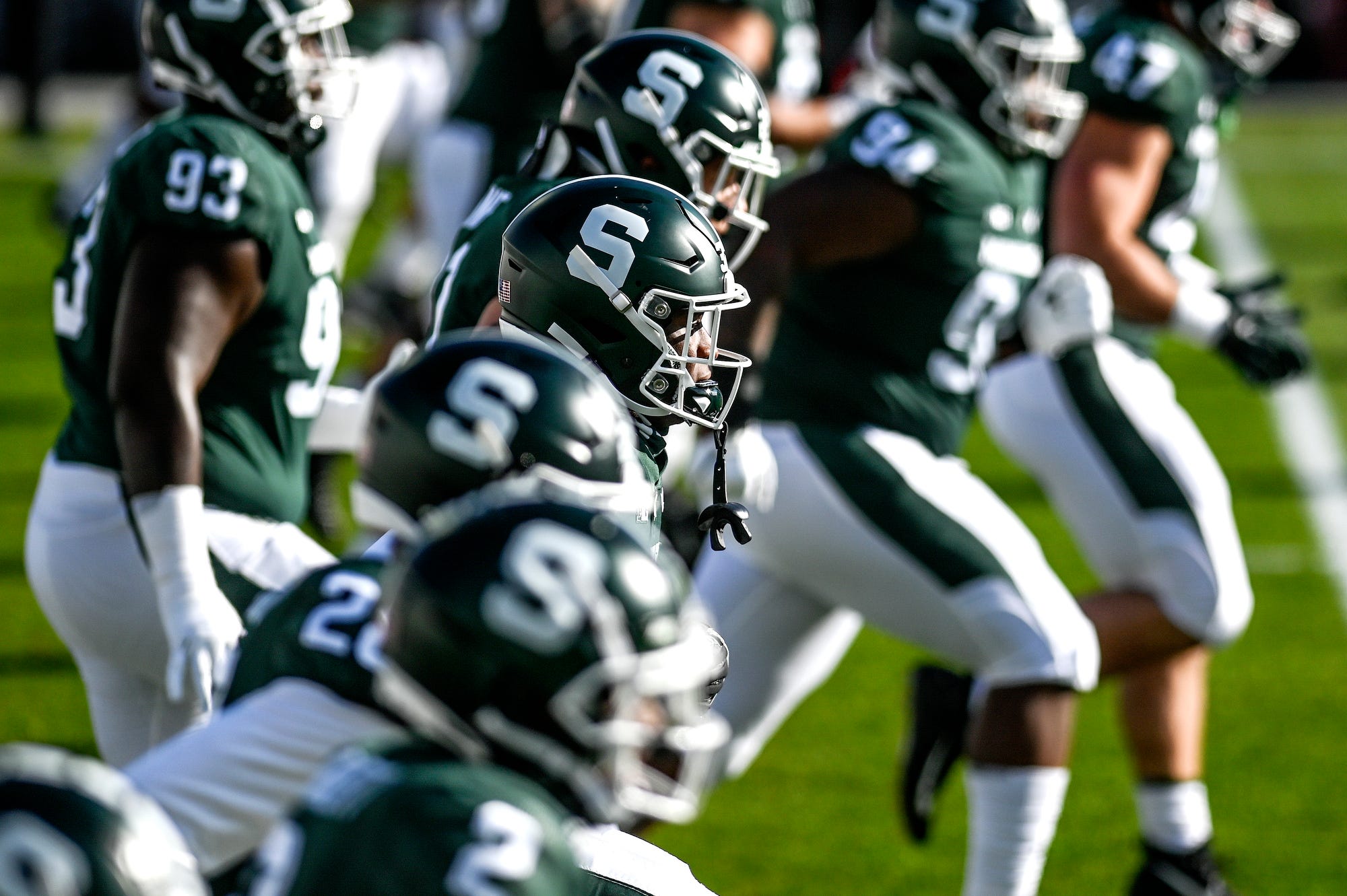 Michigan State freshman linebacker Jordan Hall continues to show just why he's one of the best out there.
Jordan Hall is already showing signs of being the next great Spartan on and off the field.
The Michigan State freshman linebacker was born and raised in Fredericksburg, Va. However, he most recently moved to Bradenton, Fla., to play football at IMG Academy.
This past weekend, Hall returned home to Fredericksburg to host his second annual free Jordan Hall Youth Football Camp.
The Jordan Hall Youth Football Camp…

Jordan's youth football "career" started at this field with one goal post, uncut grass, car lights at night for light to be able to practice and woods for bathroom breaks; but one thing it didn't lack was LOVE, GUIDANCE, & LIFE LESSONS. 💚🤍 pic.twitter.com/8kjJD7mTkP

— Cyreeta Hall (@MommaHall2U) May 31, 2023
Hall has already been making a name for himself on the field for the Spartans this spring. His play and effort has been praised by fellow players and coaches alike. IMG Academy has a long history of producing high-quality athletes. This makes Hall's tenure in the program even more noteworthy. He became the first three-time captain in IMG Academy history.
When coaches are recruiting players, they are hoping to find the perfect mix of talent and character. You don't become a three-time captain of a storied school like IMG Academy without having both.
In a recent interview with Spartan Shadows, Cryeeta Hall said of her son, "One of his favorite things he loves to do is teach the game of football to kids. He loves to coach."
Michigan State fans are excited to see what Jordan Hall can contribute on the field, but his character off the field so far is creating just as much excitement. When you see a young man with the heart and determination to give back to his hometown, it lets fans know this is the sort of player you can to rally around and support. Mel Tucker has shown intentionality in his recruiting. He has a specific type of player that he's looking for. Jordan Hall epitomizes a Tucker type of player.
Hall has the potential to earn immediate playing time this year as a true freshman. I'm not a betting man but if I were, I'd wager that we'll see him as a team captain for the green and white sooner than later.
Mel Tucker is best coach in the Big Ten when it comes to one stat
This may surprise you.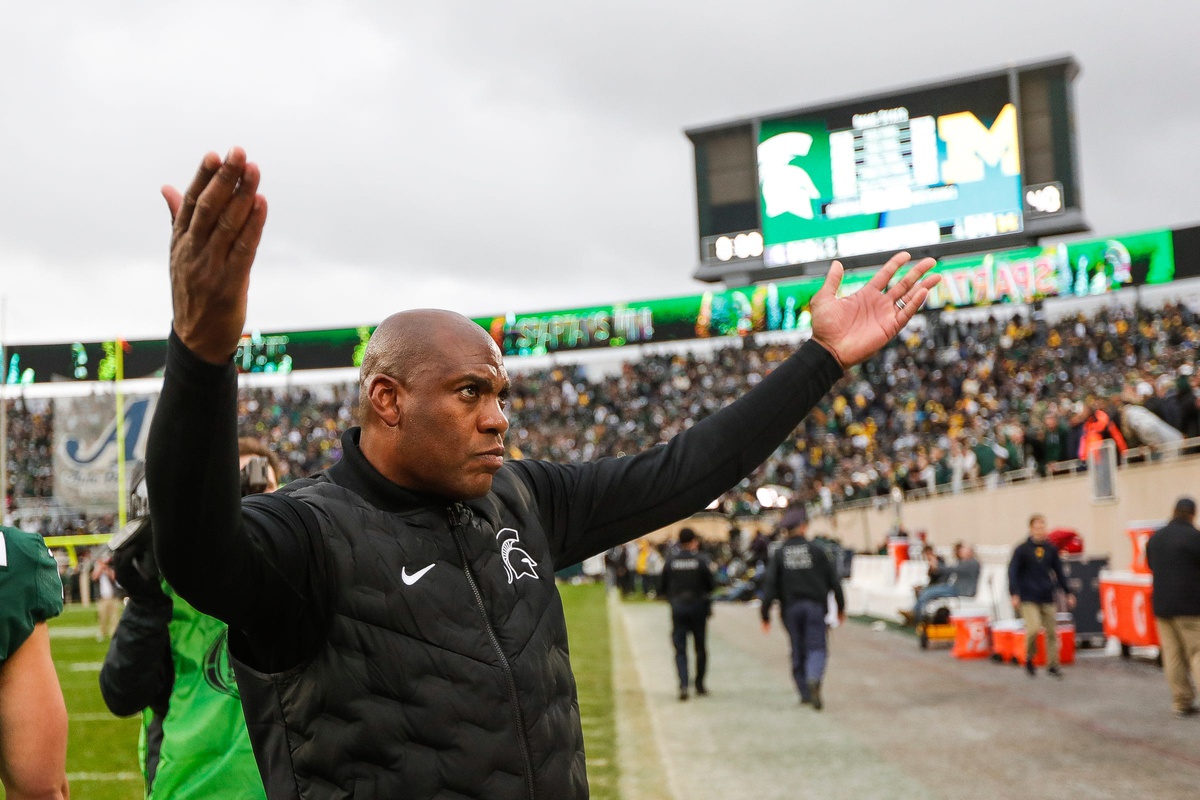 Mel Tucker is the best coach in the conference when it comes to this one surprising stat.
Michigan State football coach Mel Tucker is one of the best coaches in the Big Ten when it comes to close games.
This may surprise some considering two of Tucker's three years at Michigan State have resulted in losing seasons. But the data shows that Tucker knows how to come out on top when the game is close.
He has been at Michigan State since 2020. During that three year timeframe he boasts a 10-1 record in games decided by 10 points or less which is the best record in the conference during that span.
Here is a list of all 11 of those games:
2020
at Michigan (W 27-24)
vs. Northwestern (W 29-20)
2021
vs. Nebraska (W 23-20)
at Indiana (W 20-15)
vs. Michigan (W 37-33)
vs. Penn State (W 30-27)
vs. Pittsburgh (W 31-21)
2022
vs. Wisconsin (W 34-28)
at Illinois (W 23-15)
vs. Rutgers (W 27-21)
vs. Indiana (L 39-31)
How impressive is this really?
A 10-1 record when games are within 10 points is extremely impressive. The only loss on this list is Indiana from last season, a game Michigan State likely should have one. The Spartans ended up losing in overtime to the Hoosiers, but were a chip shot field goal away from winning in regulation. That is a field goal college kickers make almost every time, so Tucker's one loss on this list could easily have been another win.
Regardless, 10-1 is the best winning percentage in games decided by 10 points or less in the Big Ten during that three-year span.
This is how the rest of the Big Ten teams fared during this same timeframe:
Michigan State: 10-1 (.909)
Maryland: 8-3 (.727)
Iowa: 11-5 (.688)
Indiana: 7-4 (.636)
Purdue: 12-7 (.632)
Ohio State: 3-2 (.600)
Michigan: 6-4 (.600)
Minnesota: 9-7 (.563)
Rutgers: 7-6 (.538)
Wisconsin: 6-7 (.462)
Penn State: 5-7 (.417)
Northwestern: 5-9 (.357)
Illinois: 6-11 (.353)
Nebraska: 5-16 (.238)
What does this tell us about Mel Tucker?
One thing this tells us is the Tuck is a great in game coach in tight situations. No coach goes 10-1 in close games by accident. Sometimes there is a lot of luck involved with winning close games, but that's not necessarily the case when you win them this efficiently. Anyone can close a game out when you are up by 20, but not everyone can win a close game in the closing seconds.
This statistic is not all good though. Michigan State has won 18 games during the past three seasons. This means that over half of the games Mel Tucker has won at Michigan State have been within 10 points. For a program with extremely high goals, that fact is a little scary.
As I mentioned before, sometimes luck has to be on your side to win these close games. So relying on winning a lot of close games to have a great season is not a recipe for success.
One things for sure though, as long as Mel Tucker is the coach at Michigan State, we stand a very good chance at winning any close game.