Noah Kim vs. JJ McCarthy: Who has best chance to win the Heisman?
This is college football's most heated debate.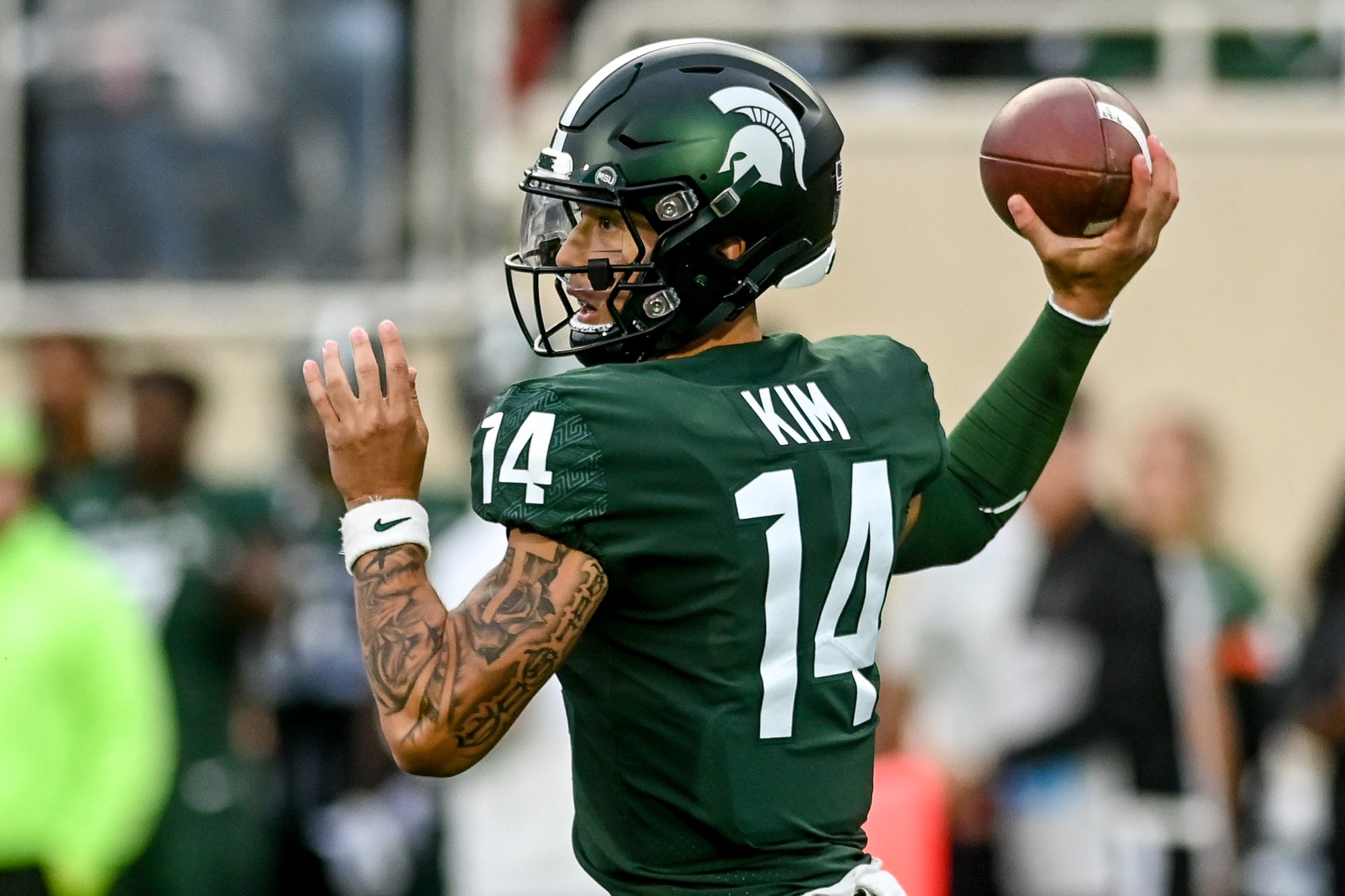 It's the debate that we've all been waiting for. Noah Kim vs. JJ McCarthy. Who has a better chance to win the Heisman?
We are approximately four months away from the start of the 2023 college football season. Therefore, according to some schools, it is time for us to crown a Heisman Trophy winner. If you have followed some of my recent blogs, I talked about how Noah Kim has the potential to become 2019 Joe Burrow given he now appears to be the frontrunner for Michigan State's QB1 with Payton Thorne transferring to Auburn.
I want to take this time to discuss the top Heisman favorites from teams located in Michigan. Given it is mostly a quarterback-driven award (14 of the last 17), we will focus on the signal callers from Michigan State and Michigan.
Noah Kim and JJ McCarthy are the most likely candidates to be starting for each respective school come the fall. Each player has their own unique talents but only one will be able to win the award.
Here's the breakdown:
Noah Kim:
67.5 TD pace on 450 passing attempts
Tattoo sleeve
Nickname Noah 'Him'
JJ McCarthy
Lost to TCU in the CFP
No tattoos (allegedly)
Cannot legally drink
Given the above information, the Chopalytics Prediction Machine (CPM) has delivered a 75/25 split in favor of Noah Kim to win the Heisman Trophy this year.
Kim last year was on pace to be better than Joe Burrow in his 2019 national title run. On top of that, the voters take into account physical characteristics. Kim's tattoo sleeve scientifically makes his arm extremely live, leading to superior stats to win the award. Lastly, given we live in a world dominated by social media, being able to replace the last name 'Kim' with 'Him' is huge among the voters, especially those who live on Twitter.
McCarthy on the other hand, has an uphill battle in front of him. Not only does he not have any tattoos (that I'm aware of) to improve his average arm, but he also lost to TCU who suffered the worst blowout in national title history (according to Chopalytics). On top of those facts, McCarthy is also only 20 years old. If he were to win the award, he wouldn't even be able to celebrate properly. The cupcake schedule doesn't help him either.
Please take the results of the CPM how you wish.  We are simply laying out the facts, crunching the numbers through the predictive analytics machine, and delivering you real-time results.
On the hop,
ChopMan
All opinions are my own