Michigan State football: 3 rapid reactions from ugly loss to Maryland
This one just felt gross.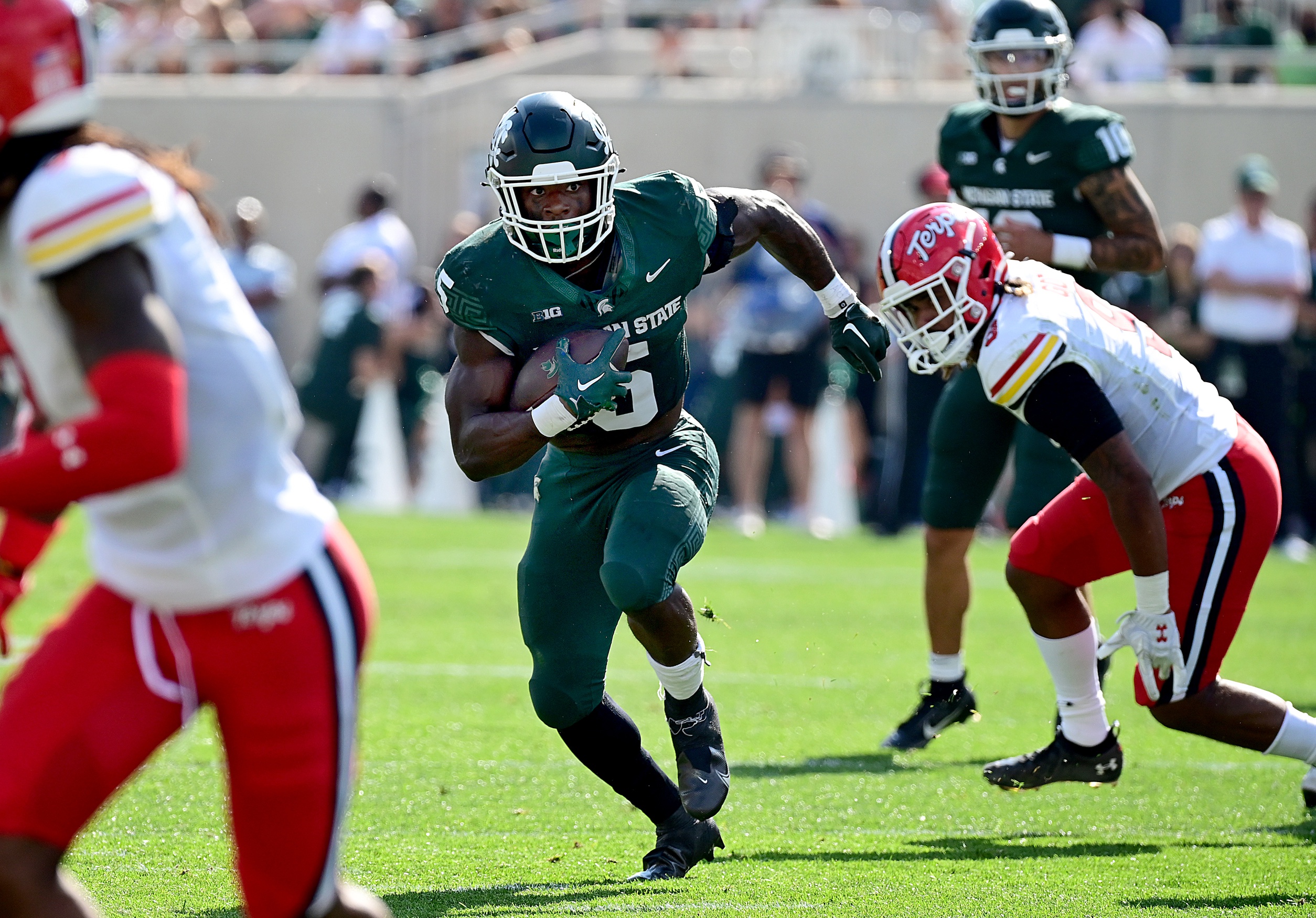 Michigan State football was dominated for two-plus quarters against Maryland but turnovers were the difference.
Another week post-Mel Tucker, another ugly performance. Over the past two weeks, Michigan State football has been outscored 72-16 and it just feels like this team is just preparing for the offseason already.
Without knocking this team anymore, let's dive into some rapid reactions.
1. If the offensive line was consistent, Nathan Carter would be All-Big Ten
One of the bright spots on the field on Saturday afternoon was Nathan Carter. The UConn transfer at running back just showcased his skillset all game long and finished just short of 100 yards on 19 carries. And yet he still had no blocking to really help him out.
If Carter had a consistent offensive line paving the way for him, he'd be an All-Big Ten performer.
Michigan State could build the offense around him under the new coaching staff next year and beyond, assuming he stays.
2. Turnovers were the difference
Down by 12 points after a touchdown in the second half, turnovers just kept killing the Spartans. Fumbles, interceptions, and just a lack of composure led to some momentum swings. Michigan State had all the momentum after a touchdown in the second half from Noah Kim to Tyrell Henry, but turnovers halted any chance of a comeback.
Kim had two picks, Houser had one interception (in the red zone), and Michigan State lost two fumbles.
You're just not going to win any games with five turnovers.
3. It's time to see what Katin Houser can do
While the loss isn't on Kim on Saturday, he didn't play his best for the second straight game against an opponent with a pulse. That's a bad sign.
On the other hand, Houser showed some promise, completing 6-of-10 passes for 75 yards but his interception deep in the red zone on a horrible screen pass (no MSU quarterback can make this pass seemingly) denied any chance of a comeback. He did breathe new life into the offense for a second straight game and it's time to see what he can do with starting snaps.
Houser has a different zip behind his ball and he seems to be on target more often than not. He needs more snaps to get comfortable in the pocket so he doesn't take bad snaps or force bad throws.
It's time to hand the reins to Houser.