Michigan State football: 3 not-so-quick takeaways from ugly loss to Maryland
Way too many points left on the field.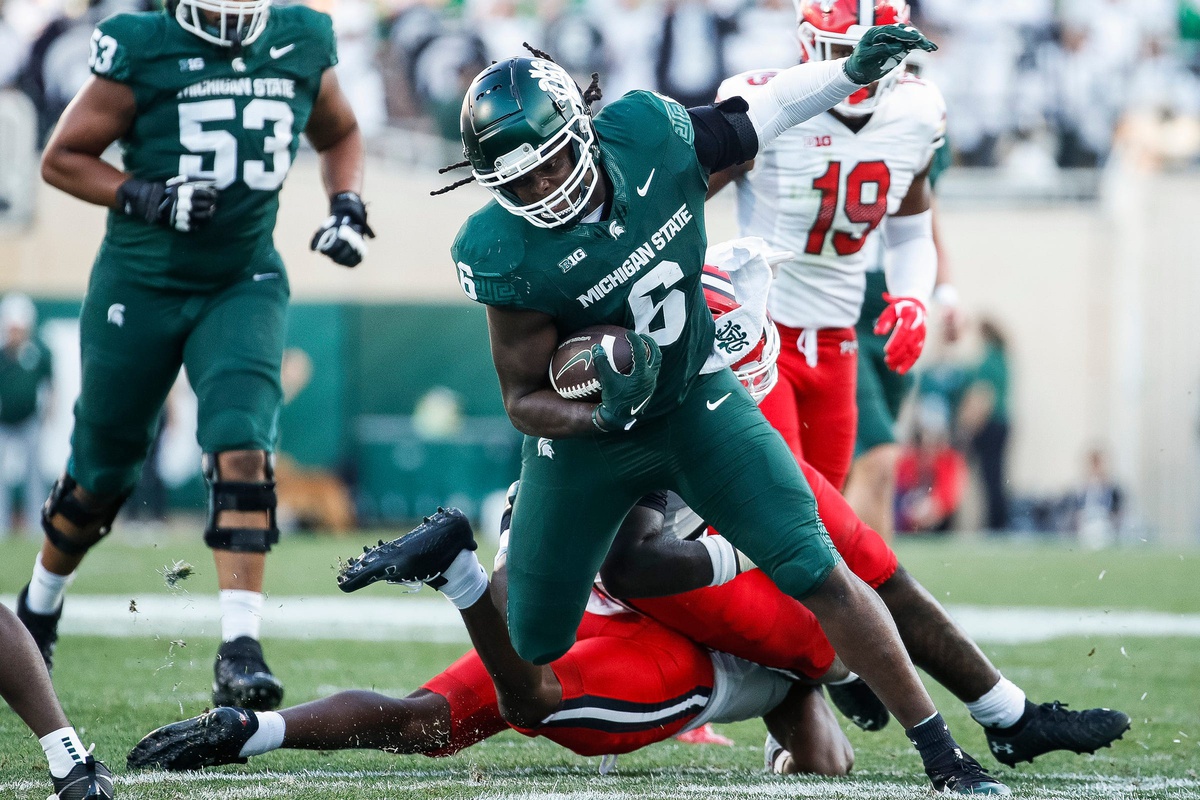 Michigan State football opened up conference play about as "well" as you would expect after last week's Washington loss.
On Saturday, Michigan State football opened Big Ten play against the Maryland Terrapins. The Spartans fell to 2-2 on the year and 0-1 in conference play, with the final score being 31-9. Unlike last week's debacle, this team showed signs of fight.
There are quite a few good takeaways that can be made this weekend, besides putting the team on fire sale. 
1. Noah Kim is likely not the answer
For the fourth consecutive week, Noah Kim got off to a slow start. After leading the team to a pair of first downs, Kim did not read the whole field and threw a horrible interception. For the second week in a row, Kim's offense was held out of the end zone for the first half. MSU's lone points came via a Jonathan Kim field goal.
Coming out of the locker room, the Spartan defense held Maryland to a missed field goal. On Kim's first attempt of the new half, he threw an interception. Later, he threw a pick that dropped out as the defensive back went to the ground. Combining those with an overthrow to Montorie Foster, who was wide open for a touchdown, it was not a good week for Noah Kim. He showed the same flashes we had seen against Central Michigan and Richmond, with mostly good deep ball throws, but it was inconsistent.
Additionally, Kim was seen limping off the field after his final drive, where he fumbled. Kim's fumble is not on him, as it appears the ball was snapped early, with the whole line being blown by.
Making things worse for Kim is that Katin Houser again led the Spartans into the red zone this week in his first drive after Kim limped off. This time, Houser entered a game that was not fully decided, with over 7 minutes left in a 15-point game. Houser also ended up throwing an interception on a screen pass, which I have questions about the call (four screen passes in one drive? A red zone screen? Jay?), but Hauser still showed signs in his limited time today. The Spartans also tested out Sam Leavitt for the first time today, and Leavitt recorded a first down run on fourth down and two pass attempts for completions totaling nine yards.
2. What is going on in the receiving room?
Noah Kim has had slow starts in all of his games, but his receivers were, frankly, unwatchable. As a result, I can only preface my first takeaway with "likely not the answer."
Jaylan Franklin and Montorie Foster each had drops on the final drive of the first half, with Franklin's as an assured first down and Foster's being a dropped touchdown. Ultimately, the Spartans sent a field goal attempt off the back of Ethan Boyd's helmet on the drive. Jaron Glover could not haul a pass in as it came free going to the ground.
Running back Nathan Carter and wideout Christian Fitzpatrick each had bad drops when Houser checked into the game. Also on that drive, Antonio Gates Jr. lost his footing as the ball was coming towards him in the end zone, but was bailed out by Maryland's corner hooking his shoulders as he fell to the ground for a defensive pass interference call. Tre Mosley was non-existent outside of a pair of catches on a drag and screen.
Tyrell Henry recorded his second touchdown grab this season, hauling in a Kim throw to the corner of the end zone. Henry did not have a great game either, however, with his role as a return man giving the Spartans drives inside of their own 20 on a few occasions for another week. Speaking of receivers at returner, Alante Brown coughed up the ball at the end of the game on a return to give this receiving room another negative mark.
That said, Maliq Carr had arguably his best game this season, with five catches for 53 yards. He was one of three Spartans with over 50 yards receiving. Foster had 63 yards, looking like the best of the bunch despite his end zone drop. Glover contributed a pair of catches for 51 yards, including a 33-yard catch and run.
This is what frustrates me about this group. They have the talent to be the best non-Ohio State receiving room in the conference, but they struggle with drops and consistency of any form.
3. The box score does not reflect this game
Last week, the Spartans were dismantled by 38 points, and this week they lost by 22. Optics are not good on this. That said, Saturday showed signs of promise.
Carter was likely the best player on the field for either side today, rushing for nearly 100 yards despite little offensive line support. A set of plays and execution errors by Michigan State cost them the game. On fourth and goal from inside the 2-yard line, Michigan State elected for a power run to the outside, where Carter could not get any headway. I would propose replacing that call with a quarterback "tush push" sneak, which the Spartans did twice today for three yards each time. Regardless of your favored call, the Spartans leave seven points on the board here.
Next, Franklin's and Foster's drops on the final drive of the second half would have given the Spartans either more downs or a touchdown to work with. With that drive resulting in a missed field goal, the Spartans let seven points literally slip through their fingers. All of a sudden, these two flipped play results give the Spartans a 21-14 point halftime deficit, much better than 21-3.
Add in Kim's overthrow to Foster on a likely touchdown, and Carter's lost fumble inside the Spartan 30, and you would have an entirely different game. The Spartans did outgain Maryland in yardage today, but multiple mental mistakes and turnovers doomed Michigan State football.
I do not write this to say that the Spartans should have or would have won this game, as they ultimately lost. That said, this game should not feel like a demoralizing three-possession loss. The Spartans showed signs of life this week.
After being the "first-class priority fly zone" last week, the Spartans clamped on Taulia Tagovailoa today, holding the senior signal caller to 223 yards on 36 attempts, which is under 6.5 yards per pass. Angelo Grose provided a red zone interception. Malik Spencer nearly had one as well, with the ball bouncing off of his arm when he ran towards the throw.
All of this occurred with Charles Brantley, Marqui Lowry Jr., Dre Butler, and Jacoby Windmon out on Saturday. True freshman Chance Rucker stepped up today. While Rucker was picked on and let up a few passes and conversions, the defense let up less than 7.0 yards per pass in a marked improvement.
The defensive line did not provide a rush this week, but the absence of Windmon and Butler, as well as Simeon Barrow's limited playing time (no reason listed for Saturday's game captain), make it hard to fully judge.
Next week, Michigan State football leaves the friendly confines of Spartan Stadium for the first time this season, heading to Iowa to play the Cade MacNamara-led Hawkeyes in primetime.