Michigan State football: Stock watch after Week 12 win over Indiana
Who's on the rise?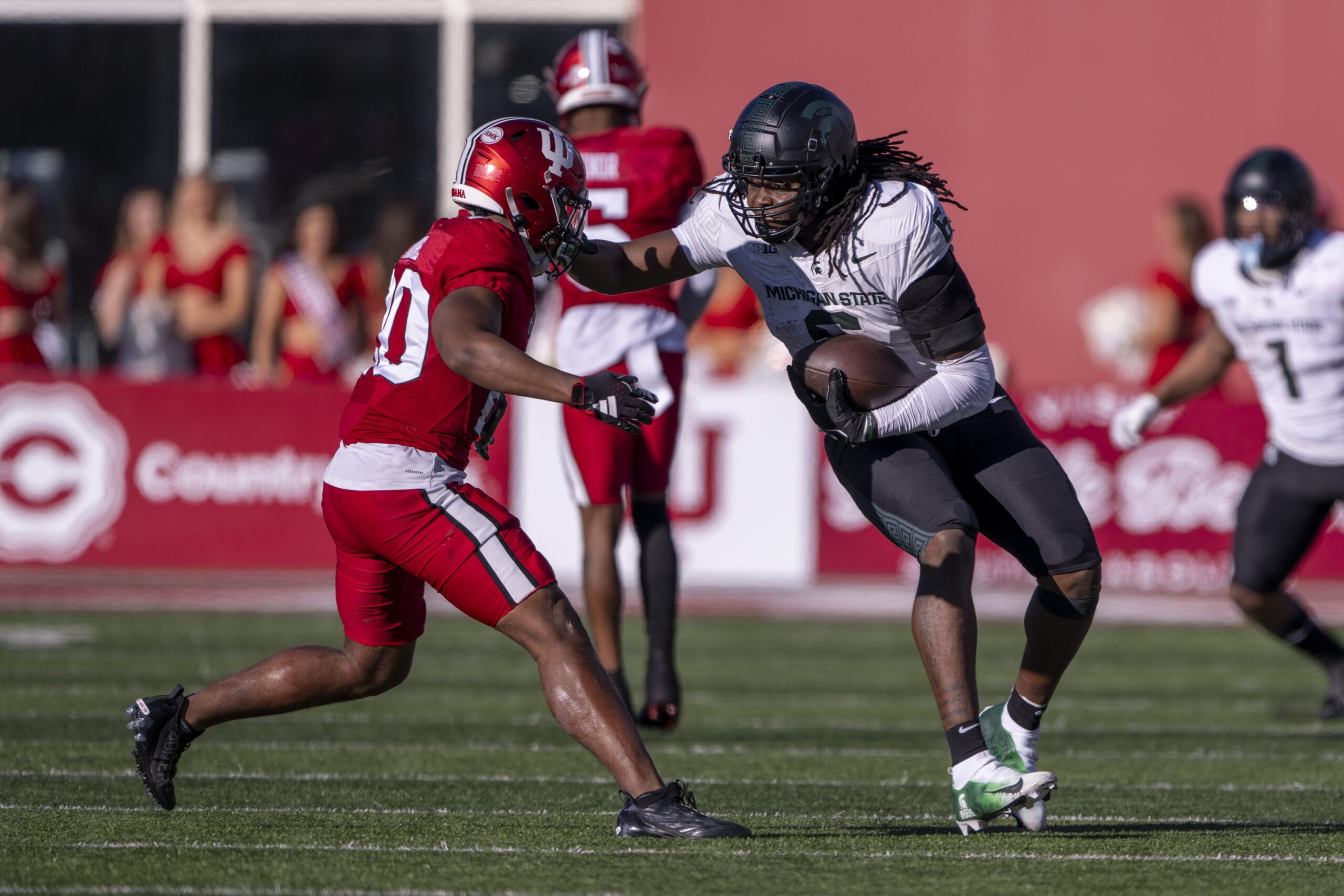 Michigan State football picked up a big win over Indiana on Saturday afternoon to improve to 4-7. Whose stock is up?
For the first time all year, Michigan State football picked up a road win and also got its fourth victory of the year. While the game wasn't great and the amount of injuries that happened in this game, this is another win that fans can celebrate. This is a game you can look back on and see that some players really stepped up and other players had a down game.
Whose stock is up and whose is down?
Stock Up
Maliq Carr is the man of the game for me. It seemed like almost every time Michigan State needed a big play, it went to Maliq and he answered. He hasn't had the season that most fans thought he would but this game showed you the potential that Maliq could be very good if he plays consistently. In this game, Maliq had nine catches for 100 yards and 2 touchdowns. His second touchdown was the game-winner on a route where he got hit hard but stayed on his feet. Carr balled out and it was a great sign to see for Michigan State fans.
Montorie Foster made arguably the catch of the year for Michigan State at the point of the game that Michigan State needed it. The throw by Katin Houser looked like it was headed to be an interception for Maryland but Montorie stuck his hand out and brought it in. While Montorie hasn't always been active all year, these last 3-4 games, he has been the best wide receiver for Michigan State and he was that again on Saturday.
These players continue to go out there and play hard every game. This game not only showed that they still wanted to win but what they had to overcome was incredible. Going into this game, Harlon Barnett said that Michigan State only had 45 scholarship players at the game. Not only that, there were several injuries today that were important, especially on the offensive line. This was a game that Michigan State lost last year at home because of a missed field and these players won it today on a touchdown-winning drive by Houser leading the way and a missed field goal from Indiana.
Stock Down
Chester Kimbrough did not have a good game against Indiana. While he did make a play in coverage that would have led to a touchdown with 18 seconds left, it really seemed like Indiana targeted him for the majority of the game. The defensive backs have been put in a position that they all have to play because of injury but it really was apparent in this game that Indiana viewed Chester as the weaker of the two corners.
Michigan State continues to get hurt and while football is extremely physical, this is another game that Michigan State had to play players at different positions. There was a former offensive lineman who had to play on the defensive line because Michigan State did not have enough healthy defensive linemen. Players' health and injuries always happen throughout the season but expect the list for next week's game to be even longer than the one that it was on Saturday.
Fourth-and-1 play-calling
It seems like almost every time Michigan State is in a fourth-and-1 situation and the Spartans go for it, they don't make it. From taking snaps in shotgun to sneaks that you don't have anyone behind the quarterback to push, these are just a few examples of Jay Johnson calling play calls that don't work on fourth down. This has been an issue for Michigan State since Johnson has been the offensive coordinator, outside of the Kenneth Walker III year, and will probably continue to happen next week, which is most likely the last game of the year.
Four wins on the year is very underwhelming for fans. This is a year that fans want to forget but every time Michigan State football gets a win, there are pieces that are there that can show hope for the future. Not only are there pieces but each win is something that fans can celebrate. While fans haven't been able to celebrate much, it's nice to win another game, not only for the fans but for the players and coaches, who probably deserve it the most because they have not stopped fighting.