Michigan State football: 3 takeaways from much-needed win over Nebraska
Finally.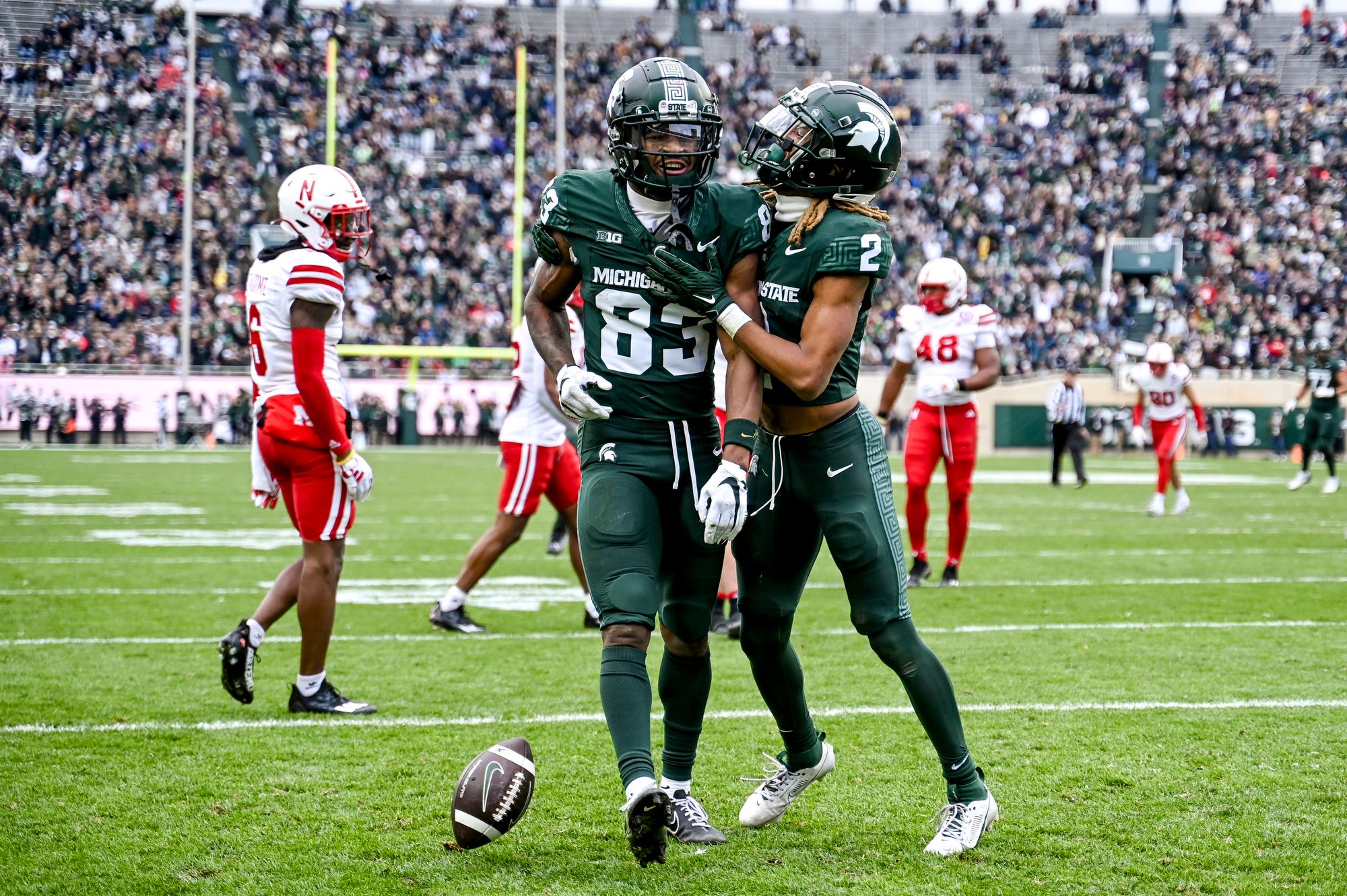 Harlon Barnett finally gets his first win as Michigan State football coach, and the Spartans get their first conference win.
Amid a week of head coach rumors and Urban Meyer uncertainty (totally not happening, we think?), it was almost forgotten that Michigan State football played on Saturday. The Spartans hosted 5-3 Nebraska on Senior Day. After sparks the previous weeks, the Spartans finally pulled one off, 20-17.
This gives the Spartans a 3-6 record and technically keeps them bowl eligible.
The only problem is that two of the final three games are Big Ten powerhouses Ohio State and Penn State. So, with the Spartans getting their first win since September, what are some takeaways?
1. This quarterback battle is far from over
Last time the Spartans won, Noah Kim was the Spartan quarterback of the future. About two months later, the other two scholarship quarterbacks on the roster, Katin Houser and Sam Leavitt, are locked in a battle to be QB1. There is no space between these two, as Leavitt and Houser each led a touchdown drive today. Houser is currently the starter, taking the majority of the snaps today. That said, Leavitt has provided a spark in his limited reps the past few weeks. 
Each of these quarterbacks has the drive to lead the team and is only in their first two years of eligibility. Houser, the "elder" redshirt freshman, went 13-for-20 for 165 yards and a touchdown, as well as contributing 13 yards on the ground. Leavitt, a true freshman, went 1-for-2 for 25 yards and a touchdown, as well as two yards rushing. Leavitt's limited action makes the Spartan fans want more, much like the situation Houser was in with Kim to start the year. 
Both quarterbacks have a tremendous upside, and the Spartans will have to handle this situation delicately.
At some point, likely next season, Michigan State's next head coach will have to choose between these two. I do not see either player pulling a major lead in the next three weeks. If I were the head coach next year, I choose Leavitt after Katin did not inspire me after his full start (until Leavitt gave a spark) last week. 
2. This team remained focused
All week, Michigan State football was focused on one thing: the next head coach. I would argue that it was about 20-to-1 in mentions of the next head coach compared to today's game. It would be easy for this team to mail it in, facing a team with a winning record, and limp into the offseason. They fought through. This team has fought through upheaval, head coach rumors, players leaving the team, and some fans no longer caring about the team. 
Additionally to rumors, Saturday was an emotional one for the players. As Michigan State's next home game is at Ford Field, today was Senior Day. Montorie Foster, Jonathan Kim, Jaylan Franklin, Aaron Brule, Khris Bogle, and Maverick Hansen all provided crucial plays today in what is likely their last appearance at Spartan Stadium. This team remained level-headed and focused, leading the Spartans to their first Big Ten win of the season.
This will not go down as a historical Michigan State football season. This season is unlikely to end in a bowl game. Michigan State had to fire a head coach right before conference play. A lot has happened to this team, but you can never say this team did not have heart.
3. The youth movement is beginning
Above, I mentioned it was Senior Day. The seniors stepped up big, providing sacks, touchdowns, and conversions to aid the victory.
That said, a lot of the younger players gave the Spartans life today. Redshirt freshman Katin Houser and true freshman Sam Leavitt both could start for this team at quarterback. Sophomore Tyrell Henry had over 50 receiving yards. Freshman Jalen Thompson forced a fumble late to help Michigan State run time off. Freshman Jordan Hall is, again, the best freshman linebacker in the country. Khalil Majeed got an interception, showing signs of being a mainstay in the secondary alongside fellow sophomores Jaden Mangham and Dillon Tatum. Ashton Lepo saw time at left tackle. Ethan Boyd outplayed senior Spencer Brown for the eighth consecutive week.
I can go on and on about the promise of this team. The former Michigan State head coach (I will not mention his name) recruited a lot of promising players. With the right head coach, the Spartans will be able to harness their talent in the immediate future. 
Things may have looked bleak after a 49-0 loss to Michigan. It is evident that the cabinet is not as bare as we thought after today's victory. 
Next week, the Spartans face… are you kidding me? We have Ohio State next week in The Shoe. Well, until next time.