Michigan State hockey: Michigan coach throws major shade at Spartans
Michigan's hockey coach threw some shade at MSU.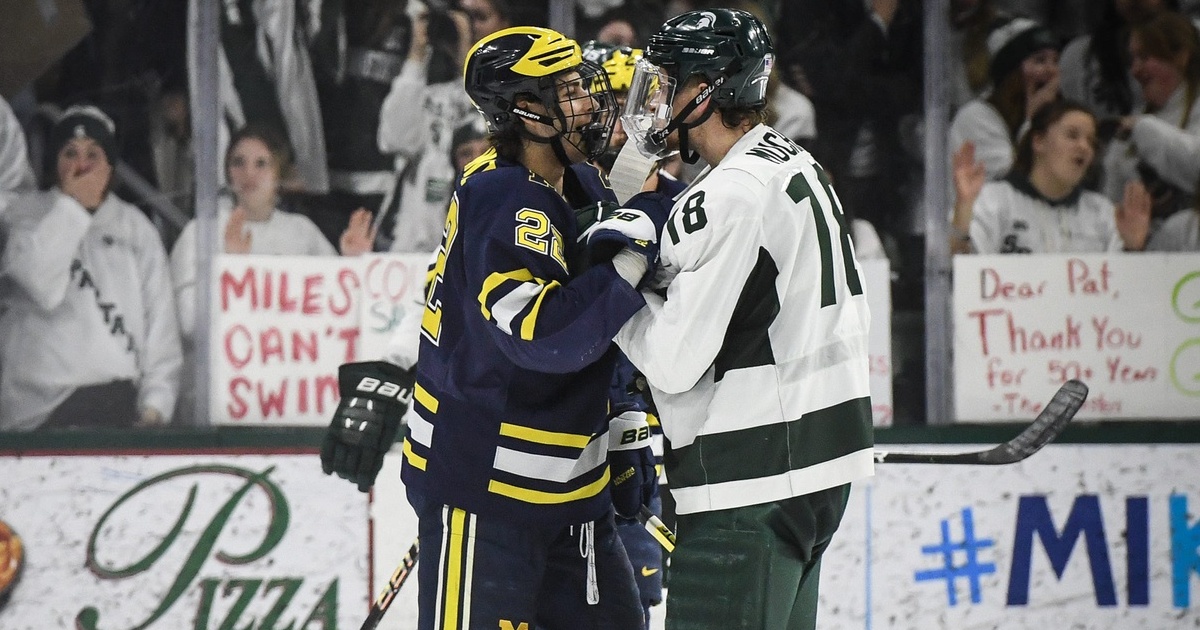 Michigan head coach Brandon Naurato threw major shade at the Michigan State hockey program after beating the Spartans on Friday.
In case you weren't already aware, Michigan and Michigan State hockey — just like the rest of the sports in the rivalry — do not like each other.
There is some serious hatred between the two schools that we saw on the gridiron, and unfortunately in a post-game altercation, this past fall and it seemed to boil over into a hockey matchup on Friday night at Munn Arena in East Lansing.
Michigan jumped out to an early 3-0 lead and it looked like the game was well put away until the Spartans fought back and made it 3-2.
The Wolverines would eventually win, adding an empty-netter to make the final score 4-2, but there were some fireworks before that final buzzer sounded, handing Michigan the win.
There were some extracurricular activities (some fists being thrown) throughout the game that apparently rubbed Michigan coach Brandon Naurato the wrong way.
He had some fighting words for the Spartans after the game.
Michigan hockey coach Brandon Naurato on Michigan State

"They can't play with us. They can't play with us unless they goon it up."

— Nolan Bianchi (@nolanbianchi) February 11, 2023
This was a response to the question asking how relieved he was that the final buzzer sounded in an intense game like this.
Clearly he doesn't think highly of Michigan State hockey.
Here's one of the plays that Naurato is apparently talking about in which his team is the clear aggressor. But hey, you have to pick and choose your narratives, right?
FRIDAY NIGHT FISTICUFFS

There were a combined 28 penalties, and 110 penalty minutes between Michigan and Michigan State

Wolverine stud, and culprit, Adam Fantilli recorded a Gordie Howe Hat Trick (Goal, Assist, & Fight)#CawlidgeHawkey #TheExperience

— The College Football & Basketball Experience (@TCEonSGPN) February 11, 2023
Michigan star Adam Fantilli checks Michigan State's Nash Nienhuis in the back while he was skating away and it ignited a huge fight that led to even more penalty minutes and an all-out brawl.
Yet this is Michigan State "gooning it up" according to Naurato. I guess Michigan State should just try harder not to get offended by a check to the neck.
Michigan State will get a shot at revenge on Saturday night at Little Caesars Arena with a tournament appearance on the line. This bulletin board material should make things interesting.