Personal perspective on Michigan State tragedy from an alumnus
We're all at a loss for words.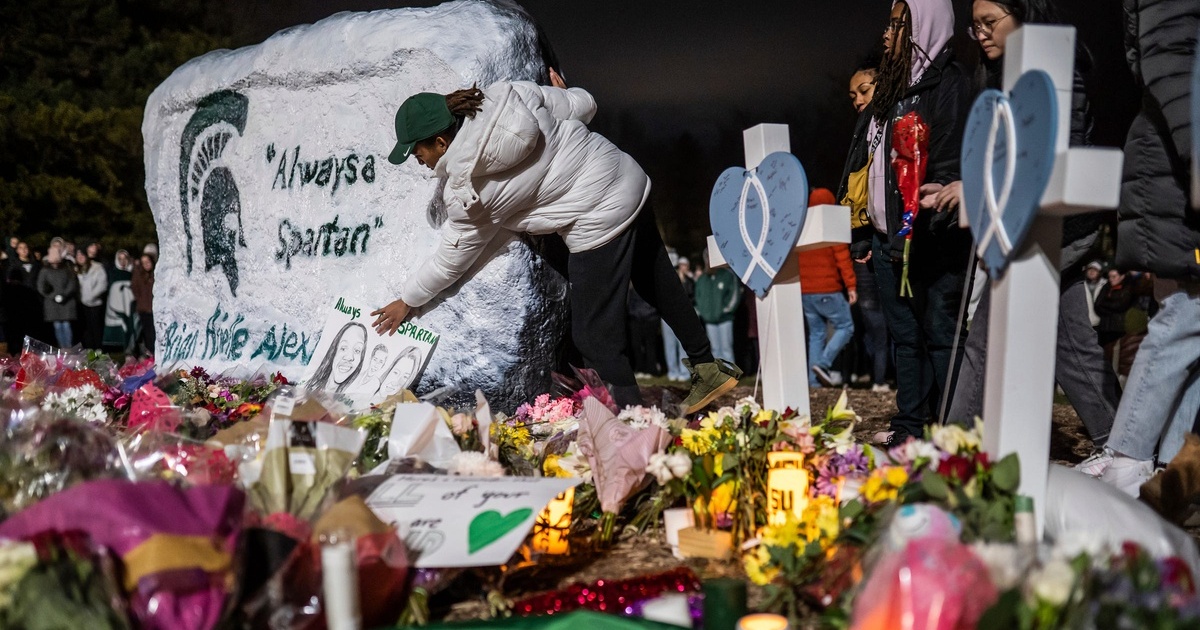 It's tough to put into words the emotions felt after the Michigan State tragedy, but here's my perspective.
It's truly hard to put the words together to describe how I've felt over the last few days after the Michigan State tragedy – but let me start with this.
Feb. 13 is a day that will forever be remembered, for all the wrong reasons.
It was just a year prior on that exact date that I lost one of my best friends from high school at the young age of 24. The emotions that spring from the feeling of losing someone like that are not easily shaken. They never go away; they only get better with time. As such, it was a tough day to begin with. I went to lay down in my bed fairly early – around 8 p.m. – to reflect on all the memories I shared with him. Looking through old pictures, laughing through some of my favorite memories of him, reading old texts we shared – it was an emotional night.
Little did I know, that was only the start.
I'll preface this by saying that I am a proud alumnus of Michigan State University, graduating in the class of 2020. I didn't necessarily grow up a Michigan State fan, as my family had no ties to the university and I grew up in Buffalo, N.Y. I was a die-hard Boston College fan growing up because it was my dad's alma mater. As a senior in high school, when deciding where I would spend the next four years of my life, I was all over the map. I visited probably around 10 different schools in various areas of the country, and only had Michigan State and Tennessee left on my list to visit before I would come to my conclusion.
My family and I had planned those final trips on back-to-back weekends in mid-December, with Michigan State getting the first visit. Suffice to say, I never made it to Tennessee that next weekend. On that trip to Michigan State, I immediately fell in love – there wasn't an ounce of doubt in my mind that East Lansing was home.
Everything about the school enamored me – the big-time sports programs, the massive alumni base – but also, the family atmosphere. It blew my mind how a school of 50,000-plus active students could also feel…so small. It's such an intertwined community that it's incredibly hard to put into words – I wouldn't expect someone who didn't have the experience and honor of attending MSU to ever truly understand or be able to grasp it. But those who shared that honor with me – you get it. You get it 100 percent. There is something special about Michigan State, and I am so blessed to be a part of that family for the rest of my life. This university means the world to me, and I think everyone I know outside of the MSU community could tell you how visibly important this school is to me.
I proudly walk around almost daily in the green and white.
For better or worse, the performance of our athletics programs dictates my mood and my demeanor. But win or lose, I'm still turning the TV on for the next game and doing it all over again. I get excited when I see someone else representing Michigan State – those conversations always come so much more easily when we share Spartan blood.
My experience at Michigan State molded me into the man I am today. I met so many people there with whom I will share a special bond forever. Some of the most important relationships in my life were established there – friends from all over the country, from different walks of life, and from a wide range of upbringings. It's where I first truly fell in love. Where I grew into a man. Where I dealt with true adversity for the first time. Some of the most important lessons I've learned in my life were at Michigan State University, and through all the ups and downs, I wouldn't trade it for the world.
I grew up in a family of six, as the oldest of four children. By nature, I've always been a more outgoing individual – making friends and starting conversations came easy to me. For my younger brother, Owen, that isn't the case. He was always shy and reserved, and he struggled mightily through high school in large part because of that. When it came time for him to start looking into different schools, I really wanted him to take a look at Michigan State because I knew how much he would be pushed as an individual to test his limits and strive to become a better, more well-rounded individual. Due to his reserved nature, he was wary of going to such a big school – the 50K-plus active students there were a far cry from the other schools he was looking at with anywhere from 5K-20K students.
I remember that, throughout the process, he kept telling me, "But I'm not like you, Jack" and "it's just so big I don't know if I'd like it."
I continuously stressed to him that despite being such a large school in size, it was a different place. It felt like a small school because of how closely tight knit the Michigan State family is. And I'm so proud he made the decision to trust me on that because, in just a year and a half there, he has grown leaps and bounds and is almost unrecognizable from his former self. As a current sophomore, I am already so proud of him and the growth he's made due to MSU and I can't wait to see how he continues to grow and develop as a man and a person.
We share that Spartan blood together now, and it's no surprise that now is the closest we've ever been in our lives.
Now – to come back to Feb. 13. As I said, I was lying in my bed early reflecting when I received a FaceTime from my brother at 8:51 p.m. telling me that there was an active shooter on campus.
I will never forget the look that I saw on his face – the horror and anxiety that jumped through the screen. The quivering in his voice. A legitimate fear for his life. I frantically started asking him the magnitude – was he safe? Did anyone in the house have a gun? Are all the windows and doors locked?
The next 3-4 hours of my life were filled with constant calls to my parents, my brother, and my sisters. Texts from friends, cousins, aunts, uncles, and people I hadn't spoken with in a while. Two of my former roommates are in law school at MSU now – were they safe? Relentlessly asking Owen for updates, listening to police blotters, sifting through information trying to figure out what was accurate and when this was coming to an end. My brother informed me that one of the locations where shots were fired was the MSU Student Union – and how he typically would've been there at that time to eat, had his fraternity not pushed their typical Sunday mandatory meeting to Monday due to the Super Bowl. I am so thankful that God was watching over my brother and my family, keeping him safe so he can continue to live his life.
However, once the smoke began to clear after midnight and it became clear there was no longer a threat present on campus, I was still unable to sleep. I could not wrap my head around the fact that three young, outstanding individuals had lost their lives for no reason at all. And five more were in critical condition, fighting for theirs. How could this happen at a place I know so well? A place I lived comfortably for four years and still consider home.
Mass shootings at schools are all too common these days – we've all become almost numb to it, which speaks volumes about the reality in American society that everyone needs to face, political differences aside. I am lucky enough to come from a place where I've never had to personally experience going through it – and now unfortunate enough to have lived through a traumatic experience of this sort. I've spent much of the past few days randomly bursting into emotional outbreaks, and just wondering to myself why this had to happen.
As many others in the Spartan community have echoed, it truly strikes a different chord when it hits this close to home, and it's an experience and a feeling I wouldn't wish upon anyone else in the world. From the bottom of my heart, I hope that the events of Monday night at Michigan State University can be a true catalyst for change in this country as opposed to a 48-hour news story that gets largely forgotten by next week.
Graham Couch of the Lansing State Journal wrote an article that has stuck with me over the last few days. In it, he writes, "This will be a national story for about 48 hours. Those folks will swoop in, leave, and move on. It'll be an MSU story, part of our community story, forever. And, for some, a new fear and a loss of peace will be a part of that."
That last line, especially, has been incredibly difficult for me to process.
I can't state enough how awful I feel for the students at Michigan State University that have lived through this traumatic experience and now must walk those streets every day with that thought at the forefront of their minds. I hope the students of our great institution can come together and grow stronger as a community. I hope that their experience at MSU is still positive, and that they can still grow, develop, and mature during their time in East Lansing despite the senseless murders carried out by a cowardly individual.
It's in my DNA as the oldest child to protect and care for my siblings, as I've watched over them my whole life. I pray that my brother and all of his classmates are able to regain their sense of security and safety while being on campus and walking around or attending class. It is devastating to know just how far-removed current students and their families are from that simple feeling right now – that should be a feeling no human being ever has to endure. I hope that their college experience still ends up being as fruitful as mine and all the Michigan State alumni before me. I know many in the Spartan community, including myself, will be here throughout to provide whatever support we possibly can.
I know that Michigan State will overcome this absolute tragedy just from observing how everyone has come together over the last several days. It's been special to watch and has confirmed my belief of just how special of a place this is – like I said, it's different. We will come back stronger than ever before from this – it's in our DNA.
To close, I want to share some of the details of the lives of the three people that were taken from us far too soon. I hope to bring in people from outside of the MSU community – I want you to read about them and remember their names.
Arielle Anderson, 19, was a sophomore at Michigan State from Harper Woods. She aspired to become a pediatric doctor, and her family described her as a straight-A student. She was extremely close with her grandmother, who described her as "kind, loving, caring, compassionate, and driven."
Brian Fraser, 20, was a sophomore at Michigan State University from Grosse Pointe. He was studying business, and was the chapter president of Phi Delta Theta at MSU. His sister described him as being a light in his family's lives, and friends noted his infectious personality and sense of humor.
Alexandria Verner, 20, was a junior at Michigan State University from Clawson. She was studying biology and was a three-sport athlete in high school, playing basketball, volleyball, and softball all four years. Her father described her as a "beautiful soul."
Remember them. Honor them. Grieve the loss of these individuals. And pray for them and their families – prayer is powerful.
We will get through this together. We are Spartan Tough. We are Spartan Strong.
Go Green.