Why Michigan State football should pursue Kansas' Lance Leipold
Who says no to Lance Leipold?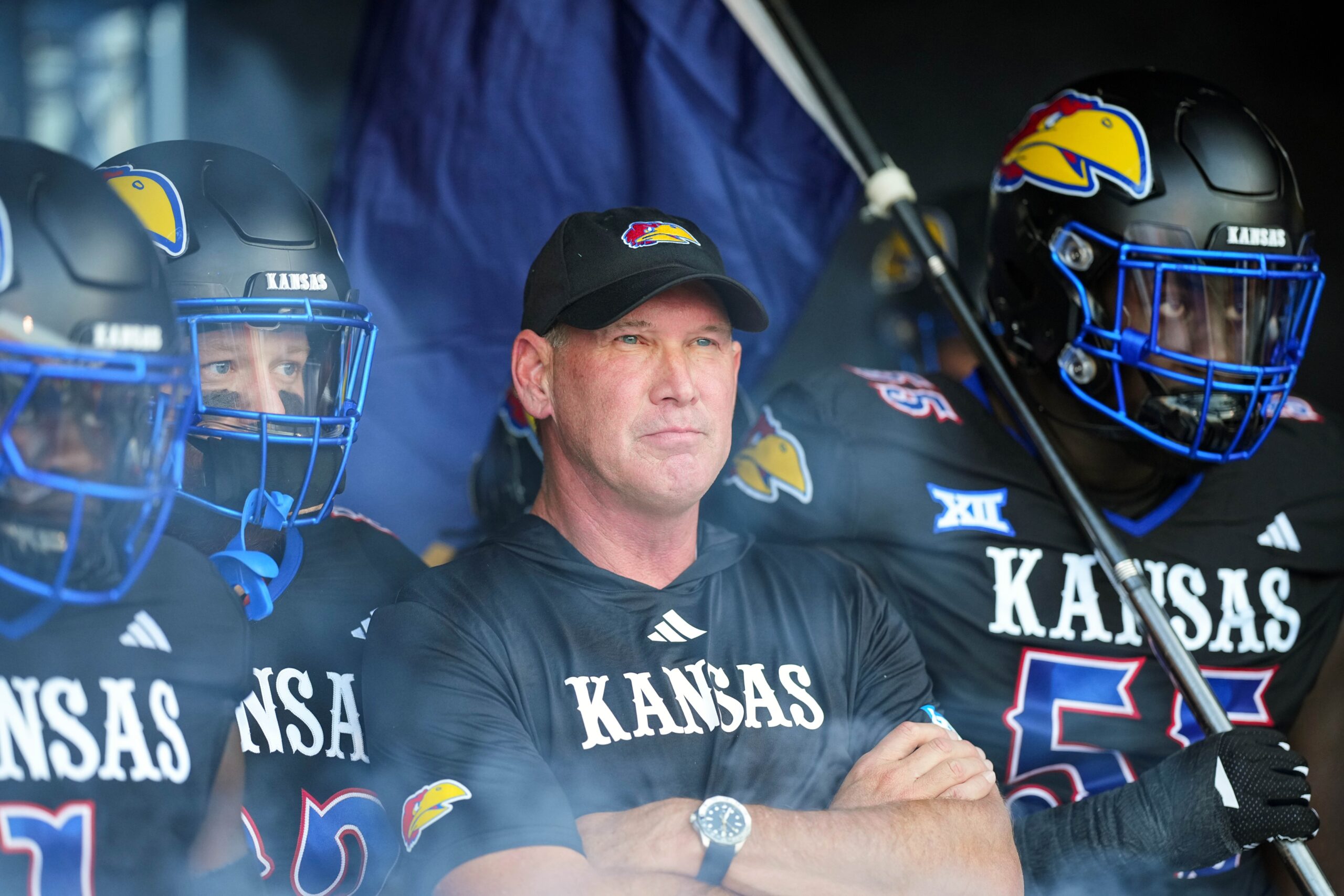 Michigan State football is still looking for its next head coach and it could come in the form of Lance Leipold.
As rumors continue to swirl around the internet regarding the Michigan State football coaching search, let's turn our attention to a candidate who should be on everyone's shortlist to lead the Spartans next year: Lance Leipold.
The 59-year-old Kansas head football coach posts an all-time head coaching record of 161-58. Leipold's head coaching career began at Division III Wisconsin-Whitewater where he built an absolute juggernaut of a football program. During his time at Wisconsin-Whitewater, Leipold won six NCAA Division III national titles and had an overall record of 109-6. In all but one year, he led Wisconsin-Whitewater to the National Championship game. His tenure with the Warhawks lasted eight seasons, ending in 2014.
In 2015, Leipold found himself in the FBS, leading the Buffalo Bulls out of the MAC. Leipold posted a 37-31 record while with the Bulls from 2015-2020. While at Buffalo, the Bulls experienced the most successful era of football in program history. Don't believe me? Prior to Leipold, Buffalo went to three bowl games in program history. He was also the first coach in over 50 years to finish his tenure with a winning percentage (.529). To add more historical perspective, Buffalo is ranked ninth out of 12 in the MAC in all-time win percentage. In three bowl game appearances, Buffalo finished 2-1. Leipold won MAC Coach of the Year in 2018 and 2020, which, coincidentally, were the years Buffalo was MAC East champions.
Then, 2021 saw Leipold take his talents to Lawrence to lead the Kansas Jayhawks football program. Historically, Kansas has the worst football program in the Big 12 with an all-time conference winning percentage of .338 and an all-time winning percentage of .470. The program experienced success in the late 2000s with Mark Mangino at the helm, specifically in 2007 and 2008, but that's been it for the past 15 years.
From 2011-2020, Kansas won 13 games. No, that's not a typo.
Since Leipold took over in 2021, Kansas has won 15 games. Kansas has a record of 15-19 with Leipold and has experienced wins at Texas (2021) and Oklahoma (2023) which broke multiple losing streaks against these teams among others (vs. ranked teams and road conference games to name a few).
This season, the Jayhawks are 7-2 (4-2 Big 12) and tied for third in the conference standings. Since their two conference losses are to Texas (first in the Big 12) and Oklahoma State (second in the Big 12), their chances of playing in the conference title game are slim to none. Regardless, Kansas is No. 16 in the country and if you've watched them it's clear the impact Leipold has had on the program. Kansas' offense has been particularly impressive even with the absence of star quarterback, Jalon Daniels to injury the last month.
The Jayhawks rank:
61st in passing
19th in rushing
20th in points for
So, what makes Lance Leipold such an appealing candidate for Michigan State football? Two reasons:
1. Doing the impossible
Simply put, Lance Leipold has won at hard places to win. Mike Elko and Leipold share this characteristic, but I'd argue the latter has done it at more difficult places. As stated before, Buffalo is ranked ninth of 12 in the MAC in winning percentage and went to three bowl games before Leipold. With Leipold, three bowl games (2-1), 2018 and 2020 MAC East champs, and ranked as high as No. 23 in 2020. At Kansas, Leipold has guided the Jayhawks to an increase in wins every season:
2021: 2-10 (1-8)
2022: 6-7 (3-6) — loss to Liberty in 2022 Liberty Bowl
2023: 7-2 (4-2) — currently third in Big 12
Some coaches just know how to win and win anywhere. Leipold has done at two of the harder places to win in the country. Imagine what he could do with the resources that would be provided to him by Michigan State football.
2. Offense
Second, offense. Boy oh boy, have we as Spartan fans endured some atrocious offenses since the peak of the Mark Dantonio tenure. It's hard to imagine just nine years ago, the Spartans had a top-12 offense in the country. We've seen a lack of creativity and not using talent to its fullest potential.
Enter, Lance Leipold. A former record-breaking quarterback at Wisconsin-Whitewater, he has led some very productive offenses in Division I. By the end of his tenure at Buffalo, the Bulls were consistently in the top half of the MAC in total yards per game and led the conference in rushing in 2019 (250.5 yards per game) and 2020 (287.1 yards per game). The Bulls also led the MAC in passing offense in 2017.
At Kansas, they run a unique style simply called "The Kansas Offense" which is a multiple pro-style offense with spreads concepts consisting of:
Many personnel groupings
Shift/motion
Leipold's goal is to have a balanced offense that puts stress on the defense with a heavy dose of shift and motion pre-snap. The current version of "The Kansas Offense" has been very successful, ranked:
19th in rushing
20th in points for
61st in passing
This is all without star quarterback Jalon Daniels, mind you, who may have helped the Jayhawks' numbers increase, if healthy. Although, current Jayhawks quarterback Jason Bean has been successful running the offense over the last five games.
Leipold would bring a fresh and creative offensive mind that has been successful at multiple stops. Having watched Kansas play a handful of times this season, I've found myself jealous of the creativity on offense. Their rushing attack, led by Devin Neal, has been extremely impressive.
We know that the Spartans don't lack talent on offense, the concerns have always been that they aren't used properly, or even to their fullest potential. With Leipold, we'd see a transformed offense that keeps Big Ten defenses guessing. At Michigan State, Leipold would be given more talent than he's ever had on offense, especially in our current quarterback room.
Final thoughts
Michigan State football would be doing a disservice to not pursue Lance Leipold. He has been able to build programs and win everywhere. He won six Division III national titles at Wisconsin-Whitewater. Yes, it's Division III, but winning six national titles at one school in such a short time frame is beyond impressive.
Leipold has won at two of the hardest places to win in Division I in Buffalo and Kansas. Prior to Leipold, both these programs were dead in the water. With Leipold, Buffalo experienced a stretch of success that hasn't been seen in program history; and Kansas is 7-2 in year three of Leipold, eyeing a 10-2 regular-season finish while building a program, that, for the last 10 years, has won 13 games. Leipold's impact on these programs is obvious and he's done this at schools with minimal football resources. His offenses are creative, put stress on the defense, and use talent to the fullest.
But, but… Leipold's age. He's 59. So is Urban Meyer.
Michigan State football is at a crossroads. If the powers that be give Leipold, a proven program builder, the keys, it should be a welcome hire for Spartan Nation and one to be excited about.
Go Green.