Spartans Shadows staff college football pick 'em: Week 11 edition
Who ya got?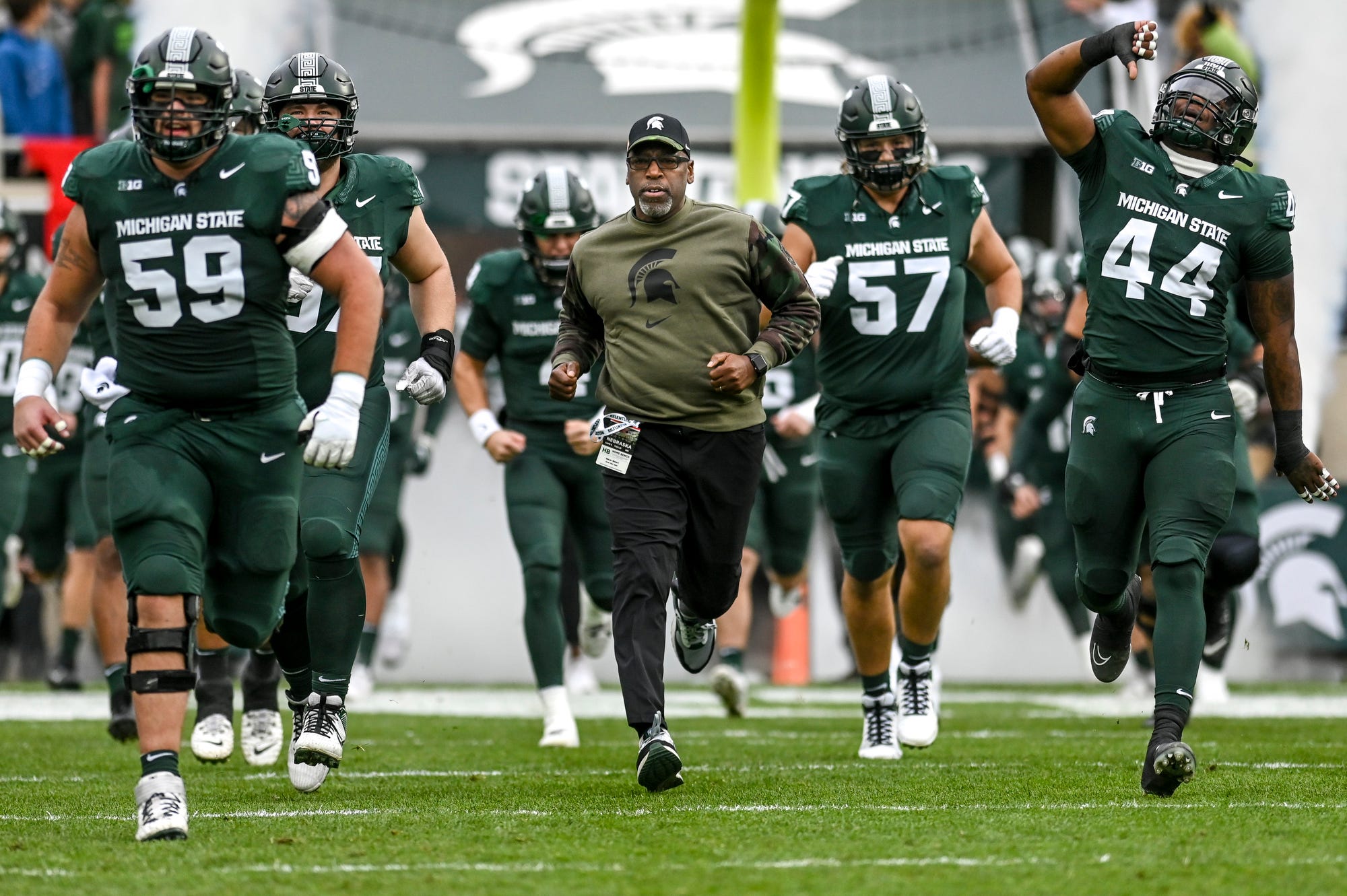 Week 11 of the college football season is here and that means it's time for our weekly Spartan Shadows staff pick 'em.
Welcome back, everyone. It's that time of the week again. Spartan Shadows college football pick 'em time is upon us. With another great slate of games in store for this week, the competition is heating up between us.
Last week's games provided no shortage of drama. We had an unranked Clemson team beating Notre Dame in a big win for Dabo Swinney. Michigan was unable to cover the spread against Purdue in one of their first games without staffer Connor Stalions on the sidelines. The Spartans finally picked up their third win of the season against Nebraska as well.
We also had some controversy with our picks this week as well but I'll explain that later.
Let's get into the results from last week.
Week 10 results
No. 25 Kansas State at No. 7 Texas — Line: Texas -4.5; Result: Kansas State cover** (push)
Texas A&M at No. 11 Ole Miss — Line: Ole Miss -3; Result: Push
No. 12 Notre Dame at Clemson — Line: Notre Dame -3; Result: Clemson cover
No. 14 Missouri at No. 1 Georgia — Line: Georgia -15.5; Result: Missouri cover
No. 10 Oklahoma at Oklahoma State — Line: Oklahoma -5.5; Result: Oklahoma State cover
No. 22 Kansas at Iowa State — Line: Iowa State -2.5; Result: Kansas cover
No. 5 Washington at No. 24 USC — Line: Washington -3.5; Result: Washington cover
No. 13 LSU at No. 8 Alabama — Line: Alabama -3; Result: Alabama cover
Purdue at No. 2 Michigan — Line: Michigan -32.5; Result: Purdue cover
Nebraska at Michigan State — Line: Nebraska -3; Result: Michigan State cover
So let's first address the elephant in the room that you all aren't aware of. I messed up. When I was messaging the fellas about last week's board, I somehow did not get the right spread for the Kansas State vs. Texas match. I advised them it was all Texas -3 when that was not the case. I think I looked at the Ole Miss spread twice. I didn't notice this until after the games on Saturday. I felt bad that everyone was picking on an incorrect spread so my apologies to the boys and to the readers.
Of course, the game had to be close, too. If Texas would have just blown them out it wouldn't have mattered but oh well. Because of this issue, we're just counting everyone's picks as a push for the standings and hopefully, no one's bets were compromised out there in reader land.
The rest of the games saw some big upsets with Oklahoma State, Clemson, and technically Kansas winning. Washington continued its offensive dominance with an impressive showing against USC. Our Spartans notched a strong victory vs. Nebraska on Senior Day at Spartan Stadium as well. Shout out to Harlon Barnett for his first official win.
For standings-wise, Hop was the top dog this week with a blistering 7-1-2 record. MSU Recruits was right behind him with a 6-2-2 run. Going 5-3-2 you had Emmett, Connor, Max, and I. Anthony came in with a solid 4-4-2 week. After that, we had Daily with a 3-5-2 performance and then Joey bringing up the rear with a 2-6-2 week.
Also, last week was our 10th full week so we officially hit the 100 games selected mark. Honestly, all of us have done really well with these selections. Picking games against the spread is pretty difficult so I want to give the guys a shoutout for all their hard work this season so far. There are lots more to come still so let's take a look at the updated standings.
Updated standings after Week 10
Emmett: 53-43-4
Hop: 52-44-4
Connor: 51-45-4
(Tie) Chris and Daily: 50-46-4
Max: 49-47-4
Joey: 46-50-4
MSU Recruits: 45-51-4
Anthony: 42-54-4
Side Competition updates:
Hop vs. Daily: Hop's insane week 10 run allowed him to vault ahead of Daily and into second place overall. Now sitting just one game back of Emmett for the top spot overall, Hop has his sights set on pick's domination. Daily is only two games back however so this race is still far from over.
Chris vs. Anthony: In the battle for the Cane's box, another solid performance helped pad my lead a little bit. Overall, I am eight games up on Anthony but as we've seen with Hop's run this week, a lot of ground can be made up at once. We still have multiple weeks left of the regular season before getting into the championship games and bowl season. Still plenty of time left for Anthony to make a run.
Now let's get into this week's college football games.
Week 11 college football games
Disclaimer: All lines are as of 2 p.m. ET on Tuesday, Nov. 7, from FanDuel. All times listed are Eastern Standard Time.
No. 2 Michigan at No. 11 Penn State — Saturday at 12 p.m. ET on FOX (Line: Michigan -5.5)
Emmett: Michigan
Hop: Michigan
Connor: Penn State
Chris: Michigan
Daily: Michigan
Max: Penn State
Joey: Penn State
MSU Recruits: Penn State
Anthony: Penn State
No. 8 Alabama at Kentucky — Saturday at 12 p.m. ET on ESPN (Line: Alabama -10.5)
Emmett: Bama
Hop: Bama
Connor: Bama
Chris: Bama
Daily: Bama
Max: Bama
Joey: Kentucky
MSU Recruits: Bama
Anthony: Bama
Texas Tech at No. 21 Kansas — Saturday at 3:30 p.m. ET on FS1 (Line: Kansas -3.5)
Emmett: Kansas
Hop: Texas Tech
Connor: Kansas
Chris: Kansas
Daily: Kansas
Max: Kansas
Joey: Texas Tech
MSU Recruits: Texas Tech
Anthony: Kansas 
Miami (FL) at No. 4 Florida State — Saturday at 3:30 p.m. ET on ABC (Line: Florida State -14.5)
Emmett: Miami
Hop: Florida State
Connor: Florida State
Chris: Florida State
Daily: Florida State
Max: Florida State
Joey: Florida State
MSU Recruits: Florida State
Anthony: Miami 
No. 18 Utah at No. 5 Washington — Saturday at 3:30 p.m. ET on FOX (Line: Washington -9.5)
Emmett: Utah
Hop: Washington
Connor: Washington
Chris: Washington
Daily: Utah
Max: Utah
Joey: Washington
MSU Recruits: Utah
Anthony: Utah 
No. 17 Tennessee at No. 12 Missouri — Saturday at 3:30 p.m. ET on CBS (Line: Tennessee -1.5)
Emmett: Mizzou
Hop: Mizzou
Connor: Mizzou
Chris: Mizzou
Daily: Mizzou
Max: Tennessee
Joey: Tennessee
MSU Recruits: Mizzou
Anthony: Mizzou 
No. 10 Ole Miss at No. 2 Georgia — Saturday at 7 p.m. ET on ESPN (Line: Georgia -10.5) 
Emmett: Georgia
Hop: Georgia
Connor: Ole Miss
Chris: Georgia
Daily: Ole Miss
Max: Georgia
Joey: Ole Miss
MSU Recruits: Georgia
Anthony: Georgia 
Duke at No. 24 North Carolina — Saturday at 8 p.m. ET on ACCN (Line: North Carolina -12.5)
Emmett: North Carolina
Hop: Duke
Connor: North Carolina
Chris: Duke
Daily: Duke
Max: North Carolina
Joey: North Carolina
MSU Recruits: North Carolina
Anthony: Duke
No. 20 USC at No. 6 Oregon — Saturday at 10:30 p.m. ET on FOX (Line: Oregon -14.5)
Emmett: Oregon
Hop: USC
Connor: USC
Chris: Oregon
Daily: Oregon
Max: Oregon
Joey: Oregon
MSU Recruits: Oregon
Anthony: Oregon 
Michigan State at No. 1 Ohio State — Saturday at 7:30 p.m. ET on NBC (Line: OSU -31.5)
Emmett: Ohio State
Hop: Michigan State
Connor: Michigan State
Chris: Michigan State
Daily: Ohio State
Max: Michigan State
Joey: Ohio State
MSU Recruits: Ohio State
Anthony: Ohio State
That will do it for the Week 11 college football picks. Place your bets accordingly. Looks like our staff has a lot of confidence in Nick Saban and Co. this week at Kentucky. This week should be another great week of games regardless. Happy watching, college football fans.