Day in the life of Michigan State basketball writer at Madison Square Garden
What a surreal experience.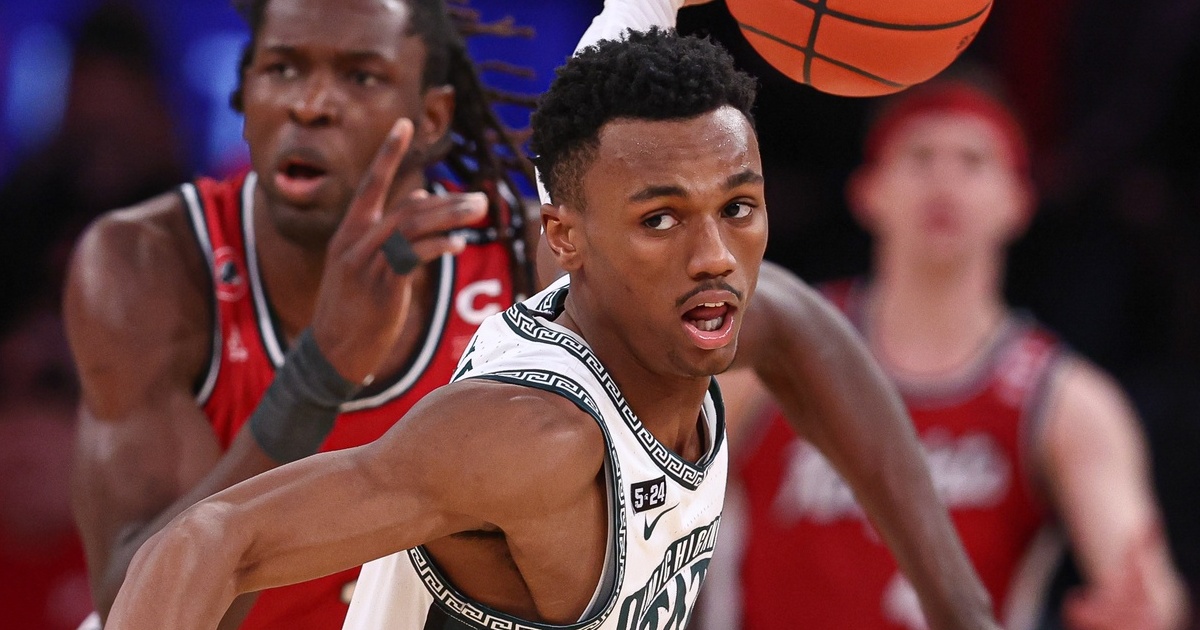 Covering a Michigan State basketball game at Madison Square Garden was a dream and I got to live it a month ago.
The first Saturday of February, the opportunity of a lifetime dropped into my lap (or rather my Twitter DMs), as I was granted media access for the Rutgers vs. Michigan State basketball game at Madison Square Garden. Before I go on, I just want to give a massive thank you to Anthony Wright, who went out of his way to do this for me. I am eternally grateful and he is now my favorite Michigan hoops player of all time. Everybody else is tied for last.
The entire experience was a complete whirlwind of emotion to the extent that I don't even remember the result of the game, none of us do. I'm sure it wasn't important anyways. Is Rutgers even real? 
I had about 12 hours to mentally prepare and honestly could not wrap my head around the fact that this was actually happening. And frankly, I still don't really believe it did. My favorite team in the World's Most Famous Arena. The most difficult aspect of my preparation was something that I'm sure every Spartan can sympathize with; making sure not to lose my mind on every Jaxon Kohler dream shake or, adversely scream at Tom Izzo when our hottest player inevitably gets benched for most of the second half.
As we all know both happened and I'm proud to report I kept the screaming to (mostly) internal.  
Onto the logistics of what having a press pass looked like.
I walked to MSG from my nearby apartment not knowing what to expect, outside of the 33rd and 8th "VIP" entrance I was informed to head to. That was a pretty intimidating beginning to the day, trying my best to not let imposter syndrome get the best of me.
The Spartan Shadows' Big Ten lanyard with my name on it was waiting for me, along with the best perk of them all: a food/drink voucher. I was then escorted to an elevator that would bring me to floor level.
Up to the floor, interesting. There was very minimal instruction from there as it was assumed that the media would know how to get to reserved seats. Refusing to ask for further instruction, I stumbled around the hallowed belly of Madison Square Garden until I saw a familiar face in Matt McQuaid (although I think we know him better as 'Big Shot Quaido'). He unknowingly escorted me to the media section; in Layman's terms, I followed him.
Whether I'm walking in courtside or the 400s section, there will always be that exhilarating child-like feeling of the first sight of the floor. I'm gonna be honest, my first impression despite being mere feet from Izzo and our players was, "Holy crap that's a lot of red." There's me making up for my Rutgers slander earlier. Seriously, the Rutgers fans were out in droves and extremely obnoxious. I mean loud. 
The stars(at least in the journalism world) were out and about in the 10-row media section behind the left side of the hoop, to the right of the Michigan State basketball bench. I had my name written out on a small piece of cardstock indicating my place in the media right in between Andy Katz and AJ Hoggard's personal photographer. The aforementioned imposter syndrome has fully kicked into gear at this point.
With media credentials I was allowed to freely roam around any section I pleased, which I took full advantage of getting just about every view I could. Anyone who has the chance to be that close to the Division 1 level can tell you just how athletic and simply good these guys are. Walking around courtside definitely gives a newfound appreciation for the athletes that these students are. The most challenging part of my day was being that close to Paul Mulcahy tearing the Spartans apart in the second half while having to exhibit the restraint of running onto the court and tackling him Cal Haladay style. The noise the Rutgers fans were making at every Mulcahy bucket down the stretch had the rafters of MSG thinking Bernard King was back dropping 60 again.
Done with the Rutgers compliments forever. 
The post-game was immensely more fascinating than the game for more reasons than just the result. Following the final buzzer, I was able to walk around the hardwood, which was cool enough even without rubbing shoulders with Mel Tucker. We were asked to congregate in the press room 10 minutes after the game ended, where the losing coach would speak first followed by the winning coach. Unfortunately, I was not graced with Steve Pickiell's presence first.
I know Izzo is always fantastic at public speaking, especially with the media, but experiencing firsthand the way he commanded the room and put genuine thought into every question was remarkable. Considering the loss, he was in a great mood and very complimentary of the job Pikiell has done at Rutgers, calling them "the second-best team in our conference."
Izzo expressed respect for his opponent, players, media, and even the venue. The biggest honor of the whole experience was to be able to witness such class and professionalism up close. 
We flooded out of the media room to speak to the Michigan State basketball players who were waiting for us outside of the locker room. There was a buffet there, too, but I'd like to think Joey Hauser was more interested in my question for him. After an 0-5 start Joey got a few to fall, so I asked him where he finds the confidence to keep shooting and if a venue like MSG changes the mindset. He responded candidly saying that MSG could have changed the mindset a little bit, but he always has to just trust his shot no matter the circumstances. Closed by agreeing that he'd rather play at MSG than The "RAC." Izzo reiterated that many times earlier as well.
My final act as a Spartan Shadows reporter at MSG was to ask AJ Hoggard a question he was delighted to hear: "Do you think Rutgers sped you up at times today?" It was met with a resounding "nah."
I wandered around MSG as long as I could, not knowing when I would have such access again while trying to admire every crevice of this cathedral of entertainment. When I finally departed I was left asking myself over and over, "Did that really just happen?" and "Does AJ Hoggard hate me?"
I truly cannot put into words what a surreal and inspiring experience this was, despite the last 1,000 words being my attempt to do exactly that. I said that it was a whirlwind of emotions and it was, but the biggest emotion I felt leaving was gratitude. Gratitude to be in a position of sheer luck and the kindness of others (one more Ant Wright shoutout) to be able to cover my favorite basketball in the best venue and city in the entire world. Gratitude and love cannot be expressed enough in times like this.
Go Green.