Former Michigan State football WR is lighting up the Mountain West
Ricky White is the real deal.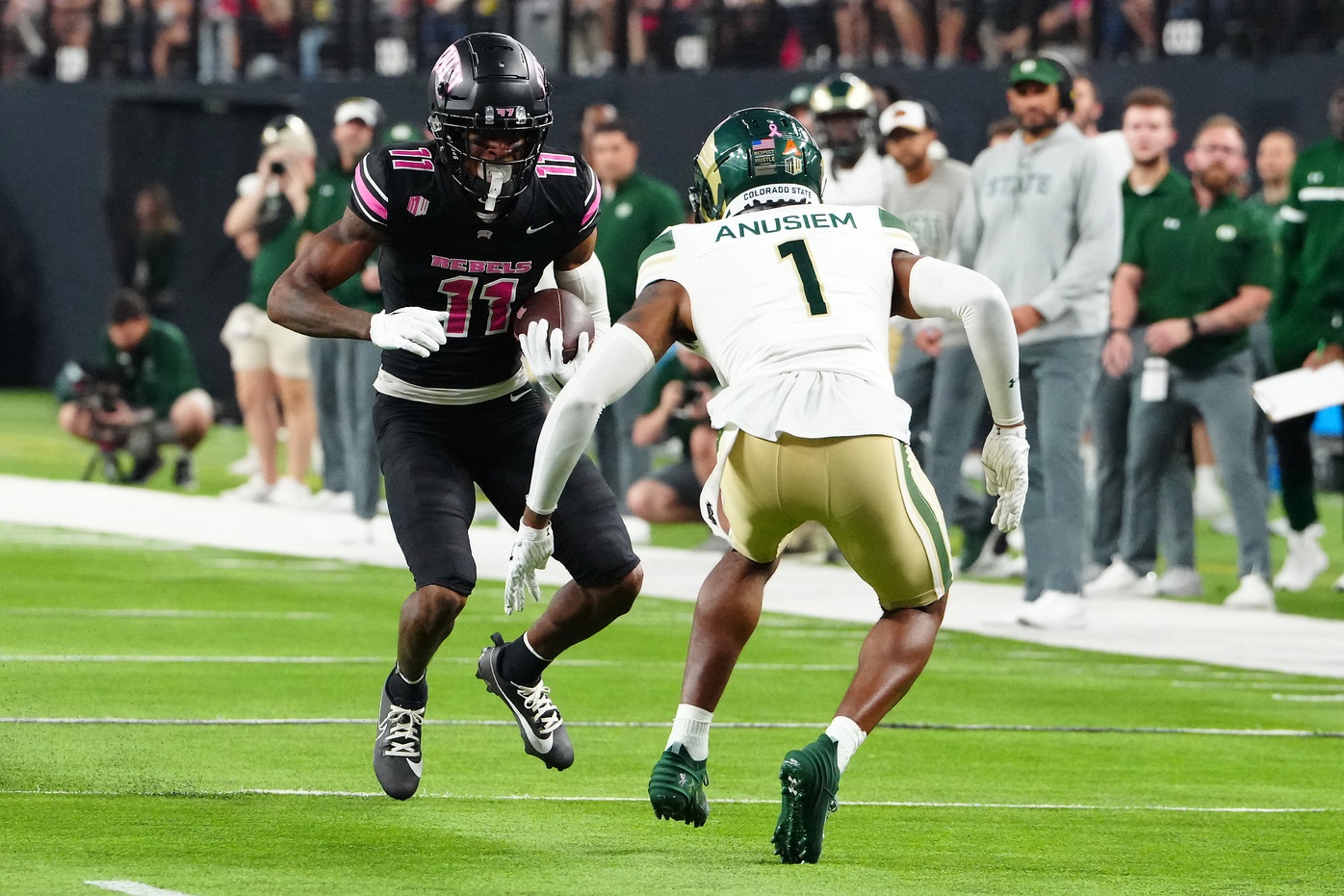 A former Michigan State football hero — and hero from the 2020 Michigan game — is lighting up the Mountain West.
A former Michigan State football star has been doing some serious damage in the Mountain West this season.
In fact, he's been dominating.
Quick comments postgame from everyone's favorite receiver Ricky White on becoming the first 1,000 yard receiver for the Rebels in 10 years. #UNLVFB pic.twitter.com/gs1Vysxvpe

— Will Despart (@WillDespart) November 11, 2023
That's right, 2020 Michigan game hero Ricky White has quickly become one of the best receivers in college football after yet another monster performance on Friday night. In one of the two FBS games that took place on Friday, White finished with 144 yards on eight receptions in a UNLV win over Wyoming. The Rebels are now moving up the Mountain West standings and they're looking like favorites to make the title game.
And a lot of the success could be attributed to the former Michigan State receiver.
With this 144-yard performance, White has officially passed the 1,000-yard mark for the season and, as you could see from the tweet above, he's the first UNLV receiver to hit that total in 10 years. Impressive stuff.
I get it, you're probably going to say "Who cares?" when you see that Ricky White is thriving because "he left" but this feels different. Fans wanted White back after he was suspended in 2021 due to a violation of team rules. He tried to make a return, but it seemed like he was fighting an uphill battle and decided to get a fresh start elsewhere. He transferred to UNLV and had instant success.
Plus, how can you not root for the receiver who helped lead Michigan State to that improbable win over Michigan in 2020? He had a very Plaxico Burress-like showing in Ann Arbor, leading to the huge win.
Ricky White will always be beloved in East Lansing because of that.
The former highly-touted recruit and 2020 hero now has three straight 140-plus receiving yard games and has surpassed 1,600 total receiving yards in his UNLV career. It's great to see him having success because, well, we all knew it was going to happen after watching him dominate the Wolverines as a true freshman.
White is very well on track to win the Mountain West Receiver of the Year award as he leads the conference in receiving yards.