Jayden Reed's NFL draft stock skyrocketing at Reese's Senior Bowl
This dude can flat-out ball.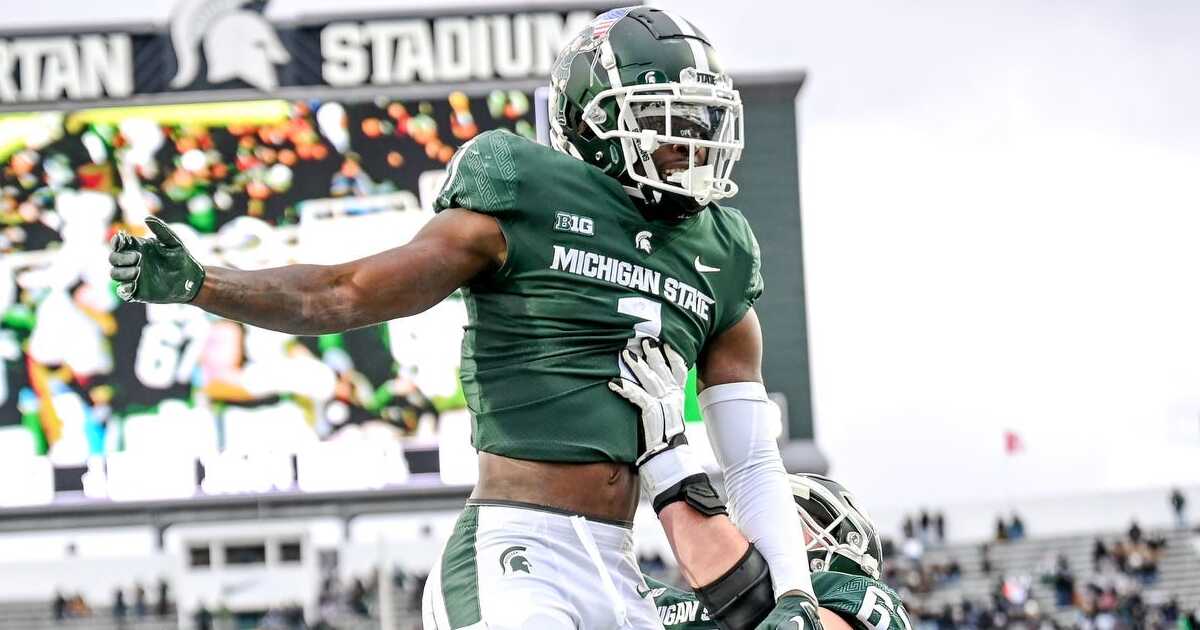 If you're looking for a player to buy major stock in during the NFL draft process, you won't have to look far. It's Jayden Reed.
Jayden Reed is having himself one heck of a week.
Receiving a Reese's Senior Bowl invite following a somewhat disappointing 2022 season, Reed knew that he was going to have to prove himself again.
Prove himself he has.
Through two Senior Bowl practice sessions, he has been one of the top players on the field and he's been turning heads left and right. His NFL draft stock has gone from Day 3 pick to potential Day 2 selection with how well he's performing.
Marcus Mosher, a Pro Football Focus writer, has been hyping Reed up all week long and he posted this clip on Wednesday of every one-on-one rep from his first two days of Senior Bowl practice.
And it's impressive.
Here is every one-on-one rep for Michigan State WR Jayden Reed from the first two days of the Senior Bowl: pic.twitter.com/WPpLCXQSHX

— Marcus Mosher (@Marcus_Mosher) February 2, 2023
Mosher hasn't been the only one in attendance that's been high on Reed. In fact, basically everyone at the practices has been saying he's the best receiver there.
Reed has been outperforming every other wideout invited to the Senior Bowl so far.
WR Jayden Reed from Michigan St has been arguably the best performing receiver at the Senior Bowl this week. Big plays all week! pic.twitter.com/CrUh8zO0Hp

— JM Football (@JomboyMediaFB) February 2, 2023
This comes as no surprise to anyone who watched him at Michigan State when he was fully healthy. Reed was able to make defenders look silly for a couple of years and until he started really battling injuries, he was dominant. He was Payton Thorne's go-to target — although the two weren't really on the same page a ton in 2022.
We're now seeing what Reed looks like when he's healthy, rested, and motivated.
And it's scary.
Reed torched secondaries throughout the 2021 season — ask Michigan, Penn State, and Pitt — and finished that year with over 1,000 yards and some really cool Moss-ing highlights. But then he suffered a freak injury in 2022 and he and Thorne could never really get on the same page.
Now, he's showing why he was a top receiver in college football before the season. He's looking like his old self again.
The result? A massive jump in NFL draft stock.
It's going to be fun to watch Reed on Sundays.
Michigan State football: Mel Kiper Jr. dubs Jayden Reed a 2/3 round pick
Jayden Reed could get a nice birthday present.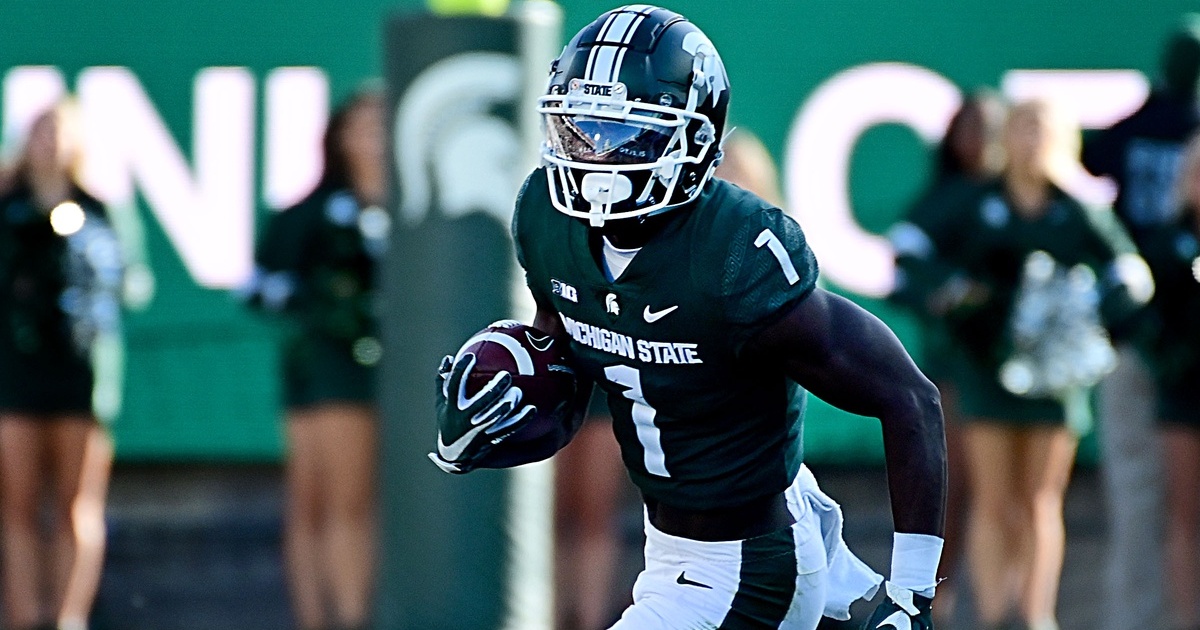 NFL draft analyst Mel Kiper Jr. says that Michigan State football star Jayden Reed is a second or third-round pick.
When the 2022 Michigan State football season concluded, disappointment set in. The Spartans weren't going to a bowl game, the coaching staff was doubted for the first time, and certain star players didn't live up to expectations whether it was because of injuries or just misuse.
One of those disappointing seasons due to injury came from Jayden Reed.
The senior receiver had lofty goals in 2022 after posting his first 1,000-yard season in 2021, catching 59 passes for 1,026 yards and 10 touchdowns for the 11-win Spartans. He was supposed to be one of the best receivers in college football this season but he just couldn't catch a break. He was hampered in the preseason with a nagging injury and then hurt his back in a freak injury against Akron that kept him out of the Washington game.
When he returned, it took him a minute to get on the same page with Payton Thorne. The two eventually got in rhythm and Reed finished the season with 55 catches for 636 yards and five scores.
Reed has gone from a potential Day 2 pick down to a Day 3 prospect following the season and he would need a heck of a Reese's Senior Bowl performance along with a solid Combine showing to fix that.
And he delivered.
Reed was the best receiver during the week of practices at the Senior Bowl and then showed out at the Combine with an impressive 40-yard dash and smooth pass-catching drills.
His stock has been on the rise ever since.
In fact, Mel Kiper Jr. recently spoke on a conference call via MLive and said that Reed looks like a second or third-round pick. If he's projected to go on Day 2 after a "disappointing" season, just imagine how high he'd be mocked if he had another 1,000-yard campaign.
It looks like Reed might get his wish of getting drafted on his birthday (Day 2 of the draft), after all.
Michigan State football: Ben VanSumeren has all-time great Pro Day
Ben VanSumeren definitely boosted his pro stock.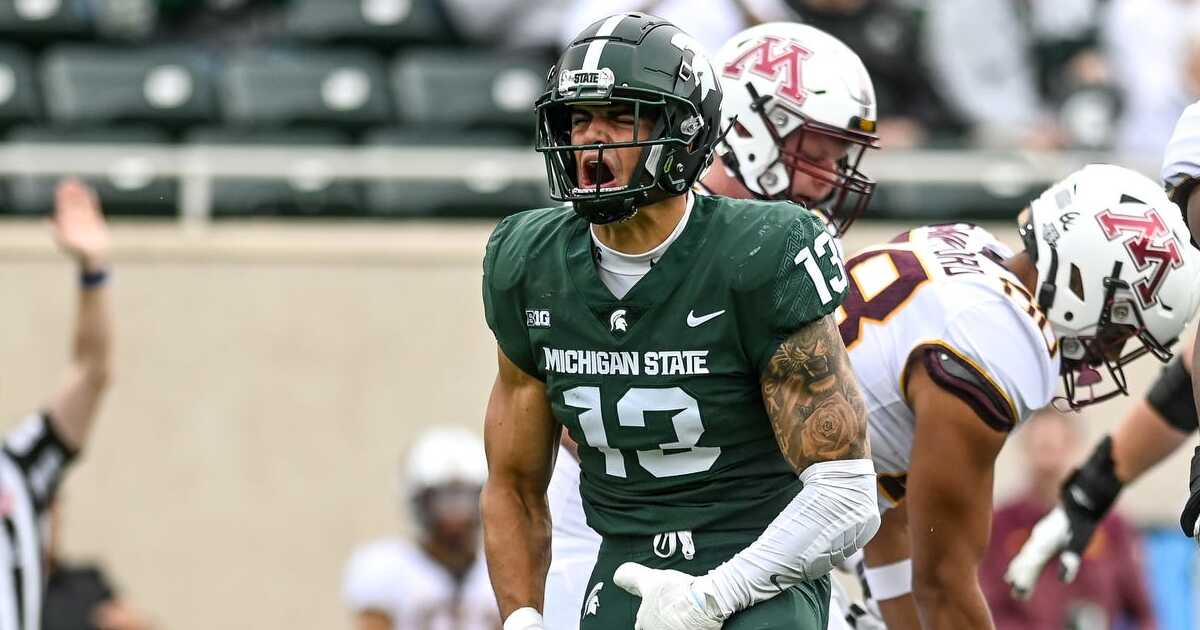 Ben VanSumeren had an up-and-down Michigan State football career but he dominated at his Pro Day in East Lansing.
Dozens of NFL scouts were on hand at Michigan State football Pro Day on Wednesday and there were some eye-popping performances from a number of Spartans.
One of those high-level performers was Ben VanSumeren.
Yes, the linebacker who struggled with consistency for a couple of years but showed flashes of brilliance was arguably the top Pro Day performer. He was dominating just about every single drill.
In fact, even Ian Rapoport tweeted about VanSumeren's performance, stating that he would have blown up at the Combine if he had been invited.
Had he been at the Combine, he would've blown it up… https://t.co/d8Ln2ppxl3

— Ian Rapoport (@RapSheet) March 15, 2023
The blurb at the bottom of the tweet is wildly impressive. Out of all the linebackers at the 2023 NFL Combine, VanSumeren's 42.5-inch vertical would have been the highest, his broad jump would have been the longest, his 29 bench press reps would have been tied for the most, and his 40-yard-dash would have been the second-fastest. That's mind-boggling. Actually insane if you think about it.
While VanSumeren may not have had the most productive Michigan State career after transferring over from Michigan, there was never a doubt about his athleticism.
VanSumeren finished his Michigan State career with 93 total tackles, four tackles for loss, and two sacks in 18 games. He could use some work in pass coverage, but his sideline-to-sideline speed is impressive.
The senior linebacker didn't have the highest draft stock when the season ended, but he led all tacklers at the Shrine Bowl and then had this explosive Pro Day. He may not be a household name in draft experts' minds, but he's someone to keep an eye on as the process continues. We may be seeing VanSumeren playing linebacker on Sundays next season just a few years after he was asked to play fullback in Ann Arbor.
Can't help but root for this dude.
Michigan State football: Antjuan Simmons is perfect GA addition to staff
This is sure to inject some life.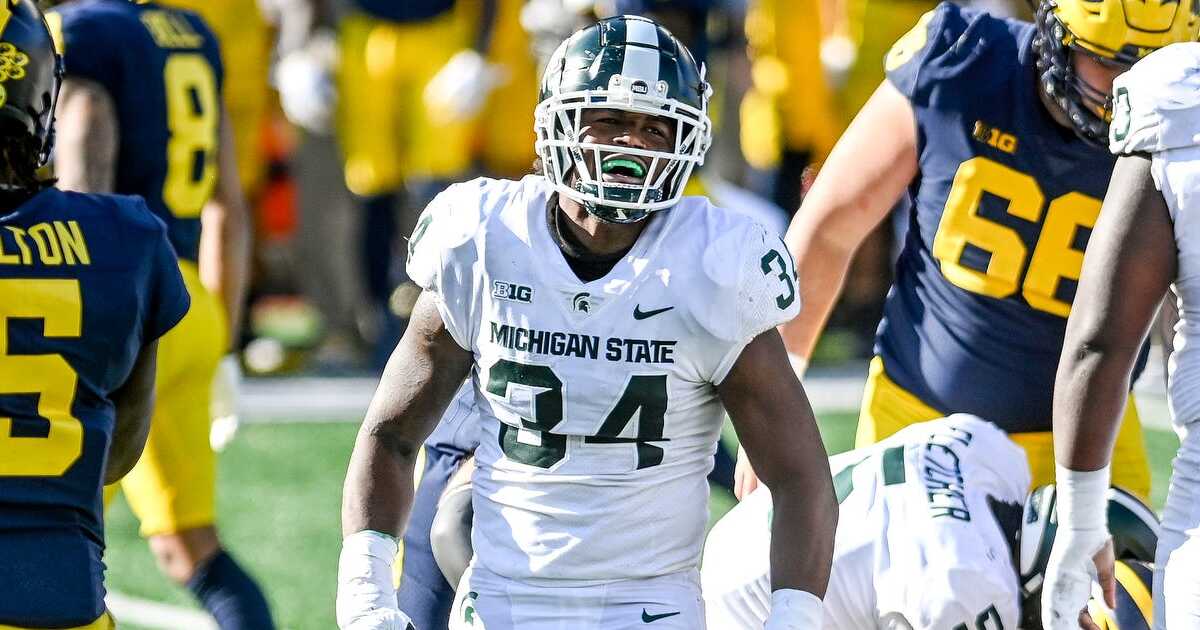 Antjuan Simmons was hired as a grad assistant on the Michigan State football staff and it's a move that will pay dividends.
Every now and then, players come along that you just feel should have stuck around longer. Every Michigan State football fan would tell you that they wish they got more Antjuan Simmons.
Simmons spent four years in East Lansing and was the team's leader during Mel Tucker's first year in a COVID-19-affected 2020 season. He finished with a staggering 75 tackles and nine tackles for loss in just seven games and decided not to use his extra year, leaving the program after 2020. Simmons was well on pace to smash his previous career highs, but the shortened season prevented that.
So basically, we only got 3.5 seasons of Simmons and he really only broke onto the scene in the final year of Mark Dantonio in 2019. We only really got to enjoy 1.5 years of starting Antjuan.
Unfair.
But it looks like Michigan State fans will be able to see him on the sidelines again soon as he's joining the staff for the 2023 season.
According to Justin Thind, Mel Tucker hired Simmons as a grad assistant on Monday.
Former MSU linebacker Antjuan Simmons has joined the program as a grad assistant, he confirmed to me.@_antjuan_ was a captain for the Spartans in Mel Tucker's first season at Michigan State, respected for his leadership as much his play on the field.https://t.co/XsUNhf28VS

— Justin Thind (@JustinThind) March 7, 2023
Thind and others raved about the move, and it's easy to see why this is going to work out well for Michigan State. Simmons and Tucker are familiar with each other and the former All-Big Ten linebacker was one of the best leaders the program has seen over the past few years. He'll be able to connect with the players and also help recruit at a high level.
It's always good for former players to come back and help turn the program back into a winner. I think Simmons is going to do just that.
After losing Brandon Jordan to the NFL, this is the good news that Michigan State needed, coaching staff-wise. This was a home-run move by Tucker for many reasons on and off the field.
Although this doesn't make up for the unsatisfying amount of time in which we got to enjoy Simmons as a player, it'll be great to have him back in East Lansing coaching the good guys.