Michigan State basketball: 3 fearless predictions for Spartans at Nebraska
It's time to bounce back.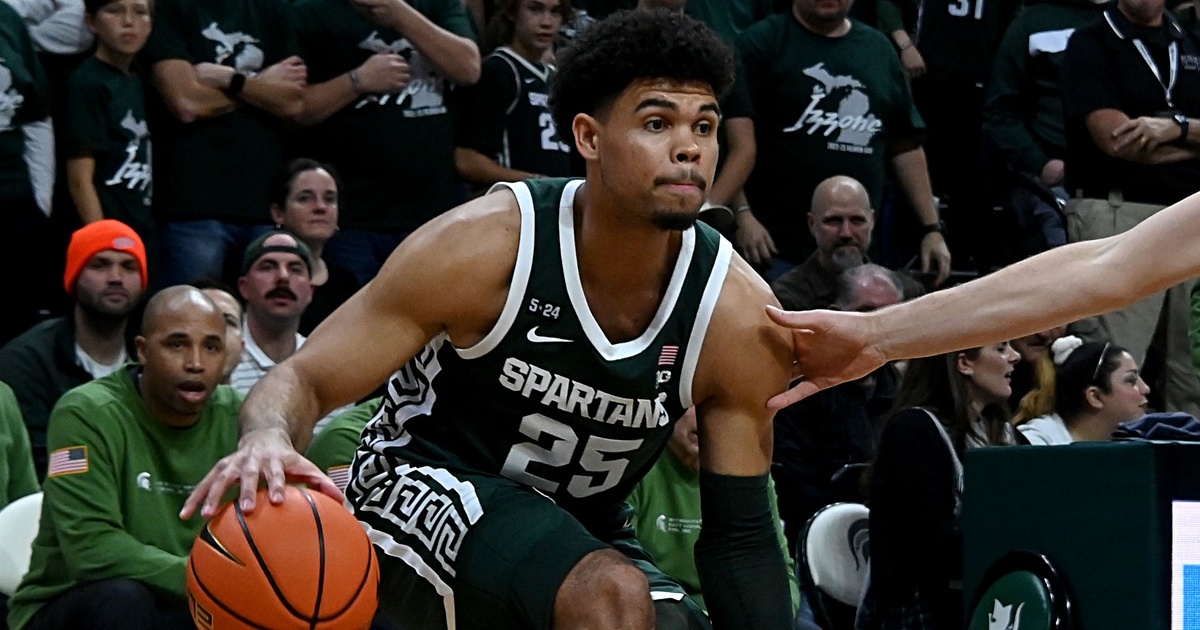 Michigan State basketball is in Lincoln tonight to face Nebraska in an important game. Will the Spartans bounce back?
After 38 minutes on Saturday afternoon, I was really to dub Michigan State basketball "back" and better than it had been in months. The Spartans just beat No. 17 Indiana in dominant fashion and played well for 38 minutes at Michigan as well. They won by 21 at Ohio State the game before that.
But Iowa stormed back after being down 13 and beat the Spartans in overtime. It was one of the worst losses in the Tom Izzo era and it was the difference between an 18-10 record and another Quad 1 win on the resume and 17-11 and absolutely deflated.
Michigan State must head back to the heart of America to face a red-hot team in Nebraska which could either show us that the Spartans are resilient or broken.
Let's dive into some fearless predictions for tonight and, hopefully, it'll be a bounce-back game.
1. Malik Hall approaches a double-double
The last time Malik Hall faced Nebraska, he was rather quiet after returning from an injury just one game prior. He played just 18 minutes and had five points with four rebounds.
I think he blows that performance out of the water here.
While he won't be the Spartans' leading scorer, he'll finish with 13 points and eight rebounds, approaching a double-double. Heck, he might get to 10 rebounds and pick up his first double-double of the year. He's also only had 10-plus rebounds one other time this season.
Hall has been playing much better lately and with Michigan State in need of some veteran guidance after that Iowa debacle, he's going to step up.
2. Tyson Walker scores 20 again
For two straight games, Tyson Walker has looked like one of the best players in the Big Ten. Heck, he's looked like one of the best guards in all of college basketball, scoring 54 points over his last two games on 19-of-30 shooting.
That hot streak continues.
Against Iowa, he was unconscious, going 11-for-15 from the floor. He'll remain hot and make life difficult for Nebraska defenders, scoring 22 on 9-for-16 shooting. Walker will remain a legit All-Big Ten candidate and I think he's starting to look like senior year Travis Trice who put the Spartans on his back for a nice Final Four run.
3. Michigan State bounces back
The first time Michigan State and Nebraska met, the Spartans basically ran the Cornhuskers off the floor. It was one of the most complete performances of the season.
Well, Nebraska has gotten much better since then and Michigan State is coming off its most devastating loss of the season. This will require a near-perfect effort on the road to get the job done in Lincoln and the Spartans will deliver.
I think Michigan State shakes off that Iowa loss and picks up a big road win to improve to 18-11 ahead of a senior day game against Ohio State. I'll go with 74-69.