Michigan State basketball: 3 key factors and a prediction at Nebraska
Michigan State needs this one.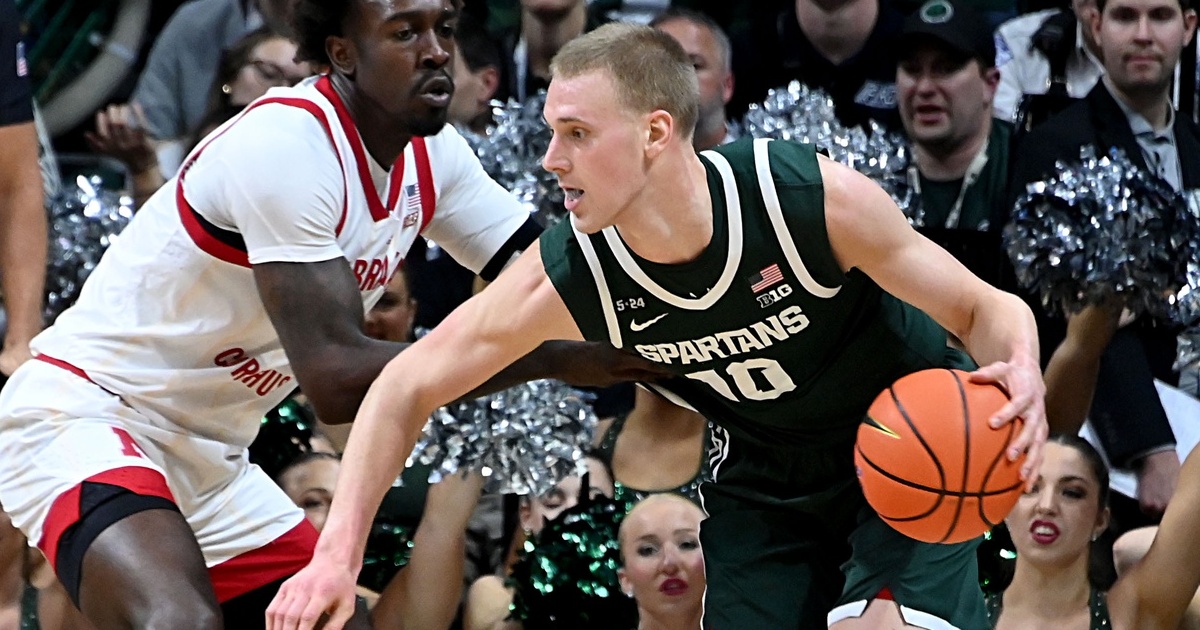 Michigan State basketball is looking to bounce back from a nightmare loss at Iowa. Here's your Nebraska preview.
Michigan State basketball continues its road trip through the Great Plains on Tuesday at Nebraska. The Spartans won the first meeting in East Lansing 74-56 on Jan. 3.
Let's dive into the key factors and a prediction for Michigan State's last true road game of the season.
1. What is Michigan State made of?
Michigan State found itself on the losing end of one of the craziest college basketball games you'll ever see Saturday. Leading by 13 points with 90 seconds to play, Iowa stormed back to tie the game, making five 3-pointers in the last minute to force overtime.
A loss was not unexpected. But given the way MSU played, the collapse at the end has the potential to be a season-altering event. Michigan State played their best basketball of the season for 38 and a half minutes. They shot 11-for-15 from three, 31-for-36 from the free throw line, and averaged 1.31 points per possession.
Career days from Tyson Walker (31 points) and Jaden Akins (21 points) were essentially wasted.
The Spartans were on the verge of getting their most impressive road victory of the season that would have been a giant step towards a double-bye in the Big Ten Tournament. Most importantly, though, they were starting to play like a team that was finding its stride at the right time.
Now? Hitting the road again 72 hours later against a Nebraska team playing its best basketball of the season is a disastrous spot for MSU. The Spartans don't have a ton to gain by winning at Nebraska and have much more to lose.
Tom Izzo said at his press conference on Monday that the team did not watch the tape from the Iowa game. The players seemed to say the right things afterwards about "moving on." But saying it and physically being able to do it are two different things.
Given the circumstances, a road game against Nebraska might be the worst possible matchup following a meltdown like MSU had. Michigan State will be favored, and winning this game will do little to improve their NCAA tournament resume. Nebraska is too good to make this easy for Michigan State basketball, and playing too well right now to roll over if they get down.
We're going to find out a lot about the Spartans' mental toughness Tuesday.
2. Is Nebraska… good?
The Cornhuskers come into Tuesday's game winning five of their past six, and four straight overall. This stretch includes a very impressive road win at Rutgers. This Nebraska team is a little different than ones of years past.
In Fred Hoiberg's first three seasons as head coach, the Huskers led the conference in adjusted tempo while finishing dead last in offensive efficiency. This season, they are fourth in adjusted tempo while having only the second worst efficiency on offense. Their current defensive rank (No. 10) in league play would be a new high under Hoiberg. So, they are playing a little slower, with marginal improvements relative to years past. They're trying to change who they've been.
But if Nebraska basketball from 2020-22 was Diet Coke, the 2023 team is Coke Zero. Different product – same taste. Many of the same issues that have bothered Nebraska in years past remain problems for this team. They turn the ball over, they don't grab offensive rebounds, and they give up way too many looks from three. Even in the month of February – where they have played well – it's too easy to poke holes in their results. Four of their five wins have been at home. Two came in overtime (Wisconsin, Maryland), with the other wins coming against Penn State and Minnesota (also at home).
The answer to the initial question is no – Nebraska is not good. They are better than the Nebraska teams that won a combined 24 games over three seasons. This is the best team Fred Hoiberg has had. But, this is still a team that has lost nine Big Ten games by double digits. They have needed three overtime victories to get to the eight they currently have.
Nebraska is better and is playing as well as they have all season. But that starting point is important.
3. Shooting
Shooting is important in every game, but the splits between these two teams jump off the page.
Let's start with three-point shooting.
Nebraska ranks 298th in America in three-point shooting at 31.7 percent. Keisei Tominaga (40 percent) is really the only threat to get hot for Nebraska. We know Michigan State has elite three-point shooting defense (30.4 percent on the season), but I would expect it to be a point of emphasis this week after Iowa nailed 17 of them on Saturday.
Conversely, Michigan State thrives by shooting the three. Tyson Walker, Joey Hauser, and Jaden Akins are all shooting over 41 percent on the season. That's good news for Michigan State because nobody in the Big Ten gives up more three-point attempts than the Cornhuskers. Nebraska is allowing a whopping 44 percent of conference opponent's field goal attempts to come from three. They have actually been decent at defending the three, but at the very least, Michigan State is going to get some looks from deep. If the Spartans can catch fire again like they did on Saturday in Iowa City, they'll have a real chance of burying the Huskers.
The other shooting component to watch for is free throw shooting. Out of 363 teams in Division I, Nebraska ranks 351st in free throw shooting percentage at 63.7 percent on the season. This presents a problem for Nebraska because Michigan State has had trouble playing defense without fouling. The Spartans put teams on the free throw line at the highest rate in the league. While Nebraska doesn't shoot a ton of free throws, they should still see more than their season average against Michigan State's physical defense.
On the other end, in league play, Michigan State is shooting 79 percent from the line. If the officiating in this game becomes tight in the second half, or if it's close in the final minutes, the Spartans hold a massive edge here that could prove to be the difference.
Prediction
Michigan State has opened as a three-point favorite, with a total of 135.5. Given how well Nebraska has been playing lately, and what MSU put themselves through on Saturday, this line seems high. Big Ten teams at home this season have been dynamite outright and against the spread.
Nebraska has a very underrated home-court advantage, and there should be a good crowd Tuesday for senior night. It's another long trip for MSU, and lost in the collapse at Iowa was the fact that Michigan State exerted a ton of energy in a game that lasted nearly three hours.
But for all the things Michigan State has going against them, they still have Tom Izzo and a team full of upperclassmen.
The Spartans should want nothing more than to get back out on the court. There were a ton of positives to take away from the Iowa game, and I think we'll continue to see those once the ball is tipped. Michigan State is better. This is a good matchup, and I think they have what it takes mentally to get the job done.
Final score: Michigan State 71, Nebraska 63