Michigan State basketball: 3 takeaways from shocking loss to JMU
What happened?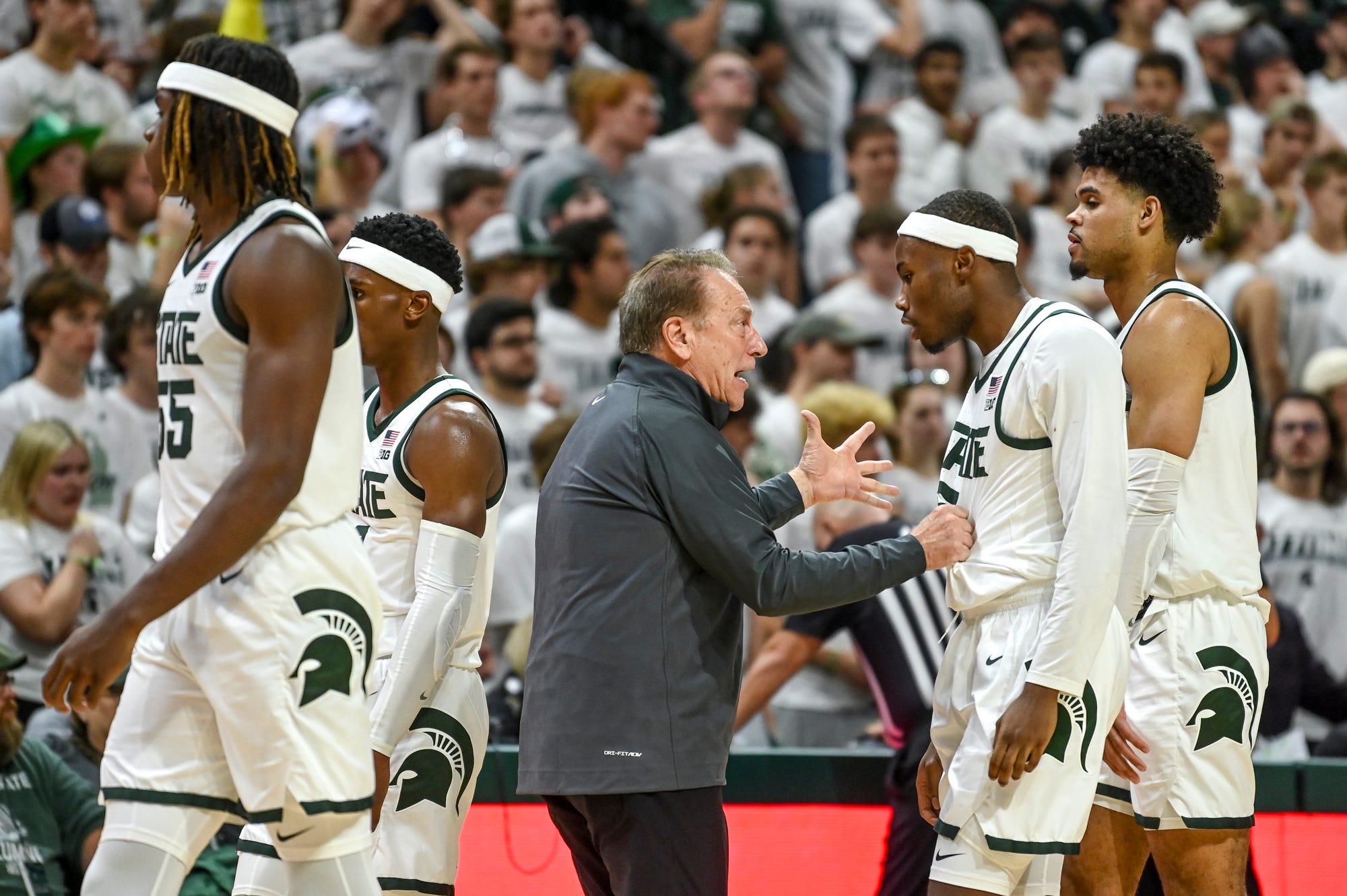 I'm catching my breath, and so are you, and what just happened to Michigan State basketball on Monday night?
Heading into Monday night, lots of eyes were on Michigan State basketball. After barely missing out on the Elite Eight last year, the Spartans debuted in the season-opening poll at No. 4. On Monday, it did not appear that way.
The Spartans trailed by 13 multiple times in the first half. They lost to the unranked James Madison Dukes.
After leading by six, this went to overtime. Two Spartans finished with double digits. The Spartans, again, lost in overtime to a purple team. What did we learn from this shocking home loss?
1. Free throws will be the death of this team
Nearly every year, Michigan State basketball excels in everything besides free throw shooting. Last year was the exception, and Monday's showing was dreadful. The Spartans started the night 2-for-10 and finished the night 23-of-37, including Carson Cooper going 0-for-4 tonight and Tyson Walker missing six of his 17 free shots. The charity stripe was not kind to the Spartans.
After the Spartans rallied from down 13, the game was tight the rest of the night. James Madison was aggressive, and the Spartans' lack of free throw shooting hurt them. Oh, and did I mention this game went to overtime? One point really makes a difference. Walker bricked a pair of free throws in overtime. The Dukes committed 18 fouls in the first half. The Spartans going sub-65 percent from the line was not ideal. 
This James Madison team was overaggressive, and the Spartans should have done a better job at making them pay for it. Michigan State lost from this, and against Duke in a week, they need to start the night better than 20 percent from the line.
Between this and the team being 1-for-20 from the line, I do not know which stat is worse. I never knew I would miss Joey Houser so much. 
2. This team's potential is through the roof — if more than two players show up
To start the night, everyone was excited to see the debuts of Xavier Booker, Coen Carr, and Jeremy Fears Jr. The latter two logged considerable minutes, with both proving their worth on the court. Fears Jr. finished the night with a '1' in five different stats (one defensive rebound, steal, block, assist, and point) as the freshman contributed on multiple levels when he was called on.
That brings us to Coen Carr. He was a beast, with his first two baskets as a Spartan also tacking on and-ones. He threw down a dunk on his own assist (which should have counted as an assist, too), and added six rebounds. All of this came with Carr keeping clean, as the freshman had just one foul. He had multiple lapses late. The first led to a game-tying basket from the Dukes in regulation. Then, he allowed the wide-open three to put the dagger in the Spartan hopes. Carr tied the game with a late free throw, making it 73-all with just over a minute left in overtime. Carr was one of two Spartans in double digits. He was the next best Spartan besides Tyson Walker.
Speaking of Walker, he was by far the best player for MSU with 35 points, including the Spartans' 12 points late to help make this game go to overtime and at the start of overtime. Tyson played his heart out. Despite multiple injuries, multiple no-shows from teammates, and double-teaming, the senior had his sixth 30-plus point game.
Then there is the rest of the team.
3. There is blame to go all around
This team came out lifeless today. Their first lead came well over five minutes into the second half. The Spartans let a six-point late lead dwindle to a tie for overtime.
AJ Hoggard, the other half of the dynamic backcourt duo with Walker last season, had a bad night. The senior had nine points, going 2-for-11 on the night (note: Tom Izzo did say that Hoggard was cramping all night). Malik Hall looked out of sorts, with his play all night being spotty at best. He had four points on 12 shots, including multiple attempts during the overtime period that made us wonder what was going on. Carr outplayed Hall in every category. Mady Sissoko fouled out. Carson Cooper got sent to the line but then whiffed all of his four free throws. Jaden Akins did not exist in the first half. Both of Tom Izzo's plays out of timeouts late had us scratching our heads. In overtime, the Spartans again failed to put up a shot to give Michigan State basketball at least a chance. As strong as Walker was, six missed free throws hampered the Spartans and doomed them.
As a team, the only made 3-pointer came from Tre Holloman late in the first half. They went the entire second half and overtime period without a three.
Before Thursday, this team needs to shoot free throws and do some serious soul-searching. This team can compete to be the best Izzo-coached squad, but they need to go back to the basics. The Walker show should not be needed in our non-premier out-of-conference matchups. Izzo pointed out that both senior guards cramped, and I can imagine the team's conditioning will be tested soon.
I would like to point out that Izzo's 2000 national title team dropped a 53-49 clunker to Wright State. Not all is lost.
On Thursday, the Spartans play host to Southern Indiana, where they will look to put one in the win column and right the ship.