Michigan State basketball: 3 fearless predictions vs. James Madison
Let's get this season started.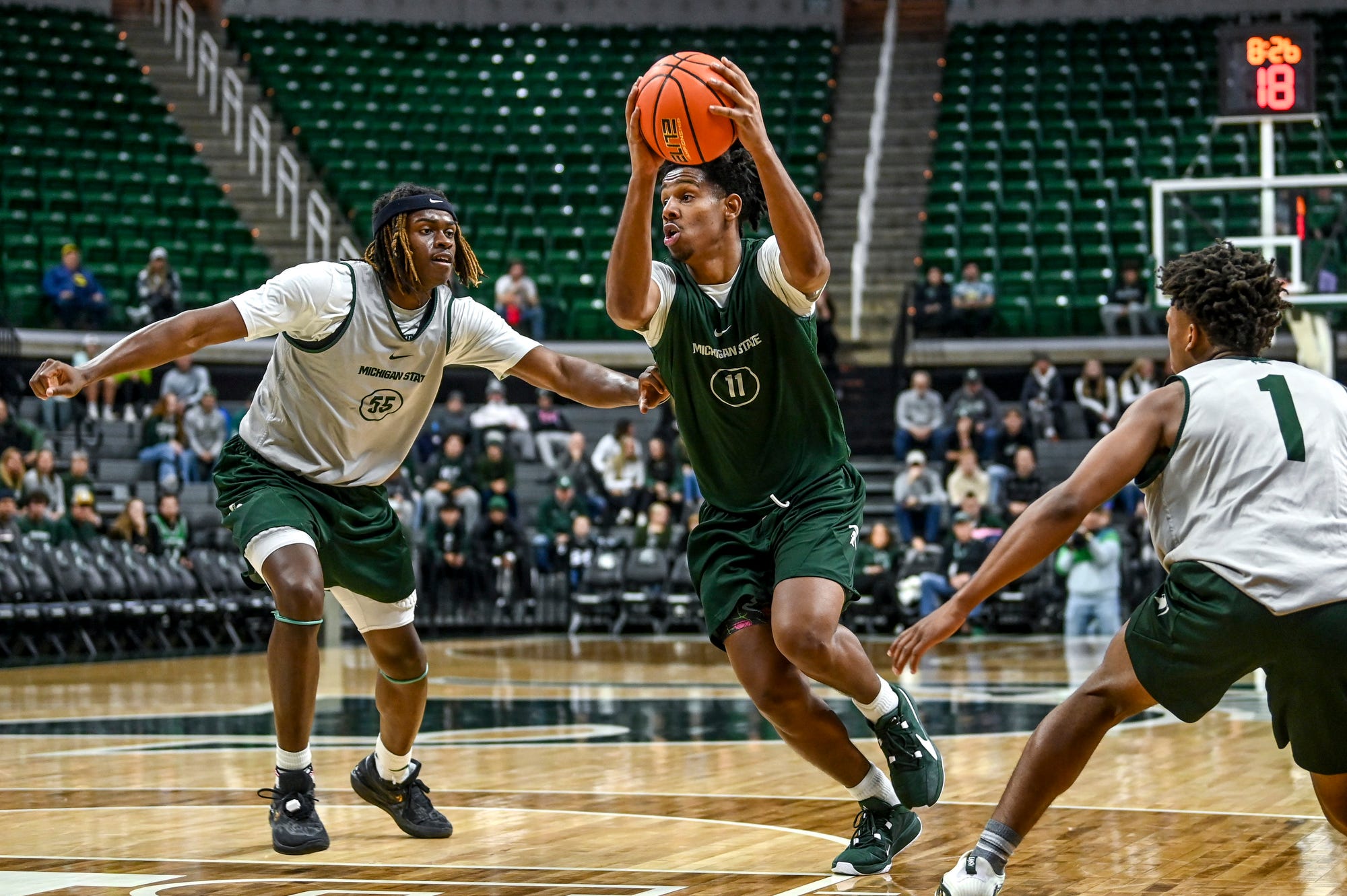 Michigan State basketball opens the 2023-24 season on Monday night against James Madison. Here are some fearless predictions.
We're finally here, folks. The start of the 2023-24 Michigan State basketball season is on Monday night as the Spartans welcome James Madison to the Breslin Center.
This is going to be an interesting game considering the Dukes have been picked to finish first in the Sun Belt this season while the Spartans are Big Ten title favorites along with Purdue. These two teams have massive expectations this year.
So let's get bold.
1. AJ Hoggard dishes 10 assists
AJ Hoggard spent all offseason getting better and compiling a binder full of bulletin board material. He's constantly reading headlines saying that he's not one of the top three point guards in the Big Ten. Heck, some don't even think he deserves to be on certain preseason award watch lists. At Big Ten Media Days, he said that he plays with such a massive chip on his shoulder because of the media — because of the doubt.
Well, he'll have a chance to kick off his senior year on a high note against James Madison.
All of that frustration of being overlooked in the offseason will be let out in spurts this year, but James Madison will get the brunt of it on Monday night. He's going to have a modest scoring game with 10 points but he'll lead all passers with at least 10 assists. A nice little double-double to open the year.
2. Coen Carr has no less than three jaw-dropping dunks
Freshman minutes are going to be one of the top storylines this season and while it'll likely be talked about early on, I think Coen Carr will see plenty of action from game one on. He's going to make the most of his opportunities.
James Madison players will have plenty of business decisions to make with Carr driving toward the hoop. My guess is that they'll make the right decision and get the heck out of the way, but I believe we'll see Carr dunking over an entire defender on Monday night.
No less than three highlight dunks for the freshman sensation.
3. Game will be closer than it should be
James Madison is projected to finish first in the Sun Belt this season and I think that many Michigan State basketball fans are overlooking the Dukes.
This is not going to be a walk in the park for the season opener. James Madison finished last year 22-11 and it brings back some of its key players from that talented squad. Michigan State knows that it can't overlook this team.
But through the first half, the Spartans and Dukes will go back and forth. It'll be a mixture of first-game jitters and kind of getting a feel for each other in first live action. The Spartans still have to gel at this point in the year. It'll take a few games before they're a well-oiled machine.
Michigan State is going to win and backdoor cover, but it's going to be a tight one throughout.