Michigan State Basketball: Allocating guard minutes for 2023-24
A lot of guards, not a lot of minutes to be had.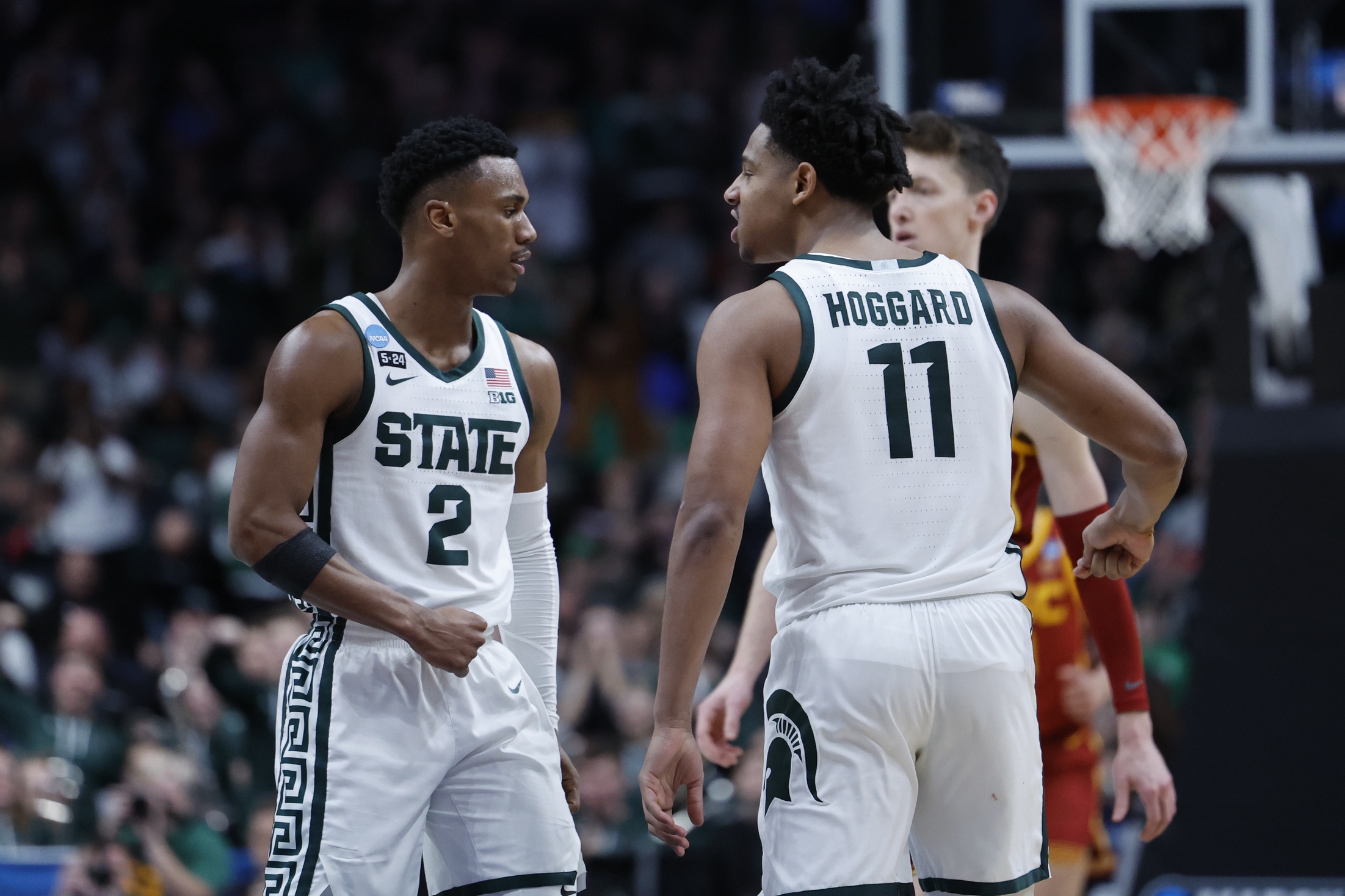 Michigan State basketball has an absolutely loaded backcourt heading into 2023-24. Let's allocate the guard minutes.
Michigan State basketball has a loaded backcourt with the news of AJ Hoggard and Jaden Akins returning next season. Add this on top of Tyson Walker coming back and Michigan State adding a four-star point guard in Jeremy Fears just loads up this back court even more.
Let's take a look at what the minute allocation could look like between the five guards on the roster.
Starters
The starting point guard is clearly set into place with AJ Hoggard starting 33 of 34 games last year. Next year's team still goes as Hoggard goes and he will most likely average 28-30 minutes per game. AJ being able to defend multiple positions allows him to play alongside any of the other three guards on the roster next year. He should average around 15 points per game and six-plus assists. Him being able to increase his 3-point percentage up to 35 percent next year should help his scoring dramatically.
The starting shooting guard is Walker who started in all 34 games last season and nothing will change this season. This team is going to rely plenty on Tyson to begin the season as this team continues to mesh with all of the different lineups. He played almost 34 minutes per game this season due to injuries and necessity. Tyson will take a step back and only play 30-32 minutes this upcoming season. He will look to average 16-plus points per game and 2.5-plus assists.
Backups
This may come as a surprise, but I believe the backup point guard role will fall to Tre Holloman. He has a year under the belt with the system and should take a step forward in his role. He is able to defend either guard position allowing him to play with any of the other four guards on the team. Holloman will play anywhere between 8-12 minutes per game and will look to be in a more featured role running the backup offense. Tre should average 3-5 points per game and 1.5 assists.
Jeremy Fears will fill in and be able to learn from a loaded backcourt while playing 6-8 minutes per game which could be pushed to 8-10 by the end of the season. Fears defense should rival what Walker brings to this team with this second group. Fears offensive role will look like Tre's freshman year and not looked upon much offensively. He should look to average 1.5-plus points and one assist per game.
Finally, Jaden Akins will fill in anywhere from 2-5 minutes at the two-guard spot. He can help fill an offensive role when Tyson is out of the game and can handle some of the pick and roll duties in this spot. Akins will mostly play on the wing as he started 25 games there last season. He is a guard, but he'll be forced into playing on the wing.
Minutes Summary
AJ Hoggard: 28-30 per game
Tyson Walker: 30-32 per game
Tre Holloman: 8-12 per game
Jeremy Fears: 6-8 per game
Jaden Akins: 2-5 per game
Akins did tweet this out the other day:
I am a GUARD!!?

— Jaden Akins (@JadenAkins3) May 31, 2023
So he could see more ball-handling duties.