Michigan State basketball: Way-too-early projected starting 5 for 2023-24
Next year's team could be special.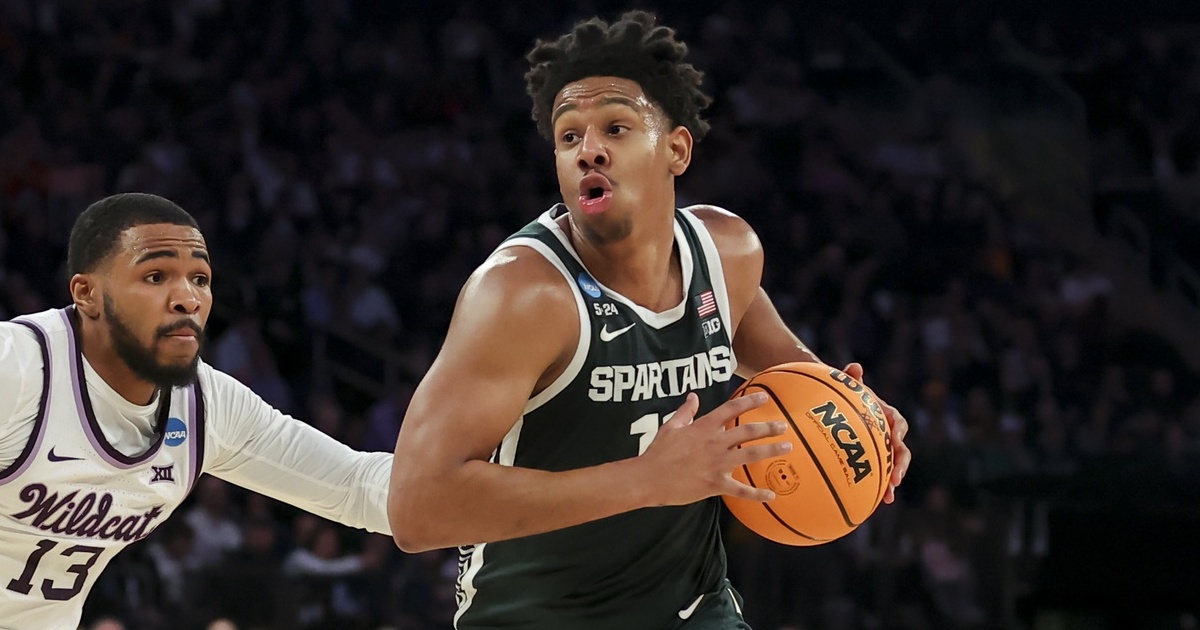 Michigan State basketball has officially entered the offseason and now it's time to predict what next year looks like.
Markquis Nowell will go down in Michigan State basketball history as one of those forbidden names. We will no longer be mentioning the Kansas State guard as he's now in the same group as Giddy Potts, Boo Buie, Jabari Parker, and Shabazz Napier. We're just throwing those names out for good.
Now that we got that out of the way, we can move forward and look ahead to next season.
And next season could be special. Michigan State brings back some key players such as Jaden Akins, AJ Hoggard, Mady Sissoko, Jaxon Kohler, Carson Cooper, Tre Holloman, and potentially Pierre Brooks. However, decisions have yet to be officially made for Tyson Walker, Malik Hall, and Joey Hauser, but an elite recruiting class is coming in.
In fact, the Spartans are bringing in one of the best recruiting classes in program history, led by five-star big man Xavier Booker, five-star point guard Jeremy Fears, four-star super-athlete Coen Carr, and four-star athletic sharpshooting wing Gehrig Normand.
The lineup next year should be athletic and the bench will be deep.
But what will the starting five look like, assuming that Hauser is gone? Here's my best guess:
PG: AJ Hoggard, SR
G: Tyson Walker, SR
G: Jaden Akins, JR
F: Xavier Booker, FR
C: Mady Sissoko, SR
AJ Hoggard will be back for his senior year to lead the team at the point and he might just be the Big Ten's best at the position. He showed against Kansas State that he can take over a game offensively and I'm looking forward to seeing him take another step in 2023-24.
For my bold prediction: I think we see Walker return. The way the season ended left a sour taste in his mouth and he became one of the best players in the Big Ten. If he gets the green light next year, he could be the Spartans' go-to- scorer and potentially a Big Ten Player of the Year frontrunner.
Akins' return is going to be huge for this team as well. If Walker were to leave, he'd assume the role of go-to scorer and I know he'd flourish. But he did play well in a No. 3 option role this season and he's going to excel as the second option next season. He is the starting five's top NBA prospect outside of Xavier Booker at the four.
Speaking of Booker, I see him sliding in as the starting power forward much like Jaren Jackson Jr. did as a true freshman. He's a long, athletic big who can rebound and score in the post and that's just what was missing this year. While I do think Hall returns and could play the four in a small-ball lineup, I think Tom Izzo brings him off the bench and Booker starts.
Lastly, Mady Sissoko grew a ton this season and I don't think he's done getting better. He had his ups and downs and showed how raw he truly was this year, but I think Izzo can mold him into a dominant defensive center. Will he be Oscar Tshiebwe down there? No, but I could see him averaging 2.0 blocks and 7.0-plus rebounds per game next season while continuing his lob-threat ability. Maybe he'll even develop a post game on offense.
Coming off the bench would be Fears, Hall, Carr, Normand, Holloman, Cooper, and Brooks (assuming he doesn't hit the portal).
This will be one of the deeper teams that Izzo has ever had and full lineup changes won't completely crush momentum.
Raise your hand if you're looking forward to next season.