Michigan State basketball freshman Gehrig Normand plans to redshirt
Cross a name off the potential roster rotation.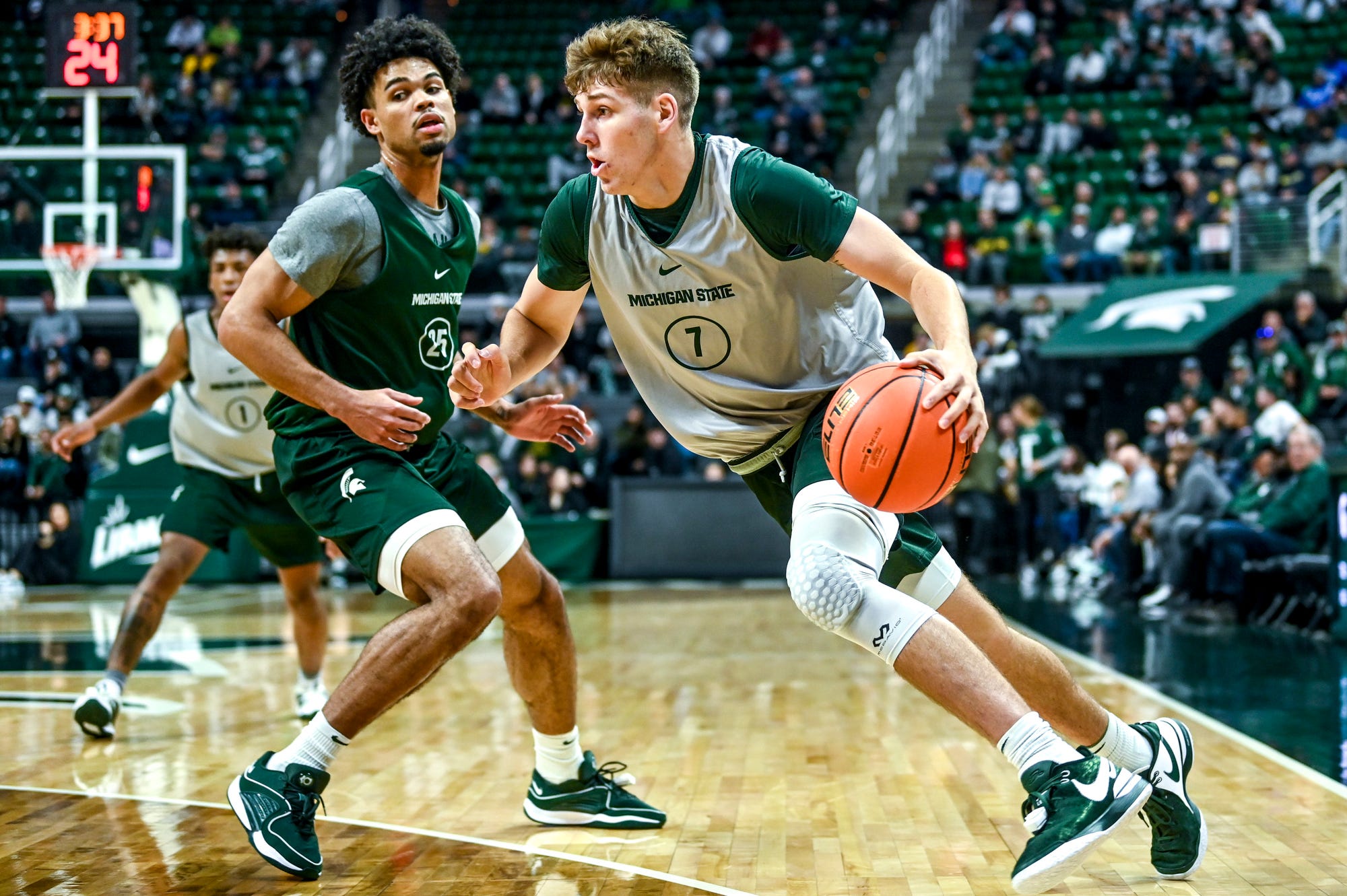 Michigan State basketball coach Tom Izzo spoke to the media on Monday and said that Gehrig Normand is planning a redshirt.
During Tom Izzo's Nov. 13 press conference, he stated that Michigan State basketball freshman Gehrig Normand plans to redshirt this season. Normand failed to see the floor in either of our first two games this season. I for one was a little surprised by this, especially in the Southern Indiana game as we had the game in control most of the night.
But this decision was made for a reason so he can keep his redshirt intact.
Why redshirting makes sense
Normand deciding to redshirt makes sense for a few reasons. The most obvious is that he likely wouldn't see the floor much this season anyways. One thing in Michigan State's favor this season is our depth. We can comfortably play 10 guys a night and not have any concerns with any of them holding the team back. Those 10 players, in my opinion, bring more value to this year's team, so Normand would be the eleventh guy off the bench. When you are that far down the bench, you likely are only playing in garbage time minutes with the walk ons when the game is already won.
A redshirt season also will give Normand the chance to bulk up for an entire year. That was one benefit even Izzo mentioned during his press conference. One constant for Izzo throughout his tenure is that every player must play good defense to see the floor. We don't know if this is the case with Normand, but Izzo referencing adding strength in the weight room could point to this possibility.
The best thing about this for Spartan fans is that Normand will be in East Lansing much longer now. If this year in fact turns into a redshirt season, that means Normand will still have four years of eligibility left. Imagine having a great player like Normand still in East Lansing for the 2027-28 season? That could be a huge advantage for us in the future.
Michigan State still could use Gehrig Normand this season
Another thing Izzo made very clear is that this decision is not "etched in stone." A wide range of factors could cause Normand to end up playing this year instead of redshirting. It only takes one game to lose his redshirt, so Tom Izzo will have to be careful with this decision.
I think the obvious scenario that sees Normand play this year is if we have a lot of injuries. Nobody wants to see this scenario play out, but in sports it's a possibility. I also could see Normand getting in the rotation if our poor 3-point shooting continues. That is what Gehrig Normand is most known for, his elite shooting ability. The Spartans have started the season from 3-point range as bad as possible, only making two 3-pointers in their first two games combined. If this poor shooting continues, I could see Normand getting a chance to make an impact.
However, Izzo won't burn his redshirt for nothing. He won't decide to play Normand for one or two games because that ultimately wastes this season for him. If Normand does end up playing this year, it will be if significant minutes are available. There won't be a scenario where he sees the floor for only a couple minutes per game.
I personally don't have an opinion right now on how I want this to play out. There's benefits to him playing and redshirting this year. However, if the injuries do start adding up or the poor shooting continues, Izzo will have to turn to Normand. And if that happens, I have no doubts that he will be able to contribute like the rest of the freshmen have so far this year.