3 things Michigan State basketball must do to beat No. 9 Duke
Get these done.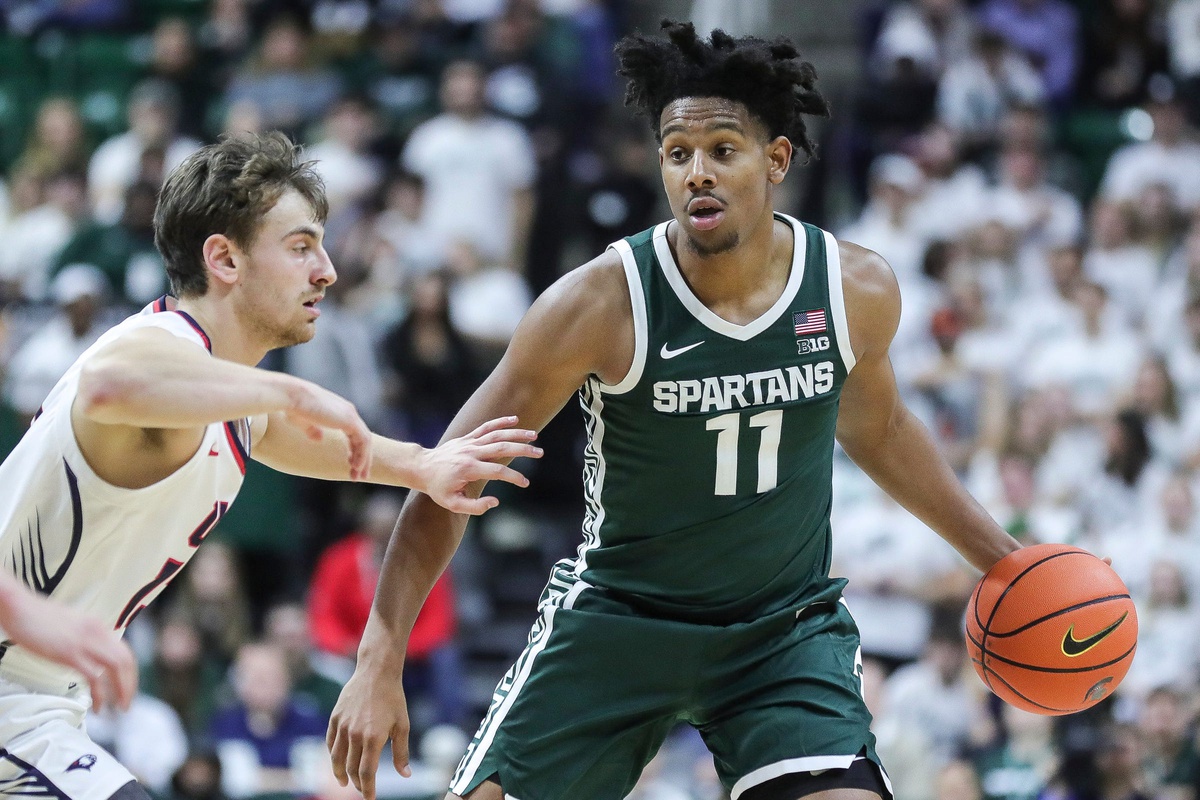 If Michigan State basketball is going to beat Duke on Tuesday, it needs to accomplish these three things.
Michigan State basketball is about to head into a massive showdown with a hated rival: the Duke Blue Devils.
While Tom Izzo's squad has had a somewhat iffy start, this should still be a very good game with big implications. It's going to be a tough contest against a highly-ranked team, but this is a winnable game.
Here are a few things that MSU needs to do in order to come out on top.
1. Get a good game out of A.J. Hoggard
A.J. Hoggard simply has to be better. That's just the way it is.
The 6-foot-4 senior point guard had a big 2022, and most of us predicted him to be in for a monster season. So far, though, that hasn't materialized. Hoggard is currently averaging only 6.5 points, 2.0 rebounds, and 3.5 assists per contest, on an appalling 22 percent shooting rate.
That's not going to cut it.
We've all seen what he's capable of on the court as a distributor, scorer, defender, and leader on this team. He's shown consistent growth over the last two years, and has every bit of the talent he needs to put up big numbers. I am confident that the senior is going to return to form, but it's a question of when. A locked-in Hoggard who can play tough defense, dish out assists left and right, and drive hard to the rim is a game-changer. He's previously been the kind of guy that can step up and take over a game, and Michigan State will require him to do just that very soon. Duke is a heavyweight, and Hoggard — who's expected to carry a lot of that — will need to be ready.
2. Control the rebounding battle
Despite the presence of  promising guys like Mady Sissoko and Carson Cooper, the Spartans have struggled on the glass. They were out-rebounded by James Madison, and came close to doing the same thing against Southern Indiana. Play has been very sloppy, whether it's a matter of being caught out of position or simply failing to secure the ball.
That simply cannot happen against Duke.
If MSU cannot control the boards, 7-foot sophomore center Kyle Filipowski — 2022's ACC Rookie of the Year — is going to eat them alive. This frontcourt absolutely must step up and sway the rebound battle in the Spartans' favor, or things are going to get ugly. You can't beat a team like Duke being as inattentive on the glass as the Spartans have been. Obviously, not having Jaxon Kohler hurts, but this group should be able to do a lot more than it has. Watch for guys like Sissoko, Cooper, Malik Hall, and Xavier Booker to step up — it'll be necessary if this Michigan State basketball squad plans on stealing a win.
3. Make 3-pointers
This team misses Joey Hauser, and it shows. Michigan State has gone from a team that ranked third nationally in 3-point shooting to a group collectively shooting 2-for-31 over the first two games. That's a problem, and a big one. Nobody on the team has been able to step up and consistently sink shots from behind on the arc, and in today's game, that can't happen. The best teams are able to balance their offensive attack, and if MSU is so one-dimensional, things won't go well. In order for the Spartans to come out on top here, it's absolutely essential that players like Tyson Walker and Jaden Akins hit their long shots.
Final thoughts
Despite my gripes, this is absolutely a team that can still win a national championship. The aforementioned issues are very fixable, and I do expect to see this squad playing at a very high level soon. Time will tell, but I think that if a few issues are ironed out, they have a great chance to beat the Blue Devils on Tuesday.
Talk soon.