Michigan State basketball: Getting to know the Butler Bulldogs
Let's meet the Bulldogs.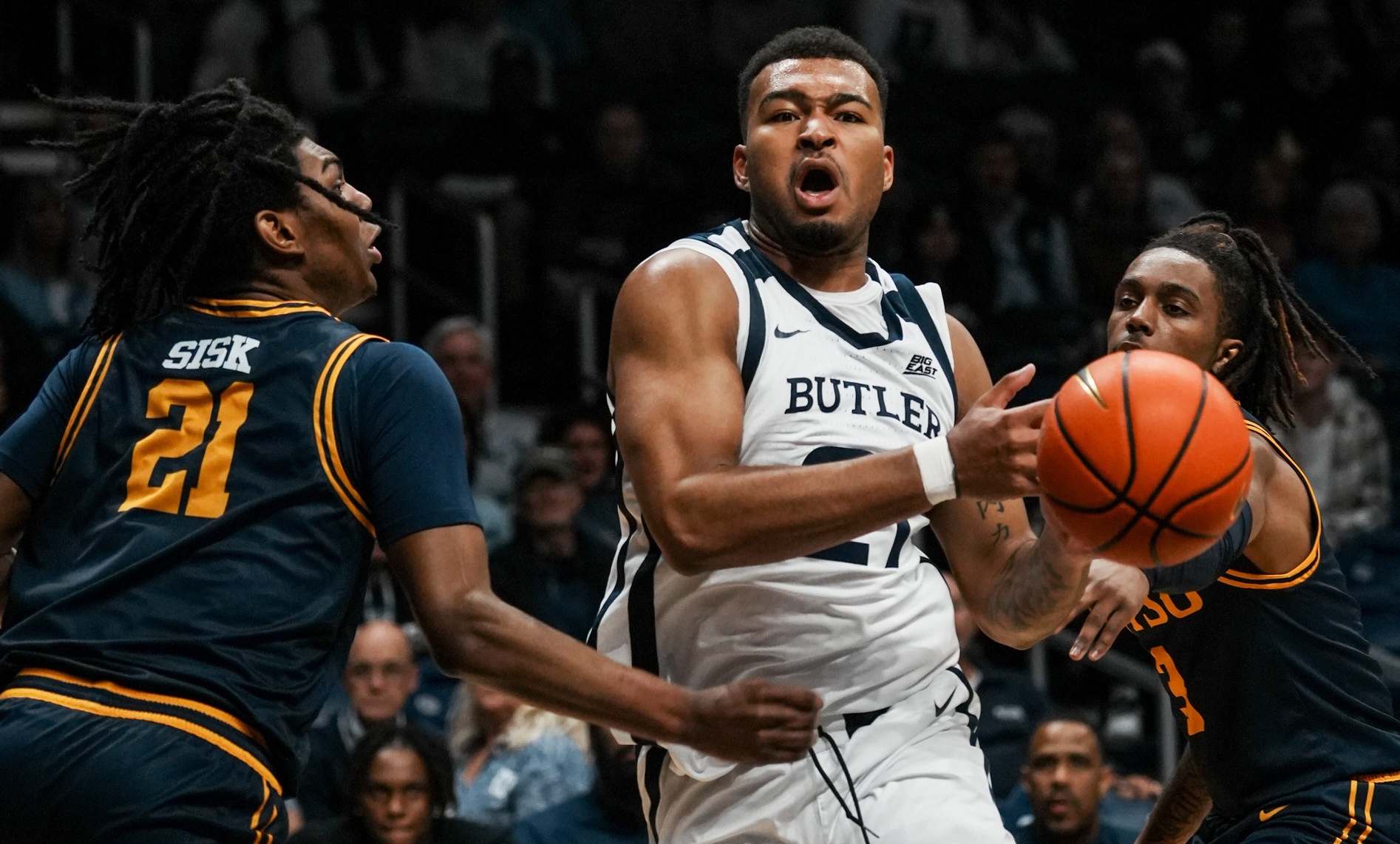 After squandering an opportunity against Duke, Michigan State basketball has a chance to get on track against Butler.
Michigan State basketball is 1-2 after a missed opportunity against Duke earlier this week in the Champions Classic, although, we saw some positive signs from the defense, offensive rebounding, Malik Hall, and Carson Cooper. The Spartans desperately need a win and to continue seeing improved play, especially from their starters.
Let's meet Michigan State's next opponent, the Butler Bulldogs.
When: Friday, Nov. 17, at 6:30 p.m. ET
Records: No. 18 Michigan State (1-2), Butler (3-0)
Head-to-head record: Michigan State leads the all-time series 11-5
Last Meeting: 2021 — Michigan State 73, Butler 52 at Hinkle Fieldhouse
We will see two familiar faces on the Butler bench as the Bulldogs are welcomed to East Lansing on Friday evening. The first is Butler head coach Thad Matta who is no stranger to the unfriendly confines of the Breslin Center as he was the head coach of the Ohio State Buckeyes from 2004-2017. Matta was 12-16 against MSU but held a .500 record (11-11) in the first 22 matchups against the Spartans. Matta is plenty familiar with Tom Izzo and Spartan basketball, and he knows what his team needs to do to come away with a victory Friday night.
The second familiar face we'll see on Friday night is guard Pierre Brooks who transferred to Butler in the offseason after two seasons at Michigan State. Brooks is off to a great start this season, averaging 13.3 ppg and 4.0 rebounds.
Butler is 3-0 to begin the season with victories against:
Eastern Michigan 94-55
SE Missouri 91-56
ETSU 81-47
The Bulldogs are playing complementary basketball, averaging 88.7 ppg (tied-40th), 16.7 assists per game (tied-67th), and only giving up 52.7 points per game which is No. 8 in the country. Butler ranks 67th in KenPom, ranking in the top 50 in AdjD. Matta's group is shooting 50 percent on the season.
Butler's starting five to begin the season consists of:
C: Jalen Thomas (5th year SR) — 6-foot-10
F: Jahmyl Telfort (SR) — 6-foot-7
G: DJ Davis (SR) — 6-foot-1
G: Pierre Brooks (JR) — 6-foot-6
G: Posh Alexander (SR) — 6-foot-0
Butler features four players averaging over 10 points per game: Alexander (13.7 ppg), Davis (13.7 ppg), Brooks (13.3 ppg), and Telfort (11.3 ppg). Jalen Thomas leads the Bulldogs in rebounding, averaging 7.4 per game, while Alexander leads the team in assists at 4.7 per game. The Bulldogs have forced 52 turnovers this season (17.3 per game), averaging 8.3 steals per game; albeit against inferior competition. Butler also has the No. 1 field goal percentage defense (30.6%).
Butler's players have played a lot of college basketball, especially the starting five consisting of four seniors and a junior. Matta has done an excellent job using the transfer portal. Posh Alexander averaged double-digit scoring with St. John's every season. DJ Davis, a transfer from UC Irvine, is a former All-Big West guard. Jahmyl Telfort actually played with Tyson Walker at Northeastern before transferring to Butler so there will be familiar faces all over the court on Friday night.
Prediction:
Even in a loss against Duke, Michigan State basketball showed some things to build on. Tyson Walker leading the offense put Duke defenders in tough positions, leading to open baskets for teammates. We saw Carson Cooper take some steps in the right direction and Malik Hall had his best game of the season on offense. But, we need to see more from AJ Hoggard. We have yet to see the March 2023 version of Hoggard. A player who was relentless in getting to the basket and getting the line for and-one opportunities.
This won't be an easy game and may provide Spartan fans with James Madison PTSD. The Bulldog defense will give the Spartans fits. We shouldn't be surprised to see a close game in the first half, finishing with Butler leading by one possession. But, unlike the James Madison and Duke games, Michigan State will be able to finish this one, led by AJ Hoggard's 14-point, 8-assist game.
Spartans win, 77-66.