Michigan State basketball: What was the most productive lineup vs. Duke?
These lineups needs to be on the floor more.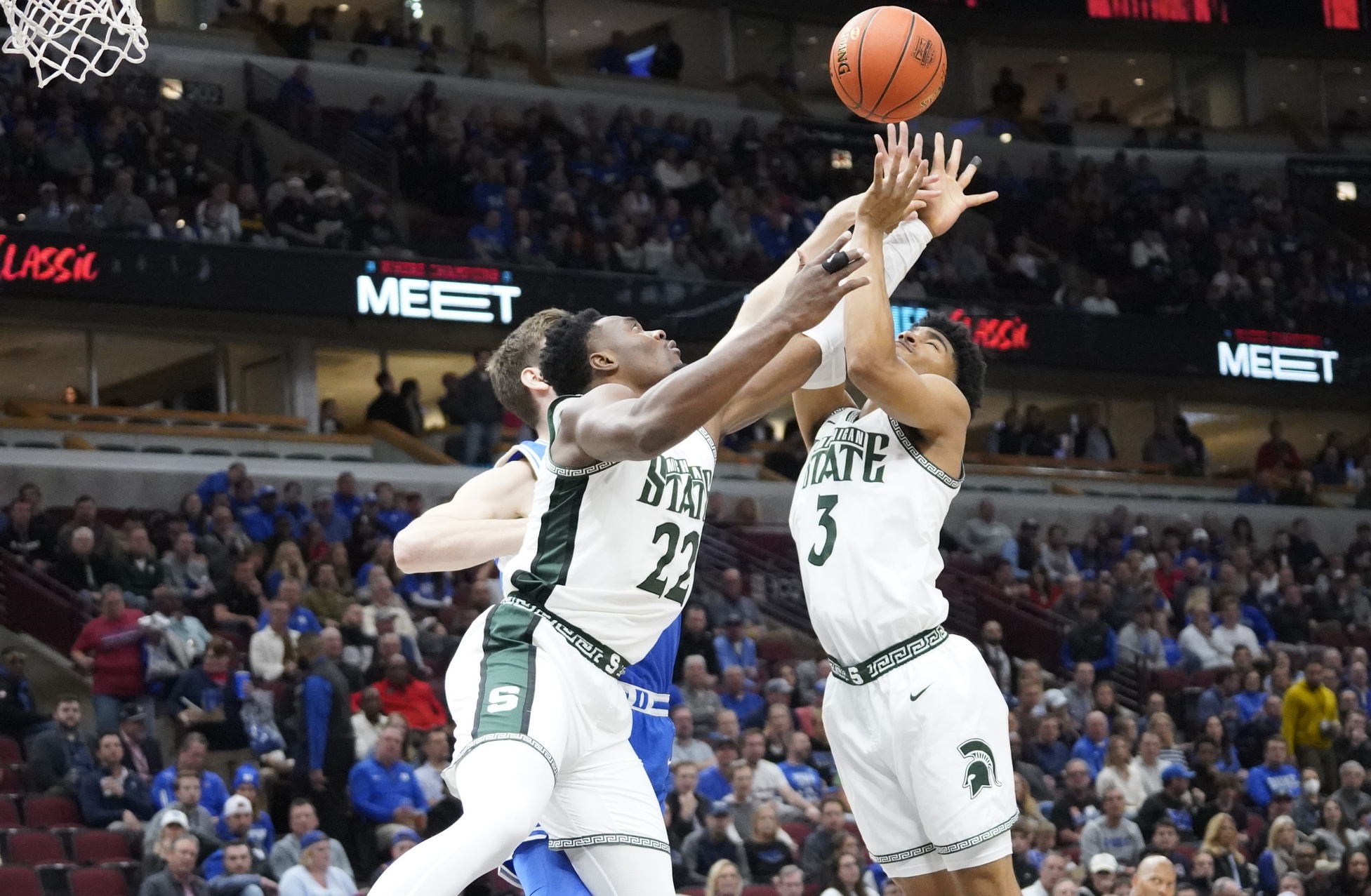 Michigan State basketball had a strong finish to the Duke game, but still fell short. Which lineups were the most productive?
We are a few days removed from the Duke loss and Michigan State basketball is already preparing for another battle. Butler comes to the Breslin Center on Friday night with upset on its mind.
Following a loss to James Madison in the opener, no Michigan State fan feels good about any contest, no matter the opponent.
Butler might present a challenge for Michigan State because it averages 88.7 points per game and has yet to surrender 60 points in any contest. Thad Matta's team is off to a 3-0 start while the Spartans are just 1-2.
A major topic of conversation this season has been the barrage of lineups for Tom Izzo. It seems like he has had about a million different combinations on the floor and he's desperately trying to find the most effective. Well, if you're a stats nerd, I've got you covered with the most effective lineups from the Duke game.
Here's what the lineups did on offense against the Blue Devils: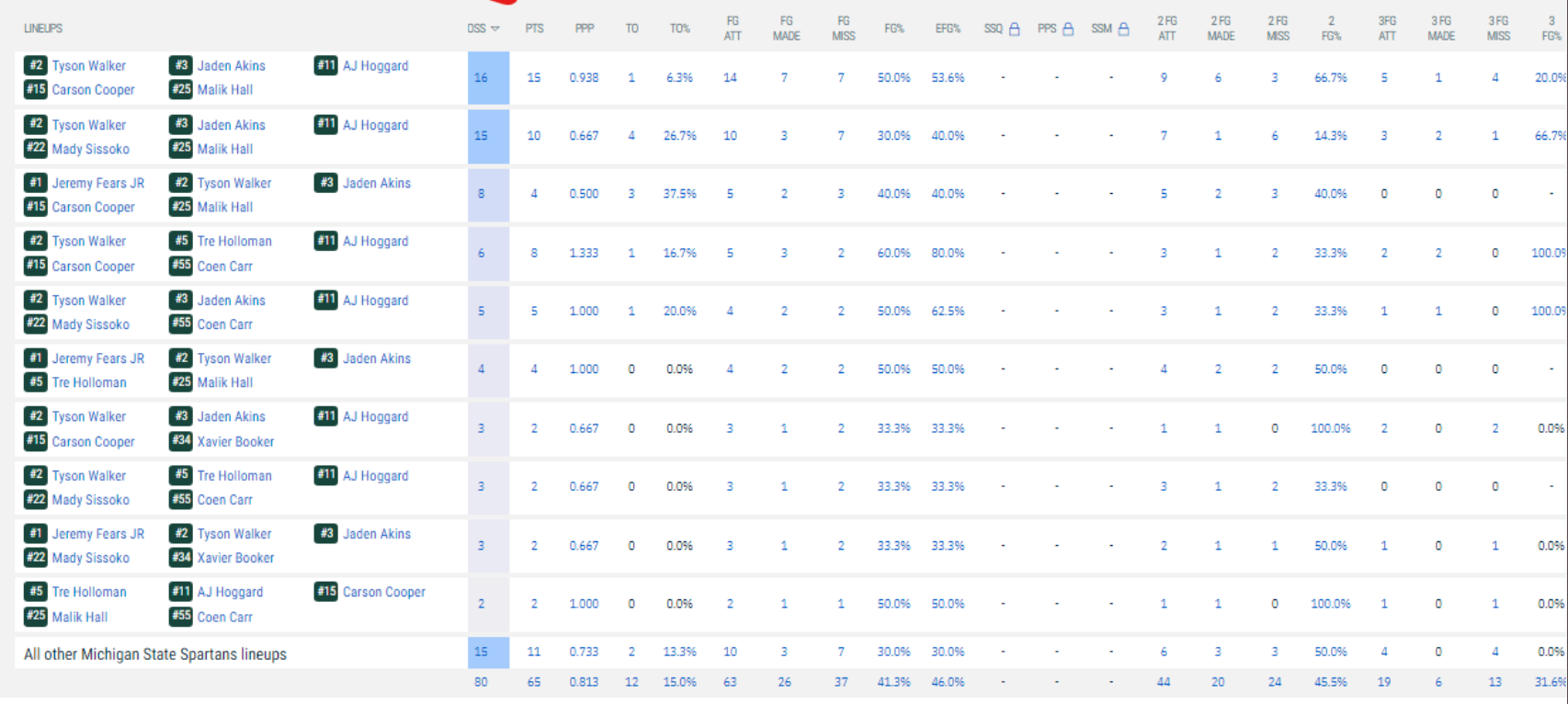 The lineup that scored the most points consisted of Tyson Walker, Jaden Akins, AJ Hoggard, Carson Cooper, and Malik Hall. They shot 50 percent from the floor and scored 15 points on 16 possessions. They also had just one turnover and went 1-for-5 from deep. It's safe to say that this lineup could be the Spartans' best, but there's another intriguing five:
AJ Hoggard
Tyson Walker
Tre Holloman
Coen Carr
Carson Cooper
That group averaged 1.3 points per possession and shot 60 percent from the floor and 2-for-2 from deep. Obviously the sample size there is much smaller with just six possessions, but it's something to monitor.
As for the least effective offensive lineup, that would have to go to Walker, Akins, Hoggard, Sissoko, and Hall. While there was one lineup that averaged less points per possession, this group had 15 possessions and averaged just 0.667 points per possession. It shot just 30 percent from the floor and had a turnover rate of 27 percent. This group was inefficient and a lot of that had to do with the lack of spacing when Sissoko was on the floor.
Now let's look at the lineups on defense and see which ones were the best.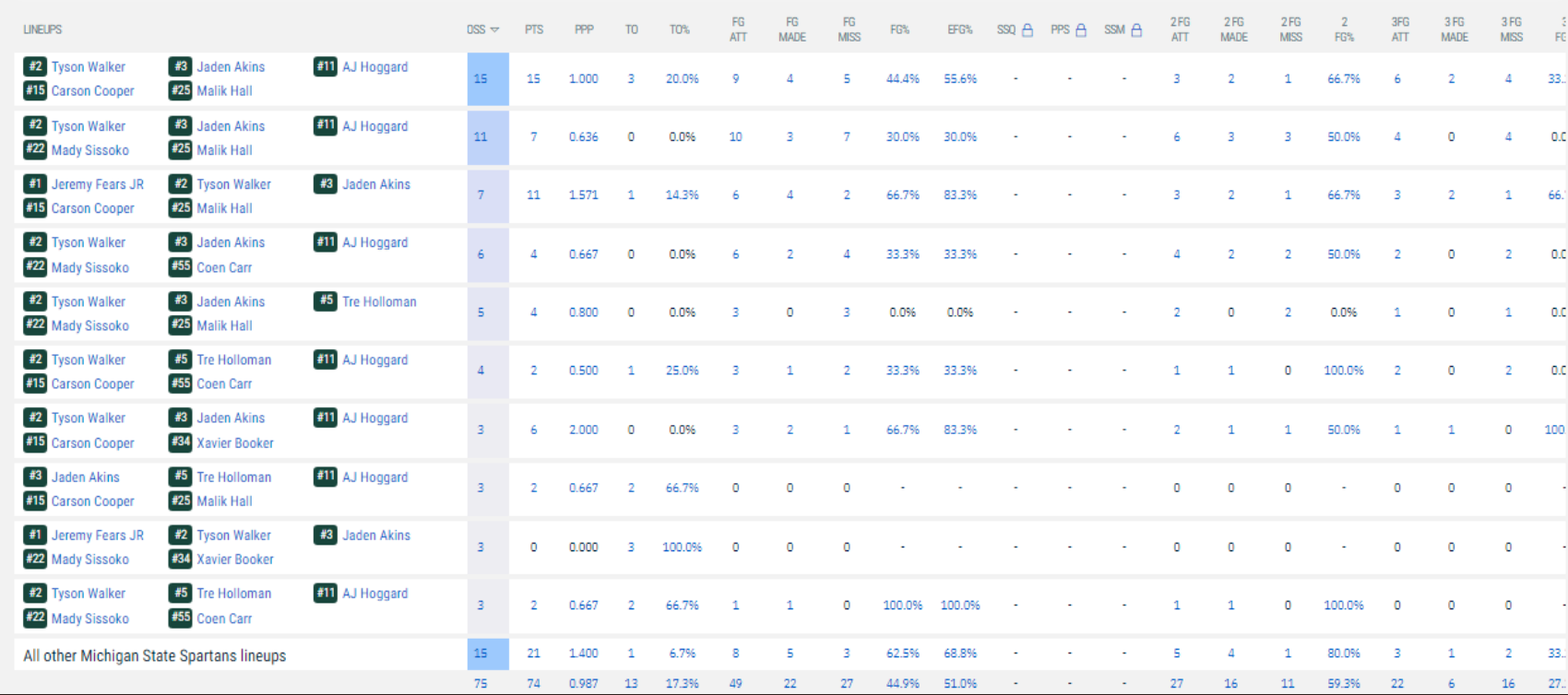 I'm just going to get this out of the way and praise the lineup of Jeremy Fears, Walker, Akins, Sissoko, and Xavier Booker as they played together for three possessions, gave up zero points, and forced three turnovers. Yes, that's a 100 percent turnover rate on a small sample size. That's an intriguing defensive unit.
The best group that played the most possessions would have to be Walker, Akins, Hoggard, Sissoko, and Hall which was the most inefficient offensively. That's probably why Izzo is having a tough time with the lineups. His best defensive lineup is his worst offensive lineup (at least against Duke). And the best offensive lineup was one of the worst defensive groups.
You'd have to say that the worst Michigan State basketball five defensively against Duke consisted of Fears, Walker, Akins, Cooper, and Hall, giving up 1.57 points per possession and allowing a 67 percent field goal conversion rate. Not great.
It'll be interesting to see what the best five look like on Friday against Butler, but these numbers shock me.