Michigan State basketball: 3 quick thoughts from win over Butler
Impressive win for the Spartans.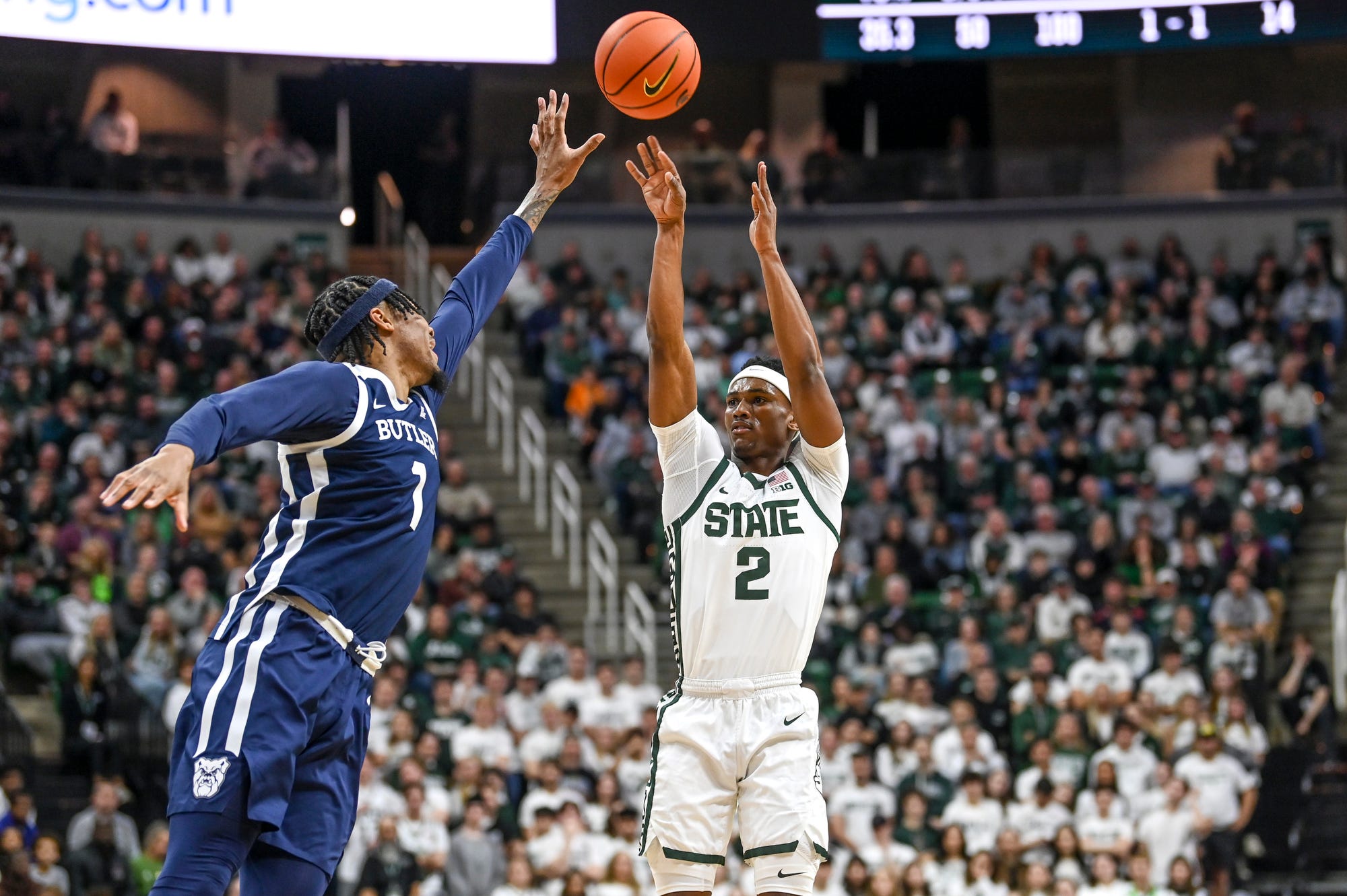 Michigan State basketball picked up a much-needed win over Butler on Friday night. Here are my quick thoughts.
For just the second time this season, Michigan State basketball fans weren't holding their breaths in the second half. The Spartans were able to beat Butler 74-54 to improve to 2-2 on the season and maybe salvage a spot in next week's AP Top 25.
The game never felt like it was in question although Butler hung around longer than I had expected. Some (suddenly) hot shooting led to the second-half pull-away and a 20-point win.
Here are my thoughts.
1. We got AJ Hoggard back
After three games of head-scratching play from the senior point guard, AJ Hoggard returned to his usual form on Friday night. He got off to a slow start with some ill-advised mid-range jumpers and turnovers but he quickly turned it around. He was aggressive and he made the smart passes and also played lockdown defense en route to the big win. He finished with 14 points and four assists, and shot 5-for-11 from the floor.
This was vintage 2023 NCAA Tournament Hoggard that we saw on Friday night. Heck, we even got a smile out of him.
2. Enjoy Tyson Walker while you can
I've often thought of what this team would look like without Tyson Walker, and it honestly wouldn't be pretty. He provides the offensive punch that Michigan State basketball needs and when he's not on the floor, there's a noticeable change in momentum.
Once again, he dazzled the crowd, dropping 21 points and four assists with just one turnover. He shot over 50 percent from the field and it didn't even look like he was really breaking a sweat.
We need to enjoy this last year of Walker, because man, is he ever special.
3. Carson Cooper is a breath of fresh air
Let me preface this by saying I love Mady Sissoko. He's a good dude who is loved by his teammates and this fanbase. But he's just not the guy to play 20-25 minutes in the post. Carson Cooper showed on Friday night that he can be.
Mady looked solid coming off the bench and I think that may be his new full-time role. It gives Michigan State some experienced post presence coming off the bench and he can give a decent 15-20 minutes, if need be. He grabbed six rebounds and had two points.
But Cooper was a breath of fresh air, defensively, in the post. Plus, he's athletic enough and skilled enough to facilitate through on offense.
Cooper was en elite rim protector against the Bulldogs, blocking two shots and grabbing 11 rebounds. He altered plenty more shots and was a big reason Butler shot just 29 percent from the floor. Coop has proven himself.