Michigan State basketball: The great, good, bad, and ugly from nail-biting Iowa win
From Mady Sissoko to free throw shooting, there was a lot of good and bad from the Iowa win.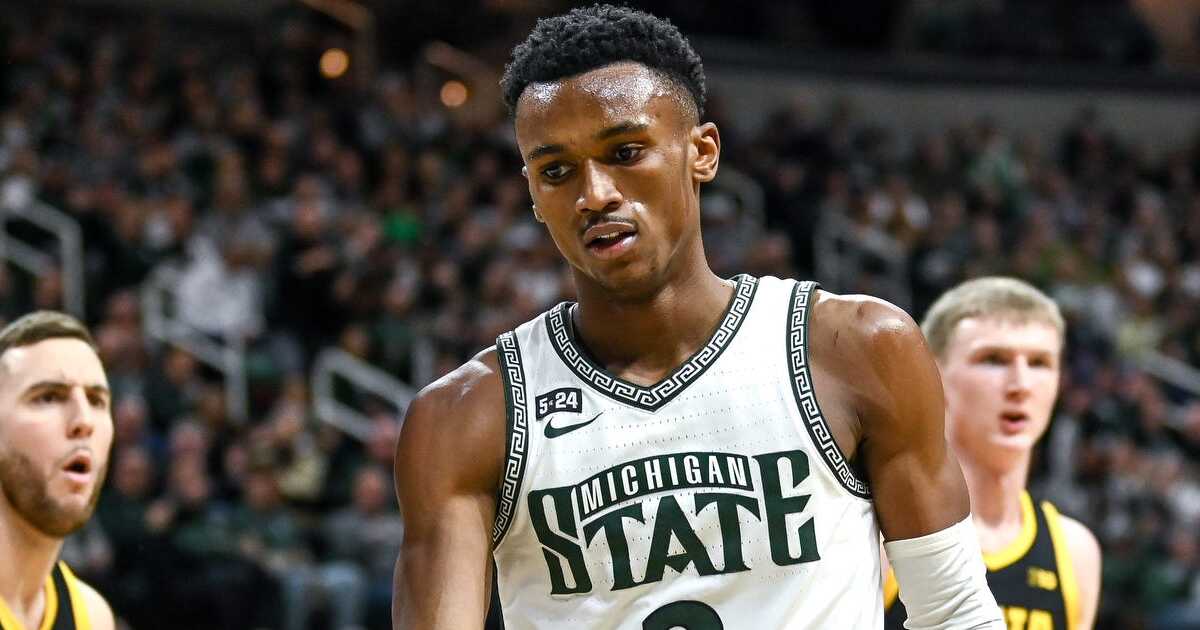 Michigan State basketball was down 10-0 but was able to storm back and hold off Iowa for the win. Here's the great, good, bad, and ugly.
Coming into Thursday's game having lost three of the last four, Michigan State basketball buckled down and beat the Iowa Hawkeyes at the Breslin. MSU was forced to brush off a slow, sluggish start, going down 10-0 within the first five minutes. Powered by a balanced offense and a healthy Malik Hall, the Spartans stormed back to take a one-point lead going into halftime.
Iowa tapped back into its first five-minute performance to start the second half, eventually pulling out to a six-point lead. Thanks to some big shots from Tyson Walker and Jaden Akins late in the game and the continued great defense from the Spartans, MSU was able to defend a last-minute opportunity for Iowa to steal a game at the Breslin and came away with the win.
Michigan State now moves to 14-7 on the year and 6-4 in conference play. Hall stated after the game how difficult it is to win in the Big Ten, but stacking games like this is a good start.
Here are the great, good, bad, and ugly from the Spartans' win over the Hawkeyes.
Great: Defense
A continuous narrative this season has been the great defense night after night for the Spartans. Ranking in the upper half of the Big Ten, Michigan State is holding its opponents to 65.6 points per game.
What's more impressive, however, is the Spartans' ability to limit opponents' 3-point shooting. Ranked as fourth-best in the Big Ten, MSU is holding opposing teams to just 30.1 percent from deep, just one percent off from conference-leading Rutgers at 29.1 percent.
Thursday night was more of the same for the Spartans' great defense. Iowa, averaging 80.7 points per game while shooting 33.8 percent from three, was held to just 61 points and 17.6 percent from long range.
Even with their good start to the game, Michigan State was able to get Iowa out of any sort of groove. This ended up becoming a much larger factor, as Iowa had two chances from 3-point range to win the game in the final seconds. Payton Sandfort, who had the last-minute attempts, had just one successful 3-pointer over the course of the game. To ask a shooter who has not shot the ball well to win the game in the last second is a difficult ask.
The Spartans now improve to 10-2 when holding opponents below 70 points.
Good: Mady Sissoko
Rightfully so, Mady Sissoko has been the subject of heavy criticism this season. He was expected to have made vast improvements this past offseason and lead the Spartans down low. After starting the season with performances that would have fans believe that to be true, Sissoko has since disappeared.
With that being said, Thursday night against Iowa, Sissoko played well for the Spartans. Mady had 10 points to go along with 10 rebounds, the first double-double of his career. His performance marked the fifth time scoring in double digits, and the fourth time with 10-plus rebounds.
Sissoko's defense was just average, as he was matched up against Iowa's second-leading scorer on the night, Filip Rebraca. Regardless, this type of performance is what was expected of Sissoko this season. Hopefully he can use this momentum for the remainder of the season.
Bad: Sluggish start
As previously mentioned, Michigan State had polar opposite starts against Indiana on Sunday and Iowa on Thursday night. At the 14-minute mark against the Hoosiers, MSU had 17 points and built a nine-point lead. At home against Iowa, the Spartans had just three points and a seven-point deficit. Surprisingly, Michigan State would blow their hot start against Indiana, and come back to win against Iowa.
As Jud Heathcote used to say, "An ugly win is better than a pretty loss." Even so, having such a slow start is extremely inefficient and will not lead to victories very often.
Michigan State started the game against the Hawkeyes missing their first nine shots. Luckily for the green and white, this game was being played at the Breslin because a 10-0 deficit in the first five minutes in an away, hostile environment is extremely difficult to overcome.
MSU did not come ready to play against Iowa, similar to the Spartans' win against Rutgers last week. Missing open looks, taking bad shots, and having sloppy turnovers have cursed the starts to too many Michigan State basketball games.
Ugly: Free throw percentage
Almost two weeks ago, A.J. Hoggard had two missed free throws deep in the loss against Purdue while being up by one. The Spartans would end up losing by one, making Hoggard's missed free throws that much more important. He almost found himself in the same position Thursday night at home against Iowa.
MSU was up two with just 20 seconds left when Hoggard was intentionally fouled and sent to the line. After missing his first attempt, Iowa suddenly had a chance to tie or win the game with the final shot. While Hoggard will get most of the criticism as his miss was to ice the game, the Spartans shot just 58 percent from the free throw line as a team. Well below their season average, 58 percent is abysmal and will, more often than not, lead to a loss.
It was reported that within 10 minutes of the game ending, A.J. was back on the court shooting free throw after free throw. While shooting just 60 percent across his first two seasons from the charity stripe, Hoggard is cashing in at an 80.3 percent clip this season. His above 80 percent mark would suggest his recent poor performance from the line is just mental.