Michigan State basketball: 3 key factors and a prediction at Purdue
Michigan State hasn't won at Mackey since 2014.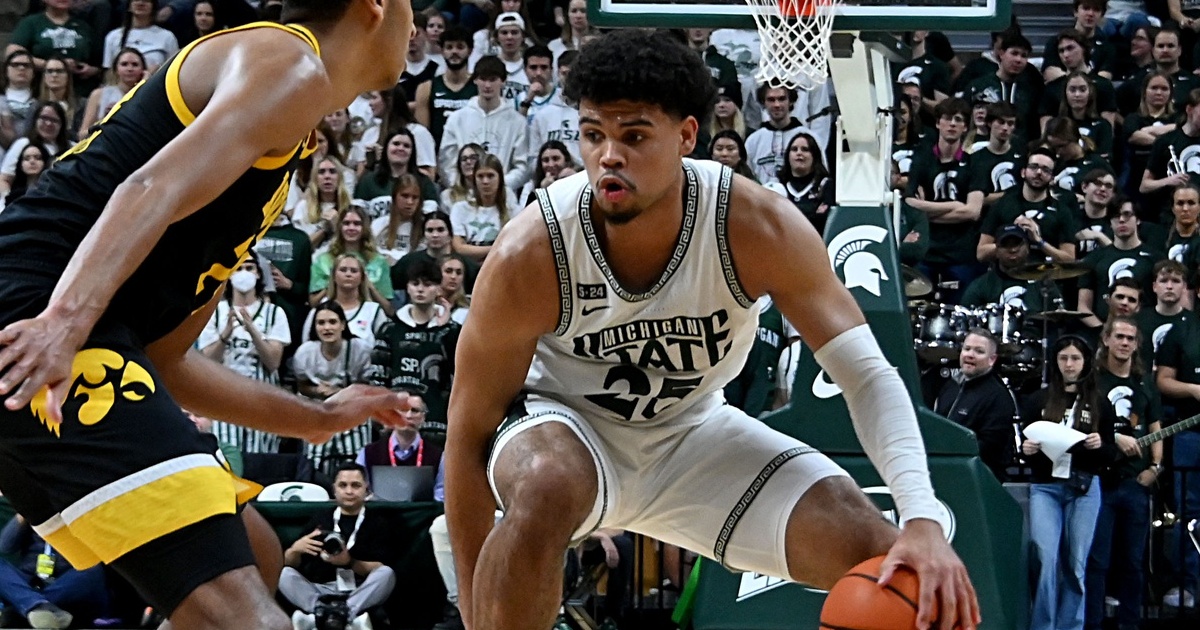 Michigan State basketball will be traveling to Mackey Arena to face the No. 1 team in the country on Sunday afternoon.
It may be Championship Sunday in the NFL, but Purdue and Michigan State basketball will provide a nice appetizer to football. Round one went to Purdue on Jan. 16th.
Let's discuss the keys to the game and how round two might look.
1. Zach Edey
It's impossible to talk about Purdue basketball without mentioning Zach Edey. The consensus favorite for national player of the year, Edey presents a giant (literally and figuratively) problem for opponents.
My memory of college basketball goes back to around the year 2000. Edey makes the shortlist for the most unstoppable offensive players I've ever seen during that timeframe. If he gets the ball with position in the post, you're just praying that he misses. At 7-foot-4, there just isn't much you can do if you're guarding him one-on-one.
Michigan State got the full Edey experience in the first matchup — 32 points, 17 rebounds, and a game-winning layup in the waning seconds that could not have looked easier. He presents a problem for Michigan State because he can exploit the weakest part of this MSU roster: the frontcourt. The Spartans don't have the size, depth, or experience to slow down a player like Edey. Tom Izzo knew this and seemed to be deploying a strategy to let Edey get his and have nobody else beat them.
It almost worked.
Edey took 26 of the Boilermakers' 42 two-point attempts, converting on half of them. Nobody else for Purdue took more than six shots. I would expect Izzo and the Spartans to run their game plan back Sunday in West Lafayette. Michigan State doesn't stray too much from their straight man-to-man defense. Izzo has always been stubborn to consistently double-team a dominant big man. Given the fact that Purdue will be more comfortable shooting at home, I don't think MSU wants to give up too many open looks from three. My guess is Michigan State basketball will think about Edey as a dominant pitcher in baseball. The first couple of times that you see him, it can be overwhelming. But as you get more looks at what he has to offer, you can start to pick up on some tendencies.
The first matchup was only 13 days ago. MSU should have its scouting and prep fresh in its mind. The Spartans got plenty of looks at what he wants to do (26 shot attempts). If MSU has any chance at pulling off the upset, they'll have to bother Edey a little more than they did in East Lansing.
As is the case with any great player, stopping them is unlikely. Making them inefficient and uncomfortable is often enough to get the job done.
2. Malik Hall
For Michigan State, there may be no bigger difference between Jan. 16 and now than the presence of Malik Hall. In games that Hall starts and finishes, Michigan State is 8-1. He was key in slowing down Kris Murray for Iowa and has been huge for MSU's defense as a whole all season.
Hall's presence seems to loom larger than his individual performance. He has the impact of a star safety or linebacker on a football defense that communicates in ways that others can't. Offensively, he's a significant boost as well. He has a terrific array of moves to create shots in the paint for a team that can struggle to sustain offensive efficiency. Hall has also developed into a solid facilitator on the perimeter and a capable shooter from three. He'll also be a big addition on the glass.
Caleb Furst, in particular, killed the Spartans 13 days ago with his effort rebounding. He only accrued six rebounds (three offensive), but he was constantly causing havoc with tipped balls and box-outs that translated to MSU fouls. Hall will be another big body to throw at him to help limit second chances for Purdue.
3. Mackey Arena
Mackey Arena might be the toughest place to play in America. On top of that, it has been a house of horrors for Michigan State basketball. The Spartans have lost five straight in West Lafayette and haven't won since February 20, 2014. Four of those five losses have come by double digits.
Because of the success MSU has enjoyed under Tom Izzo, Michigan State is a big name on any home schedule. For a school like Purdue, in a state like Indiana that bleeds basketball, it means that much more.
Michigan State has been the program in the Big Ten under Izzo. It's where everyone wants to be when it comes to success within the conference and NCAA tournament. Throw in the fact that the game is nationally televised on CBS on a Sunday, and it should be a raucous atmosphere.
With that being said, I wouldn't expect Michigan State to be intimidated. They have experienced guards who have helped them get off to good starts in tough environments like Illinois and Indiana. The concern is on the other end, where role players tend to play better at home. On Jan. 16, Purdue got a combined seven points and four rebounds from Ethan Morton, Braden Smith, Brandon Newman, and Mason Gillis. Those players should be much more impactful on Sunday.
Prediction
The projected line for this game is Purdue -10, with a total of 130. I'd be surprised to see Michigan State close as a double-digit underdog. The Spartans took Purdue to the wire less than two weeks ago without Hall, who we know is vitally important to their chances.
Michigan State has been a double-digit underdog just one time this season. It came on the aircraft carrier against Gonzaga. MSU nearly won that game. I also get the sense that there is some sharp money looking to fade a Purdue team that has covered as a favorite just once in its last four games. The Boilermakers have been fortunate lately in gutting out an ugly win against Maryland while also facing Michigan without Jett Howard.
I'm guessing MSU will open at +9 or +9.5 and be bet down pretty quickly.
As tempting as it is to take nearly four possessions with Michigan State, I can't endorse a bet on MSU. They've gotten blown out at Mackey Arena too many times recently, and Purdue is more than capable of doing it again. The Boilermakers should get healthy contributions from their role players along with the typical Edey production.
I'm keeping my money on the sidelines as far as the total is concerned as well. Both teams are comfortable playing at a slow pace, leading to a likely under. At the same time, Purdue's offensive efficiency and MSU's shooting capability from three could push this over the total.
I envision this game playing out like the other road games for MSU this year. Close early, followed by some shaky offensive possessions down the stretch.
Prediction: Michigan State 60, Purdue 68