Michigan State Basketball: The great, good, bad, and ugly from loss at Purdue
Mackey Arena strikes again.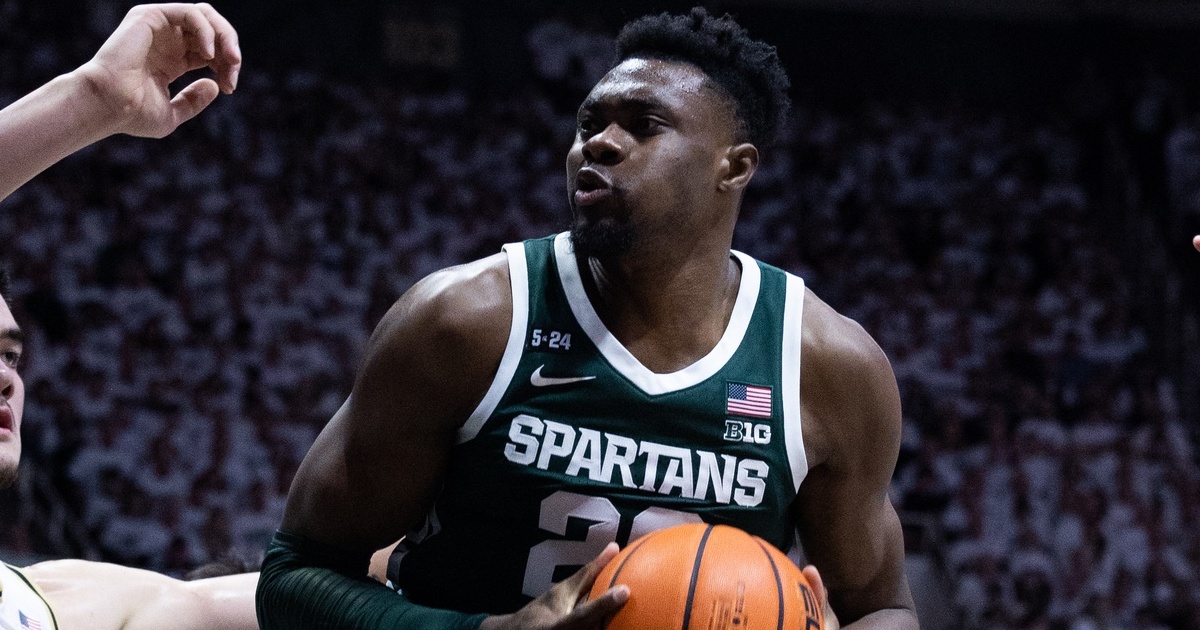 Here are the great, good, bad and ugly from yet another Michigan State basketball loss to Purdue at Mackey Arena.
No matter the team that Michigan State basketball sends to face Purdue at Mackey Arena, the results are always the same. The Spartans have not won at Mackey since 2014, and Sunday's matchup was no different. MSU fell to the Boilermakers 77-61, dropping to 14-8 on the year.
After grabbing a one point lead three minutes into the game, the Spartans never led again. In what was almost a carbon copy matchup from when Purdue came to the Breslin two weeks ago, Zach Edey was able to score at will against Michigan State.
Offensively, Michigan State had more success in the second half, but it was too little too late. MSU's leading scorers Tyson Walker and Joey Hauser, who had 30 and 10 two weeks ago against Purdue at home, were essentially nonexistent, scoring only nine and three, respectively. A.J. Hoggard, instead, shouldered majority of the load, offensively. However, even with some help from Jaden Akins, the whole dug by the Spartans along side Edey scoring as he pleased was too much to over come.
Here are the great, good, bad and ugly from the continued Michigan State basketball slump at Mackey Arena.
Great: Offensive shooting
Michigan State, once again, appeared slow and sluggish throughout the first half of their game on Sunday afternoon. Combine the Spartan's offensive struggles in the first half with Edey and David Jenkins career games, Michigan State found itself down by 18 as the first half ended.
The second half was a different story, however.
Even with the first half deficit, MSU regained their offensive control, and would end up finishing the second half outscoring Purdue 39-37. Shooting 50 percent from three, the Spartans used the time that Edey was on the bench to try and make up some ground. Connecting on five straight possessions, MSU cut the Boilermaker lead to just 10 with 10 minutes left in the second half.
While the Spartans' good shooting performance was not enough to overcome the Purdue lead, seeing some offensive firepower was a good sight to see in an otherwise extremely bleak game.
Good: A.J. Hoggard
After a slow start to the game which included back-to-back turnovers, A.J. calmed his nerves and would end up leading the Spartans in scoring.
Scoring 20 total, 14 in the second half, Hoggard gave the Spartans some life and stopped what could have been a full blowout. Hoggard connected one of his two 3-point attempts while also cashing in on seven of his nine free throws. Seeing A.J. hit his free throws after struggling from the line over the last few weeks was a good sign.
It does seem that when MSU as a whole is playing well, Hoggard does not and vice versa. Regardless, he has the ability to get our offense rolling when needed, whether he is creating for others, or cashing in himself.
Bad: Free throw shooting
What seems like a moot point given the final score, the Spartans shot just 62 percent from the charity stripe. This low percentage now marks the fifth game in a row that the Spartans shot well below their season average from the free throw line. As stated already, connecting on more free throw opportunities would most likely not have changed the outcome of Sunday's game. It would, however, could have changed the outcome of a few games over the past few weeks.
It is not expected that Michigan State basketball shoots 90-plus percent from the free throw line, but sub 70 percent will not get it done. A.J. Hoggard spent time after the win against Iowa shooting free throws and he went seven for nine against Purdue. Hopefully others follow his lead and dedicate extra time practicing from the free throw line.
Ugly: Spartan coaching staff, gameplan
Tom Izzo said it best himself after the game. "If one player gets 70 points in two games, you can't blame your players for that, you've got to blame the coach." While it is difficult to blame the coaches because our players couldn't stop a 7-foot-4 center, some blame must fall on them. It is part of the coaching staff's job to game plan for specific players.
That isn't to say they did not try.
MSU attempted to double team Edey, they tried to deny the entry pass, and at times it seemed as though they were just going to let him get his points and make the others beat them. However, none of their attempts worked, obviously. When Edey got the ball down low, he was scoring.
Scoring 32 and then 38 two weeks later should never happen at this level. Too many coaches get paid to game plan for single players and it seemed as though MSU, once again, had no idea on how to defend the Canadian big man. With that being said, it's difficult to say the coaching game plan was the ugliest aspect of the game, especially because I'm not sure there is a correct way to defend Edey. Whatever is the most successful way of doing so, however, was not used by Michigan State basketball on Sunday afternoon.