Taking a look at Michigan State basketball's NCAA Tournament projections
What does MSU's tournament future look like?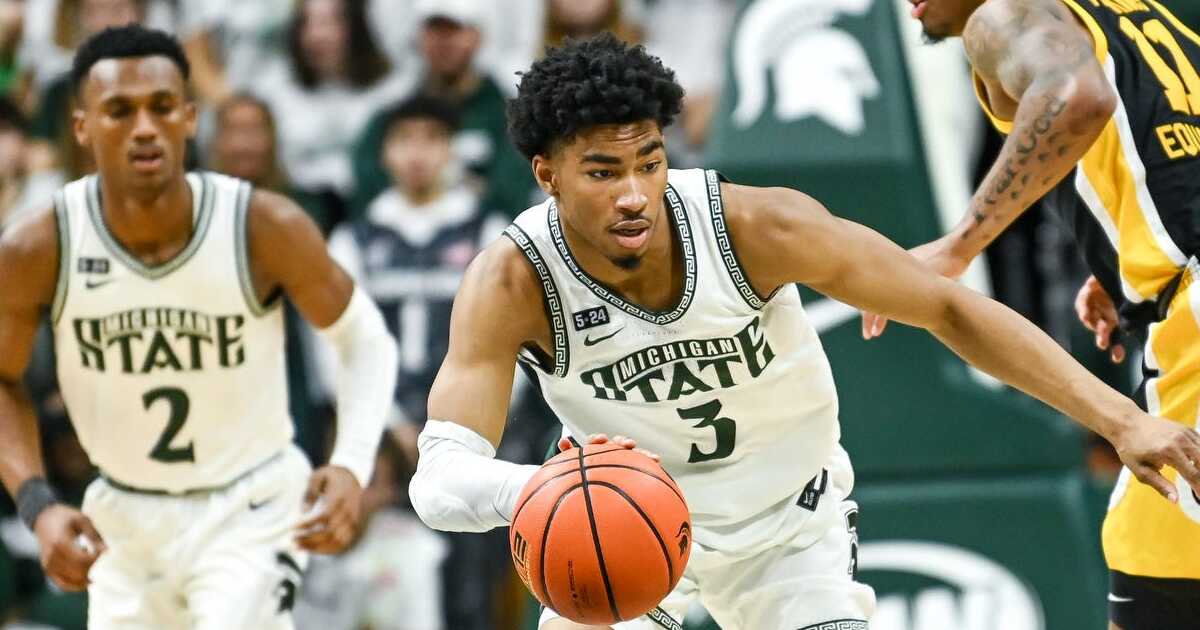 With just over a month left in the regular season, Michigan State basketball is hoping to add to its NCAA Tournament resume.
Michigan State basketball has a little under a week of rest before their next game against Rutgers on Feb. 4. After a beatdown against the Boilermakers, the Spartans approach a crucial set of games to end the season.
A few years ago in 2020, Cassius Winston, Xavier Tillman, and the rest of the team took a massive loss in West Lafayette to Purdue. The final score was 72-41. Following that game, MSU finished 9-5 with five wins against ranked teams. Many in college basketball and the green and white fanbase believed that the team was primed for an NCAA tournament run before COVID-19 canceled the tournament.
As long as Michigan State is healthy going into March, this feels like a team capable of making a run.
Let's look at how their resume stacks up compared to other teams. 
There are a lot of different numbers, phrases, rankings, and terminology you'll hear in bracket conversations. Two ranking systems you should expect to hear a lot about are the NET rankings and KenPom. 
At the time of writing, Michigan State is 47th in the NET rankings and 44th in KenPom. KenPom is a predictive system that operates off of data, with an emphasis on adjusted efficiency (both offensive and defensive) and other advanced analytics. The NET rankings are done by the NCAA and are a combination of both data and game results.
Something worth noting is that Michigan State's strength of schedule is third and the offensive efficiency of its opponents is first according to KenPom. No defense has had to deal with containing stronger offenses this season than the Spartans.
Other terms you will hear are Quadrant One (Q1) wins. These are very important for a team's seeding. A Quad One win is a win against a team in the top 30 in the NET rankings at home, top 50 on a neutral site, and top 75 on the road.
Michigan State's Q1 record is 4-6, which is better than most ranked near them.
Let's compare MSU's resume to previous teams.
According to Barttorvik, MSU has a very similar resume to 2021 Virginia Tech (10-seed, lost in the R64), 2019 TCU (missed the tourney), and 2017 Northwestern (8-seed, lost in the R32).
Now we can compare using just efficiency rankings and other data, Michigan State is very similar to 2022 Rutgers. That team was an 11 seed that lost in the first round. 
What does that mean for MSU? It means they need a strong finish to this regular season. On a more positive note, however, bracketologists have been kind to the Spartans with their projections. 
ESPN's Joe Lunardi in his most recent full bracket (Published on Jan. 27) had Michigan State as a 6-seed playing Charleston in the first round to set up a potential rematch against Gonzaga in the second round.
In Fox's Mike Decourcy's latest bracket (Published Jan. 27) he had the Spartans as a 7-seed facing Pitt in the first round.
According to Barttorvik, MSU is predicted to win five out of their final nine games and is expected to be one of the "last four byes" for the NCAA tournament. 
Every game is crucial for Michigan State down the stretch, and after the Final Four run in 2015, I don't think Tom Izzo would be too upset being a 7-seed.