Michigan State Basketball: Great, good, bad, and ugly from loss at Michigan
Carson Cooper was a real bright spot.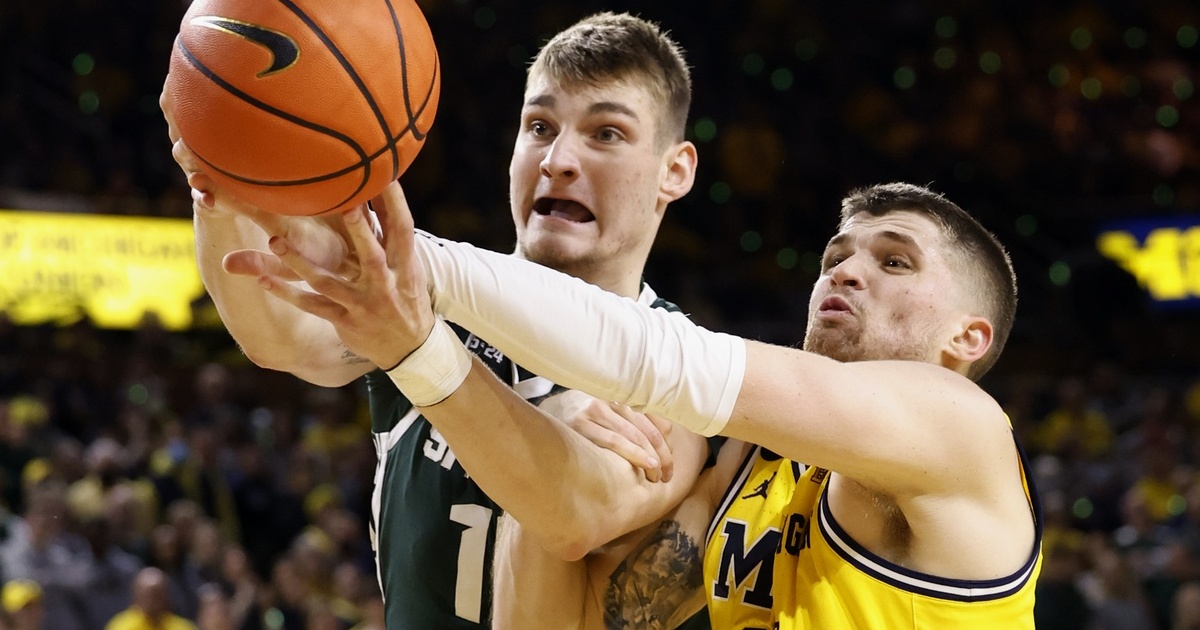 Just days after tragedy struck in East Lansing, Michigan State basketball traveled to Ann Arbor with support from the entire community.
In what is almost an impossible task, Michigan State basketball had to continue its season on Saturday night while still trying to heal.
The Wolverines did an incredible job at setting aside the intense cross-town rivalry in order to support and lift up the entire state of Michigan. From moments of silence, to Michigan fans donning the green and white, the Wolverine support and compassion was tremendous.
After emotional pregame speeches and moments of silence, the Spartans and Wolverines tipped off in what proved to be an intense battle to stay alive in the Big Ten. Both teams traded blows in the first half, MSU pulling out to an eight point lead with four minutes remaining in the first half. Michigan, however, would not go down without a fight. Eventually taking a 66-65 lead with just over five minutes remaining, the Wolverines never looked back. Michigan would closed the game on a 12-0 run, beating the Spartans 84-72.
While Saturday's game was much more than just basketball, Michigan State basketball left Ann Arbor with a loss at the hands of the Wolverines, putting their Big Ten double-bye chances at a minimum.
Here are the great, good, bad, and ugly from Saturday night's loss.
Great: Carson Cooper
For weeks now, fans have gotten a little more than five minutes of both Carson Cooper and Jaxon Kohler. And for weeks now, Cooper and Kohler have proven they deserve more playing time.
It may not correlate into numbers on the stat sheet, but Cooper proved over multiple possessions on Saturday night that his potential and, to be honest, his abilities now are better than our current situation at center. The Jackson native might not have the footwork of Jaxon Kohler, or the athleticism of Mady Sissoko, but his defense and basketball IQ are much better at the moment.
Finishing with four points and two rebounds, Cooper also showed great movement without the ball in order to give more space to the Spartan guards. While his hustle has always been there, his potential increases with each game.
If you want to compare and argue for Kohler to absorb Sissoko's minutes over Cooper, that's fair. But after Saturday's game against Michigan, both deserve credit. Couple the promising play from Kohler and Cooper with the intense lack of growth and production of Sissoko, and it becomes obvious that it is beyond time to make the switch to the young bucks.
Good: Malik Hall
The senior captain has had a rough go at the 2022-23 season. When he is not battling the injury bug, Malik Hall is trying to still get into a groove of any kind. Saturday's game was a good sign that Hall may have enough minutes under his belt this season to begin contributing offensively once again. Finishing the game shooting 6-for-11 with 14 points, Hall gave a great spark off the bench.
When in his offensive groove, Hall is an above average shooter. He just needs to take the shots when given the chance. Unfortunately, Malik has the tendency to go notable absent for stretches at a time, scoring just four against Rutgers and then three at Ohio State. Saturday's game had Hall attempting 11 shots, tying his season high (Hall went 7-for-11 in the double overtime win against Kentucky). Hopefully he continues letting the shots fly.
While the guard/forward starting situation is not likely to not change, Hall's leadership and ability will give MSU a great option from a sixth man position, if he can stay healthy and in his groove.
Bad: Defense
Michigan State has done a superb job this season at limit opposing teams on the offensive end.
Coming into Saturday night's matchup with a top tier Big Ten defense, the Spartans were gashed at every position by Michigan. Even without expected lottery pick Jett Howard for most of the second half, the Wolverines put up 51 total points in the final 20 minutes of play. Finishing with 84 points, MSU surrendered a season high against their in-state rival. Even more, it came from a number of contributors, as five different Wolverines scored in double figures.
While MSU did a decent job on Michigan star Hunter Dickinson, they allowed unusual suspects Dug McDaniel and Tarris Reed Jr. to have career days. The Wolverines would end the night shooting almost 50 percent from the field, a feat that has not happened very often this season against the green and white.
Michigan State must buckle down on the defensive end as their offense isn't good enough to win a race to 80 this season.
Ugly: Rebounding
The most glaring, lopsided stat from Saturday night's game in Ann Arbor was the rebounding battle. Michigan State, a program built on crashing the glass, was outrebounded by a whopping 13 boards. Offensively, the Wolverines collected 14, as opposed to the Spartan's six. Those 14 offensive rebounds resulted in 13 second chance points, and would end up being the deciding factor in a mostly neck and neck matchup.
It wasn't much better on the other end, the Wolverines grabbing 24 defensive rebounds while the Spartans only collecting 19. Sissoko finished the evening with just two boards, while Michigan big men Dickinson and Reed Jr. had a combined 17.
In Big Ten play, getting dominated on the glass as MSU did on Saturday will turn ugly nine times out of ten.