Michigan State Basketball: The great, good, bad, and ugly from emotional win over Indiana
After a nightmare start, the Spartans dominated Indiana.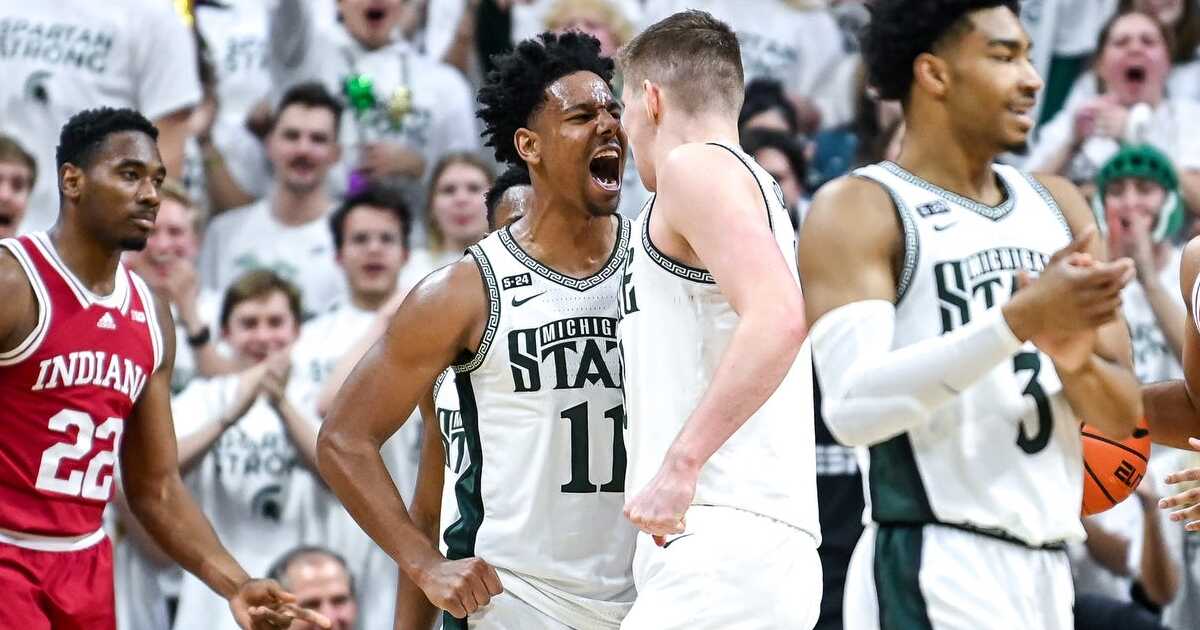 Michigan State basketball feeds off the crowd to earn a victory against Indiana on Tuesday night. Here's the great, good, bad, and ugly.
MSU students were welcomed back to campus to resume classes on Monday, one week after the horrifying events that took place on Feb. 13. While Michigan State basketball competed once already since the tragedy, Tuesday's game would mark the first at home, in front of the Spartan community.
While it was no doubt emotional, the fans showed up and provided much-needed energy and support for the green and white.
The Spartans started the game on Tuesday night with what Tom Izzo dubbed "the worst 12-13 minutes of basketball."
The Hoosiers jumped out to a nine-point lead as Michigan State had zero offense. Michigan State began to fight back, but at an extremely slow rate. With just over six and a half minutes to play in the first, MSU found itself still down nine, 22-13. It then became the Tyson Walker show. After missing his first four shots, Tyson caught fire from deep, igniting the crowd and picking up his teammates. Eventually finishing the first half on an 11-2 run, the Spartans took a 35-29 lead going into halftime
Paring Walker's hot game with a strong second-half showing from Hoggard, and an outstanding performance off the bench from Kohler, MSU took its lead into the second half and never looked back. Improving to 24-2 against Indiana at home over the last 26, MSU came away with an 80-65 victory.
Here are the great, good, bad, and ugly from the convincing Michigan State basketball win over Indiana, its fourth win vs. an AP Top 25 team.
Great: Tyson Walker and Jaxon Kohler
As previously stated, Michigan State came out as flat as possible against the 17th-ranked Hoosiers and desperately needed someone to step up. Walker, battling cramps throughout the entire game, decided he would be the sparkplug and get the Spartans going. Hitting five of his seven 3-pointers, Walker was unconscious on Tuesday night. We've seen this before, specifically against Purdue, and each time it is a sight to behold. Hitting three consecutive 3-pointers changed the trajectory of this game.
As he said after the game Tuesday night, "Shoot to get hot, shoot to stay hot. Just keep putting them up." Walker can take this team to places no one else can.
With Carson Cooper suffering a low ankle sprain and not dressing Tuesday night, a lot was going to be asked of Mady Sissoko and Jaxon Kohler going against elite big man Trayce Jackson-Davis. Mady, along with the rest of the Spartans, started terribly. Once Walker brought the game within reach, however, Kohler came in and provided energy and life that was pivotal. Finishing with just four points, but seven rebounds, Kohler seemed to feed off the energy from the crowd, as did they of him. He was all over the court, in a good way. Being asked to match up against one of the best big men in the Big Ten is no easy task. Kohler was eager and ready to jump in.
In a strange way, it appeared that Kohler's energy and performance even lit a fire in Mady Sissoko, who then came back in and was a monster, diving for lose balls and viciously spiking shots off Indiana players' faces and into the third row.
Good: Rebounding
Michigan State was dominated on the glass against Michigan over the weekend. This was obviously a point of emphasis following that loss as MSU made it their mission to not be beaten on the boards on Tuesday against Indiana. While TJD still was able to collect his seven rebounds, all other Hoosiers were held in check. The Spartans held Indiana to just three offensive rebounds, eliminating any opportunity of second chance points.
Joey Hauser led the way for MSU with eight total rebounds, with Kohler right on his heels with seven. Having 10 offensive rebounds, MSU was able to put up double-digit second-chance points — a necessity in Big Ten matchups.
I would still like to see Sissoko, our starting center, collect a few more rebounds but as a team, the Spartans did a great job on the glass.
Bad: Transition offense
When your team starts as slow as the Spartans did, and could not buy a bucket to save their lives, the easiest way to break out is to get easy baskets in transition. You start on the defensive glass and push down the court for easy layups or open looks. Michigan State did not attack the glass to start the game, nor did they prioritize pushing down court. Indiana began the game with tremendous defense, and the Spartans' half-court offense was non-existent.
Walker eventually broke out and saved the Spartans from their slow start, but it's not viable to lean on a performance such as his on Tuesday night. Michigan State basketball needs to identify when the half-court offense isn't running properly and adjust to focus on the transition game quicker to avoid double-digit deficits.
Ugly: Slow start
The poor transition offense, along with other, sluggish issues created another slow start for MSU. This, unfortunately, is something we have seen time and time again from this Spartan squad. Playing in a hostile environment and starting as the Spartans have many times this season will be too much to overcome a majority of the time.
Rather than hoping one player figures it out from deep, MSU and the coaching staff need to prioritize coming to play. Far too often this season, MSU's games have been over in the first five minutes.