Michigan State basketball: The great, good, bad, and ugly from infuriating Iowa loss
We all know what the ugly was.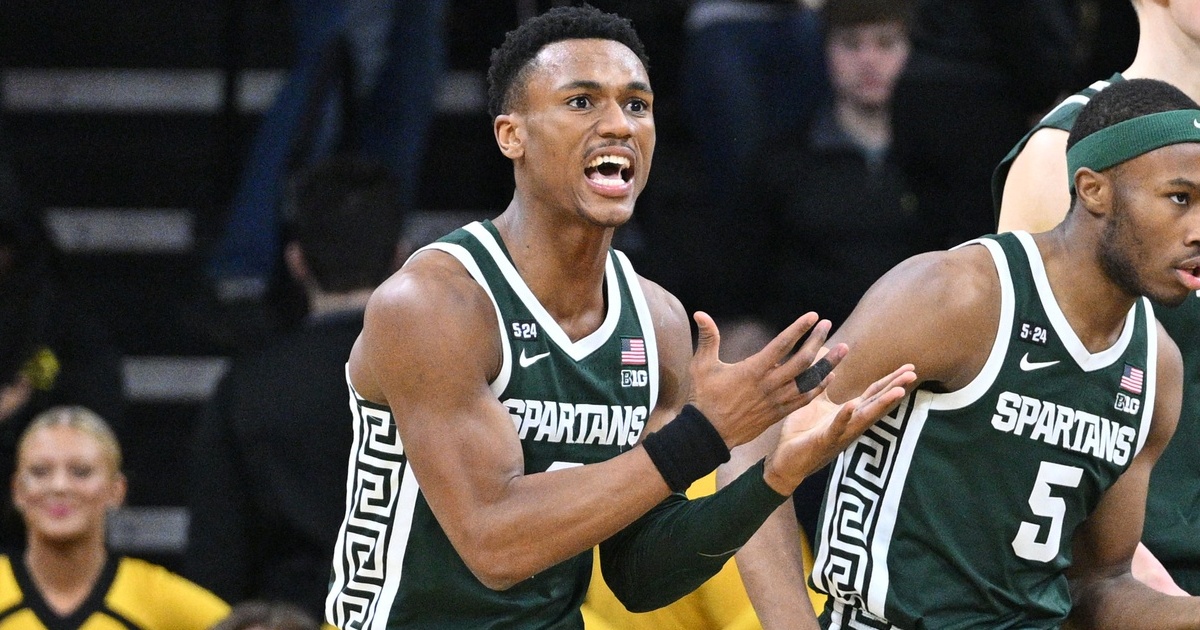 After leading by 13 with just 1:34 remaining, Michigan State basketball surrender five straight threes as Iowa steals a win.
Few games are as frustrating and aggravating than the one Michigan State basketball had on Saturday at Iowa. The Spartans traveled to Iowa City and absolutely lit it up from the field, shooting 73.3 percent from deep, and almost 60 percent from the floor.
Turnovers plagued the Spartans during the first half, but once these were cleaned up, Michigan State took a commanding 13-point lead as the game neared it's end.
Unfortunately for MSU, Iowa had a final two minute stretch not likely to be seen again. As the Hawkeyes prolonged the game by intentionally fouling, they suddenly were red hot from three. Eventually hitting five 3-pointers, Michigan State essentially was stuck trading two point free throws for 3-pointers. After not being able to get a stop, the lead was cut to just three points with 10 seconds left. A.J. Hoggard was at the free throw line, sitting at 11-for-11 from the line, when he missed possibly the most important one. Iowa stormed down the floor, and drilled yet another three to send the game into overtime.
While Iowa did go away with the three-point game in overtime, the momentum and energy had already swung and MSU didn't stand a chance. Tony Perkins and Kris Murray would score 10 out of the 11 points in overtime and Michigan State was left wondering what just happened.
While there were some great signs such as Jaden Akins and Tyson Walker both having great games, Michigan State still squandered an opportunity to jump in the Big Ten standings.
Here are the great, good, bad, and ugly from MSU's loss against the Hawkeyes.
Great: 3-point shooting
The Spartans have gotten hot from three this season before. While it is normally one or two at a time, it has happened and can change this team dramatically.
On Saturday afternoon, it seemed as though every Spartan was feeling it from deep. Joey Hauser went 4-for-4 from three, Jaden Akins, celebrating his 20th birthday, also went 4-for-4, and Tyson Walker went 2-for-3. Add in Hoggard's 1-for-2, and the Spartans would shoot an incredible 73 percent from 3-point range.
Being as red hot from deep as Michigan State basketball was is normally the cultivation of multiple things being done right. Moving with and without the ball to get open, rebounding, and trusting your shot all add up to get hot from deep and the Spartans did all of those extremely well. Unfortunately, over the final two minutes, Michigan State's offense was relegated to just free throw shooting thanks to the intentional fouling from the Hawkeyes, eliminating any chance at responding with a three point dagger.
The rarity of shooting almost 75 percent from three while still losing cannot be understated.
Good: Free throws
A repeated issue this season, the Spartans have had a difficult time getting to the free throw line. This was not the case on Saturday in Iowa City. Michigan State had 36 shots from the charity stripe, sinking 31 of those attempts. Granted, a large sum of their free throw attempts came in the final two minutes as Iowa attempted to prolong the game, 36 attempts is a great number to be at.
Hoggard led the way, finishing 12-for-14, and second was Tyson Walker with 7-for-8. Michigan State, as a team, finished at 86 percent from the line, a mark that is extremely promising.
Getting to the line as much as MSU did on Saturday is going to be crucial in the tournament. As it has been mentioned many times before, capitalizing on the free attempts is important enough, but putting pressure on opposing teams and coaching staffs due to foul trouble will add another element to help this Spartan team make it even further come March. MSU did a great job doing just that against Iowa with Filip Rebraca.
Bad: First-half turnovers
Michigan State finished the game on Saturday with 15 turnovers, four more than their season average of 11.1 per game. Nine of those 15 came in the first 20 minutes of the matchup. As already mentioned, Michigan State was controlling much of the first half, yet Iowa was able to stick around due to the large number of turnovers. Malik Hall and Hoggard led the Spartans with three and four turnovers, respectively.
Having nine turnovers in the first half alone can lead you to two different thought processes. If the Spartans hadn't been red hot from the field, this possibly could have been a much uglier game for MSU.
On the other hand, had MSU taken care of the ball better, a complete blow out was likely in store for the Hawkeyes. Both of which are probably true. Michigan State did a much better job handling the ball during the second half, outside the travel turnover by Malik Hall with just 37 seconds remaining, sparking Iowa's 3-point storm. This season has seen a much better turnover team than previous Tom Izzo-led squads.
Michigan State basketball will need to return back to form moving into the Big Ten tournament and March Madness.
Ugly: Defense down the stretch
Michigan State did a good job for the majority of their game on Saturday to limit the Hawkeyes offense. Iowa shoots the ball extremely well at home, and Michigan State held them at 76 with just two minutes remaining. While it is more than their average allowed this season, MSU did a good job keeping the Hawkeyes from getting going. That was, until the final 1:30.
According to the NCAA, only three teams in college basketball history had won when down by 11 points in the final minute of regulation before Saturday, the last coming in 2016. MSU can now be added to the opponents of that list. The final two minutes were filled with failed rebounds, second chance opportunities for Iowa, missed switches on defense, and a lack of close outs.
Whether or not MSU should have fouled on the final possession is a discussion for another time, but you cannot get let Iowa get such clean looks from three. Izzo mentioned after the game that Michigan State gave up 15 offensive rebounds and 29 second-chance points as factors that left the door open for Iowa to come back.
Credit to Iowa for nailing clutch, unlikely 3-pointer after 3-pointer, but Michigan State's defense allowed the final two minutes to become a reality.