The most frustrating thing about Michigan State basketball
This team is frustrating for one reason in particular.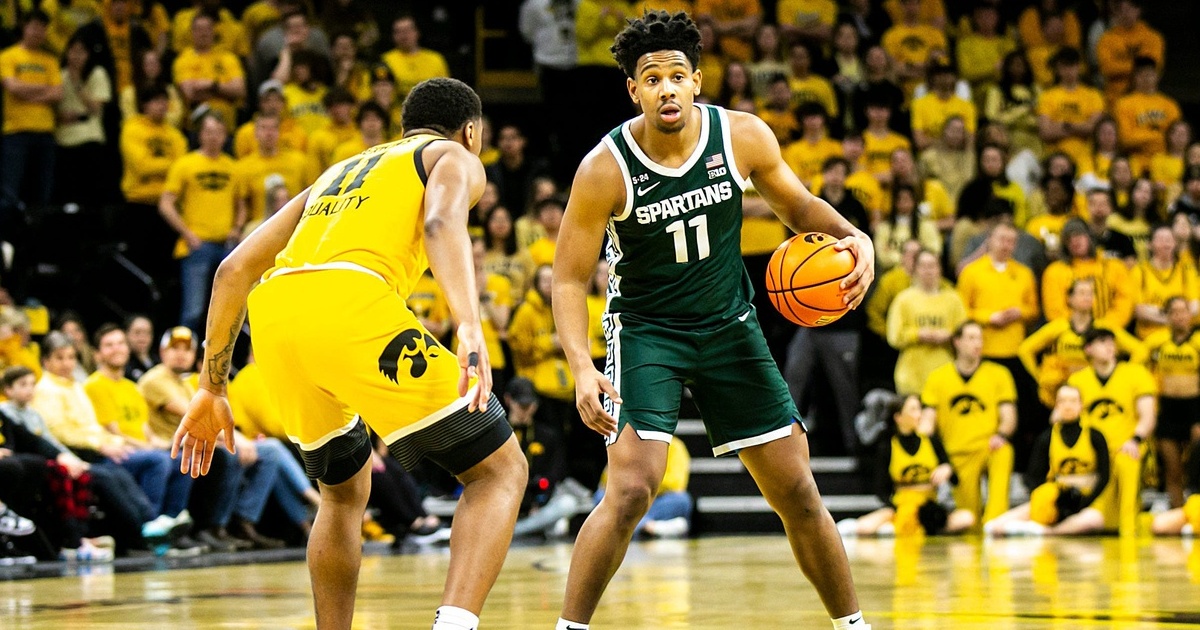 One thing stands out as the most frustrating aspect about the 2022-23 Michigan State basketball team. What is it?
Watching this Michigan State basketball team has been, well, a roller-coaster. Every game, you never know what you're going to get from the Spartans. Will they start strong and go up big (Maryland and at Indiana stand out here) or will they fall behind early and climb back into it (Iowa, Indiana, at Wisconsin)?
Sometimes, it's a bit of both.
Other times, it's an even game throughout and Michigan State looks to be in control only to fall asleep for 5-10 minutes and completely crumble (at Michigan, at Iowa, at Rutgers, Gonzaga, Purdue, Villanova, Michigan, at Illinois).
But there's one thing that stands out as the most frustrating thing about this year's team: it's as good as anyone it plays, but it lets teams hang around.
There have only been two games this year in which it felt like Michigan State was out of it from the get-go: at Purdue and at Notre Dame. Outside of those two games, the Spartans have been in every game and controlled major portions of a majority of them. But I also don't think Michigan State was overmatched in either game. In one, Notre Dame hit just about every 3-pointer it put up in the first half and against Purdue, Mackey Arena is just a house of horrors for the Spartans.
In every single other game, Michigan State matched up well. The Spartans held their own against Gonzaga and probably should have won, stood their ground against Alabama without Jaden Akins or Malik Hall, crumbled in the final minutes at Illinois, had a nightmare second-half stretch at Indiana, probably should have held on to beat Purdue at home, and fell apart in the final minutes against Rutgers, Michigan, and Iowa. All of those games could have been wins. All of them should have been wins.
And that's why this team is so frustrating.
It's one thing if Michigan State loses games because other teams are just clearly better, but that hasn't happened much this year. Michigan State seems to be as good as anyone when it plays to its potential, but having those stretches of poor defense and inept offense let teams hang around and sometimes strike.
We've seen this team control 30-plus minutes of action against Purdue, Michigan, Illinois, Iowa, Rutgers, and Gonzaga, only to have five-minute lulls and lose.
Instead of stepping on the gas, the Spartans coast and let teams hang around. That's been a killer. That's the difference between this team being 17-11 and 9-8 in conference play and 23-5 and 14-3 in the Big Ten.
Obviously that latter record would be the best-case scenario if this team could just step on throats, but you get the point. The Spartans could realistically be first place in the Big Ten and have 20 wins already if it won even half the games that they let get away.
The fact that Michigan State never looks overmatched is why no one will want to play the Spartans in the NCAA Tournament, but the inconsistency in the second half is why they can lose to anyone, too.
I don't remember the last time I could picture a Michigan State basketball team making a Final Four run but also being well aware that a first-round exit is very possible.
It's time to step on throats.