Michigan State Basketball: Great, good, bad, and ugly from needed win at Nebraska
You just love to be on the right side of a good comeback.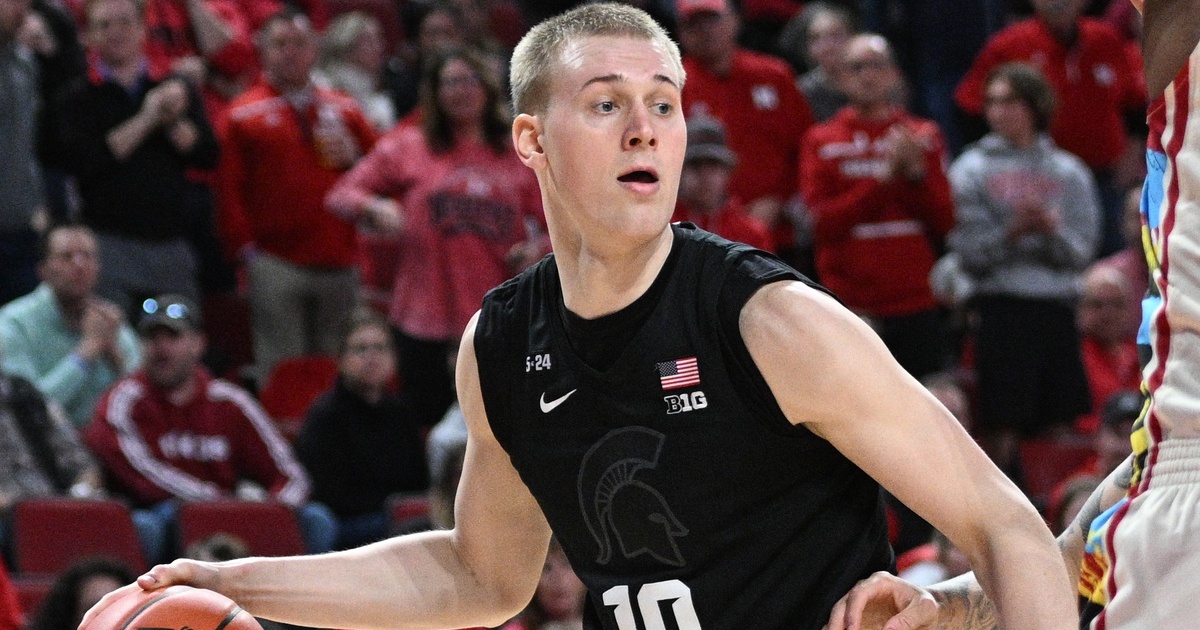 Michigan State basketball needed a bounce back win and, despite another slow start, they got it against Nebraska on Tuesday night.
Before the game Tuesday night, Tom Izzo said the loss against Iowa was possibly one of the worst losses, in any sport for him and Michigan State basketball. That much is safe to say. Izzo said the team discussed their Saturday collapse, and were allegedly able to get past it in time to take on the red-hot Nebraska Cornhuskers.
For the first 20 minutes of Tuesday night's game, however, it did not seem that was the case.
Michigan State came out missing just about every jumper they put up. Nebraska, on the other hand, was celebrating senior night and they were playing like it. Matching great defense with lights out shooting, particularly from Keisei Tominaga, Michigan State quickly found itself down as much as 15 in the first half.
After some halftime adjustments, Michigan State basketball came out and began to light the world on fire, silencing the Husker crowd by shooting almost 70 percent from the field. Slowly, but surely, the Spartans dug their way out of the deficit they created, taking the lead with a Tyson Walker 3-pointer at the eight minute mark. Even with starting so slow and inefficient, Michigan State eventually pulled away and got a much needed 13-point win.
Here are the great, good, bad and ugly from the Spartans' 10th conference win on the year, and 11th straight against Nebraska.
Great: 3-point shooting from Tyson Walker, Jaden Akins, Joey Hauser
If there is anything learned from this season of Spartan basketball, it's that living and dying by the three can be extremely entertaining, but also devastating.
Forget learning from the entire season, Michigan State showcased that Tuesday night alone. MSU was getting good, open looks from deep during the first half in Lincoln, but they just weren't falling. Call it a hangover from the Iowa debacle, regressing to the mean after shooting 75 percent from deep on Saturday, or whatever you like, but MSU was being run out of the gym because they could not bury anything.
Saved by the bell, MSU took its 12-point deficit into the locker room and came out a different team. They continued to get their open looks, but began hitting on them. Hitting just 4-of-12 from deep in the first half, MSU grew red-hot and nailed 12 of their next 17 from 3-point range. Hauser, one of the lone bright spots during the first half, continued his success by starting the second half with his fourth 3-pointer. Akins began to get in on the hot shooting, at one point demanding a final pass his way to hit second consecutive 3-pointer. Tyson Walker then put the nail in the Huskers' coffin with a logo deep pull up with two minutes remaining.
Michigan State has developed into one of the most dangerous teams from deep over the last few weeks, getting hot at the perfect time in the season. But, again, you live by the three, you die by the three. Flipping their 27.8 percent shooting in the first half to 68 percent in the second, Michigan State just about died by the three.
Against a more well-rounded team, I'm not sure if MSU is able to pull themselves out of the hole they dug during the first half, but props to them for doing so Tuesday night.
Good: A.J. Hoggard
It was reported that Tom Izzo asked A.J. Hoggard to shift his point guard mentality from scoring to more of a distributor. While Hoggard was never lighting it up from the field, Izzo wanted him to take eight shots or less and focus on creating for others.
He would finish Tuesday night with 11 shots, but an incredible 14 assists for the junior point guard. Fourteen assists is good for third most in a game in Spartan history, and the most since Spartan legend Mateen Cleaves set the school record of 20 back in 2000. Having a playmaking, distributing point guard with elite shooters around him seemed to work for Izzo back in 2000…
Along with the career high 14 assists, Hoggard had just one turnover. Even with the double-digit deficit, he was poised with the basketball and did what needed to be done to get his teammates going. Now, if he can just work on his defense and body language, A.J. could truly lead this team some place special.
Bad: Settling for long, inefficient twos
Give credit to Nebraska and Fred Hoiberg on their defensive game plan. It was noted early on in the matchup that the Huskers were going to focus on running MSU off the 3-point line with hard close outs and that's exactly what they did.
While Michigan State often times had the correct response of pump faking the Husker flying out at them, taking one hard dribble in, and taking the open shot, there is a reason this is called the least efficient shot in basketball. Time and time again on Tuesday night, MSU pump faked, took the one dribble in, and let a deep two point attempt fly. This shot has all the difficulty of a 3-point attempt, with the payoff of just a two.
One or two attempts of this nature are okay, but it seemed Michigan State had upwards of eight or nine situations such as this. The Spartans should have focused on another option rather than pulling up after the pump fake. An option such as continuing the drive to the hole and attempt to draw a foul on Nebraska big man Derrick Walker. Or drive and dish to get our 3-point shooting going.
Of course, this is a moot point if Michigan State is nailing its jumpers as Nebraska would be forced to change their game plan. But MSU couldn't buy a bucket and settling for long twos was not going to break them out.
Ugly: Defense
There has been a bizarre shift over the last few weeks for this Spartan team. A team that had offensive firepower potential, but mostly relied heavily on their defense has now, for better or worse, flipped the script.
Over the last four games, MSU has shot the ball extremely well, but allowed more than their season average opponents points per game, and worse yet, has allowed teams to shoot lights out from three. For the first half of Tuesday night's game against the Cornhuskers, Nebraska continued this trend.
Finishing the first half with 38 points, Nebraska was getting shots to fall from all levels. Sam Griesel, a normal 30 percent 3-point shooter, was pulling up with confidence from deep, Jamarques Lawerence, a freshman averaging just over three points a game, had a career high 15, and Keisei Tominaga could not miss from anywhere on the court.
Thankfully for the Spartans, an emphasis was placed on defense in the second half, forcing the Cornhuskers to cool off from the field.
Michigan State has played 90 percent of this season with a top-tier defense. Just because the offensive game plan has shifted, does not mean their defense has to take a step back. After the post-game interview, however, it's safe to say Izzo will remedy this in practice over the next few days.