Michigan State basketball lands 4-star CG Jase Richardson
It's basketball season.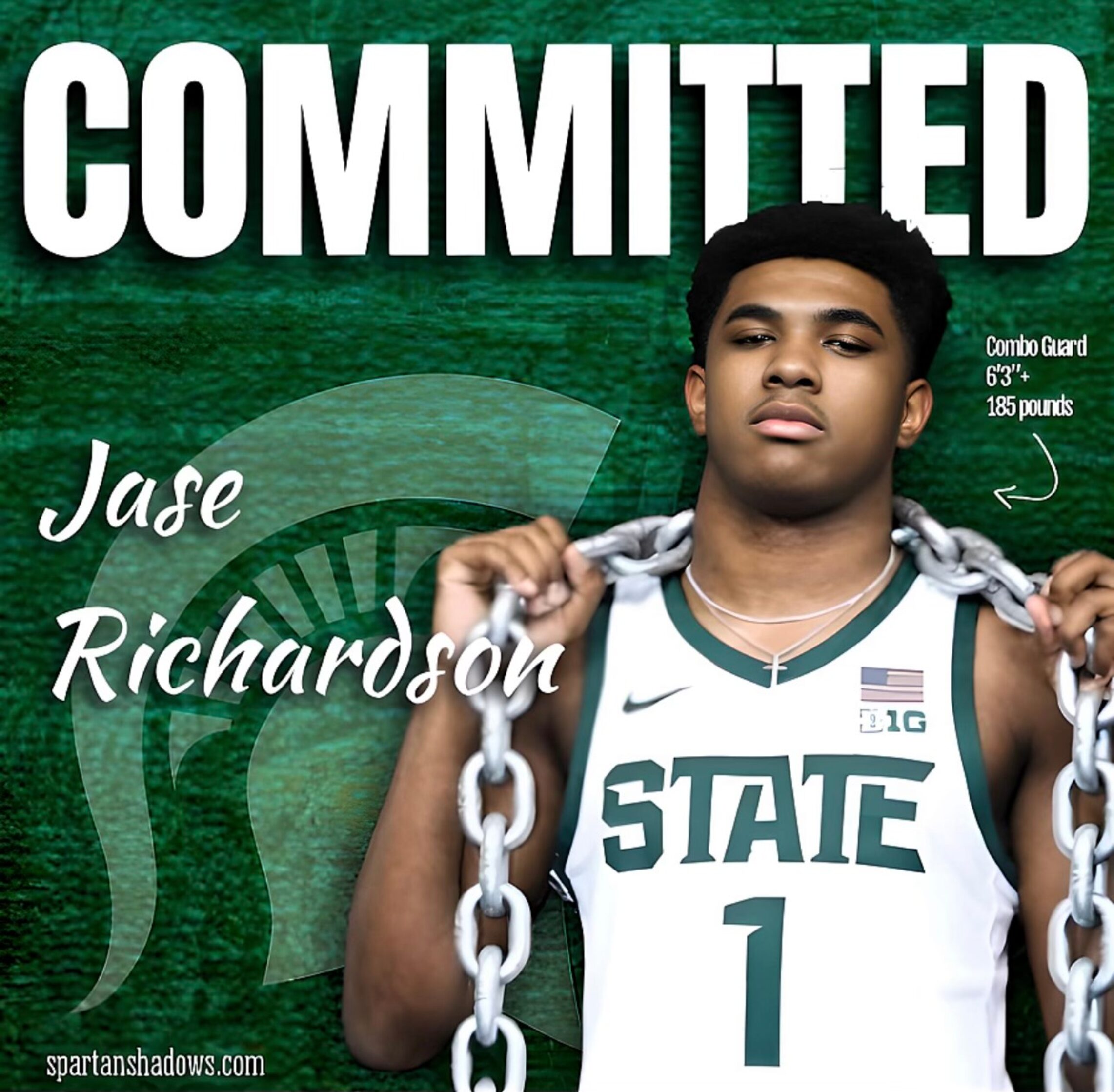 Michigan State basketball has officially landed its third commitment in the 2024 class in four-star guard Jase Richardson.
Happy Jase Richardson Day to all who celebrate. Earlier this week, Michigan State basketball fans were treated to the news that the four-star combo guard son of Spartan legend Jason Richardson would be committing on Sunday.
He would choose between Alabama, Cincinnati, and Michigan State.
On Sunday evening, Richardson made it official, committing to Michigan State over the Crimson Tide and Bearcats. He now becomes the third commitment for Michigan State in the 2024 class, joining four-star shooting guard Kur Teng and three-star big man Jesse McCulloch.
And this is a big one.
Richardson was highly sought-after and Tom Izzo was able to land him over some big-time programs even with a guard already committed in the 2024 class. Clearly the commitment of Teng didn't scare Richardson off because he's more of a combo guard who can handle the ball while Kur is more of a two-guard.
Michigan State's class was ranked No. 27 in the country before this commitment on Sunday but it will undoubtedly move into that top-20 range. Richardson is a borderline five-star prospect, ranked No. 35 overall in the nation and he's the third-best combo guard in 2024.
Izzo has been on fire on the recruiting trail over the past couple of classes and this third addition of an elite legacy recruit just shows that he's not even close to done. Retirement has been talked about by just about everyone, but Izzo mentioned this week at Big Ten media days that he may just coach forever.
Now, the 2023 and 2024 classes have looked like this:
Xavier Booker, 5-star PF/C
Coen Carr, 5-star SF/PF
Jeremy Fears Jr., 5-star PG
Gehrig Normand, 4-star SF
Kur Teng, 4-star SG
Jase Richardson, 4-star CG
Jesse McCulloch, 3-star C
And he's not done yet. Izzo has not lost his touch. If anything, he's reinvigorated.
Welcome to East Lansing, Jase. Let's go win some titles.