Michigan State basketball: AJ Hoggard earns high praise from Malik Hall (Video)
Malik Hall had nothing but good things to say about AJ Hoggard.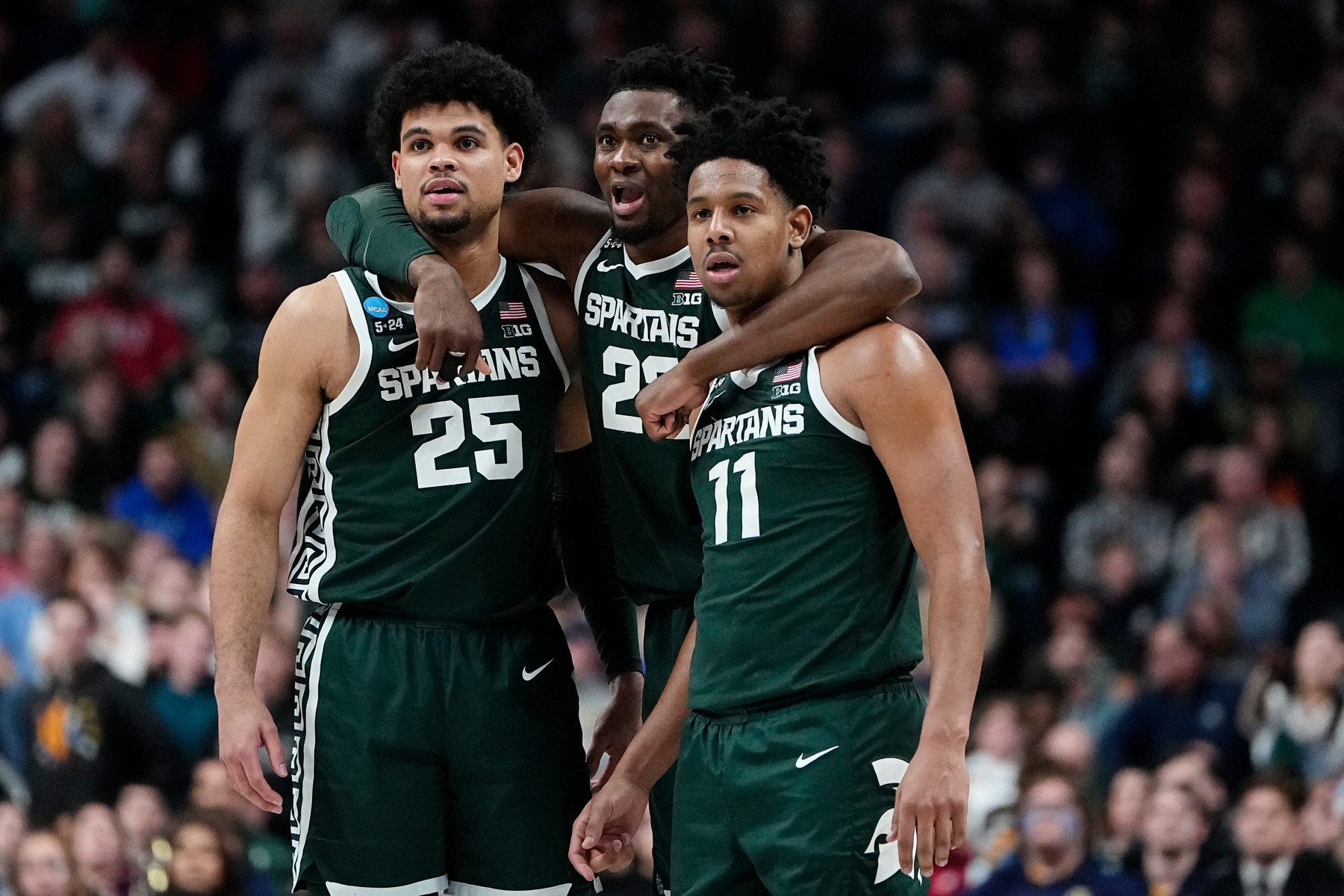 Michigan State basketball got some good news this week and Malik Hall is more than happy to have AJ Hoggard back.
In a recent interview with Justin Spiro, Malik Hall spoke in detail about AJ Hoggard. He discussed how great of a person he is on and off the court and how there are a lot of misconceptions about him from Michigan State basketball fans.
Here is a two-minute clip from that interview where Hall talks about AJ.
"AJ is one of my best friends in life…he's one of those genuine people that you want around."

Malik Hall says AJ Hoggard is often misunderstood by fans and commentators.@ajhoggard3 pic.twitter.com/MovtDOzLJc

— Justin Spiro (@DarkoStateNews) June 1, 2023
The star point guard AJ Hoggard dealt with a lot of criticism from the Spartan fanbase this season. Nobody plays great every game, and I think our fans mostly understand that.
The thing that bothered some of our fans however was Hoggard's body language in the games in which he was struggling. Instead of staying positive, some fans criticized him for seemingly not trying or caring during his struggles.
AJ Hoggard: The leader
Malik Hall is here to tell you that none of that is true. Hall explained how this opinion from fans is the furthest thing from the truth. Malik mentioned that even though AJ's face looks like he doesn't care, that is not how he feels at all. That's great to hear about your starting point guard and one of the leaders of the team. Guys look to AJ for leadership and motivation, so if they see negative body language from him they are likely to mirror that. So even though AJ sometimes looks like he is checked out on the court, it's nice to know that the rest of the team doesn't feel that way.
Malik also went on to share that AJ is one of the nicest and most genuine guys he knows. He considers Hoggard to be one of his best friends not just on the team, but in his life. Hall mentioned that AJ is the first guy to text you when you are struggling with something outside of basketball.
That's the best type of leader in my opinion. Someone who pushes you to be great on the court but always makes sure you are okay off the court.
Sophomore guard Tre Holloman responded to this tweet on Twitter agreeing with what Hall said.
Frfr? https://t.co/Pi3CarNke4

— Trejuan Holloman (@jiggyTrawww) June 2, 2023
The next time you think AJ looks out of it in a game, remember this interview. Remember that Malik Hall mentioned that nobody on the team feels this way and they all know that how AJ truly feels doesn't match the "AJ face."