Michigan State Basketball: Preseason betting preview
What are the best bets for the Spartans?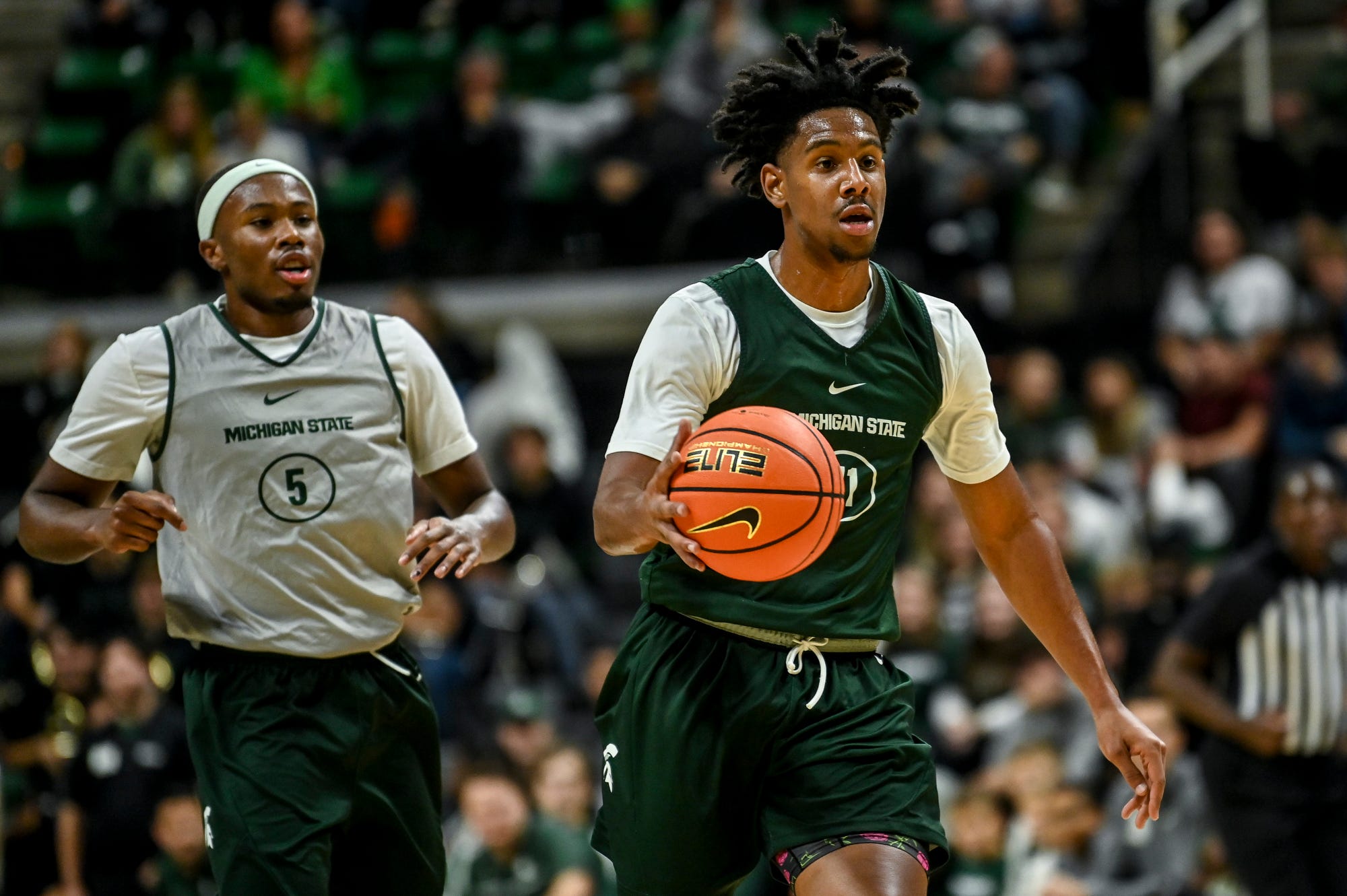 Michigan State basketball officially opens its season on Monday against James Madison, but let's take a look at some futures bets.
The long-awaited start of college hoops season is just a few days away. It's shaping up to be a memorable season for Michigan State basketball. Fans are confident that this group has what it takes to get Tom Izzo his second national championship.
If you're one of those people, you have a chance to put your money where your mouth is.
Here, we'll dive into all things Michigan State and its futures market from a betting perspective. As always, bet responsibly and note that I am just an amateur with an opinion.
Michigan State to win the Big Ten: +300
The board indicates that this will be a two-horse race between MSU and Purdue. The Boilermakers are the favorites at +200. The next closest teams are Maryland at +700 with Illinois and Indiana at +900. If there's one thing we've learned about the Big Ten since it moved to the 20-game schedule format, it's that there is a ton of variance. The unbalanced schedule creates opportunities for inconclusive results that are just impossible to predict.
Last year, Rutgers famously had the chance to finish as high as second and as low as ninth on the final day of the regular season. The conference standings are all about who you play, when you play them, and where you play them. Because of that, this is an easy pass for me.
KenPom projects 13 Big Ten wins for Michigan State basketball. That's two whole games behind Purdue's projection of 15. MSU only plays the Boilermakers once. To the surprise of nobody, that game is in West Lafayette. MSU hasn't won in Mackey Arena since 2014. Immediately, that gives Purdue a leg up on any potential tiebreakers. The Spartans also play Indiana one time – on the road in Bloomington. That's two (likely) losses that MSU won't have the chance to avenge at home.
While Michigan State will have the benefit of playing Minnesota and Penn State twice, the double dip also includes Maryland, Illinois, Wisconsin, and Northwestern. All four of those teams are projected to finish .500 or better in league play. At 3-1, I just don't see enough value here for Michigan State.
Could the Spartans win the Big Ten? Absolutely. The price reflects that. But I'm just not willing to tie up my money for six months for that return. I'd rather wait to see if a better price comes available during the season or wait until the Big Ten Tournament where the Spartans could get a chance against Purdue on a neutral floor.
Michigan State to make the Final Four: +550
I went on a miniature rant about this prop last year before the postseason. I'll try to stick to a shorter version here. But it's pretty simple. Don't bet on this. If you like MSU's long-term prospects this year, that's great. Just take them to win the national title. The national title future offers better odds and presents hedge or cash-out opportunities.
At this point in the preseason, there's no value without knowing what the bracket would look like. The price factors in potential opponents that are not guaranteed to even be in the same region as Michigan State. You're also taking a huge leap of faith on this season as a whole.
For this price to be advantageous to you in March, MSU would probably need to be at least a 2-seed in the NCAA Tournament. While that's definitely possible, it's too much risk for this type of reward. Waiting could offer a better price once the brackets are released in March. We'll revisit this prop then (hopefully).
Michigan State to win the national championship: +1500
This will undoubtedly be a popular wager amongst Spartan fans in the preseason. I have no reason to tell you you're wrong. This team has a lot to like. They have talent. They have experience. They have depth. They have Tom Izzo. I think there are far worse wagers you can make.
But I'm holding off for now.
Why? Well, what do we know about Michigan State basketball under Izzo? They're notoriously slow starters in November and December. Izzo puts his team through the meat grinder early in the year to prepare them for March. They always play one of the most difficult non-conference schedules, and their ranking suffers because of it. The non-conference schedule includes games against Duke, Arizona, and Baylor. Specific to this year though, I think there are going to be some growing pains. They can legitimately go 10, maybe even 11 guys deep. Settling on a rotation is going to take some time. Integrating a talented, but inexperienced freshman class isn't going to be easy.
Lastly, let's not forget that the core group of this team lost 13 games to earn a 7-seed in the NCAA Tournament last year. So, I'm going to wait for this to see if we can get a better price. The nice thing about championship odds is that they are available all year and updated daily. If you can believe it, at one point last year, UConn's championship odds dropped all the way to 22-1 in January. Over the course of a 35-game season that spans five months, every team goes through a downturn. I'll look to buy a similar dip with Michigan State once their odds get longer.
Michigan State basketball players to win the Wooden Award
For those who are not familiar with the Wooden Award, it is essentially the college basketball equivalent to the Heisman Trophy. The market isn't as heavily bet and monitored as the Heisman, so these odds may not be available once the season starts. At FanDuel, I was able to find three Michigan State players with odds. We'll address these from least to most likely, and I'll outline whether or not any of the Spartans are worth a flier.
I love Jaden Akins. I think he's a special talent. I think he is Michigan State's best professional prospect. With that being said, he's not winning this award. He doesn't have the ball in his hands enough to put up the needed stats. He'll consistently be the third wheel of MSU's backcourt when it comes to the media's perception. Whether that's fair or not is irrelevant. Tyson Walker and A.J. Hoggard receive all the attention because they have the ball and are seen as the leaders of this team. Even at this wild price, Akins isn't worth a bet.
I think Hoggard is really interesting here, especially at 100-1. For starters, he's going to play a lot of minutes and have the ball in his hands all the time. That's important on what many project to be a top-10 team. He'll get plenty of exposure having the offense run through him.
What this really comes down to for Hoggard is growth. He's been a solid player through three seasons at Michigan State. Does he have another gear in him? I'm betting that he does. We saw what he could be in the Sweet 16 game against Kansas State. He was unstoppable going downhill and finishing at the rim. And once he got it going, his confidence and swagger only made him tougher to handle.
Down the stretch last season, he actually turned into a pretty good 3-point shooter. He shot just under 33% on the season but did get to almost 36% in conference play. He may never be a 40 percent shooter from outside. But if he can at least make the defense respect that shot, that should be enough. As a bigger guard, he's going to get more rebounds than others at his position. He led the team in free throw attempts last year, making over 80 percent from the line. We already know he is an elite passer. The data backs that up as well. Hoggard finished sixth in America in assist rate last season.
The danger here is the rest of Michigan State's roster. At point guard alone, there are three other guys that are going to push for minutes. That doesn't even account for more involvement from Akins. But that's all baked into the price. The best-case scenario is that Hoggard morphs into a bully who combines his elite assist rates and impressive rebounding with efficient scoring. His ability to finish at the rim and get to the free throw line is going to make him an analytics darling.
Don't discount his alpha dog attitude either. If he becomes the face of this Michigan State basketball team that spends the year in the top 10, that absolutely matters. This is an award voted on by people. The visual impact comes into play as well. I'm throwing some lunch money at Hoggard to win the award.
Almost everything that was just said about Hoggard applies to Walker as well. They find themselves in an identical situation. Tyson Walker could easily become that alpha dog leader who leads the charge for Michigan State basketball. It does feel as if he is a guy who has realized this is his time in college basketball. He came back determined and hungry.
Walker's price is shorter because he's a better shooter, better defender, and the guy that MSU is going to lean on late in games. Walker's three-point shooting is going to carry him to some monster games. He led the Big Ten in three-point shooting percentage last year after finishing second the year before. He's an elite shooter. He takes care of the basketball. He has an impressive assist rate in his own regard.
To me, this comes down to that visual component as much as anything else. If Walker is able to compliment some huge games with clutch moments, he'll be in this race until the end. He's a charismatic kid with a good "unfinished business" type of story. The concern I'd have with Walker is his ability to take that "next step".
Unlike Hoggard, there isn't a clear indication of what Walker needs to improve upon. He's already a dynamite guard in college basketball.
For him to win this award, he's got to show more than he did last season. I'm just not sure what that looks like right now. But as stated, he's the lead guard on a top-10 team that will have plenty of opportunities for "signature moments" this season. I don't mind a dart throw if you prefer Walker to Hoggard.