Biggest question for each Big Ten basketball team ahead of 2023-24
What's the Spartans' biggest question mark?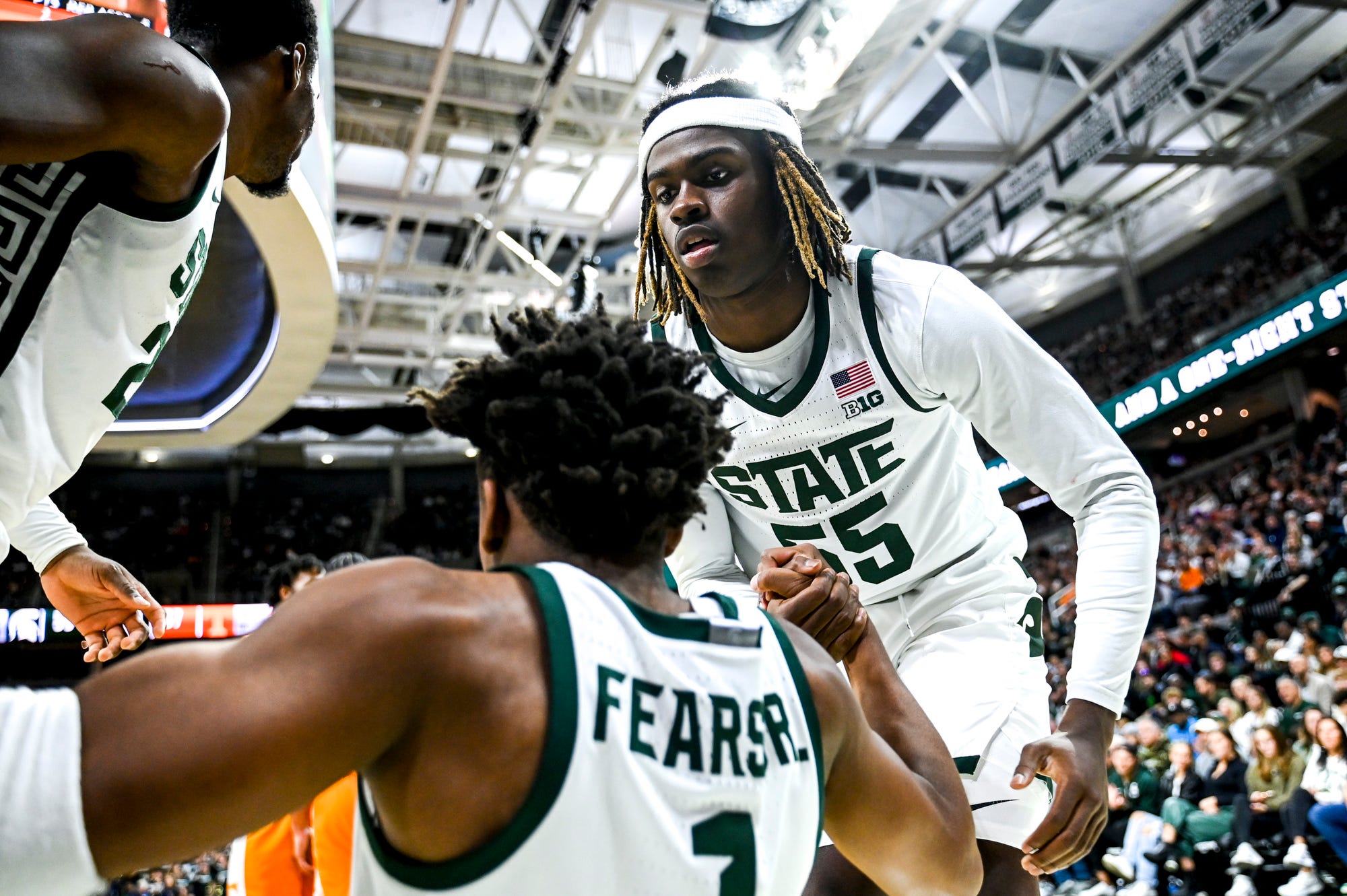 Let's take a look at the biggest question for every Big Ten basketball team heading into the 2023-24 season.
The Big Ten basketball goal is to finally get a national championship for the first time since 2000. The Big Ten has some high expectations with both Purdue and Michigan State in the top five of the AP poll. But going into the season each of these teams has a question mark heading into the season.
Let's take a look at those below.
Illinois
Point guard play is the biggest question mark for Illinois. Can Illinois and Brad Underwood get good enough play out of the point guard from Ty Rodgers or Dra Gibbs-Lawhorn? This team could be dangerous in Big Ten play if they can get good point guard play. Bringing back Terrance Shannon Jr. automatically gives Illinois a top guard/wing option in the Big Ten showing that in the exhibition vs. Kansas. Coleman Hawkins also joins Shannon Jr. as a returning starter who will be their second option on offense.
Indiana
There are a few questions coming into the season for Indiana. But the biggest question mark is spacing for this team. Indiana went out and added Kel'el Ware from the transfer portal and a top 10 recruit in Mackenzie Mgbako. The issue is that Mike Woodson is going to roll out a center and two power forwards who can't consistently stretch the floor. This Indiana team is going to struggle shooting from deep which was shown in their exhibition game. Indiana shot 30 percent on only 10 attempts from deep which won't be good enough when Big Ten play comes.
Iowa
The Iowa Hawkeyes will have to replace Kris Murray and Filip Rebraca and all of their production. That is the biggest question mark is where all the scoring comes from. Murray averaged over 20 points and over seven rebounds per game and Rebraca averaged 14 points per game. The Hawkeyes will be hoping that Peyton Sandfort can become the No. 1 option for this year's team. They will also be hoping that Ben Krikke can produce the same production that he did at Valparaiso averaging 19 points per game. If Sandfort and Krikke can produce this will help Iowa be a fringe tournament team.
Maryland
The biggest question mark heading into the season for Maryland is how well they can shoot the ball from three. Maryland only shot 32 percent from deep a year ago. This team is hoping that Jahmir Young can shoot better than his 31 percent last year. The other hope is that DeShawn Harris-Smith can come in and have a major impact on this team. Maryland will look to continue to rely on the returning core of Young, Julian Reese, and Donta Scott. Can Maryland shoot better from three and be better on the road in the 2023 season?
Michigan
Michigan was a mess last year with Hunter Dickinson and their expectations going into last year. Juwan Howard now will be relying on a major transfer in Olivier Nkamhoua from Tennessee. But the question mark for the Wolverines is the step forward in the sophomore seasons. Can Dug McDaniel take a major step forward like Kobe Bufkin did a year ago? What will Michigan expect Tarris Reed to be in his first season as a full-time starter? The Wolverines will look to rely on both of these sophomores in major roles. McDaniel and Reed are both major parts of this team and can breathe new blood into this program.
Michigan State
The Spartans came off a Sweet 16 run which won't be good enough in 2023. The big question for the Spartans is the frontcourt scoring. Can Michigan State get enough scoring from the front court to reach the levels that this team is supposed to be? This will be a lot on Malik Hall, Coen Carr, Xavier Booker, and Carson Cooper. Will Tom Izzo and the staff be able to get enough consistent play and scoring to take advantage of the star-studded guards? Hall will lead this group but expect relentless Carr and uber-talented Booker to join this frontcourt in scoring talent. Will Cooper continue to develop his back-to-the-basket game? This frontcourt has a lot of talent, now can they be consistent on a night-to-night basis?
Minnesota
Minnesota has a lot to prove this year under Ben Johnson's third season. The Golden Gophers' biggest question is can they get out of the basement of Big Ten basketball? Minnesota has not finished better than third worst in the Big Ten since the 2018-2019 season where they won 9 conference games. Ben Johnson lost second second-leading scorer in Jamison Battle a year ago to the transfer portal. This team will rely on Dawson Garcia and Joshua Ola-Joseph as the returners to help them get out of the Big Ten basement. Ben Johnson was able to bring in talented freshman Cam Christie who should help this team on the wing and for them to shoot better from three.
Nebraska
There was not a hotter team than the Nebraska Cornhuskers in February in Big Ten basketball. Nebraska went 6-2 in the final month of Big Ten play last season. The major question mark is can the roster outside of Keisei Tominaga produce on a consistent basis. The Cornhuskers were able to finish strong to the end of last year and can that carry over to this season? Nebraska added Ahron Ulis, Rienk Mast, and Brice Williams all in the transfer portal in 2023. Can the newcomers come in and provide a new spark for a program that has been near the bottom of the Big Ten for the last few years?
Northwestern
This Northwestern team exceeded everyone's expectations a year ago as they finished second in the Big Ten. The Big Ten can be a cruel conference where you can be at the top one year and at the bottom the next. Boo Buie will lead this team as a no-doubt All-Big Ten guard. The major question for the Wildcats is can the team get enough scoring from everyone outside of Boo Buie? Chris Collins will have to expect better seasons out of Ty Berry, Brooks Barnhizer, and Robbie Beran. These three will have to take some weight off of Boo if they expect to continue to contend at the top of the Big Ten.
Ohio State
There are a few questions coming into the Ohio State season. The Buckeyes had a very questioning season last year as this was a team expected to be near the top of the Big Ten. This year Ohio State's largest question mark is whether will they be able to defend at a higher level than last year. Chris Holtmann has been a good defensive coach for his entire tenure at Ohio State other than last year. This Ohio State team will have a lot more experience which should help as they return Roddy Gayle Jr., Bruce Thornton, and transfer Jamison Battle. This team is a major upgrade defensively when Felix Okpara is on the floor, and this will be shown in the 2023-24 season. Can the rest of this team be connected defensively to be a better defensive unit?
Penn State
The Penn State team has a ton of question marks after the incredible season that they had a year ago. This team really only returns 1 player from last year's run to the NCAA Tournament. Penn State brings in an entirely new staff bringing in Mike Rhoades from VCU. Also, with that is transfer A-10 player of the year and A-10 defensive player of the year in Ace Baldwin Jr. The major question mark with the Nittany Lions this season is can coach Rhoades put all of the new faces together to win in the Big Ten? Penn State will have to rely on Ace Baldwin Jr, Qudus Wahab, and returner Kanye Clary.
Purdue
Purdue was a major disappointment in the NCAA Tournament losing to a 16 seed. This Purdue team was dominant for most of the season around National Player of the Year in Zach Edey. The major question going into the season is the power forward position for Purdue. Will Matt Painter try to play Trey Kaufman-Renn next to Zach Edey? Will Painter and staff go back to Ethan Morton or Caleb Furst? This position seems to be a sticking point for them as none of them shoot relatively well from three. This allows other teams to double Edey off of these guys and not get burnt from three. Can any of these guys shoot from the three better or take some pressure off of Edey?
Rutgers
The Scarlet Knights were a very up-and-down team a year ago. The biggest question for Rutgers is the backcourt. Can Rutgers replace Paul Mulcahy, Cam Spencer, and Caleb McConnell? The trio started every game but four last season and made up over 40 percent of the entire team's minutes played last season. This Rutgers team will rely on Derek Simpson and Noah Fernandes. Fernandes will have to show that he can play at a higher level after playing at UMass for the last four seasons. Fernandes averaged 13 points and four assists last season at UMass but can this help a Rutgers team who will want to get back to the NCAA Tournament?
Wisconsin
Wisconsin is a team that returns just about everyone on the team from a year ago. The major question is, can Chucky Hepburn not be a detriment to this team? This Wisconsin team returns Tyler Wahl, Steven Crowl, and Connor Essegian. But this team only won nine conference games a year ago and missed out on the NCAA Tournament. This was partially due to injury and due to inconsistent and bad play from Chucky Hepburn. Hepburn shot 37 percent from the entire field and only averaged 2.8 assists per game. Chucky needs to become a more complete and consistent guard to not become the downfall of this team going forward. If Chucky can become a consistent player, then this team has a much higher upside than the way the season ended a year ago.
The final Big Ten basketball question is which one of these teams will be able to overcome the largest question marks for their teams.